Thanks to a reminder from Rene at Deltapoints, this morning I decided to walk through the process of redeeming my Delta choice benefit for reaching Platinum Medallion in the 2013 calendar year. There are some exciting choice benefits available to Delta Platinum and Diamond Medallion members this year, so I wanted to wait until after March 1, 2014 to redeem my choice benefit to take advantage of the new changes.
When the changes were announced back in December of 2013, I said that Delta improved the case for becoming a Diamond Medallion by offering the ability to upgrade international fares at any class of flight. Since that time a number of supplemental changes have made me quite angry with Delta (to the point that I openly considered moving away to avoid them), but that doesn't change the fact that I earned a choice benefit based on my 2013 travels.
Logging into the choice benefits page, I was given several options for rewards that I could redeem on their site. These rewards range from low value ($100 Global Entry Credit) to potentially high value (Regional Upgrades applied properly). The rest of this post will walk through the options, I will offer up impressions on them and ultimately let you know which benefit I decided to choose myself.
Let's start from the top.
Four Regional Upgrade Certificates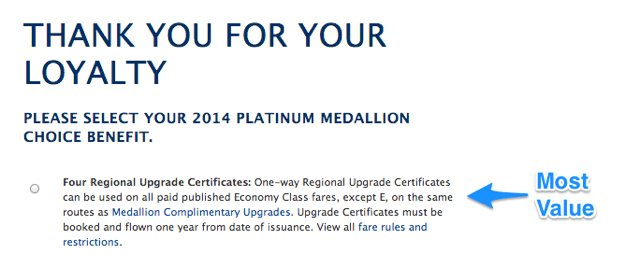 In my mind, the highest potential value in the program is to receive 4 regional upgrade certificates that can be used to upgrade flights to first class for most US destinations with most coach class fares. While this may not provided an extreme value if you wanted to upgrade to first class on a standard domestic flight, these certificates can also be used for most flights to Hawaii (with the exception of Atlanta flights), Alaska, Canada, Mexico the Carribean and Bermuda. Since first class on these flights can cost thousands of dollars more than an economy ticket, this provides a lot of potential value.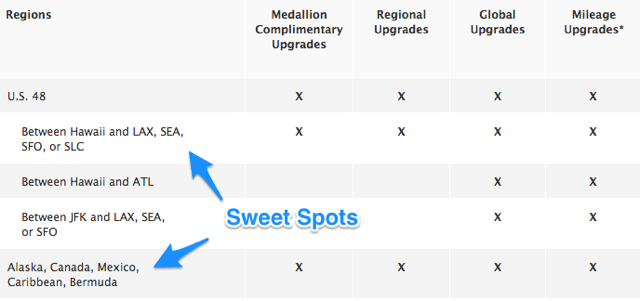 Desirability of Choice: 10 out of 10 – if you use this to upgrade flights on a warm weather vacation to Hawaii, Mexico or the Caribbean it can be a very desirable choice benefit.
Value of Choice: 10 out of 10 – A realistic flight that I might try to upgrade on would be San Francisco to Hawaii in November. Looking at that flight now, it would cost around $600 in coach and a whopping $3,284 to fly in first class. I have never been to Hawaii and I think that this is the year to go. If I decided to use the upgrade on a trip of this nature, I would save $2,700 per person ($5,400 total) using the regional upgrade certificates. This is by far the most value that I would be able to receive from any choice benefit.

Now since I have never applied a regional upgrade certificate in the past, I'm not sure how easy it would be to upgrade this flight in reality. The biggest knock on the old upgrade certificates was that they were nearly impossible to use. I remember naively signing up for them as a Platinum choice benefit years ago and growing frustrated that I could never use them on any flight. It remains to be seen how easy it will be to redeem these certificates, but I am hopeful that they are usable for me based on close examination of the rules provided by Delta for their usage.
Global Entry Voucher

This is the least valued of all choice benefits for Delta. If anyone signs up for this benefit, they will need to have their head examined! There is absolutely no reason to choose this option to save $100. If you wanted to get free Global Entry there are better ways to do it, like signing up for an American Express platinum card. Don't choose this benefit. Please don't.
Desirability of Choice: 5 out of 10 – Global entry is amazing, so I consider this desirable, but there are better ways to go about getting global entry.
Value of Choice: 1 out of 10 – We just talked about a potential $5,400 benefit and followed it up with a $100 benefit. I'm underwhelmed.
Delta Sky Club One Day Passes

Desirability of Choice: 2 out of 10 – Skunky beer! No-name booze! Overcrowding! (often) Incompetent Staff!  That's the Delta Sky club in a nutshell. Don't get me wrong, I'd still rather sit in the club than at the gate with all of the muggles, but once again there are better ways to get into the club.
Value of Choice: 2 out of 10 – In hard dollars, these club passes are worth a book value of $200 ($50 each), but nobody ever pays $50 to visit a club. They either have a club membership, a credit card that grants them access, or use their credit card to get a discounted entry. Because of this, the passes are really worth more like $25-$29, which puts the total value at around $100. Not as bad as global entry, but not really that good.
20,000 Bonus Miles

Other than the regional upgrades, 20,000 bonus miles has potential to offer the most hard dollar value. If used as part of an international business class trip, you can get well over 2 cents per mile value with these redemptions.
Desirability of Choice: 6 out of 10 – With one way awards coming to Delta, mileage that never expires and miles being tougher to earn, these miles could be used to get you somewhere fun (at least one way).
Value of Choice: 7 out of 10 – 20,000 miles should be worth at least $400 book value of travel if you play your cards right.
Travel Credit or Tiffany Gift Card

Use your benefit to get a gift card to a jewelry store or to travel on Delta. Yawn.
Desirability of Choice: 2 out of 10 – I've always thought to myself "who in their right mind would choose a Tiffany gift card to reward themselves?" and I have never been able to come up with an answer. WHO ARE YOU?
The $200 travel voucher is a nice gesture I guess, but there's really no variable gain from playing the system properly. You might as well choose the 20,000 miles, which are worth AT LEAST $200 if you redeem them at one cent per point during the flight buying process. At least those are flexible.
Value of Choice: 5 out of 10 – This is worth… $200.
Silver Medallion Status for Recipient

Giving your spouse / girlfriend / boyfriend / children / bff / neighbor / coworker / stranger Silver Medallion status is a super nice gesture. In fact, I'd go as far as to say you're pretty awesome if you do this! I'm fortunate that I don't have to make this gesture, because my spouse / bff Mrs. Jeffsetter is already a Gold Medallion. I gave her silver once and she loved it, but this year she's already earned the gold bling that she's carrying on her suitcase.
Desirability of Choice: 8 out of 10 – It's very desirable for a casual traveler to get the occasional upgrade and free baggage.
Value of Choice: 8 out of 10 – I view this as the second most valuable option available.
Ranking the Choices in Order from Most Valuable to Least
Add it all up and here's my ranking of the Choice Benefit options for 2014:
Regional Upgrades
Silver Medallion Status
20,000 Miles
Travel Credit or Gift Card
Delta Sky Club Passes
…
…
…
…
Global Entry Voucher
So What did I Choose?
In perhaps the least suspenseful post in the history of Jeffsetter, I chose the Regional Upgrade Certificates!

Here's hoping that they are as easy to use as they appear to be!