I'm traveling now and nearly forgot that we're midway through the final month in Q3 2021. So, it's time now to activate your Q4 2021 Chase Freedom bonus. Unfortunately, the last bonus of the year is kind of a letdown – much like the year itself has been.
Compared to what we've been getting lately, the Chase Freedom Q3 2021 bonus categories have been really great. As you'll recall, currently, we're getting 5% back on groceries and select streaming services. And while there is potential for a good return on the Q4 2021 categories, I think, overall, they're kind of lame.
Activate Your Q4 2021 Chase Freedom Bonus
As far as singling out single merchants, the Q4 2021 Chase Freedom bonus categories are probably the most sparse ones I've seen yet. That's because, for the last quarter of the year, all Chase is giving us is Walmart (EW…) and PayPal. I don't shop at Walmart at all. I, maybe, set foot in one of their stores maybe once a year? So, automatically, that category is already useless to me.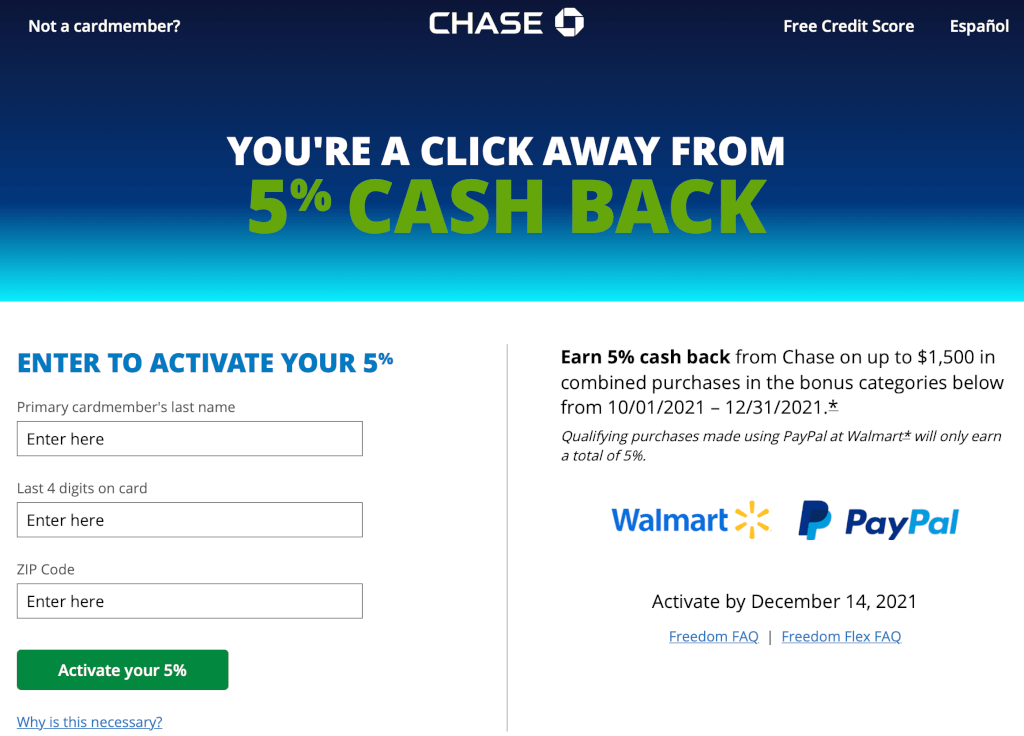 PayPal, on the other hand, has far more potential. Admittedly, there's quite a bit of flexibility there. However, off the top of my head, there aren't merchants I make regular purchases with that take PayPal. I guess I'll have to be mindful about this when Christmas shopping this year. But, I don't see myself spending $1,500 through PayPal at all. So…
Final Thoughts
Lately, I haven't been getting anywhere near Chase's quarterly bonus caps. My spending is down quite a bit from before, and I really don't do manufactured spending. Personally, I think MS is too risky these days. But, as is the case with the categories, your mileage may vary, and if they work for you, then great! That said, head over to Chase Bonus to activate your Q4 2021 bonus categories today.