Honolulu's only gastropub-izakaya is probably the most exciting restaurant in town today. My last dinner with them – my first – was a revelation. Here, they take your preconceived notions and toss them out the door. And that continues with the new Adaptation menu at HeiHo House.
HeiHo House is probably one of Honolulu's best-hidden secrets. The entire team here does tremendous work taking dishes, ingredients, and even drinks and turning them on their heads. Perhaps even more remarkable is that they keep on doing so about every six to eight weeks! That shouldn't be surprising, though. Everyone here – the chefs, bartenders, and wait staff – are incredibly passionate. During our two visits thus far, everyone has been so enthusiastic, professional, and friendly; there are few restaurants like this in town. As I've mentioned in my past review, the restaurant is both polished and casual – a great neighborhood hangout. But you guys already know that, so let's talk about their new menu.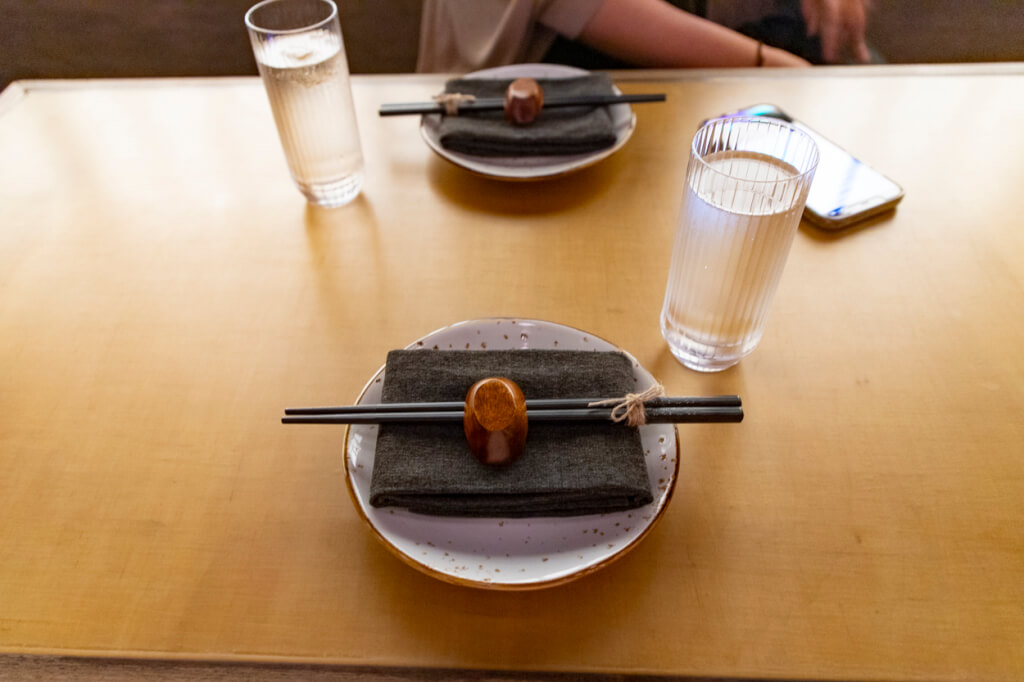 Adaptation Menu at HeiHo House
Whereas in the last menu we experienced featured the best dishes of HeiHo House's first year, the new Adaptation menu has a singular focus – Filipino cuisine. Filipino food on its own is uncommon in much of the US, but here in Hawaii, it's pervasive. However, it's rare to see someone reinterpret or elevate this critical facet of our local food culture at this level. That's what makes this menu all the more interesting.
B.R.E.A.D.
First up, let's talk about drinks. On this visit, I ordered the B.R.E.A.D. cocktail. Here, the bartenders take Corazon tequila and fat-wash it with butter and fennel. Then, they take the tequila and mix it with the essence of toasted brioche. The resulting drink is clean, sweet, rich, toasty, slightly herbaceous, and mildly caramel-y. To make things even more interesting, they serve with a piece of toasted sourdough with butter, artichoke powder, and capers.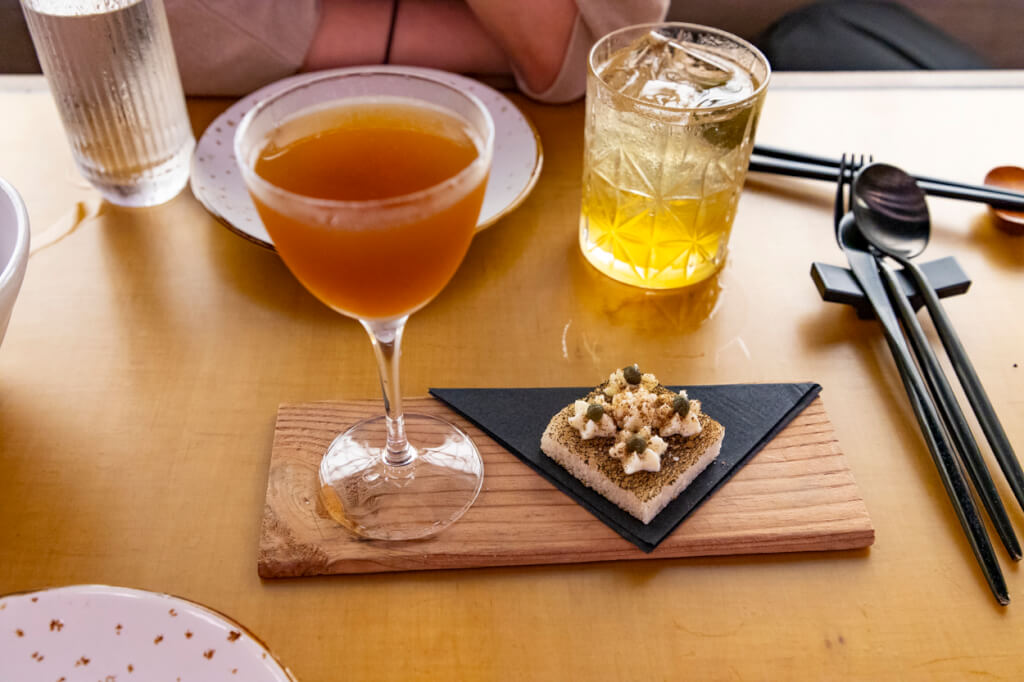 HeiHo House Umeshu
For her drink, Mrs. Island Miler went with the house-made Umeshu. Here, they take a premium sake and age it with ume for eight months. For their efforts, you get a much higher quality Umeshu than you'd find in a liquor store. I love how it incorporates the tart, salty, fruitiness of the ume with the subtle sweetness of sake. It's a very refreshing drink that pairs well with the rich food.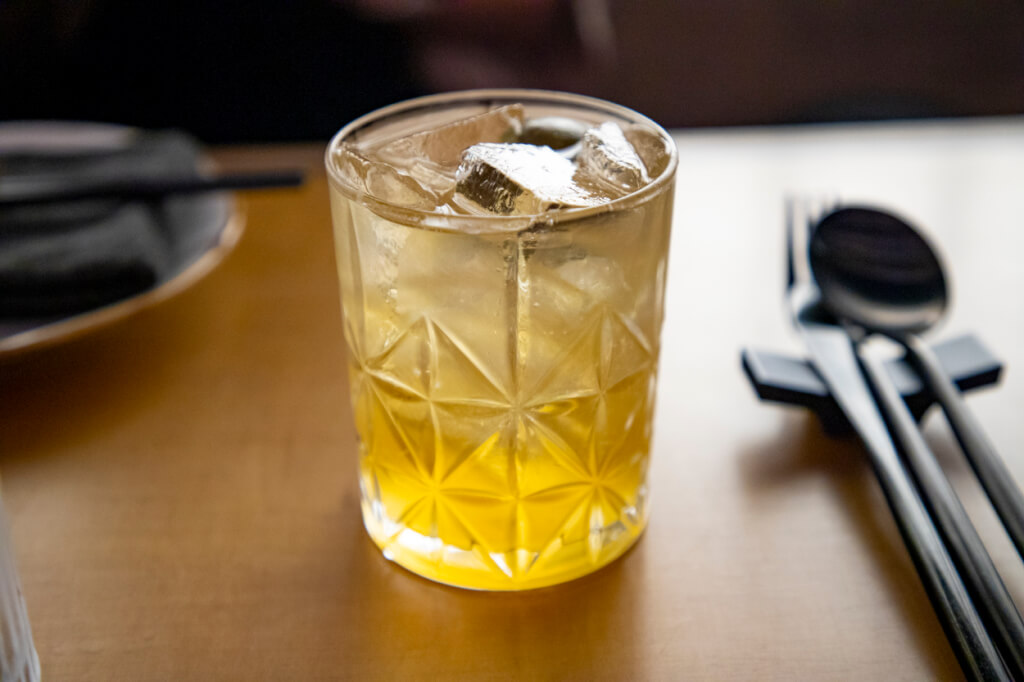 Abalone
To start, we got the Abalone – kumquat, coconut, habanero. This refreshing dish combines Kona abalone with jicama, sisig vinaigrette, kumquat slices, and basil. It's a very lovely, clean dish that gets a very nice amount of richness from the vinaigrette. It's a great way to start the meal.
Squid
Our second dish is Heiho House's current "pasta" dish. For this dish, squid is cut into noodles and combined with sweetbreads, banana, and swiss chard. I didn't taste banana at all. Instead, the dish reminded me of Vietnamese pho. The super tender squid noodles are an incredible flavor bomb, full of umami and herbaceous notes.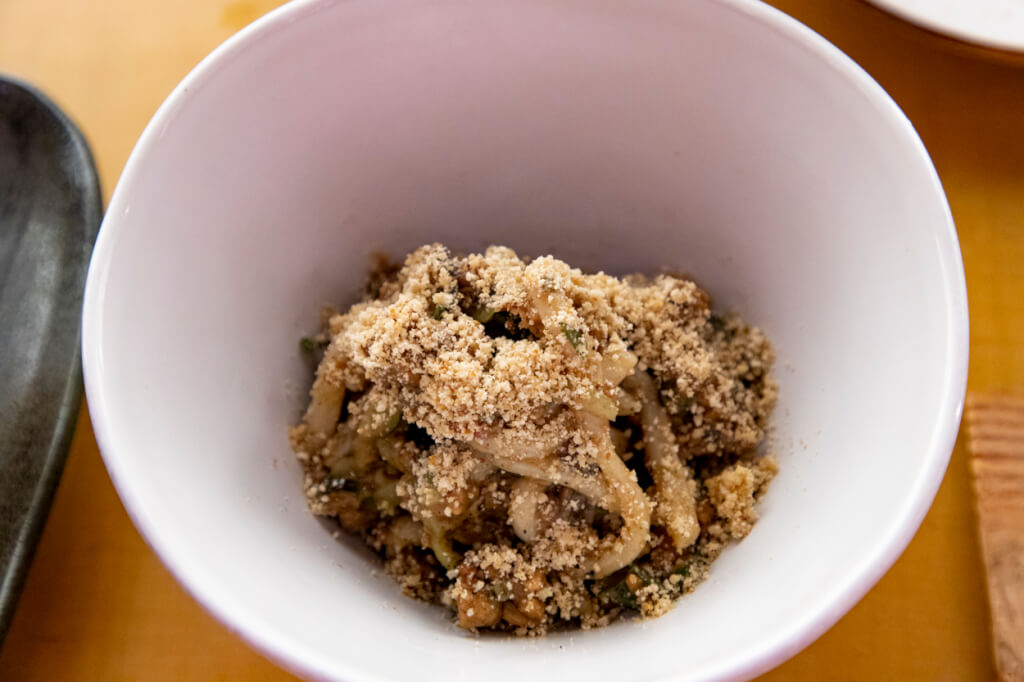 Shrimp Toast
We love shrimp toast, so I knew we had to order this dish before we even got to the restaurant. Yet, when you pop this visually intriguing dish into your mouth, it tastes nothing like the Cantonese classic. Instead, you get a slightly sweet medium-density bread, topped with a sauce reminiscent of Thousand Island dressing with shallots and rich egg yolk. Sure, it doesn't taste like shrimp toast, but it's fantastic nonetheless. Think Japanese Manju without the beans with the addition of grated egg yolk and a creamy everything seasoning-infused Thousand Island.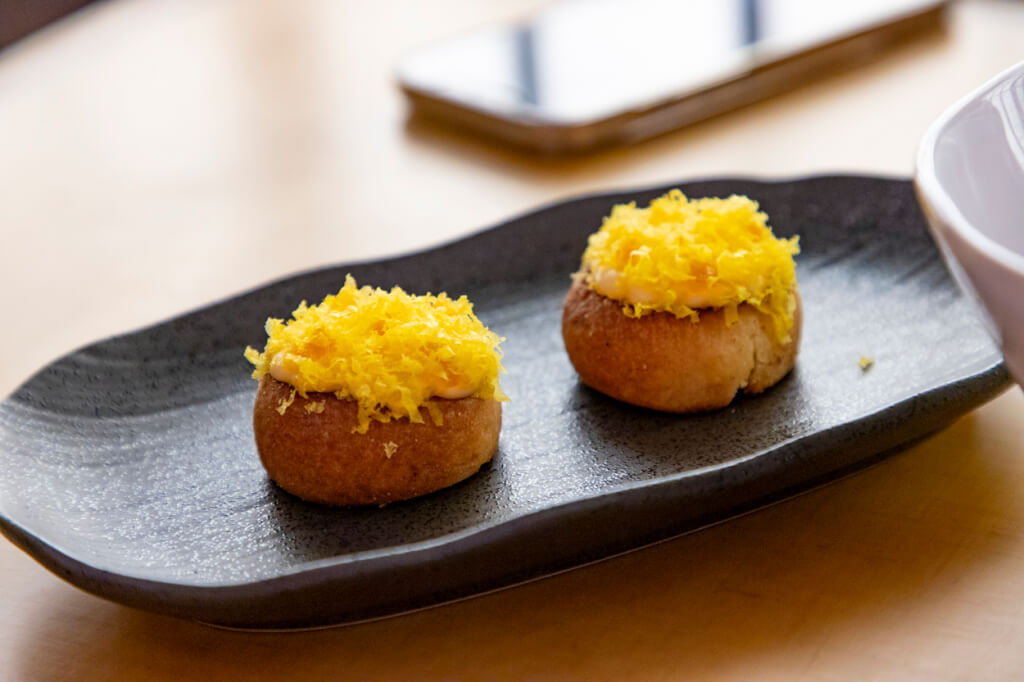 Beef Tartare
Fourth up is HeiHo House's current interpretation of beef tartare. Tomato, beets, annatto.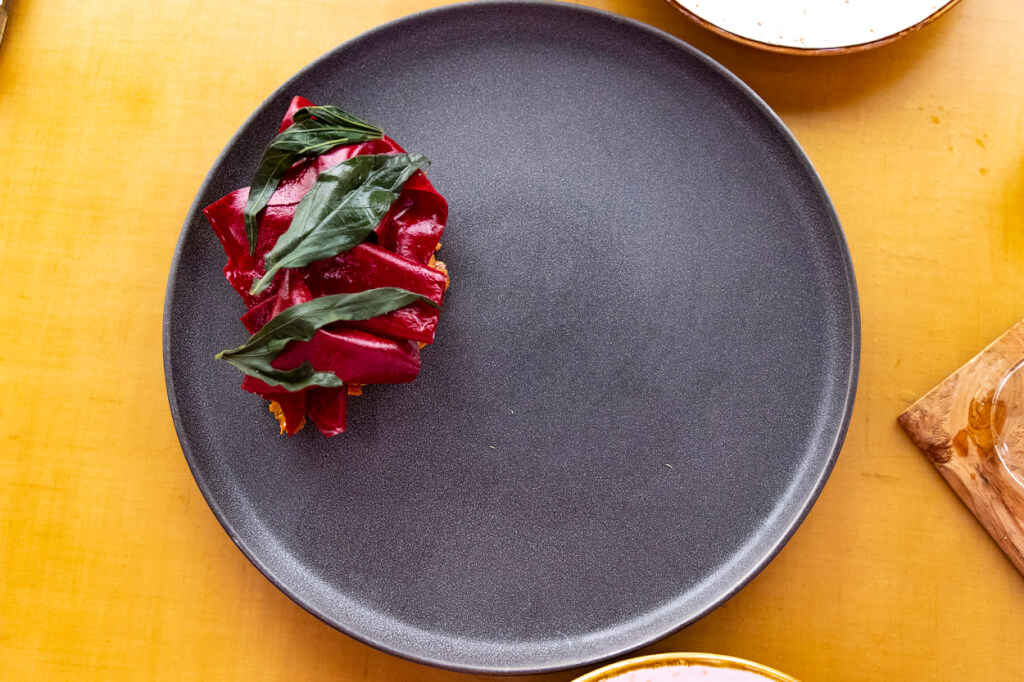 Sitting under the pickled beets and blanched sweet potato leaves is a mixture of chopped beef with tomato and annatto. In between the two layers sits an egg yolk, which you mix into the beef before enjoying.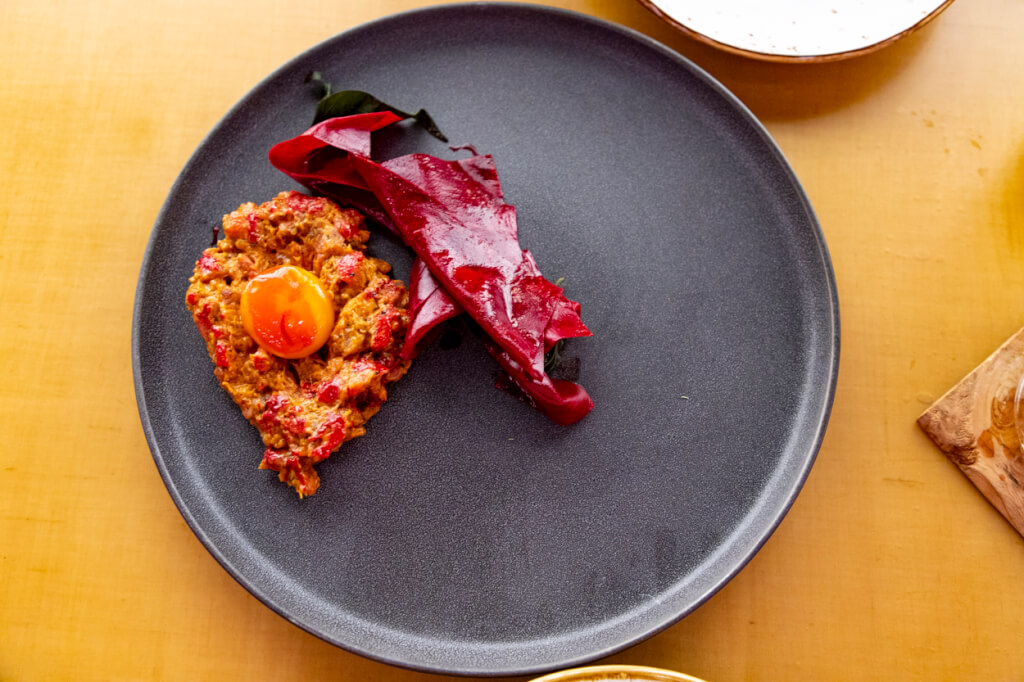 It's recommended that you use the pickled beets and blanched leaves to make wraps with the tartare, which we did.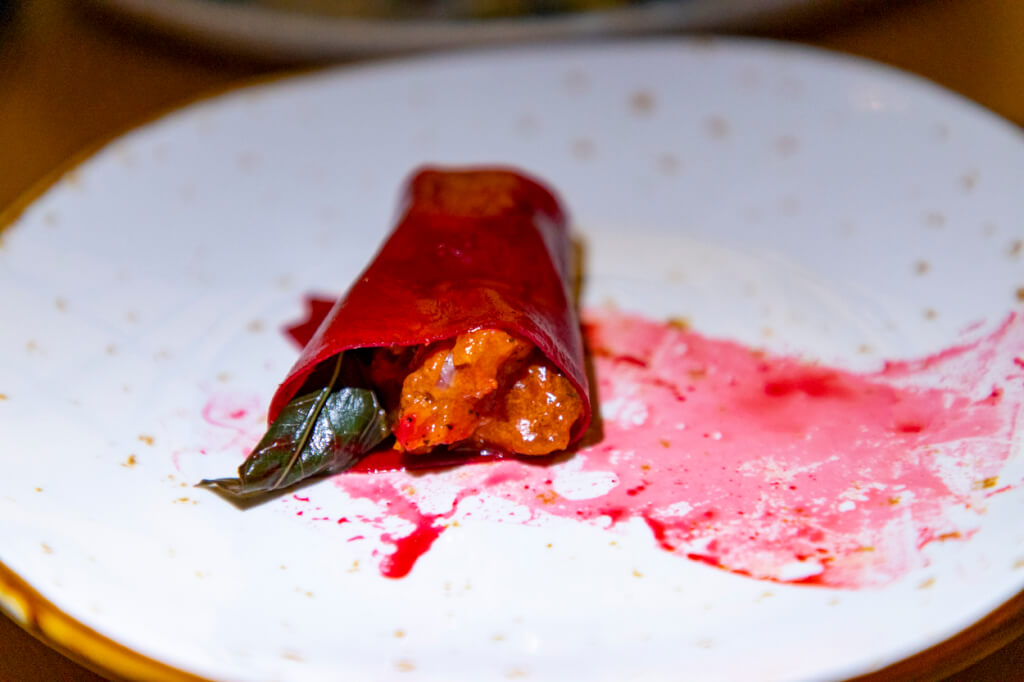 Looking a little like spicy ahi poke, the tartare has a clean, meaty, creaminess that's reminiscent of the local favorite. However, flavorwise, there's a pronounced smokiness and richness that's cut by the acidic, earthy notes of the pickled beet.
Octopus
Following the tartare was our second cephalopod dish of the night – octopus. Tamarind, apple, pine needle. We've had pine needle soda at Rich Table in SF before, which made us gravitate towards this dish. Pine needle has a bit of a citrusy, earthy, grassy flavor to it, which lent itself really nicely to the octopus. Combined with the tamarind and apple, this dish has a tart flavor profile balanced by a mild sweetness. Chive blossoms add a nice onion note to it and helps tie the dish together.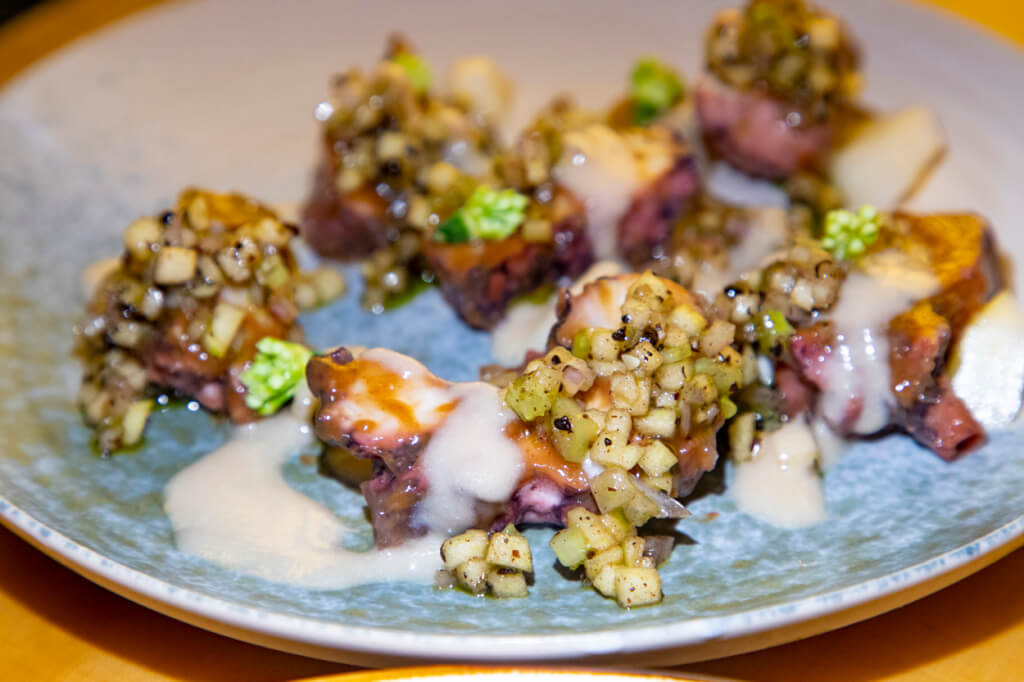 Mushroom
Yuba, black garlic, mace. I couldn't make out what this dish would be like, especially with how diverse mushrooms can be. It turns out the dish combines shimeji mushrooms with a black garlic sauce, granola, daikon, and crispy fried yuba. The dish is a wonderful study in textures, with differing types of crunch coming from the yuba, granola, and daikon. However, the granola also helps to boost the earthiness of the mushrooms, while the jicama provides some freshness. Smoke helps to further tie the dish together.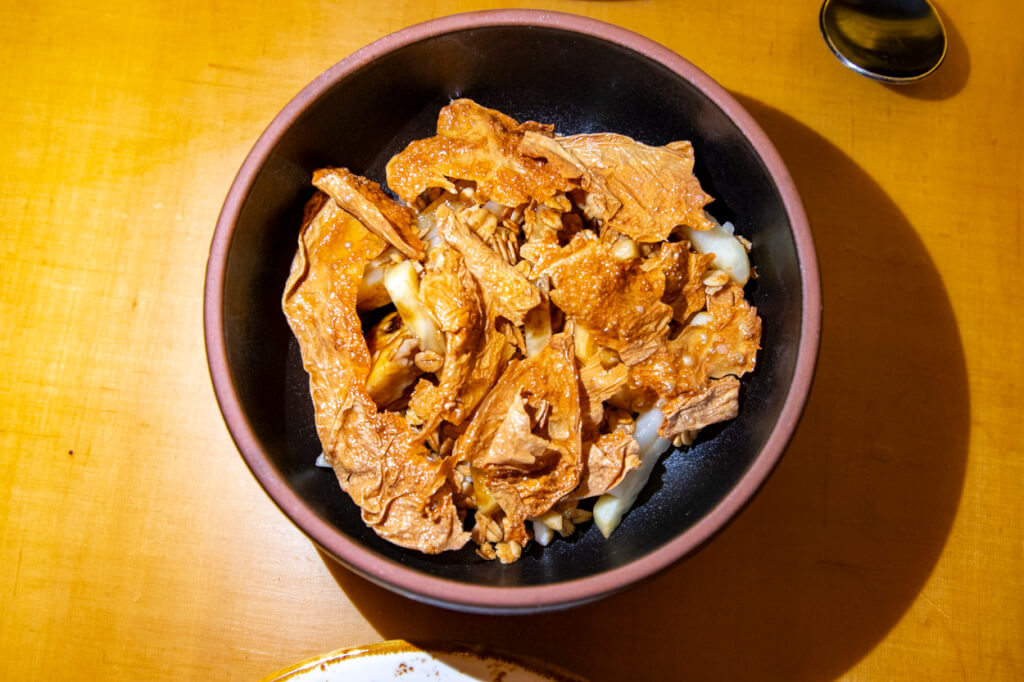 Supreme Duck Shit Oolong
That's exactly what the menu says. Why? Because the producer wants to remain anonymous. That said, this is a great cup of tea. While it tastes like oolong tea, it's cleaner than any other I've ever had.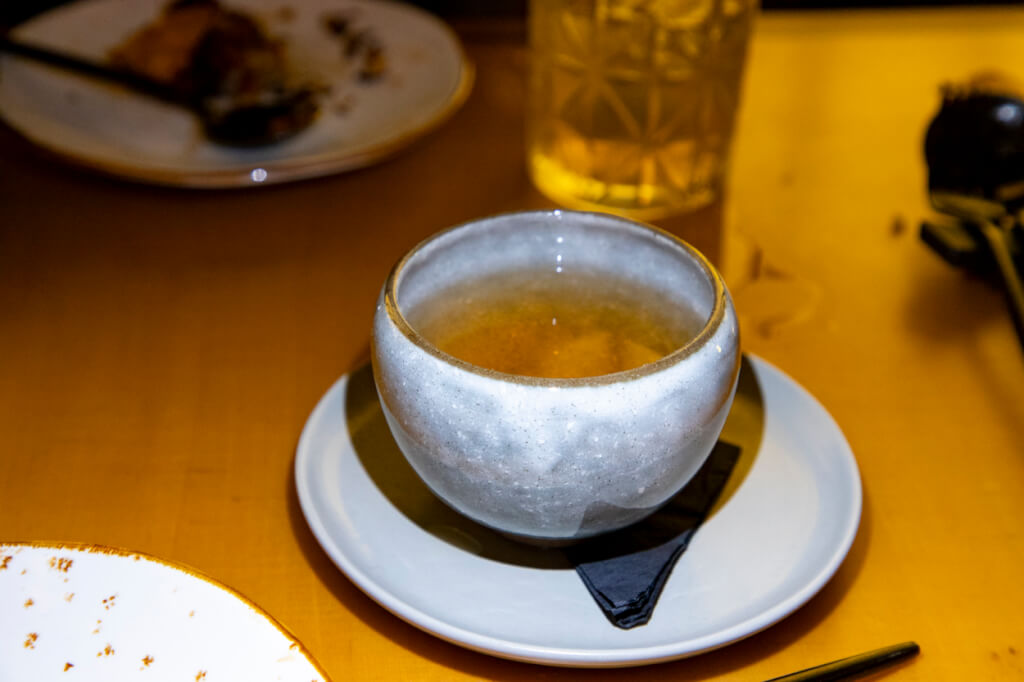 Sticky Rice
Star anise, chicken skin, mango. Going in, I thought this dish was going to be like Thai sticky rice with mango and struggled to figure out how the chicken skin would work in. It turns out that the sticky rice is infused with licorice and star anise, which sounds nasty. However, the rice combines really well with the sweet-tart rehydrated mango, toasted coconut, and chicken skin. Though there's a good amount of it, you can't really taste the chicken skin. Rather, it lends a nice richness and savoriness to the dish that further differentiates it from the usual, sweeter version.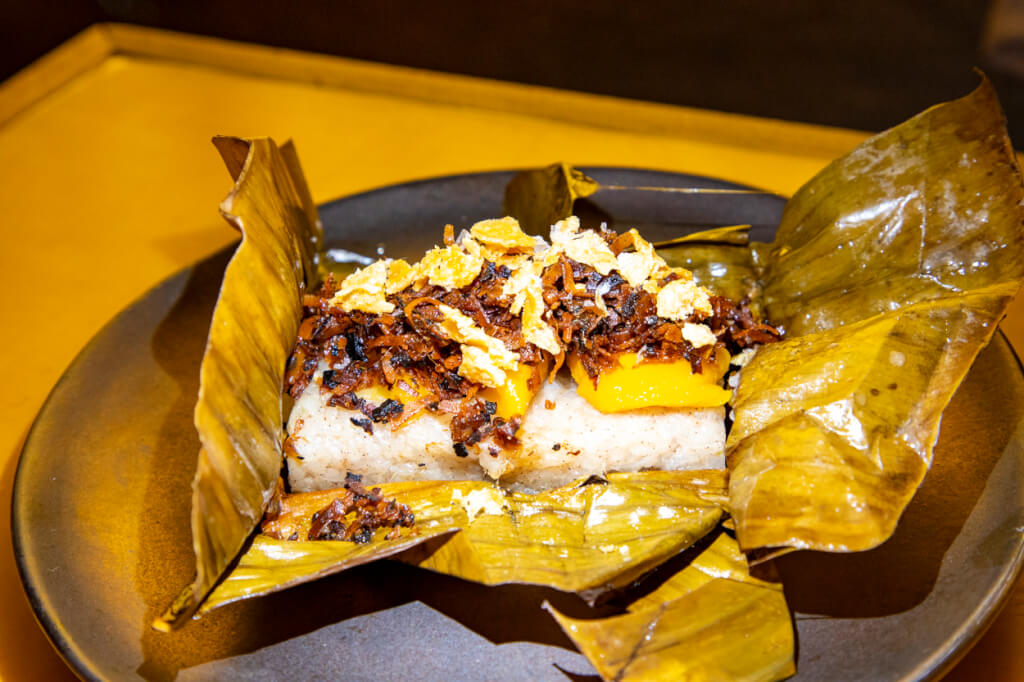 Eggplant
Ikura, leeks, rooibos. Charred eggplant combines with candied leeks and ikrua with interesting results. The dish has a smoky, slightly bitter base flavor offset by the sweet, oniony chewiness of the candied leeks. The ikura is the primary source of salt for the dish, balancing the sweetness and enhancing the meatiness of the eggplant. There was also a light fruitness to the dish, though I couldn't figure out where it was coming from.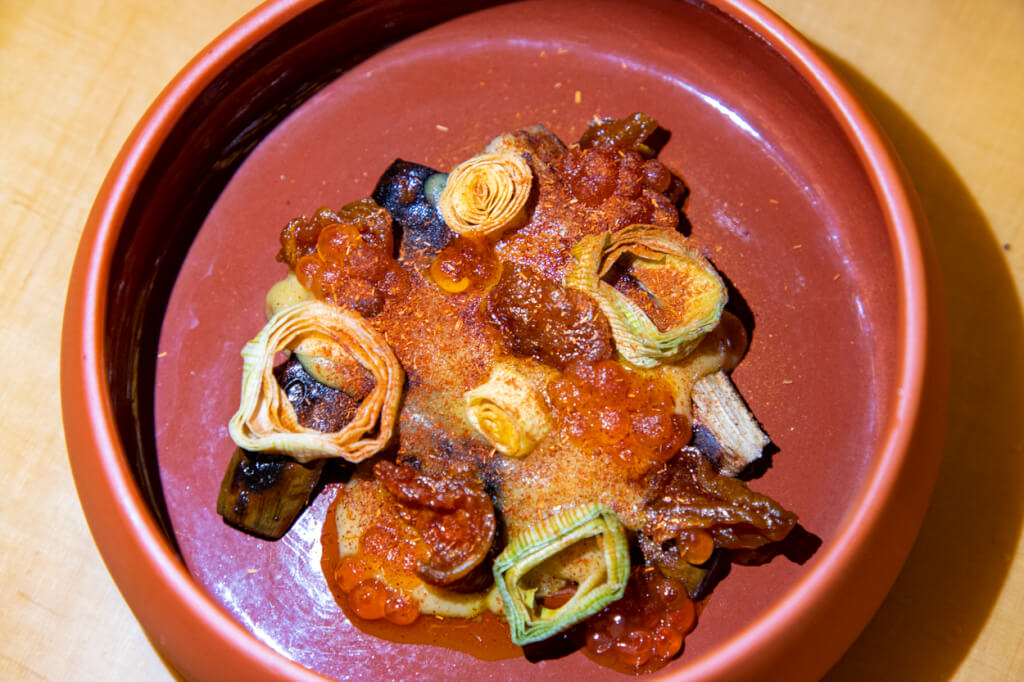 Yam
Carrot, ginger, olive. This was probably the simplest dish of the night. The dominant flavors are the sweet, charred flavors of the sweet potato, offset by the strong spiciness of the ginger and carrot puree on top. The earthiness of the carrot, ginger, and sweet potato all play off one another, further adding depth.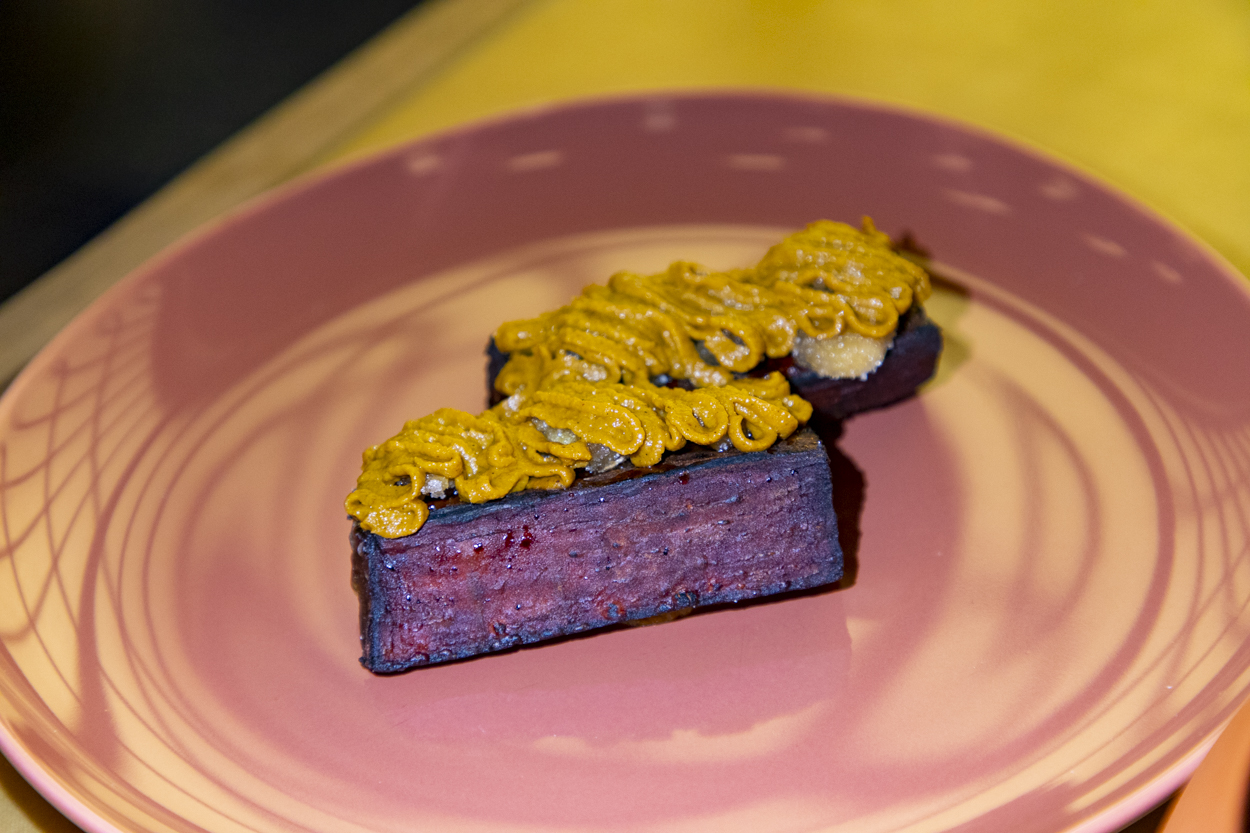 Chocolate Milk Oolong
Cacao, nutmeg, cinnamon. Naturally, this is a blended tea, combining oolong with cacao tea, nutmeg, and cinnamon. The cup on the left of the chocolate milk oolong, while the cup on the right is the Duck Shit. The differences are readily clear. Not only is the Chocolate Milk tea darker, but it has a heady aroma of cocoa (to me) and cinnamon (to Mrs. Island Miler). It's a wonderful dessert tea.
Adobo
Green apple, black rice, pink peppercorn. This was our first dessert course, and takes the classic Filipino dish – adobo – and turns it into a sorbet. Atop the sorbet is a layer of black rice and shards of pink peppercorn meringue. The whole dish sounds strange, right? Especially since adobo is typically a tart-peppery dish of pork or chicken.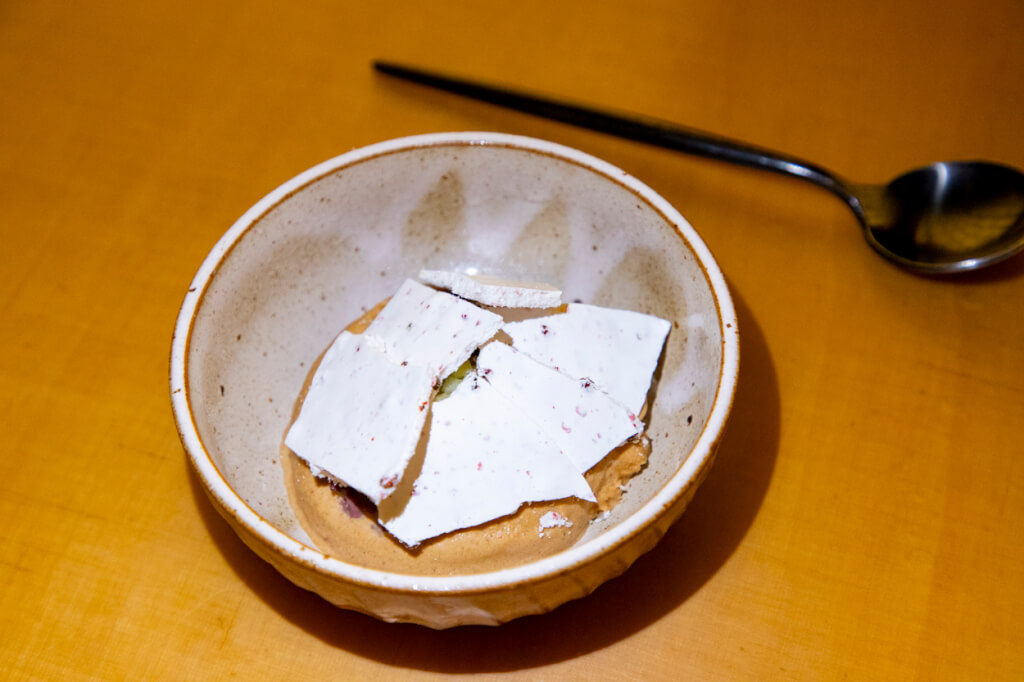 However, it translates incredibly well to a dessert format. It's sweet, tart, and salty, and is strongly evocative of adobo. The meringue is crisp and pepper, allowing the fruitiness of the pink peppercorns to shine through. It's a masterful dessert that stole the show, at least for me, that night.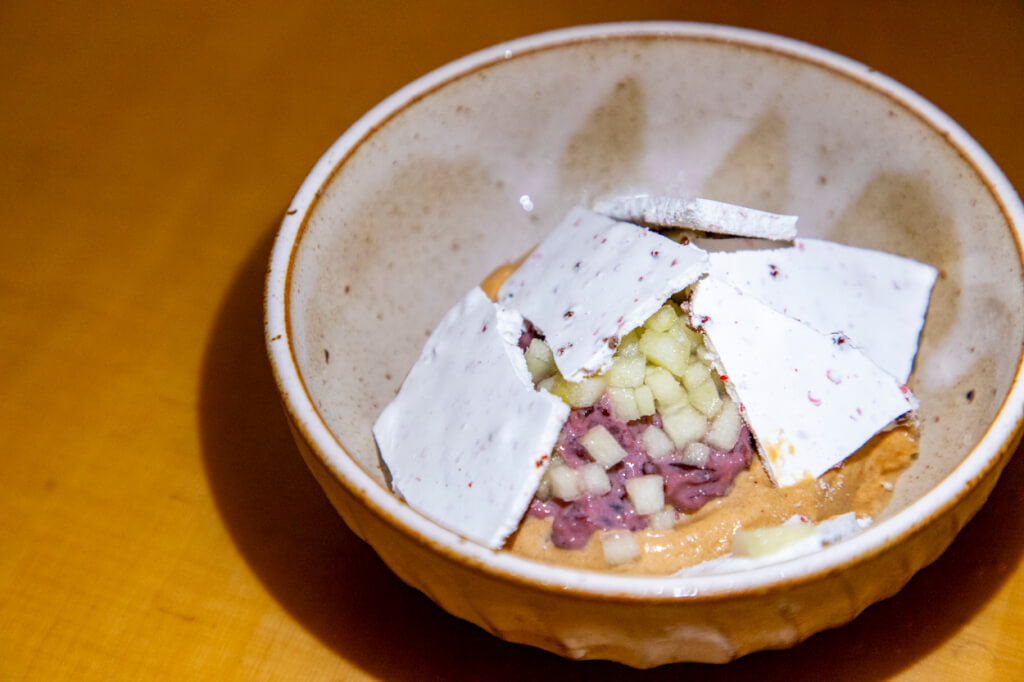 Halo Halo
Moringa, cane sugar, jasmine. Typically, halo halo is a shave ice-based desert. Here, however, they transform the dish into a flan with lychee pate de fruit and jasmine foam. Overall, the flavor is very light, with the sweet-sour lychee coming through the strongest.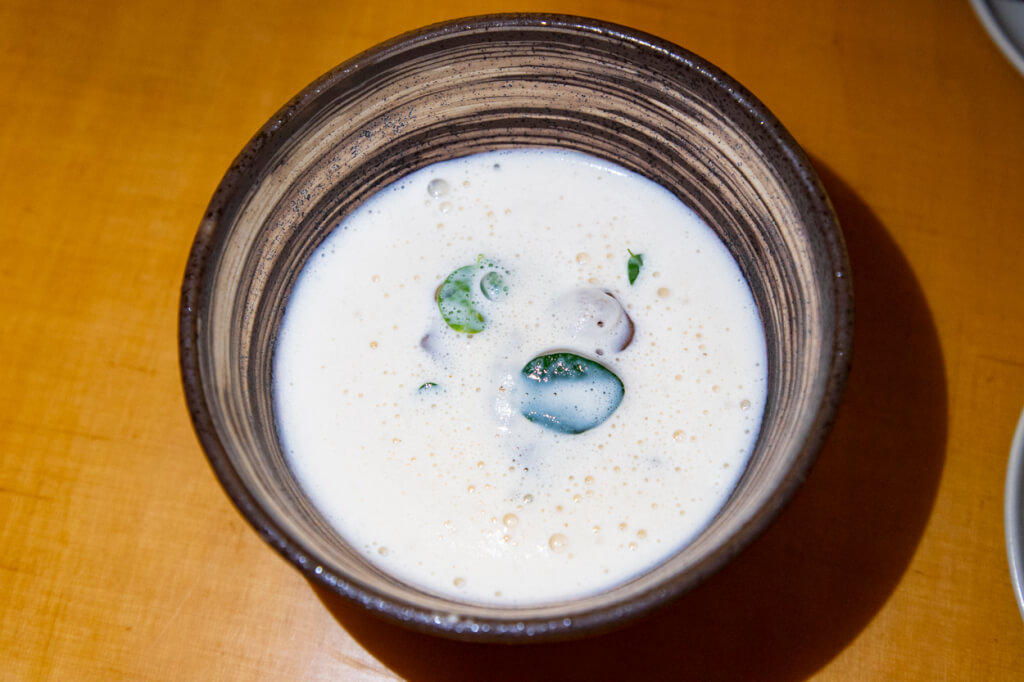 Bibinka
Chocolate, miso, stone fruit. Bibinka, depending on who you ask, is a rice flour-based cake with a light coconut flavor or mochi rice baked with coconut milk and brown sugar. This dish is an interpretation of the former, featuring a light, airy cake topped with chocolate nougatine and a chocolate miso sauce. I liked the airy texture of this cake, though it was a bit too sweet for my taste. That, however, is a personal preference. After all, I'm a 70% or higher type of chocolate guy.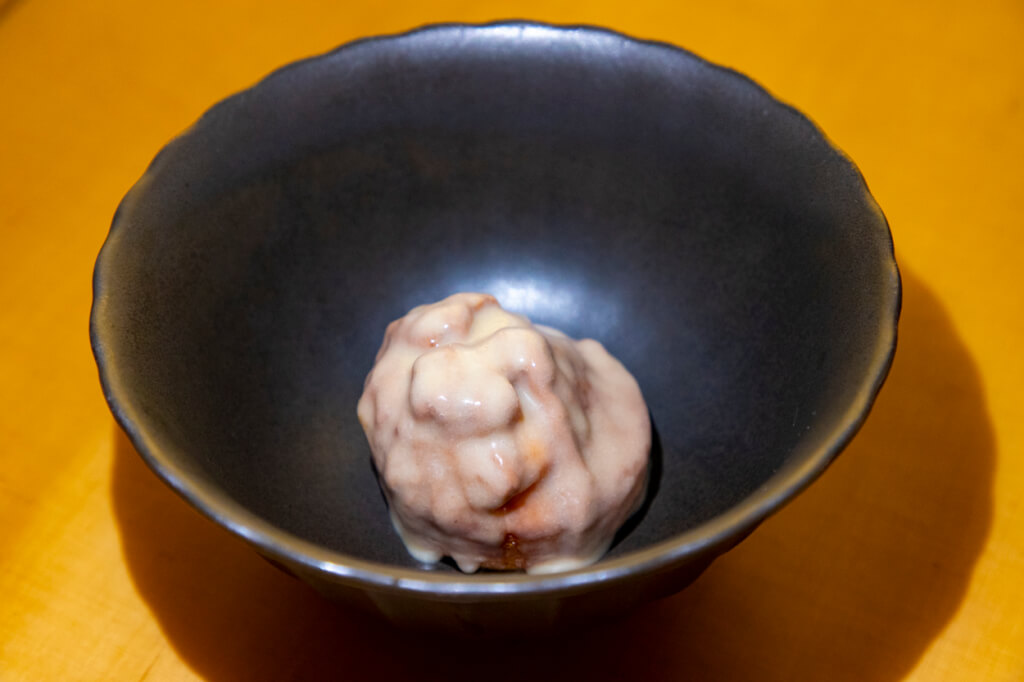 Final Thoughts
The new Adaptation menu at HeiHo House is not only delicious, but it's a lot of fun too. I encourage everyone to head on down and give this menu a shot. Just go in with an open mind and empty stomach, and you'll have a grand time. However, be sure to do so by the end of the month. Word is that they'll switch over to a new menu sometime in early June. Don't miss out! After all, Honolulu is home to many great restaurants. But how many of these restaurants can surprise you with an unconventional yet truly memorable (in a good way) meal? Very few.
In case you're wondering, my favorites of the night included the Mushroom, Sticky Rice, and Adobo. I loved many of the other dishes too, but those were my top 3 standouts!