Mauritius, Munich, Oktoberfest, Berchtesgaden and Paris: Air France Business Class to Mauritius from Paris
Trip Summary: Back in January of 2012 I decided to put my frequent flyer mileage knowledge, skills and learnings to the test and book the honeymoon of our dreams for my wife and me. While it took several months for the plans to fully materialize, the result was an amazing, while not always seamless trip. This is not only a recap of the trip we took and how we got there, but also the beginning of more formal travel blogging to showcase my adventures in the United States and abroad.
This trip will be summarized in the following topics:
After 36 hours on the road, it was time for the final leg of our flight to Mauritius for our honeymoon. Having already survived a passport scare, flown from MSP -> IAD -> DTW -> CDG and gone into Paris on our layover, we were ready to be on solid ground. Unfortunately, we still had an 11 hour flight ahead of us to get to Mauritius. Of course, the good news is that we had a flight at all, and better yet we were in business class.
Air France flies 4 flights a week between Paris CDG Airport and Mauritius under their own flight codes, and they also code-share another ~10 flights a week where Air Mauritius is listed as the airline and Air France can also book passengers on the flight. However, partner airlines cannot always book on the Air Mauritius flights for some unexplained technical reason.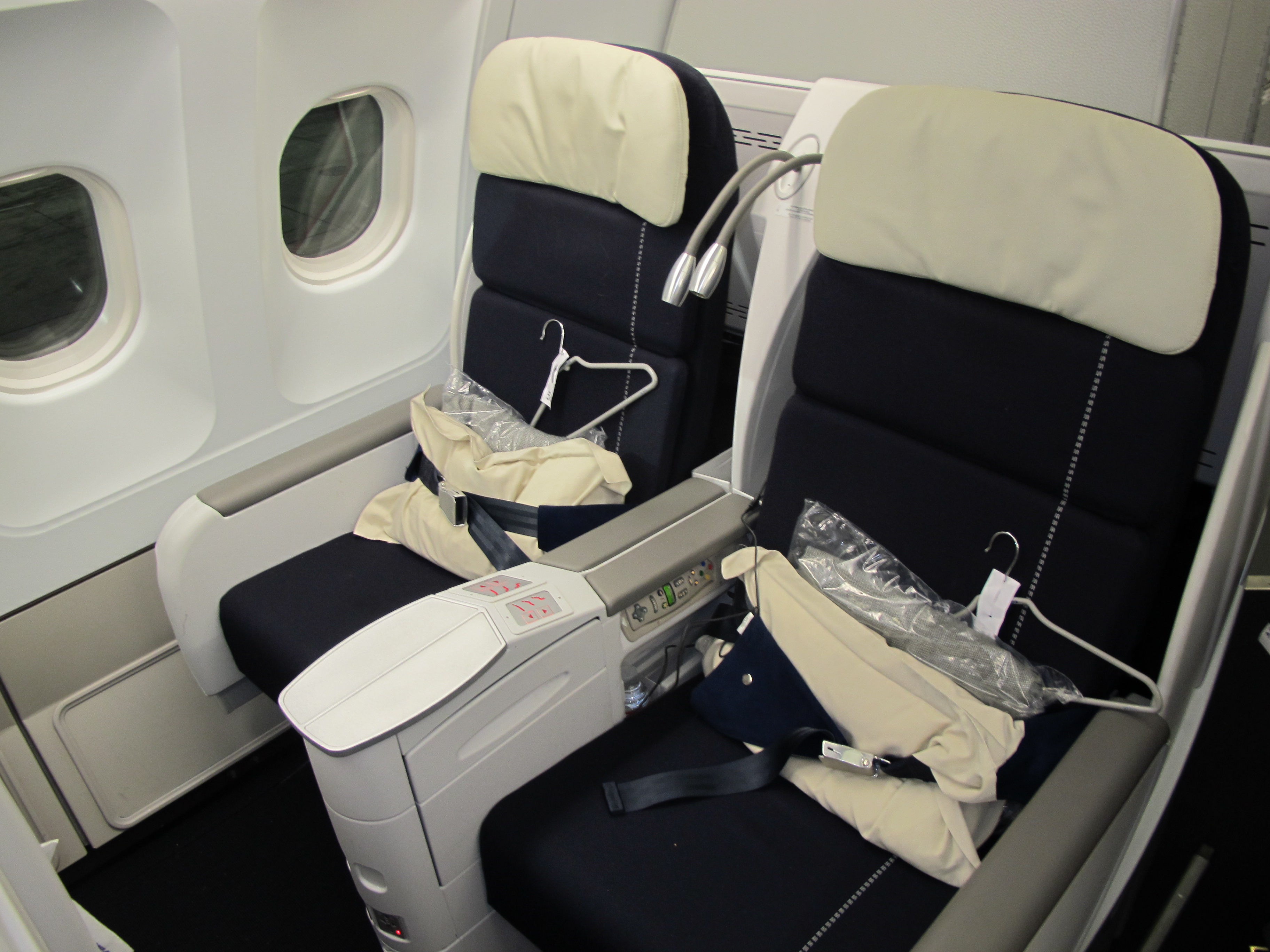 While booking the trip with Delta, they were only able to recognize the codes for the AF flights and none of the Air Mauritius flights were visible in their system. This meant that we had to be on one of those 4 flights and there was no way to get move to the other 10 flights that Air France sends to Mauritius a week (this is why the passport scare looked so dire. Even though there was more flights to Mauritius, the system couldn't see them).
I did see a blog post from Matt about how he was able to book on Air Mauritius using Delta Skymiles, but I'm still not sure how he pulled it off, because every time I called Delta, they could only see flights coded with AF (Air France) and could not see any from Air Mauritius.
The flight from Paris to Mauritius is an 11 hour jaunt that goes over the majority of Europe, through the middle east and then over the Indian Ocean to the final destination. Our flight took off at 11:30 PM, so as with our flight to Paris, our primary mission here was to get some quick food to eat and then get a full night of sleep on the plane before our arrival the next day. With two overnight flights in a row, you need to be as cautious as possible to make sure you get enough rest to avoid fatigue and sickness (more on this in a future post, because I failed).
The business class product was very similar in look and configuration to that on the A340-300, but with only 2 rows of business class seats. We were in seats 1A and 1B. While I don't usually like the first row due to inability to stow carry-ons, this was not a big issue for this flight because the seats had a cubby hole in the front.
This plane also was equipped with Premium Voyageur class of seats, which is a hybrid between business class and economy. There were 6 rows of these seats, and they were in a 2-3-2 configuration.
The food from Paris to Mauritius was similar to that which was served on our Detroit – Paris flight and presentation was similar as well.
The starter of smoked salmon and Foie Gras was very tasty, with the potato salad and walnuts being unremarkable.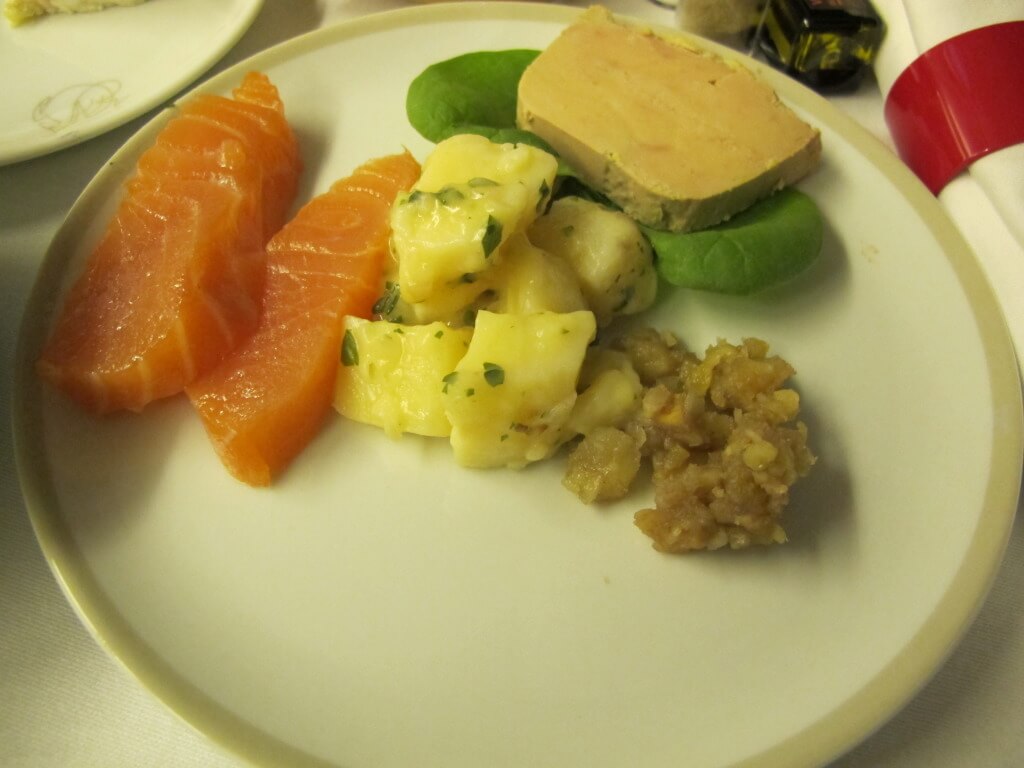 The cheeses were excellent, as I have come to expect from Air France.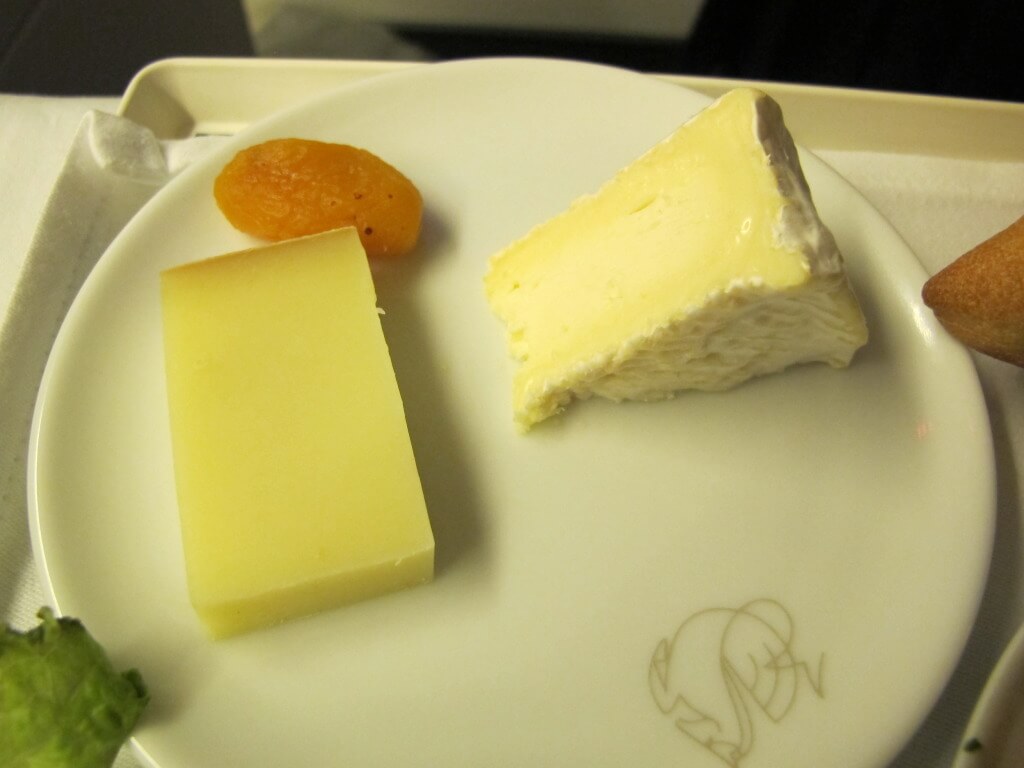 For the main course, I ordered the Sauteed Chicken a l'orange with meringuette pepper, pearl onions and braised endive – who could argue with that fantastic description?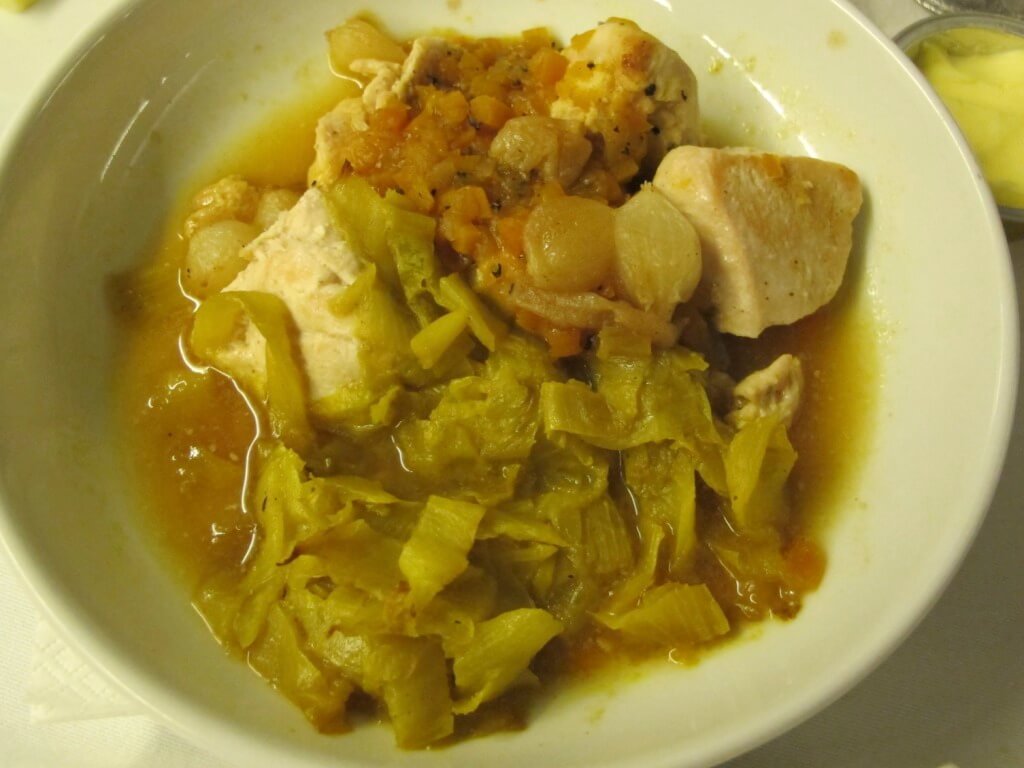 What actually came out did not look nearly as good as it sounded. Just a big pile of stuff with no real presentation or form. It didn't really taste that great either, so it wasn't just a problem with the presentation.
My companion ordered the Roasted Leg of Lamb, which did appear as if someone actually tried to properly plate the meal. The lamb was decent, but a little on the gamey-side, which one might expect on an International flight.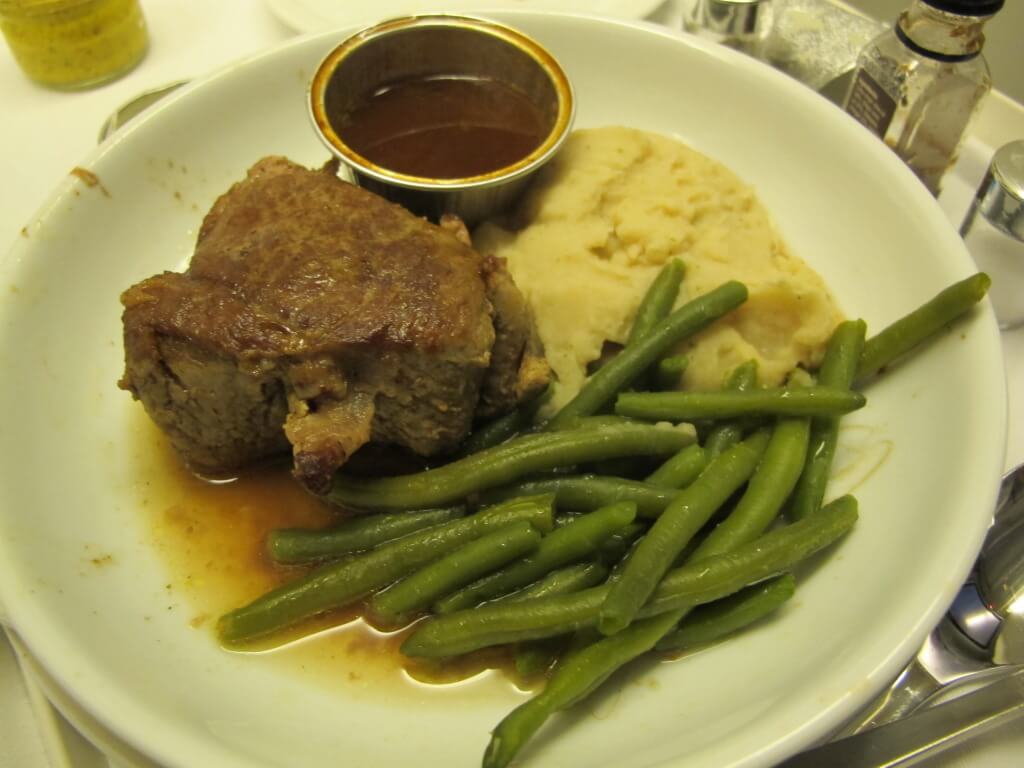 The dessert was a Cocoa-kirsch Genoise with tropical fruit and coconut, and was a refreshing end to the meal.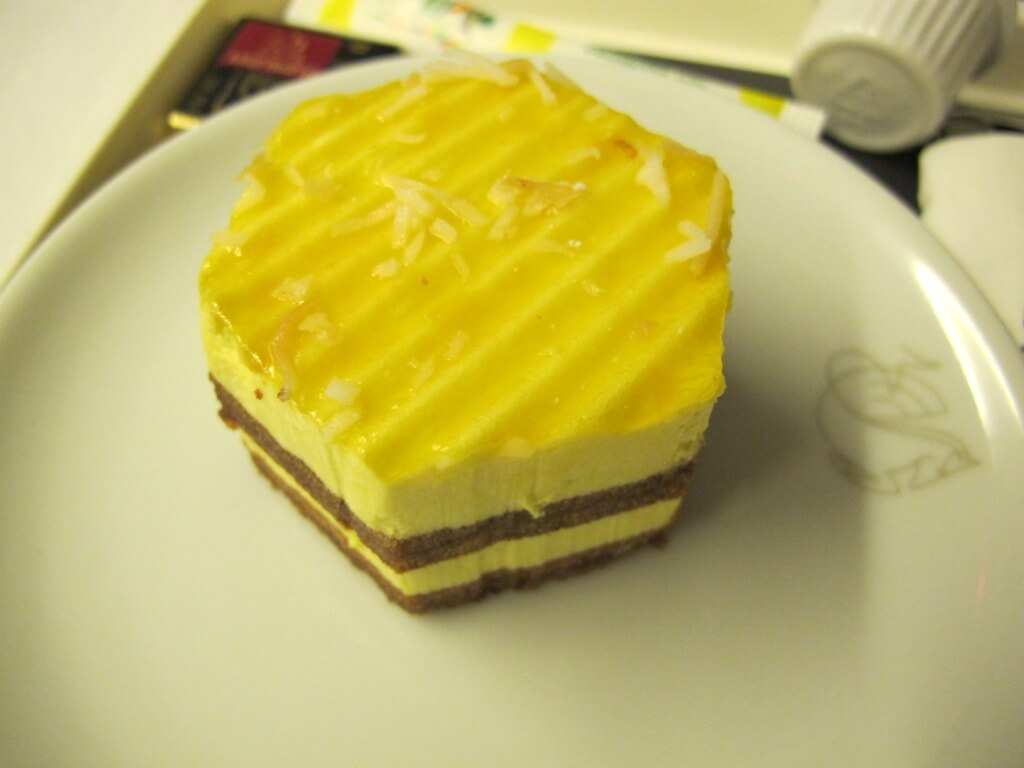 After dinner, I had a 15 minute date with my favorite sleep movie Salmon Fishing in the Yemen, which helped me sleep for a solid 8 hours before waking up for breakfast.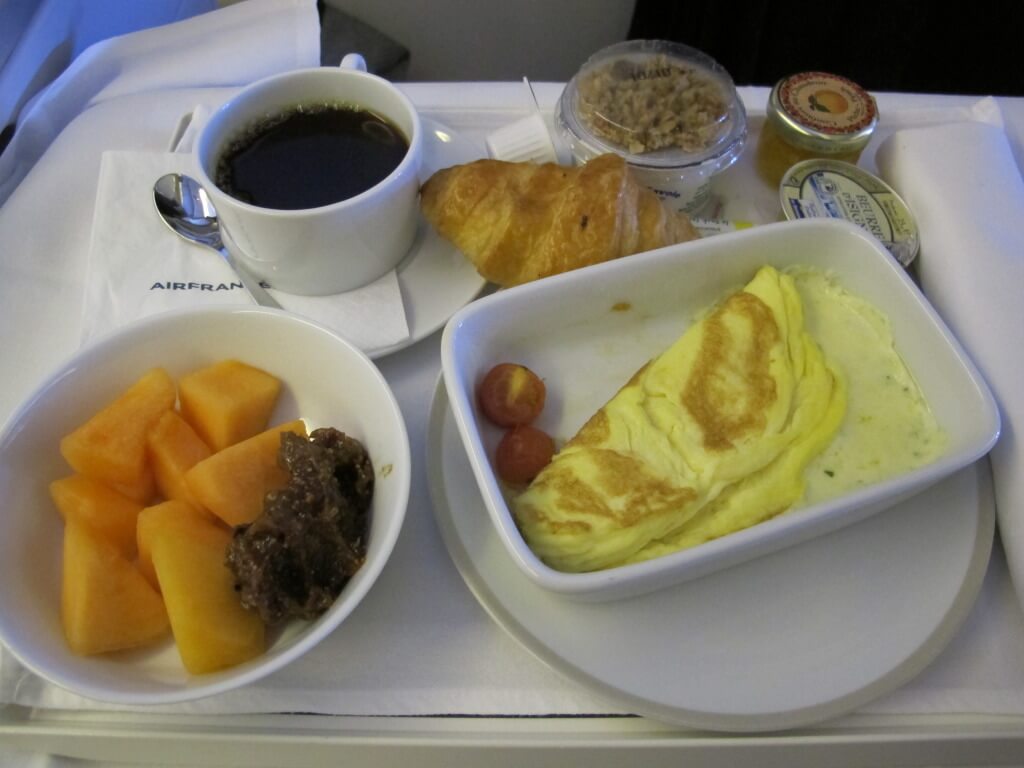 Breakfast was excellent, featuring an Omelette with Ricotta cheese, fresh cantaloupe and fig paste, yogurt and a croissant. This was probably the best airplane breakfast I have had to date.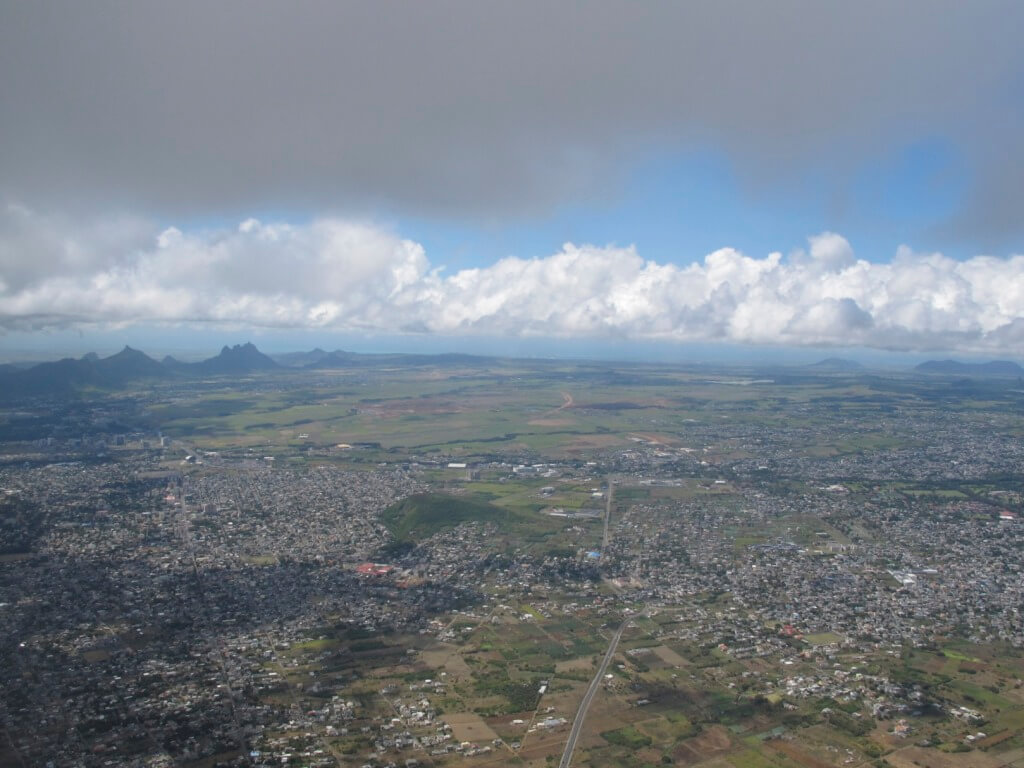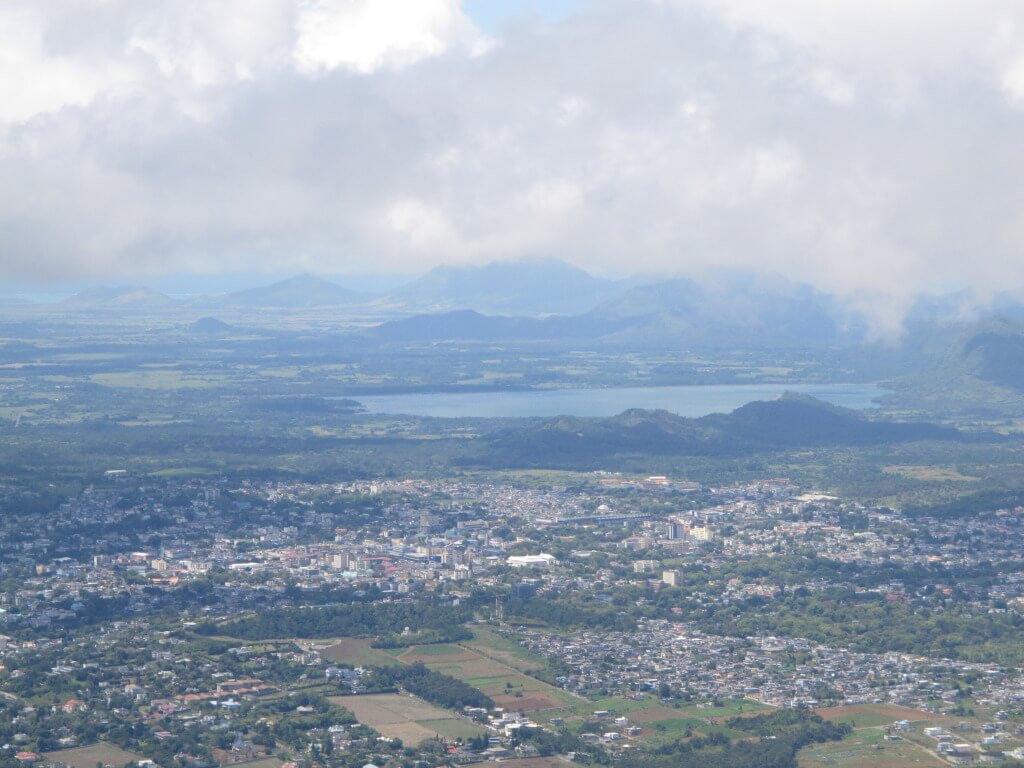 Within an hour we were over the island of Mauritius and flying into paradise. The views out of the window were a preview for the beauty we were about to see.
The airport in Mauritius is currently under construction, and the new terminal looks beautiful. We later learned that the terminal is being designed to look like a local tree (still trying to look up the name).
After a quick visit through customs, we found a taxi cab who was willing to take us to our hotel to begin our stay on the island. More on that to come.