Despite being to Portland a few times, I've never flown out of PDX before. that is, until my visit last year. With such a short trip, we headed home on Alaska Air 833 Portland – Honolulu.
We had a relatively early flight out of Portland with a scheduled departure time of 9:25 am. That meant making out way to the airport about two hours early. Especially since I wasn't sure how long it'd take to return our car. But that's probably for the better.
Check-In
Alaska's lobby was pretty busy. Thankfully, it didn't take us too long to get to a kiosk. Unfortunately, our first, second, and their kiosks wouldn't print our boarding pass. As a result, we ended up waiting in line for 10 minutes to see a customer service agent. When we finally got help, the agent refused to accept my bag until I attached a nametag with my address on it. Weird.
Donut Stop
Having never flown out of PDX before, I didn't realize that all of the shops were pre-security. Thankfully, we were there pretty early, so we had time to swing by Blue Star Donuts to pick up a last-minute box of goodies and some "breakfast."
We hung out at Blue Star for a few minutes to scarf down our sugary dough rings. Then, we headed over to TSA and queued for about five minutes before making it through the Pre-Check line.
Terminal Experience
As is always the case, my top priority was to check out the Alaska Lounge. Unfortunately, as is the norm these days, they weren't accepting Priority Pass members. No matter, we made our way over to our departure gate C18.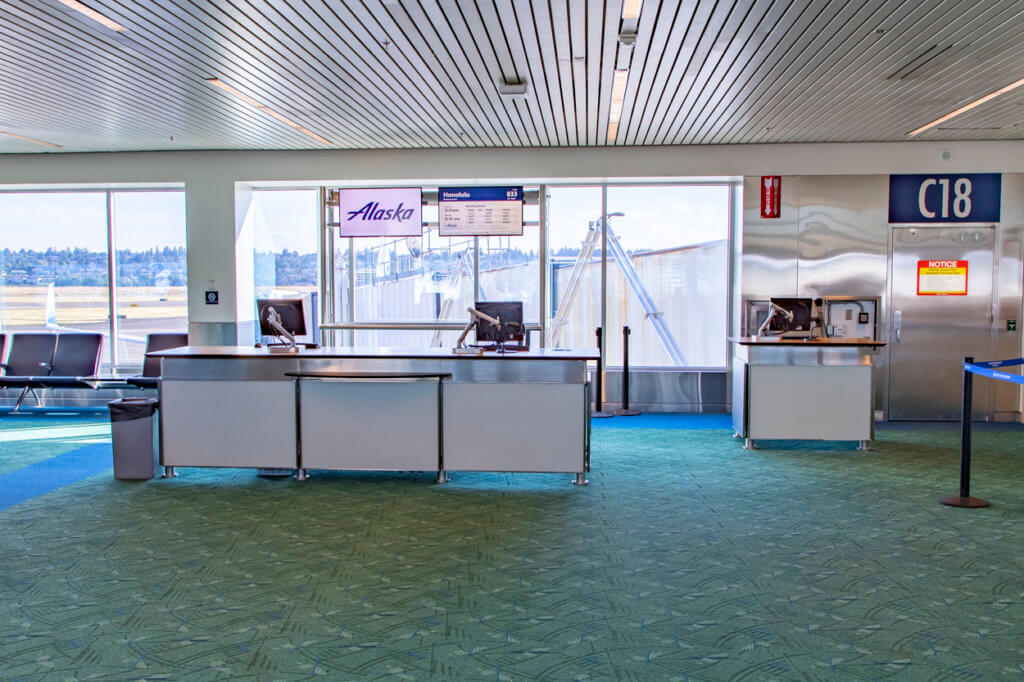 The gate area was relatively empty when we got there and never got too crowded. Too bad the restroom near our gate was out of order. I had to run my butt all the way back to C9 for my pre-boarding pee.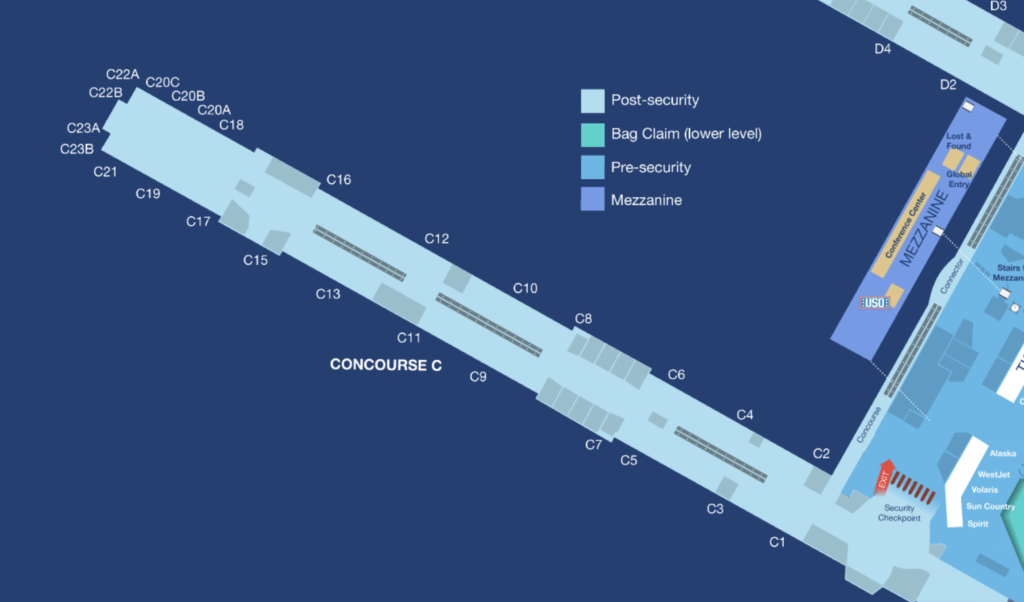 Boarding
Our schedule boarding time was 8:45 am, which is the time pre-boarding eventually took place at. Military members were welcomed next at 8:47 am, followed by first class a minute later. Our boarding group, Group B, was invited to board at 8:49 am. Rather unusually, boarding took nearly 45 minutes to complete, with our cabin door closing at 9:25 am.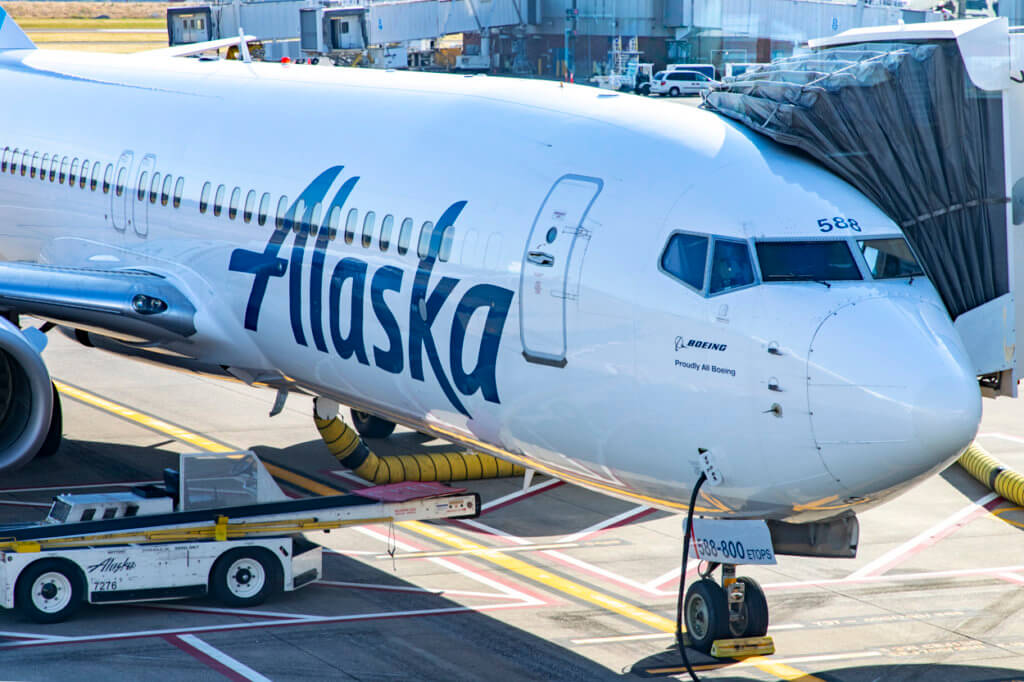 Departure
During our flight's briefing, our crew informed us that our then 12-year-old Boeing 737-800's WiFi and streaming system wasn't working. That said, our captain informed us of a 5 hour and 45 minute flight time with smooth, calm conditions all the way to Honolulu. With that, we began our push back at 9:32 am, seven minutes behind schedule.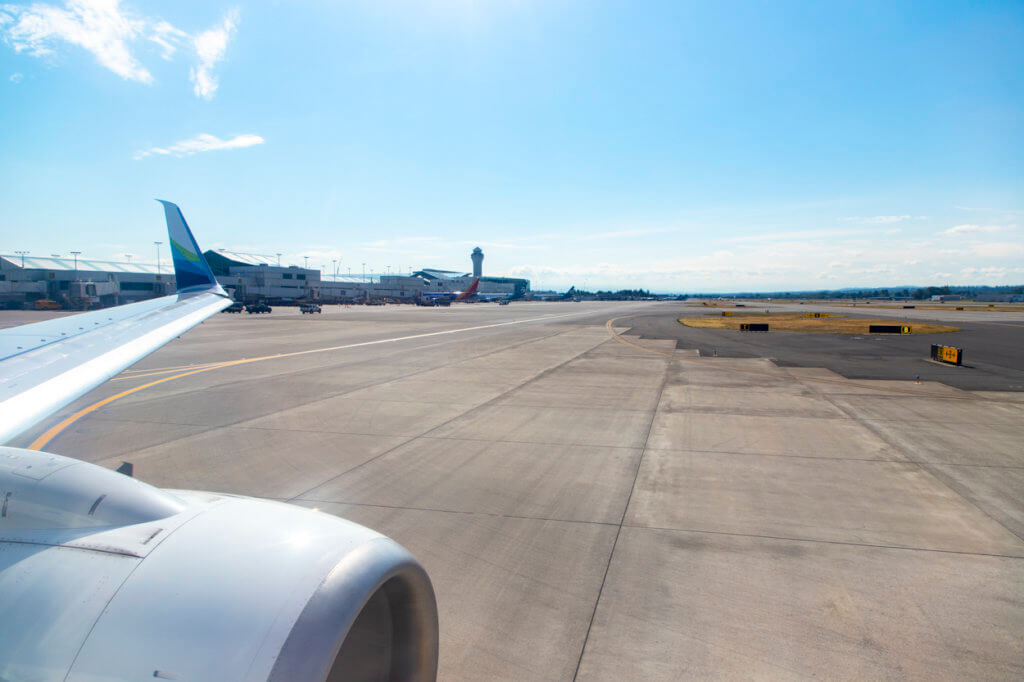 Maybe our captain was trying to makeup for our late departure, but we booked it to the runway. In fact, we made it to 28L in six minutes, after which we ended up having to hold for four minutes for an arriving flight. Then, at 9:42 am, we began our takeoff roll, giving us fantastic views of downtown PDX.
Unfortunately, the heavy haze in the air that morning obstructed our views of Mount Hood. Boo.
In-Flight
Ironically, the onboard streaming did work, though our climb out was a bit choppy. But, just 13 minutes after departure, we reached our initially cruising altitude and our crew sprang into option with water service. Along with the water, Premium Class passengers received both a granola bar and a bag of nuts with fruit.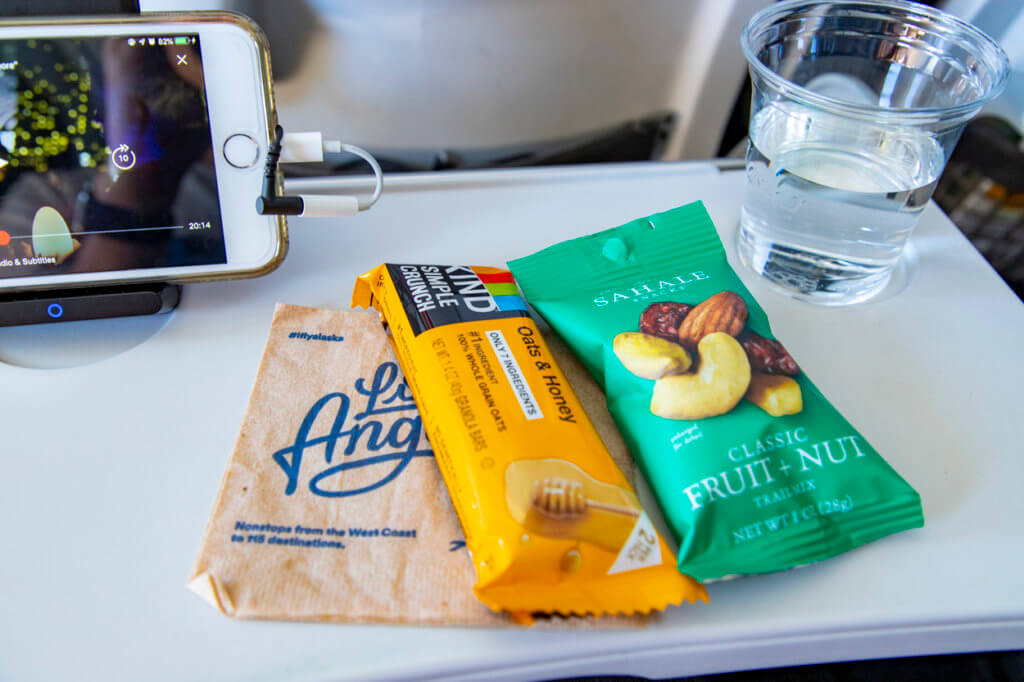 Water service was followed by breakfast service 25 minutes later. On this flight, breakfast came in the form of a croissant with crispy bacon, sliced hardboiled egg, avocado aioli, and a side of green grapes.
The somewhat stale croissant aside, this sandwich was pretty good. Of course, the views at 35,000 feet were great, making breakfast even better. Oh how I miss airline food.
It was a gorgeous day for flying or basically anything else. As a result, I split my time between watching pre-downloaded Netflix shows and staring out the window. And, before I knew it, the peaks of Haleakala, Mauna Kea, and Mauna Loa came into view. At that point, at around 2:51 pm PT/11:51 HST, we began making our initial descent and made our way past Molokai.
Descent
As we made our way into Honolulu, we approached Oahu over Makapuu, giving us spectacular views of the Kaiwi Coast and Oahu's south shore before we headed back out over the ocean near Diamond Head.
Then, we turned back toward Honolulu out over Ko Olina and began our final descent at 12:05 pm HST, passing over Ewa Beach and Pearl Harbor, before touching down on Runway 8L at 12:16 pm HST.
After touching down, we had a quick taxi to our gate filled with interesting birds, including a Korean 747-8I, an ANA A380, and an assortment of 777s, A330s, 737s, 767s, and 787s.
We arrived at our gate at our scheduled arrival time of 12:20 pm. Two minutes later, the doors opened and we made our way out into the sweltering Honolulu humidity.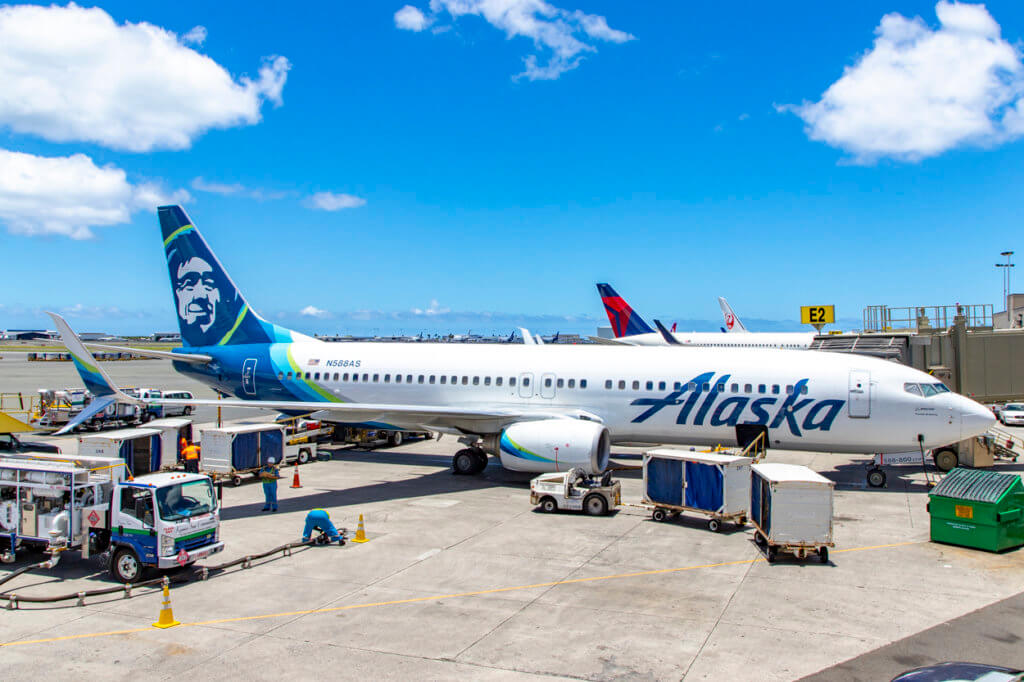 After getting off the plane, we took a lovely hike through HNL open air corridors, eventually strolling into our assigned baggage claim 13 minutes after doors opened, just in time to see our bags come tumbling down.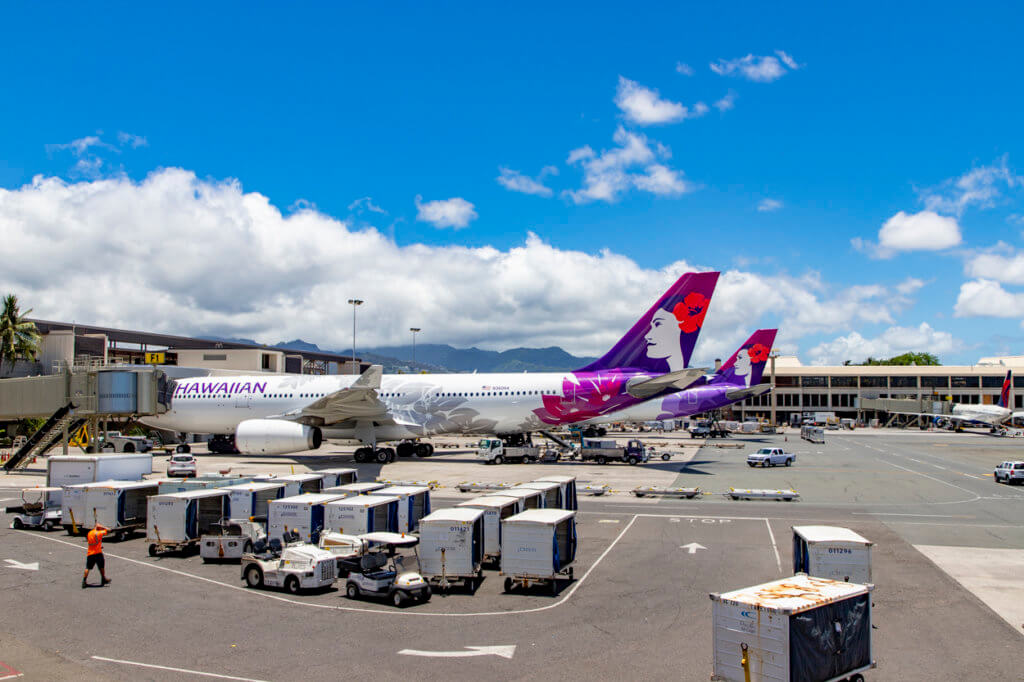 Alaska Air 833 Portland – Honolulu, Final Thoughts
This flight wasn't my final flight before COVID. No, that honor went to my short hop from KOA to HNL on Southwest a month and a half later. But, this was my last transoceanic flight. And, I really miss flying with Alaska and even miss paying for food in economy.
At any rate, while this flight from Portland to Honolulu wasn't anywhere near as good as our flight to Portland. But, it was still a good flight. This is Alaska Air, after all. I just wish the ground experience was better. But, it is what it is.
Long Weekend in Portland
Alaska Air 833 Portland – Honolulu