Alaska Air has long had fun liveries. Historically, one of these has been their signature Salmon Thirty Salmon one. But no more. Instead, a stunning Alaska Air Salmon People Livery was revealed late last week, which, to me, pays homage to the beloved livery while paying respects to Native Alaskans.
Alaska Air's famous flying fish was the brainchild of the Alaska Seafood Marketing Institute to help promote Alaskan salmon, who paid Alaska Air to give the aircraft – N559AS – a salmon livery way back in 2005. Aircraft liveries have a finite life, which is typically around seven to ten years, and every time they needed to repaint the aircraft, it kept its salmon livery. However, with this repaint, Alaska decided to take things in another direction. So after a final run on Alaska's famous Milk Run, they pulled N559 out of service and repainted her.
Now, at the time, people were LIVID. In fact, there's a change.org petition out there trying to get Alaska to bring back a Salmon Thirty Salmon livery. But, what I think they did instead is much cooler and culturally appropriate.
Check Out the Stunning Alaska Air Salmon People Livery
When news broke that Alaska would be repainting the Salmon Thirty Salmon, they wouldn't confirm what would be replacing the flying fish. Rather, an Airline spokesperson stated that "The next image that the airline decides to use may reflect a shift in how the world views Alaska, and Thompson was excited about the possibilities."
Well, as it turns out, Alaska kept a salmon livery. But instead of having a literal illustration of a salmon on the side of their jet, they hired a Native Alaskan artist named Crystal Kaakeeyáa Rose Demientieff Worl to create a livery that pays homage to Alaska's Xáat Kwáani (Salmon People). And that's how we got this stunning Alaska Air Salmon People Livery.
It should be noted that the aircraft is also named Xáat Kwáani, and is the first aircraft to be named in an Alaskan native language.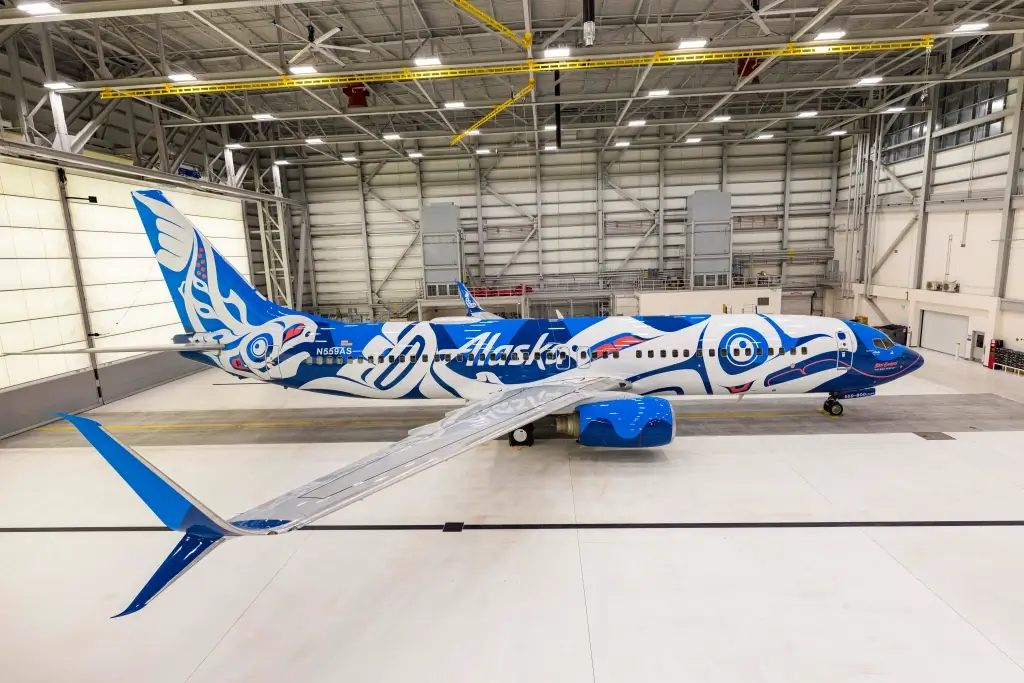 Honestly, I think the Alaska Air Salmon People Livery is fantastic! Not only do we keep a salmon livery in spirit, but it pays respects to an indigenous people of Alaska's namesake state. It's something that, I think, is a long time coming and something I'd like to see more of.
Final Thoughts
While I think the Salmon Thirty Salmon was fun, I do think the Alaska Air Salmon People Livery is even better and more appropriate. It also makes me excited to see what livery Alaska will replace its Spirit of the Islands jet with. For that, they're working with Oahu-based Punky Aloha Studio to create a livery that reflects the Airline's Pledge to Our Keiki. And if Alaska put this much care and respect into its new salmon jet, I can only imagine what it'll do with its new Hawaii-themed one.