Late last week the Alaska Airlines-Virgin America merger finally closed.  And refreshingly, Alaska wasted no time getting information out.  At the time, we learned that members of Alaska Mileage Plan could begin earning miles on Virgin America flights beginning Monday, December 19.  Likewise, Virgin America Elevate members may now earn miles on all Alaska Airlines flights, too.  But a lot of questions remained unanswered, though, that changed Monday as we learned more on Alaska Mileage Plan changes.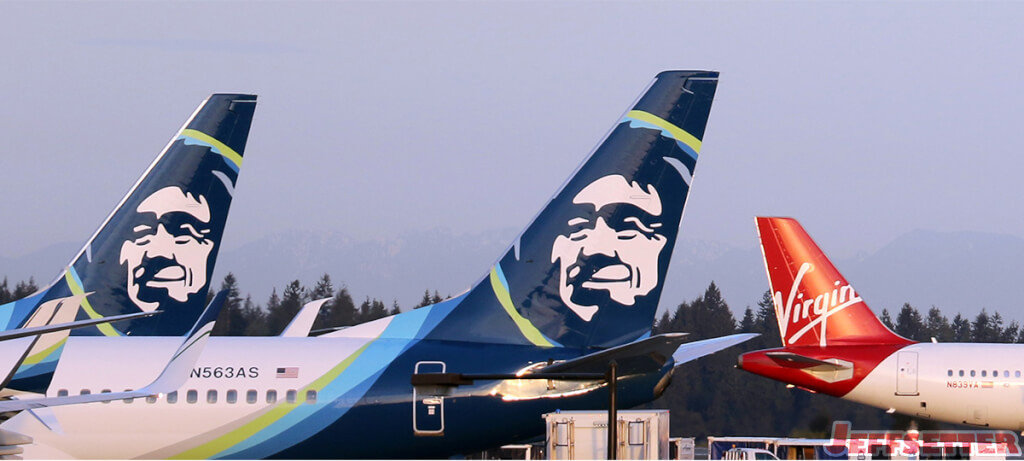 I'm sure most of you have already seen this information.  It is, after all, some of the biggest news in travel this year and receives a great deal attention here on BoardingArea.  But I'm going to reiterate those changes and add in my two-cents.
Reciprocal Benefits
So, the first change was also one that had already been discussed the other week, which is the ability to earn miles on both Alaska and Virgin.  This change is pretty basic; Alaska Mileage Plan members simply earn at a 100% ratio, just as if you were flying on Alaska Air.  The opposite is also true for Virgin Elevate members.  However, when it comes to elite benefits, you can't receive a complimentary upgrade when crossing over.  Reciprocal elite benefits, at this time, only include priority boarding and priority check-in.  And while you may earn miles on each airline, you may not yet redeem them.  Reciprocal mileage redemptions are coming on January 9.
Mileage Transfers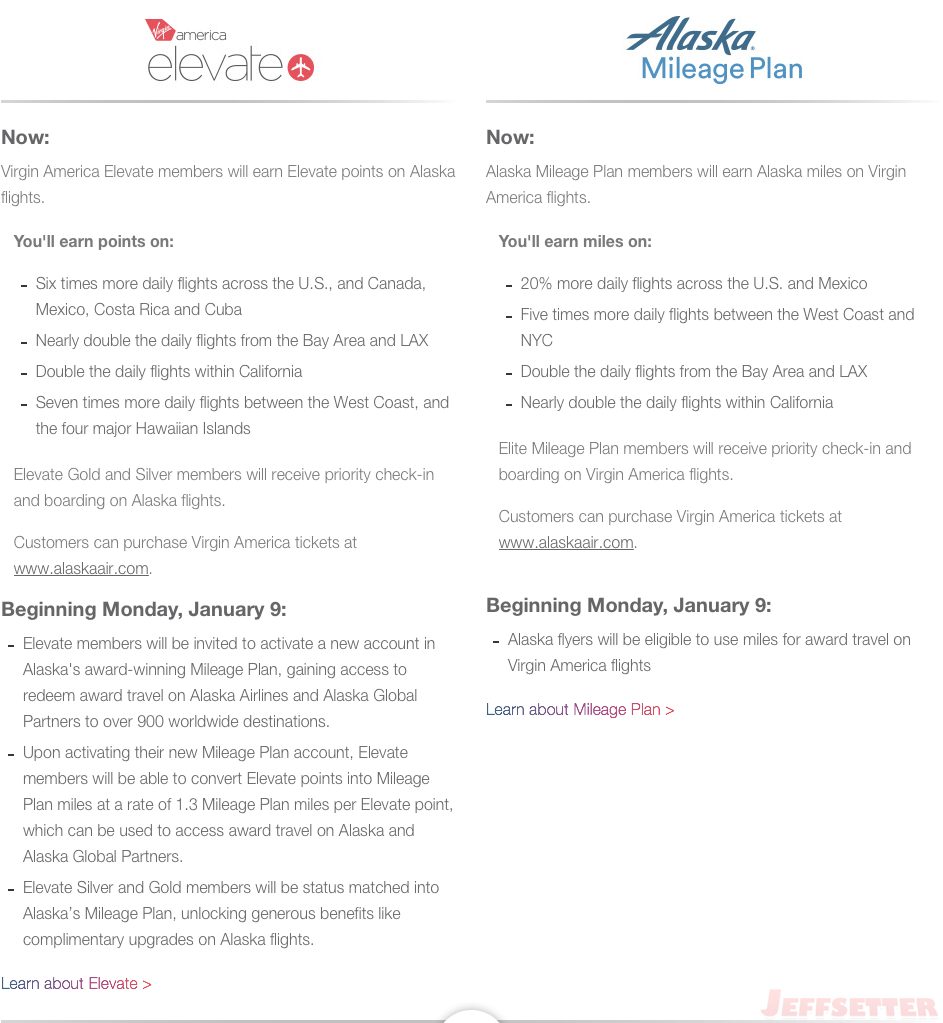 Speaking of miles… We now know the ratio at which Virgin Elevate miles will transfer over to Alaska Mileage Plan.  Beginning January 9, when Elevate members may begin activating their new Mileage Plan accounts, miles will transfer over at a ratio of 1 Elevate mile to 1.3 Mileage Plan miles.  This seems fair to me, since Elevate miles are inherently worth more thanks to the revenue based nature of Elevate.  Some might argue that a transfer rate of 1.3 isn't fair enough, but I'd argue that there isn't a perfect ratio for something like this.
More Reduced Mileage Rewards
Some domestic award redemptions are getting cheaper!  The previous base price was 7,500 miles for flights of 700 miles or less.  Now, that same award flight can be had for just 5,000 miles.  Likewise, flights of 701-1,400 miles will cost 7,500 miles (versus 12,500), and flights of 1,401-2,100 miles will cost 10,000 miles (versus 12,500).  Award tickets on flights of 2,101 miles or more will remain at the same redemption rate of 12,500 miles.  Unfortunately, these reduced mileage rewards are available only on Alaska metal, and only within the Continental U.S.  Flights to and from Hawaii will continue to have a base redemption rate of 17,500 miles each way.
Increased Partner Earnings
Another benefit announced Monday is the ability to earn more miles on partner flights.  And we're not talking about small bonuses either, in some cases the bonuses are truly MASSIVE.  Take Japan Airlines, for example; Mileage Plan members may now earn up to 350% on Japan Airlines flights.  The catch?  The bonuses are largely for paid business and first class travel only.  Unfortunately, discounted economy class tickets continue to earn at rates as low as 25% when credit to Alaska Mileage Plan.  It looks as if you'll need to book full-fare economy tickets to earn at a rate of 100% on partner airlines.  And in some cases, like Japan Air again, discounted Business Class fares earn at reduced rates, but will include an additional bonus anyway.  For a full list of Mileage Plan partners, visit Alaska Air's partner page.
Bye-Bye Delta
In a move that shocked no-one, Alaska also announced that they'd be ending their codeshare agreement with Delta Airlines.  For those that don't know, the two are locked into a battle for Seattle, so relations between the two airlines have been, well, strained.  So your last chance to earn Alaska Mileage Plan miles on Delta flights is April 30, 2017, for flights booked on or after December 19, 2016.  Flights booked prior to December 19 are not subject to this restriction.  Of course flights on May 1, 2017, onward won't be eligible for mileage accrual.  Does this change suck?  Kind of, especially those that fly Delta often.  But you know what?  The relationship benefited Delta far more than it benefited Alaska, especially since Sky Miles Pesos are basically worthless.  In fact, the Pacific Business News recently reported that in 2013, Alaska Air made $235 million from its codeshare agreement with Delta.  By 2016 that amount has fallen to just $65 million, which is a drop of 72% in just 3 years!
What I find interesting, though, is whether or not discussions surrounding Delta and Alaska were part of the airline's negotiations with the Department of Justice.  At the time of the merger approval, it was only disclosed that the DoJ had required Alaska to reduce its relationship with American.  What exactly that entails, however, still remains a mystery.  And frankly, I think that agreement kind of sucks.  If Delta doesn't codeshare with Alaska anymore, and if Alaska has to significantly scale back its relationship with American, it may make flying Alaska harder to do in certain cases.  At least until the airline further builds out its route network.  Only time will tell, however, what will really happen.
For now, at least, it seems as if we'll be able to celebrate the enhancement of what was already a great loyalty program: Alaska Mileage Plan.  What will happen in the future is anyone's guess.  I imagine that Mileage Plan will remain the same through merger completion, and may even remain the same until management feels more comfortable with its position in relation to Delta.  Devaluation, I believe, is inevitable though; it's just a matter of when.  But, for now, I applaud Alaska Air's efforts thus far throughout the merger process, and am impressed by the speed and openness in which information is being released.