Last updated on November 21st, 2017 at 12:34 am
In January of 2017, we visited the Amansara in Siem Reap, Cambodia.
If you are looking for true luxury, 5-star experience in SE Asia, then look no further.  You have arrived.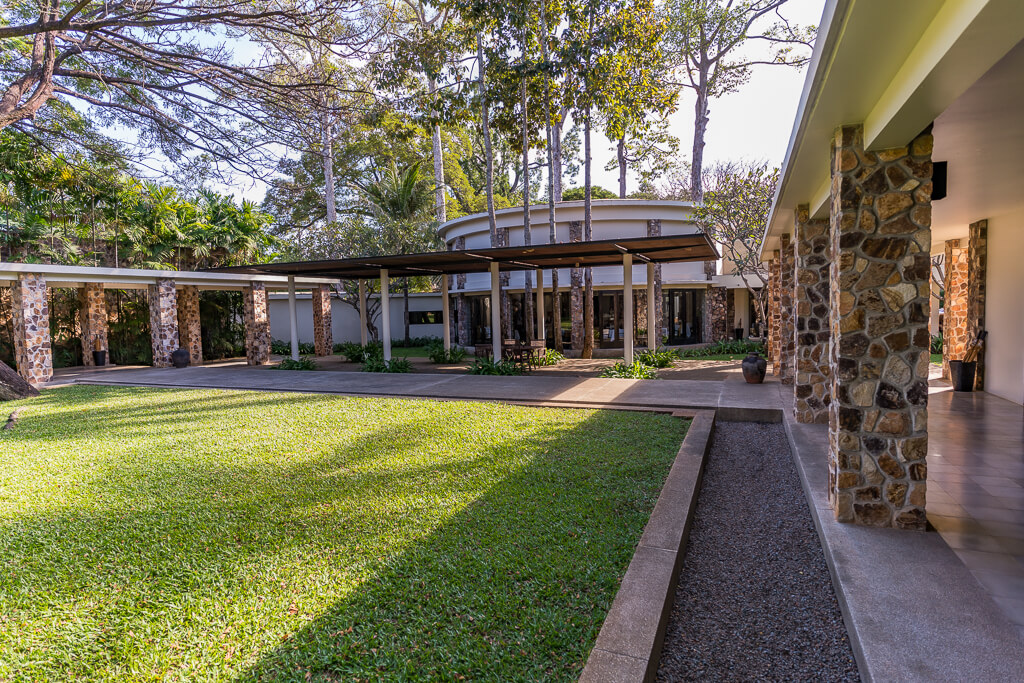 Amansara Siem Reap
The Amansara, a Virtuoso property, provides guests the opportunity to discover Angkor in luxury.
No detail is too small for this hotel.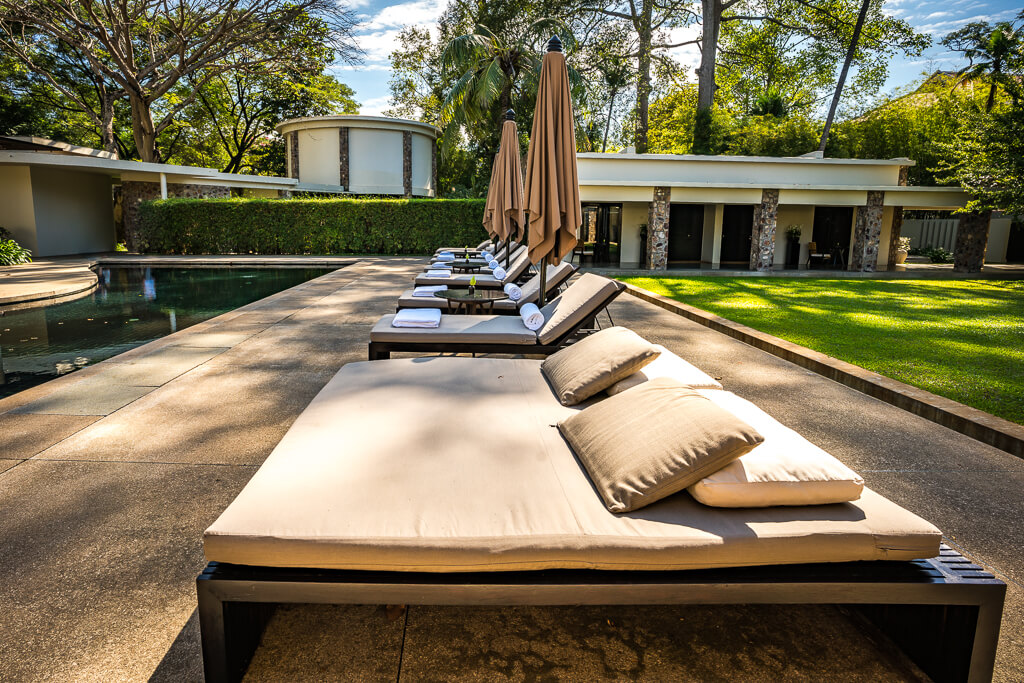 Why: To feel like royalty and return to a sanctuary after a long day of hot dusty temple touring
Where: Siem Reap, Cambodia (gateway to Angkor)
When: Best time to visit is October – March
Cost: Luxury, depends on the rate you book
Website: https://www.aman.com/resorts/amansara
The property has a boutique feel with only 24 suites, including 12 with plunge pools.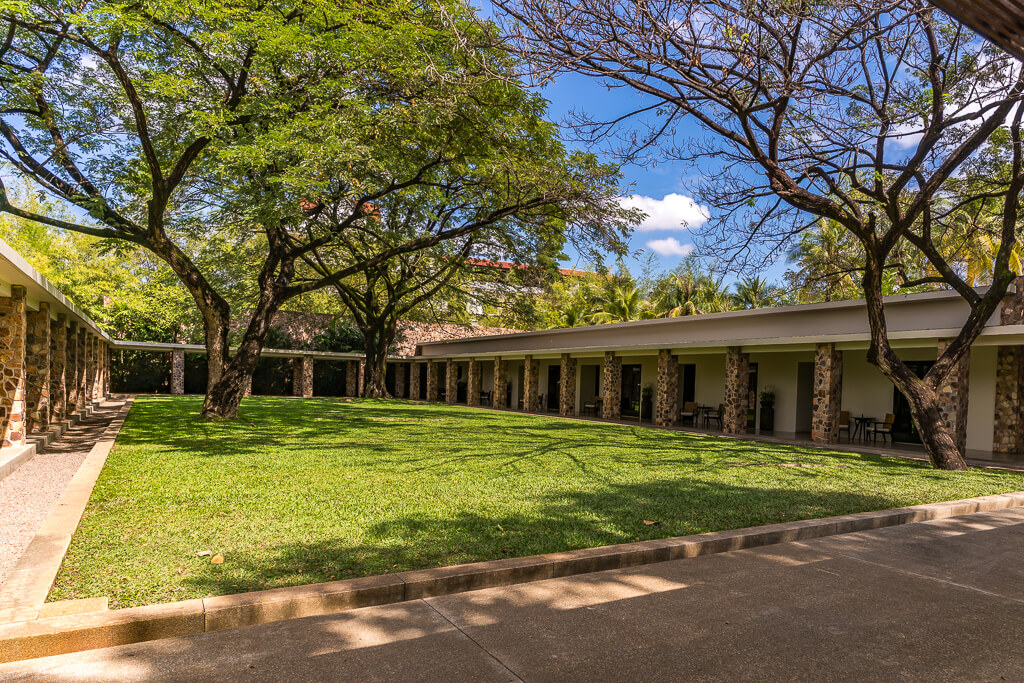 Promotions
If you book a stay here through a Virtuoso agent, you will receive the following Virtuoso benefits for 2017:
Upgrade on arrival, subject to availability
Continental breakfast daily, for up to two in-room guests
A 60-minute massage per room per stay
Early check-in/late check-out, subject to availability
Complimentary Wi-Fi
Currently, the Amansara has a Virtuoso promotion running through January 2018. The promotion is called Discover Angkor and includes a 4-night stay with the following exclusive privileges:
Spiritual water blessing with Buddhist Monk at Wat Atwear Pagoda
A traditional noodle breakfast at Amansara's wooden village house in Angkor Park
Private visit to Conservation D'Angkor museum and day trip to the remote temples of Beng Melea & Koh Ker with picnic lunch
Daily excursion to Angkor temples with English speaking guide
Remork transportation within Siem Reap town
Daily breakfast, afternoon tea, and a choice of lunch or dinner with non-alcoholic beverages
Return airport transfers & laundry (excluding dry cleaning).
If you are interested in learning more about Amansara (or other Aman properties), please contact us.
Enough about rates and promotions, now it's time for the tour. We booked a shortened version of the Discover Angkor promotion, our stay was only for 2 nights.
Transfers
Transfers to and from the airport are included in the room rate.
If for some reason you are not going to the airport, then the Amansara staff will work with you to meet your transfer needs.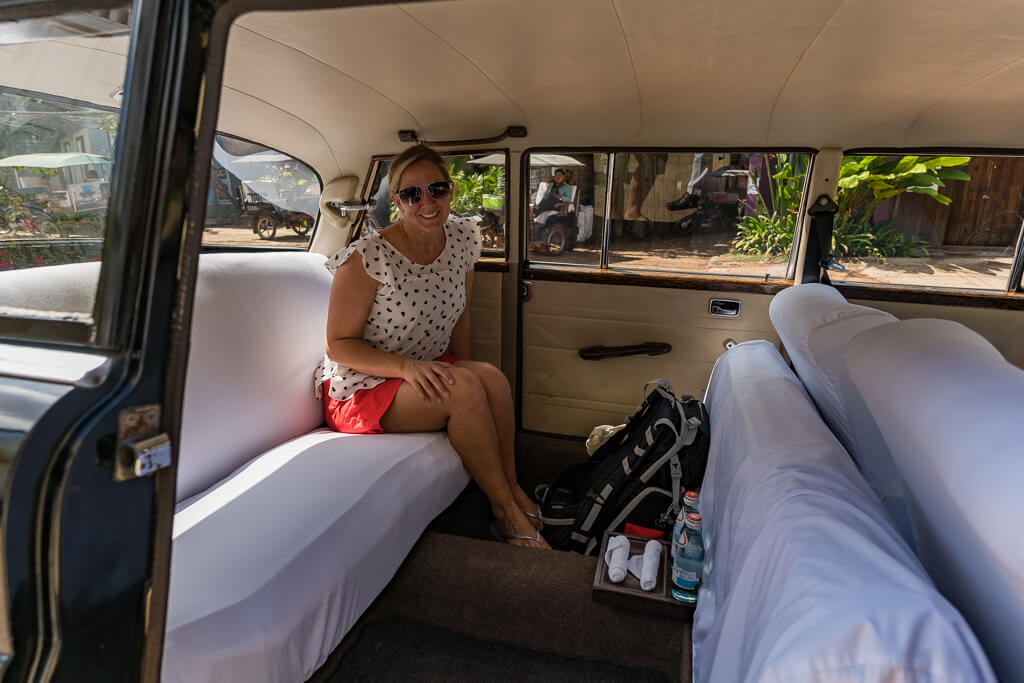 We happened to be staying at another hotel in Siem Reap. Amansara happily picked us up from our other hotel.
The best part of this transfer – you are picked up in a 1950s Mercedes. Pretty cool!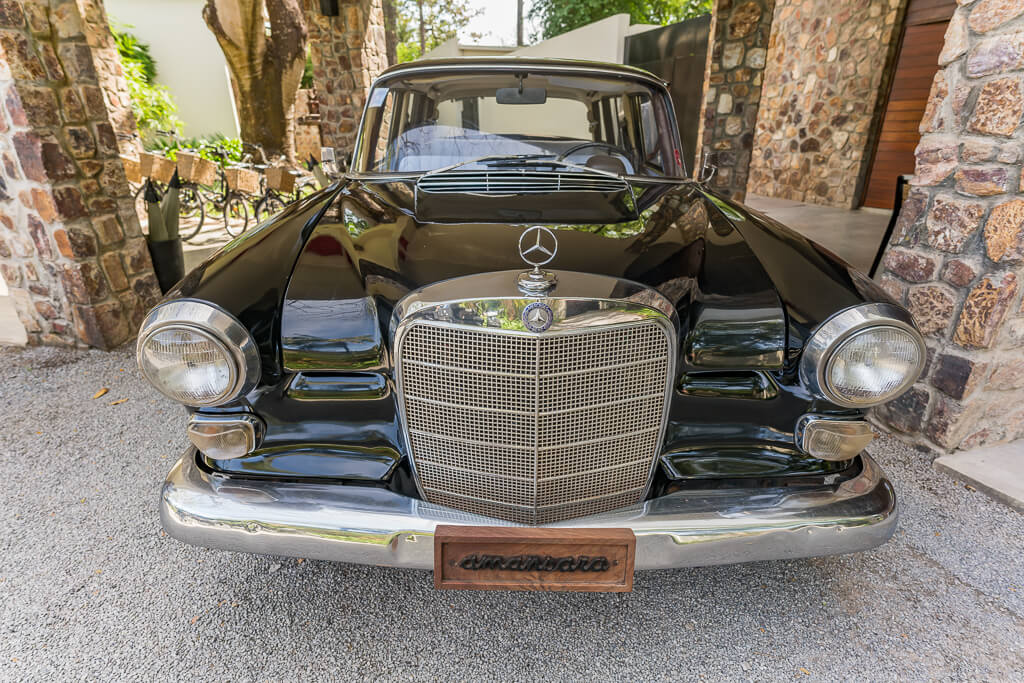 Settled in the car, you will find some refreshments, which are a welcomed sight after a flight.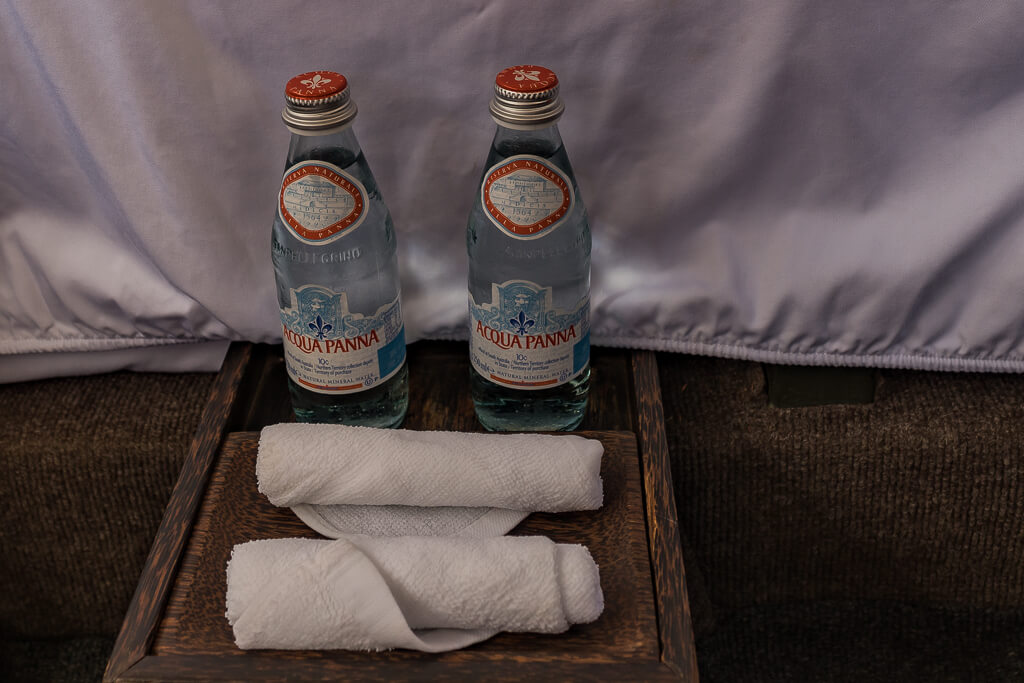 Our drivers were friendly and helpful. They patiently answered all of our tourist questions.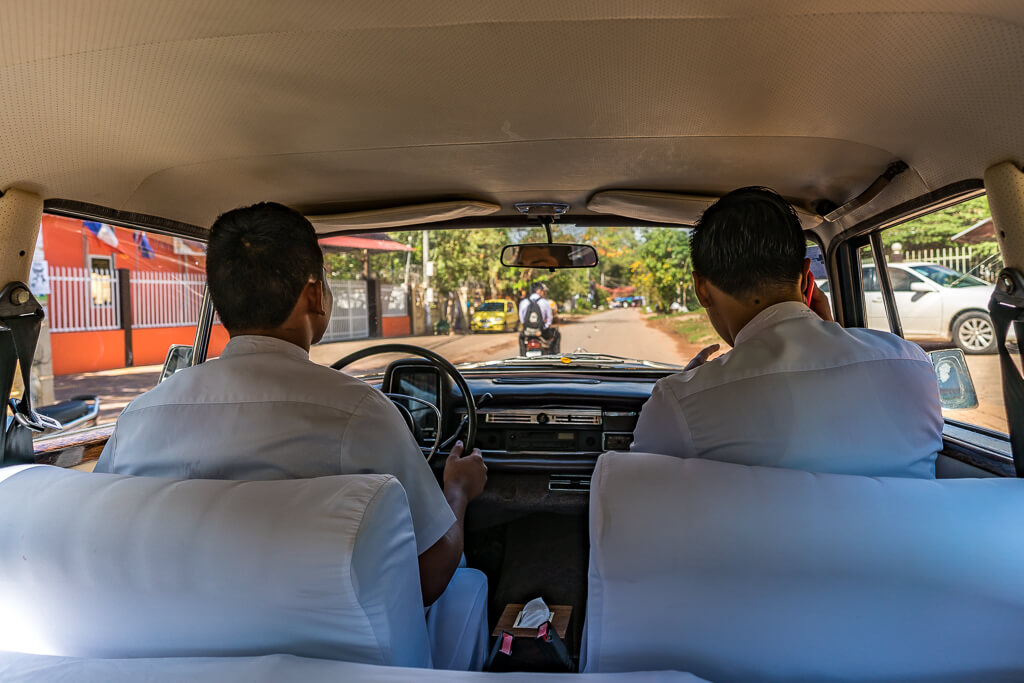 Arrival
Upon arriving at the hotel, you are greeted by your personal host.
Your host makes arrangements for your luggage and escorts you to your room to complete the check-in process.
In the room, your host will collect your IDs, credit card and additional information needed to complete the check-in while you enjoy some refreshments.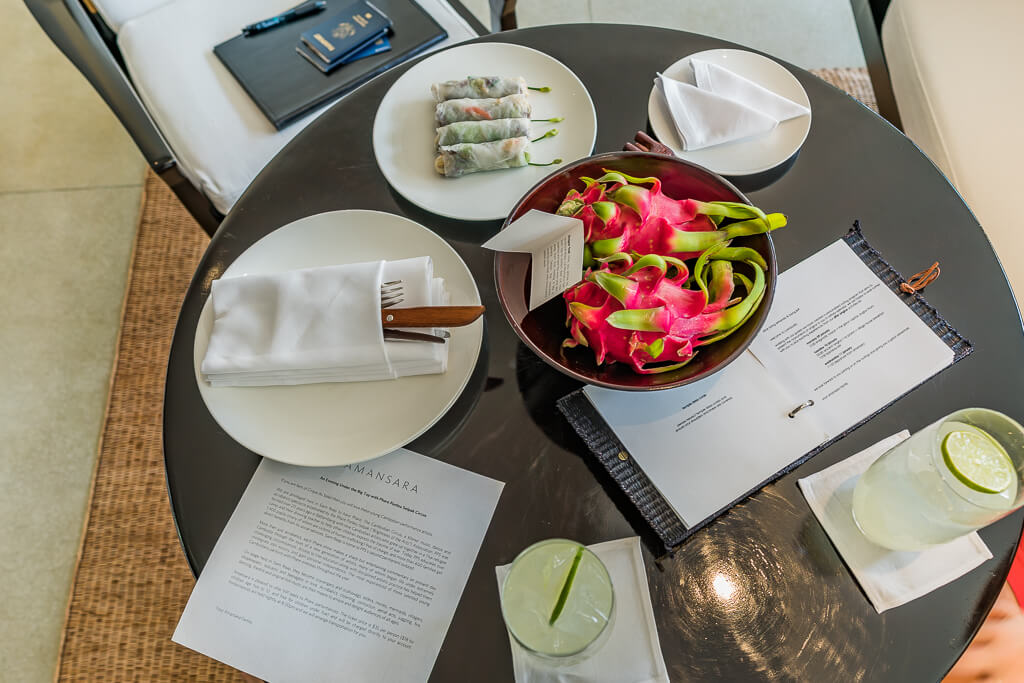 Your host will also walk through your itinerary (which is the little book in the right of the photo above). At this time, you can make any changes to your itinerary with your host. We had the photo tour planned already, so we needed to move around a few things on our itinerary with Amansara.
Our host was more than accommodating.
Tip: It is a good idea to coordinate with the hotel or your travel agent, prior to your arrival, to be sure your itinerary is focused on your wants and needs. There is a lot to see in Angkor especially when you only have 4 days.
Your host will provide you with a card which includes their contact information, so you can reach your host at any time during your stay.
The Room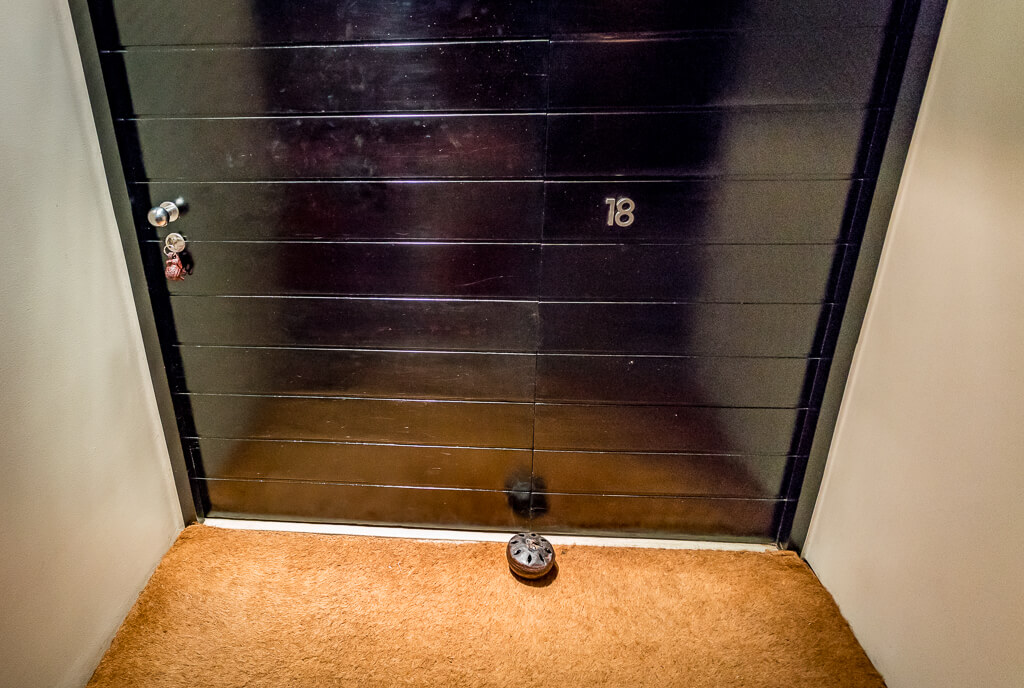 We were upgraded to a pool suite as part of the Discover Angkor promotion.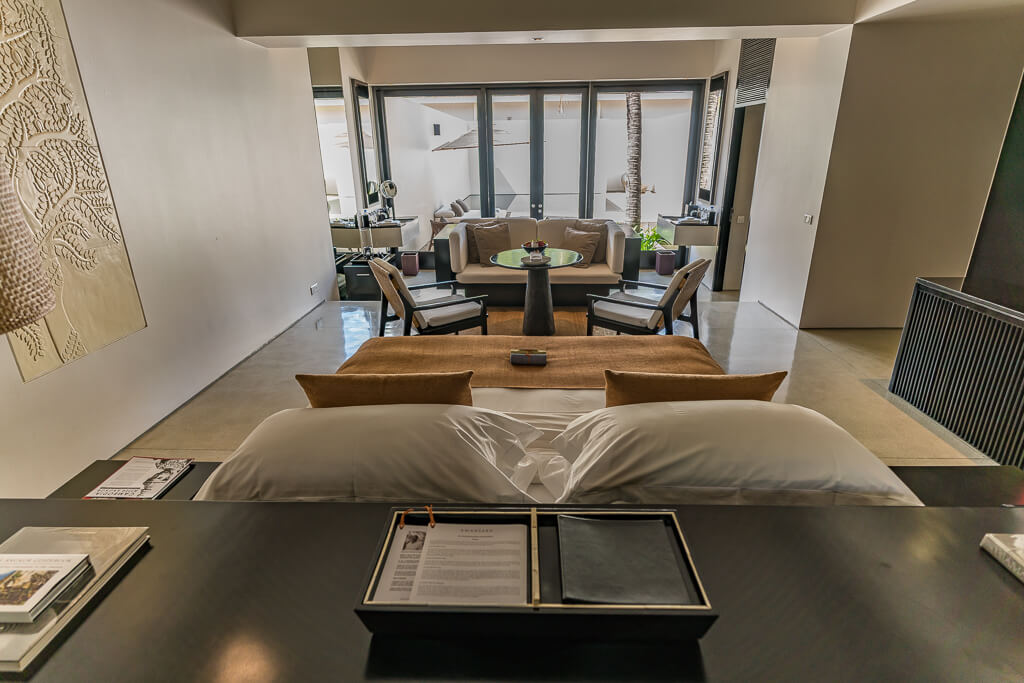 Our host gave us a tour of the room before he left to complete the back office portion of the check-in.
Living Space
The room is beautiful.
You enter to a large desk before you reach the bed.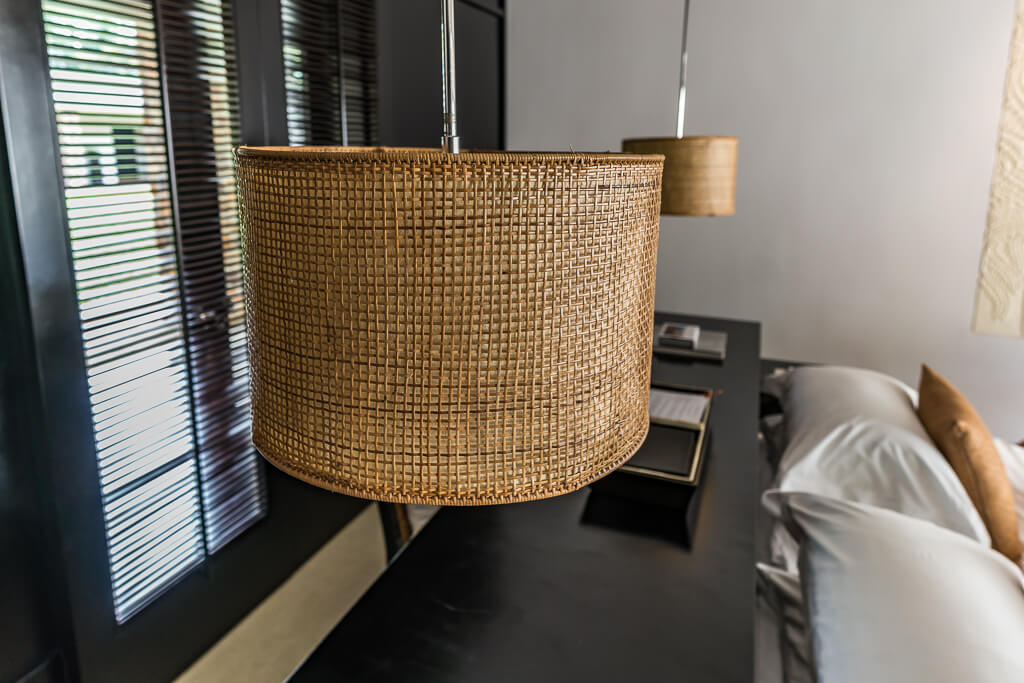 To your right, are an entry table, the closet, and the mini bar.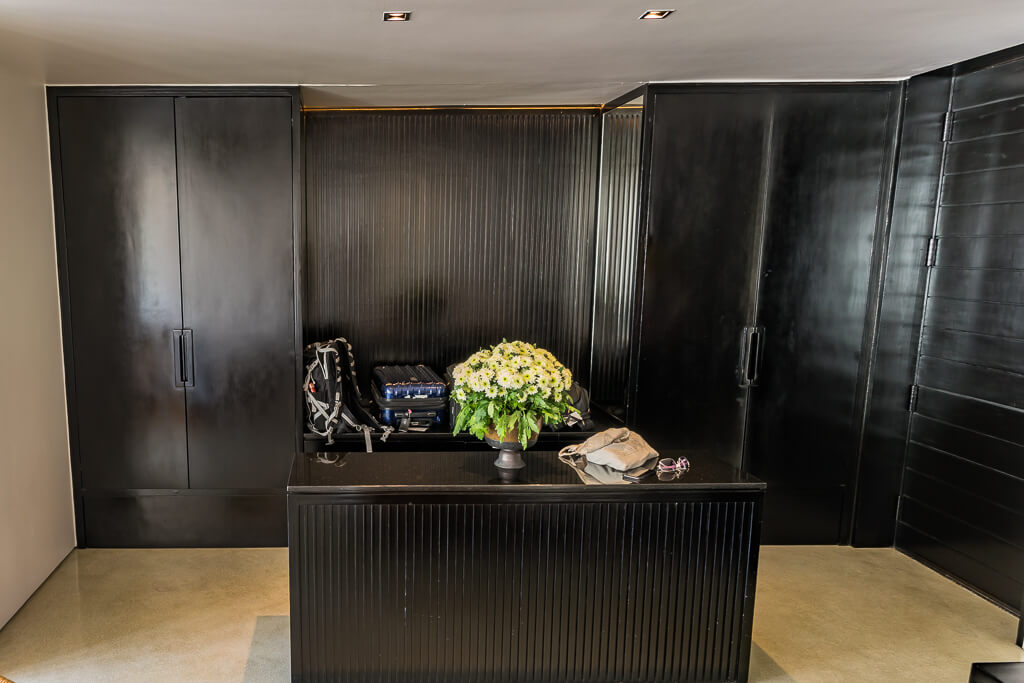 The mini bar is well stocked and included with your room rate.
The king size bed complete with luxury bedding and pillows is across from the entry table.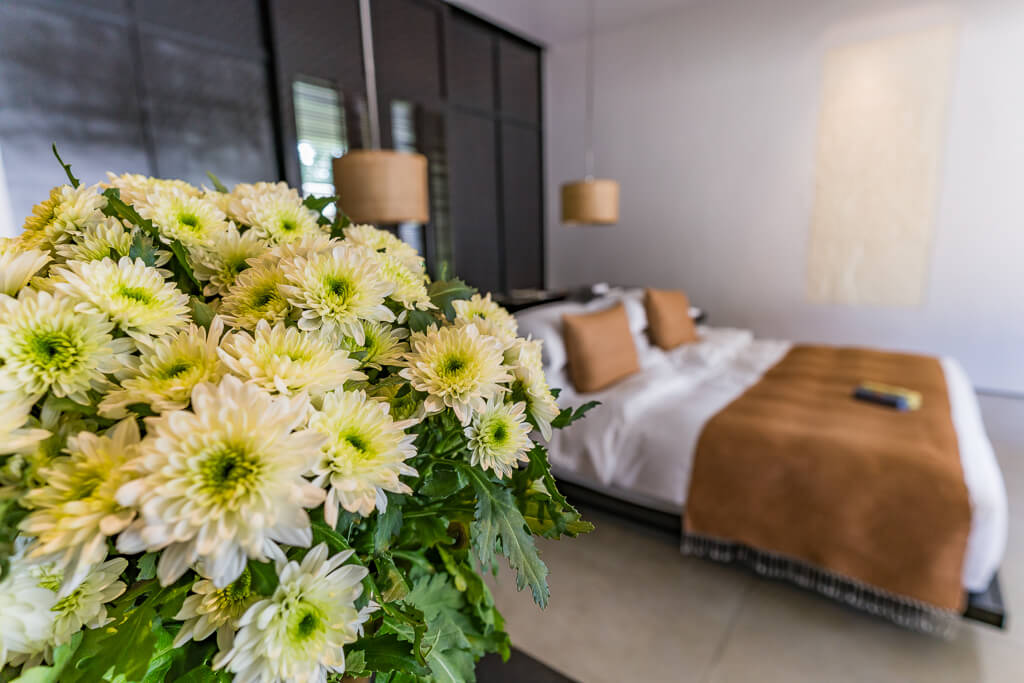 I loved this bed!! Very comfortable, many of the beds we have had in SE Asia have been quite firm. This bed was a good balance of plushness with support.
It is a platform bed – watch the corners when you are walking.
Just past the bed is a seating area with a table that looks out into the private plunge pool and patio.
A great space if you get room service.
We had breakfast in the room on the morning of our sunrise tour, just to have something in our stomachs.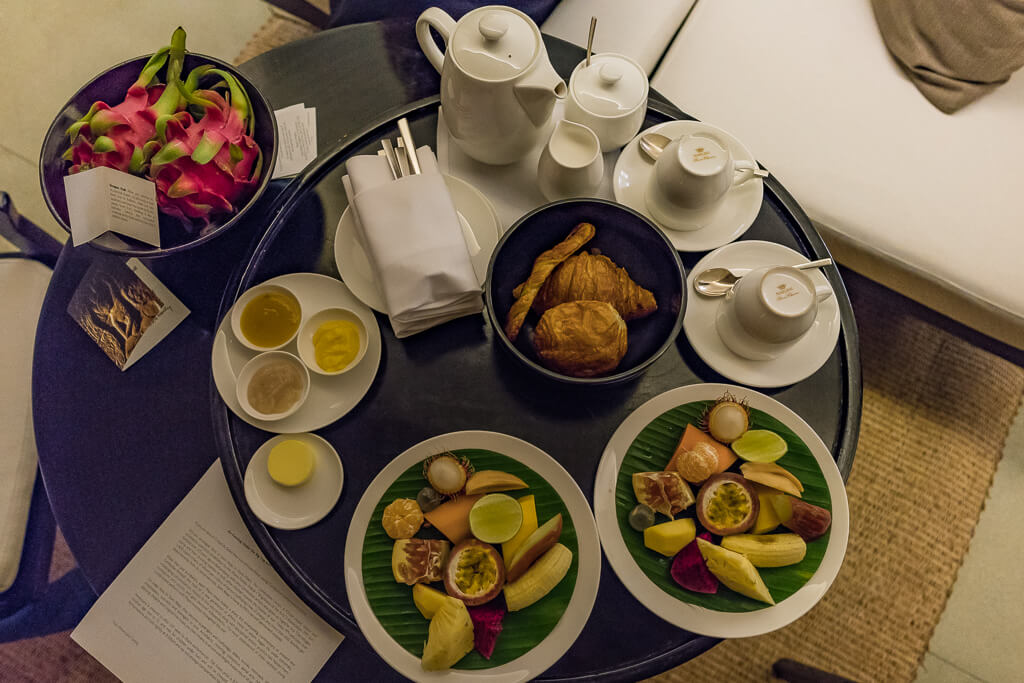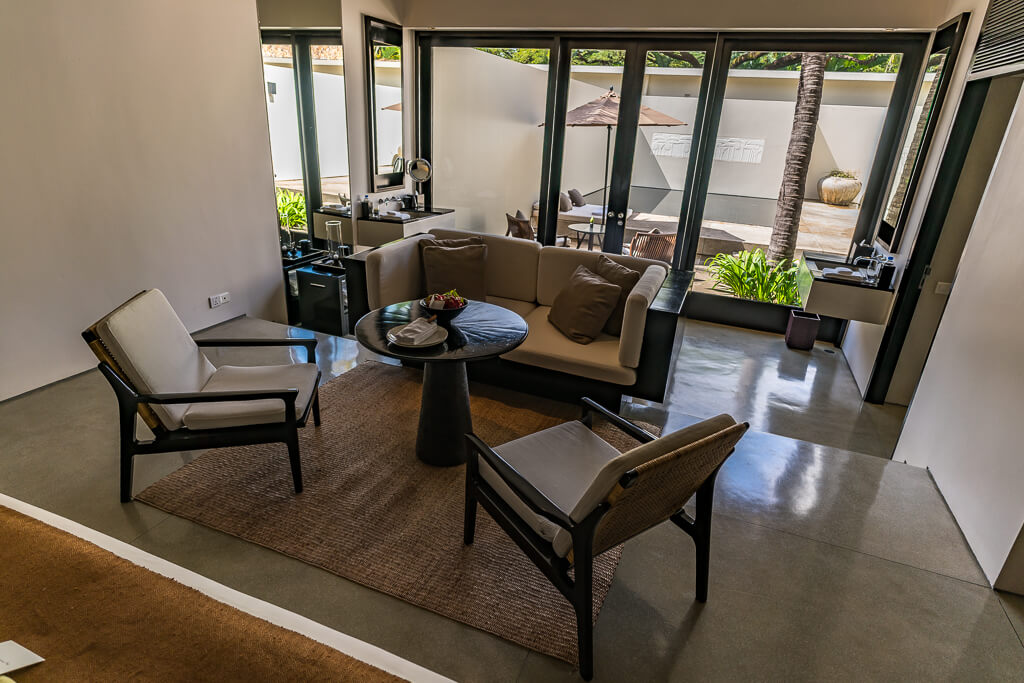 Bathroom
You can see the double vanity just past the table, what you do not see is the tucked away soaking tub and the bathroom to the right.
The soaking tub is huge and is drawn each night as part of the turndown service. I love all the lotus flower accents.
The rainfall shower is enclosed, but feels like an open air shower with the large windows looking into the private patio.
Details
The details in the rooms at the Amansara are amazing. Here are just a few examples:
Silk sarongs to use while you are at the hotel.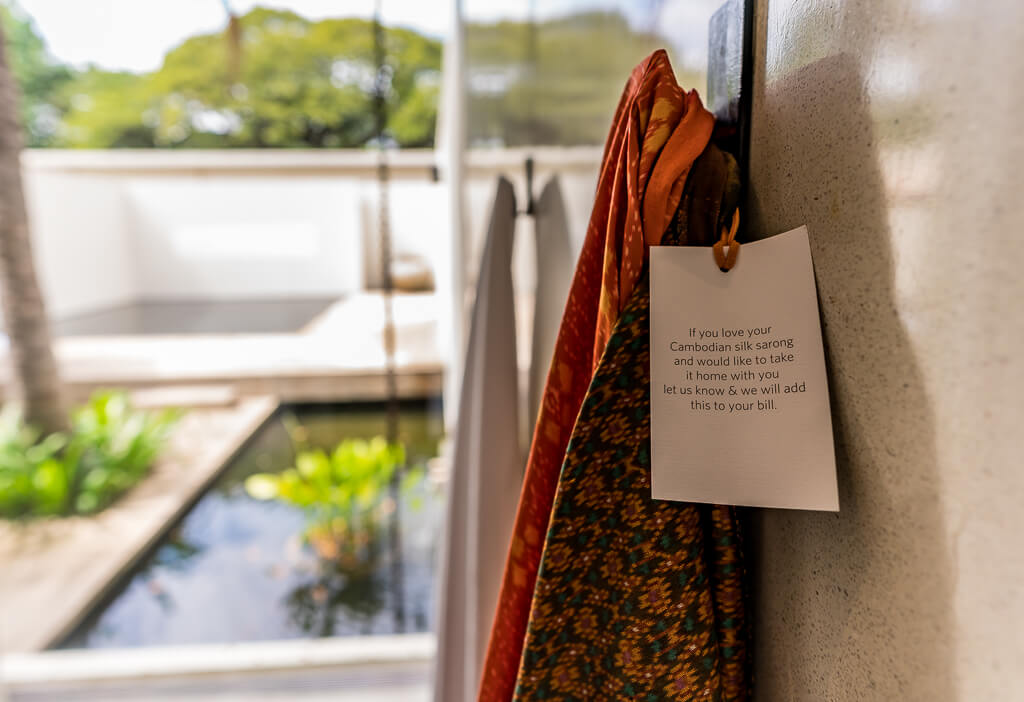 Plenty of bottled water strategically placed in the room.
Bath amenities including, mosquito spray, coil and plug for the room and a flashlight for walking around at night (and it is helpful for your sunrise tour of Angkor Wat).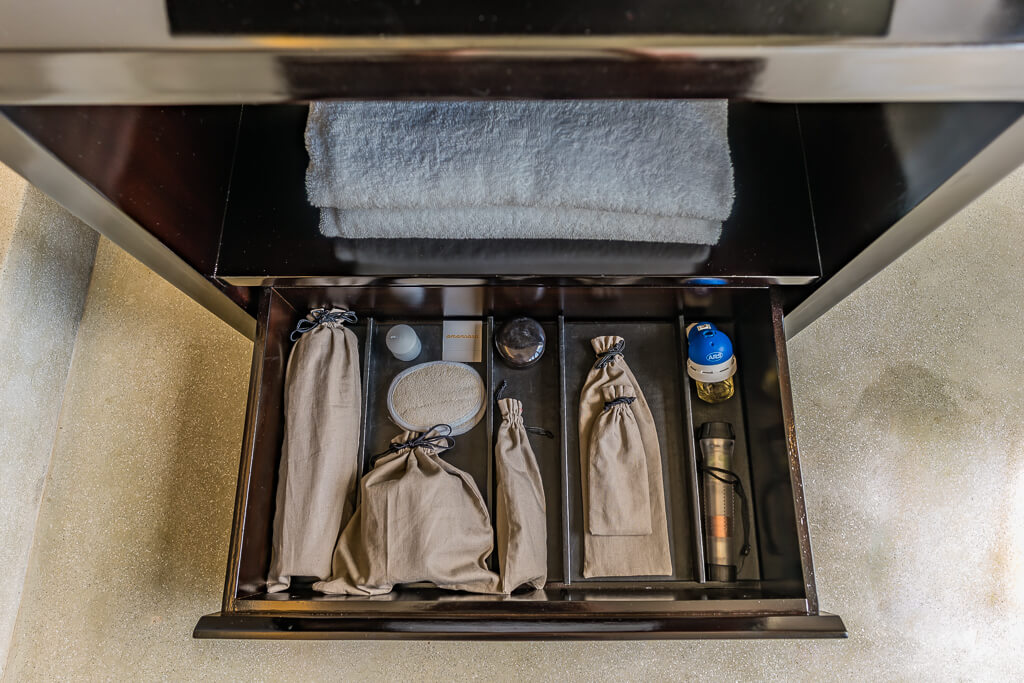 Books and pamphlets describing all of the temples.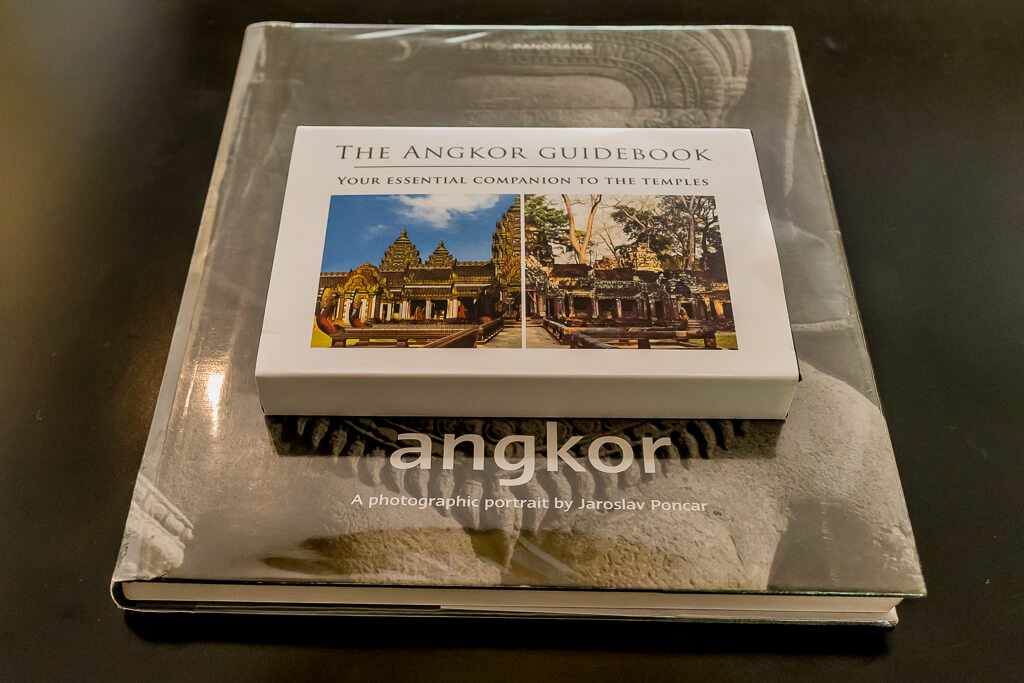 Fresh limes for cocktails and drinks.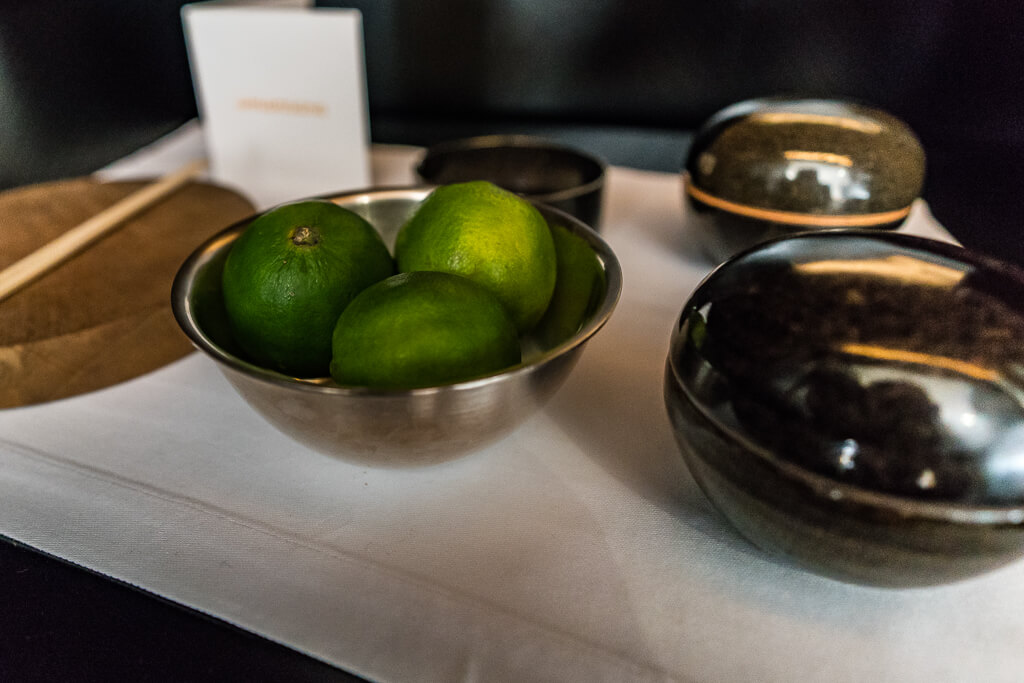 A hat and basket along, with robes and slippers (these are some of the plushest slippers I have received at a hotel).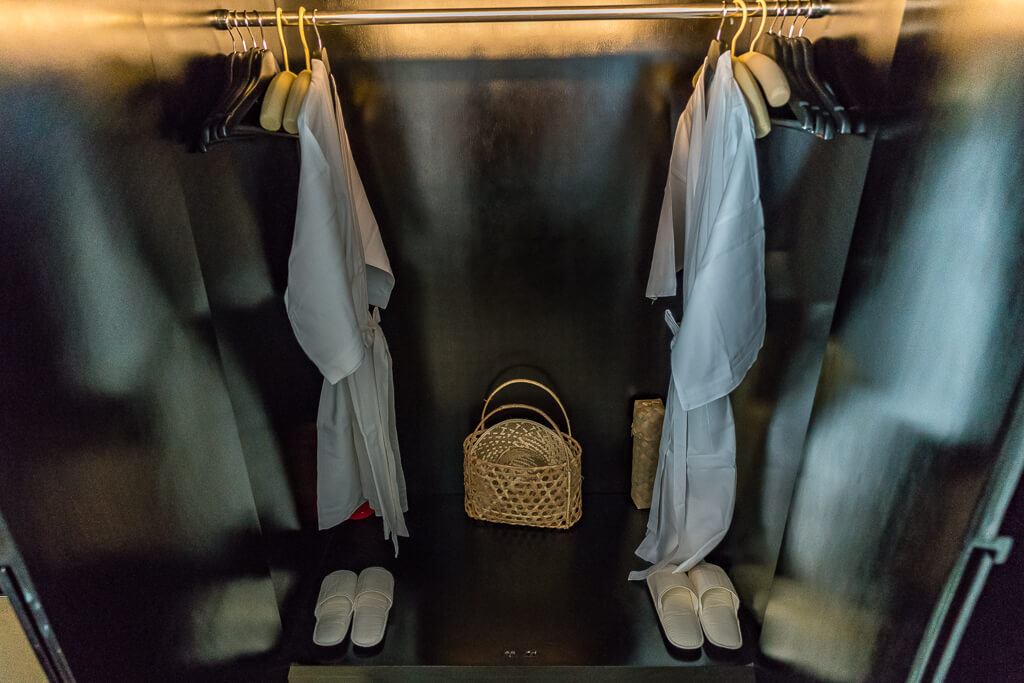 The Private Pool and Patio
I loved the private plunge pool, a great spot to relax and cool down after a dusty day of temple tours.
The patio has a koi pond and a seating area as well as the lounging bed.
Here are a few more of the pool in a slideshow gallery.
The Property
The luxury hotel has two different pools a lounging and a lap pool.
Amansara has one restaurant available for breakfast, lunch and dinner.
We were able to have all three meals at the restaurant, everything was delicious!
Here are slideshow galleries for each of the meals we had.
Breakfast
All you can eat breakfast served a la carte rather than buffet style, which I prefer.
Lunch
We had lunch right when we arrived before we headed out on our afternoon tour.
Dinner
Our last night we decided to have dinner at the Amansara.
The chef presents a tasting menu, which you can choose either local or Western. We chose the local tasting menu. I absolutely loved the dragon beans, so much I asked for seconds.
The dinner is served family style to the table, and you can request seconds (even thirds).
The Spa
Unfortunately, we couldn't make it to the spa. However, a massage would be a great treat after riding around in a remork (i.e., tuk-tuk) all day.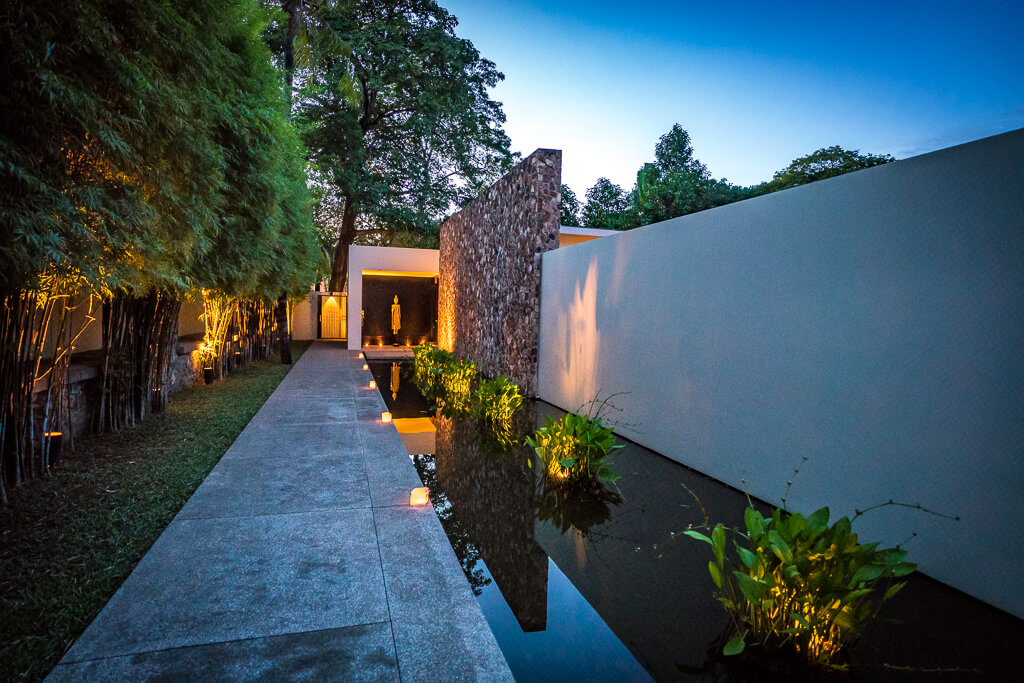 Transportation
The Amansara is not far from the markets and the "downtown" of Siem Reap. You can easily take a bike to see the area.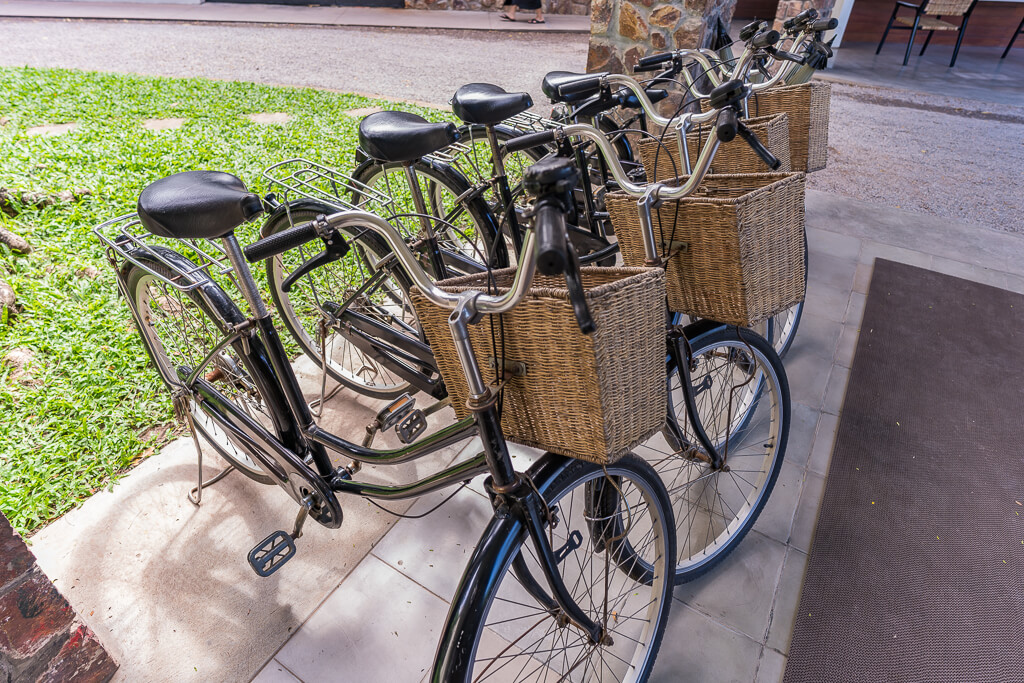 In the alternative, your host can arrange for a remork (or tuk tuk) to take you into town or to a restaurant.
Tours
We had the same tour guide for all of our tours. He was great (and kind of a big deal in the area).
Here he is showing how tourism has increased since he has been a guide.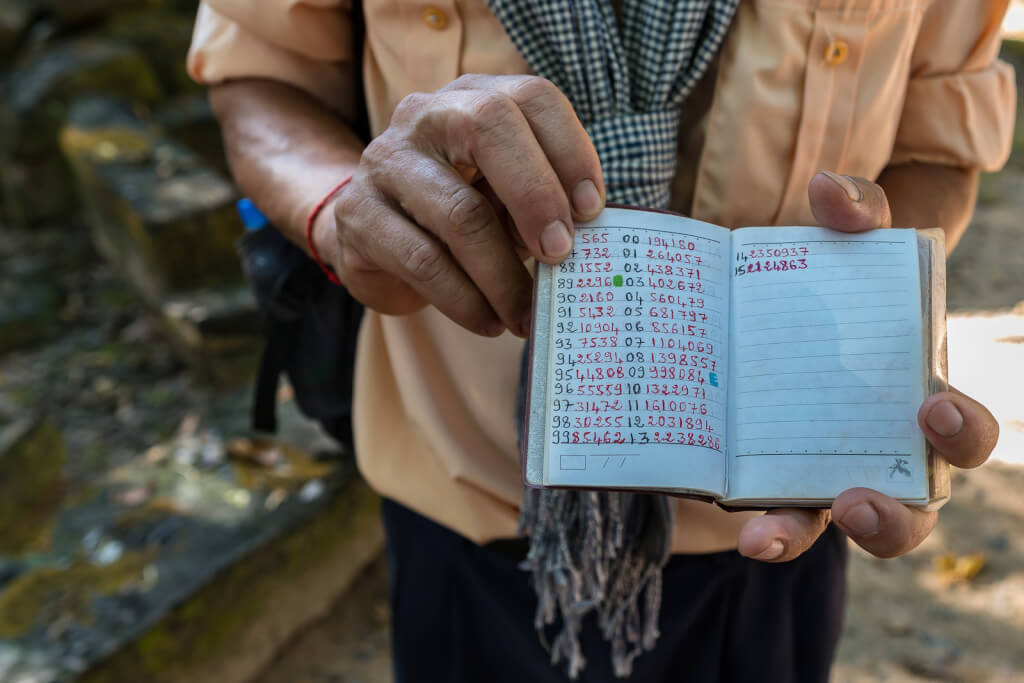 Yes, he started in 1986, and yes, tourism to Angkor has grown from 565 people to over 2 million annual visitors.
Our first afternoon, we visited a couple of temples and watched the sunset on the city wall.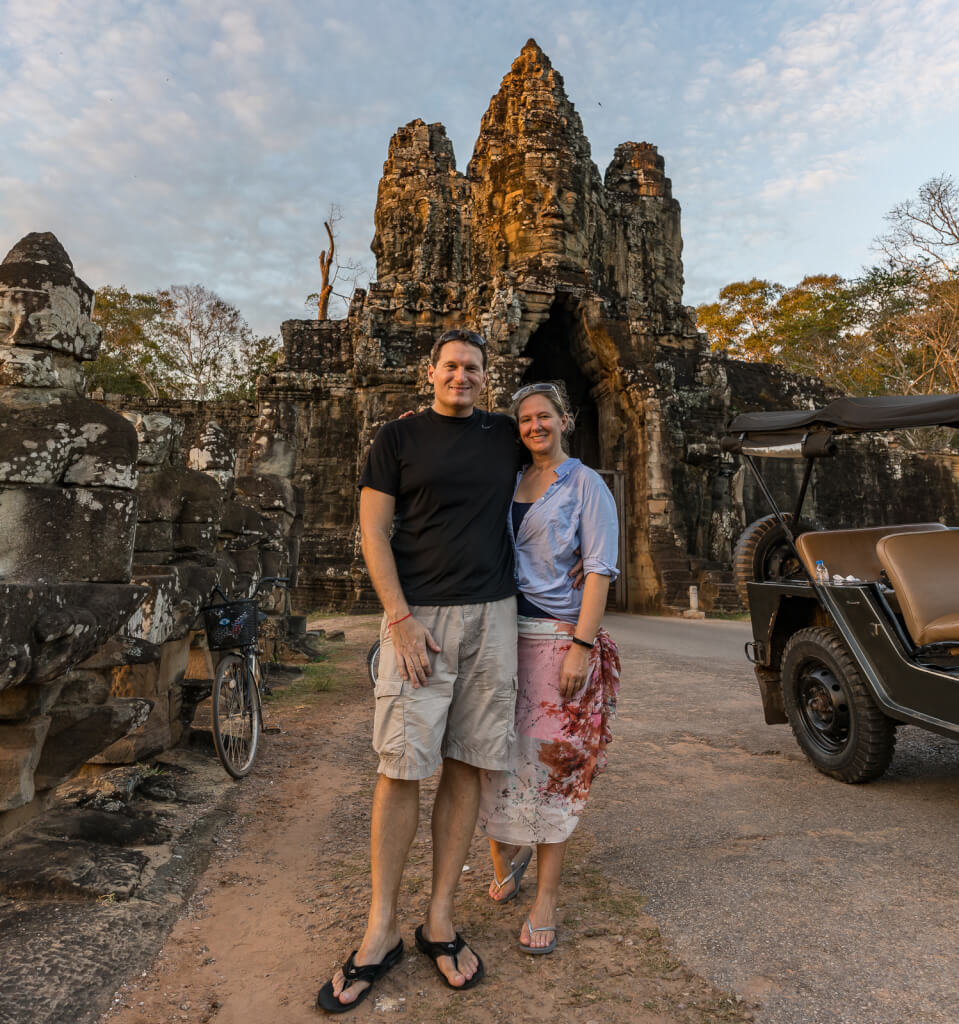 Depending on which temples you visit, Amansara will arrange a remork or a jeep with a driver and English speaking guide. You can see the jeep to the right in the photo above.
Your host provides you with a card when you depart that includes the name of your driver and your guide with tipping suggestions.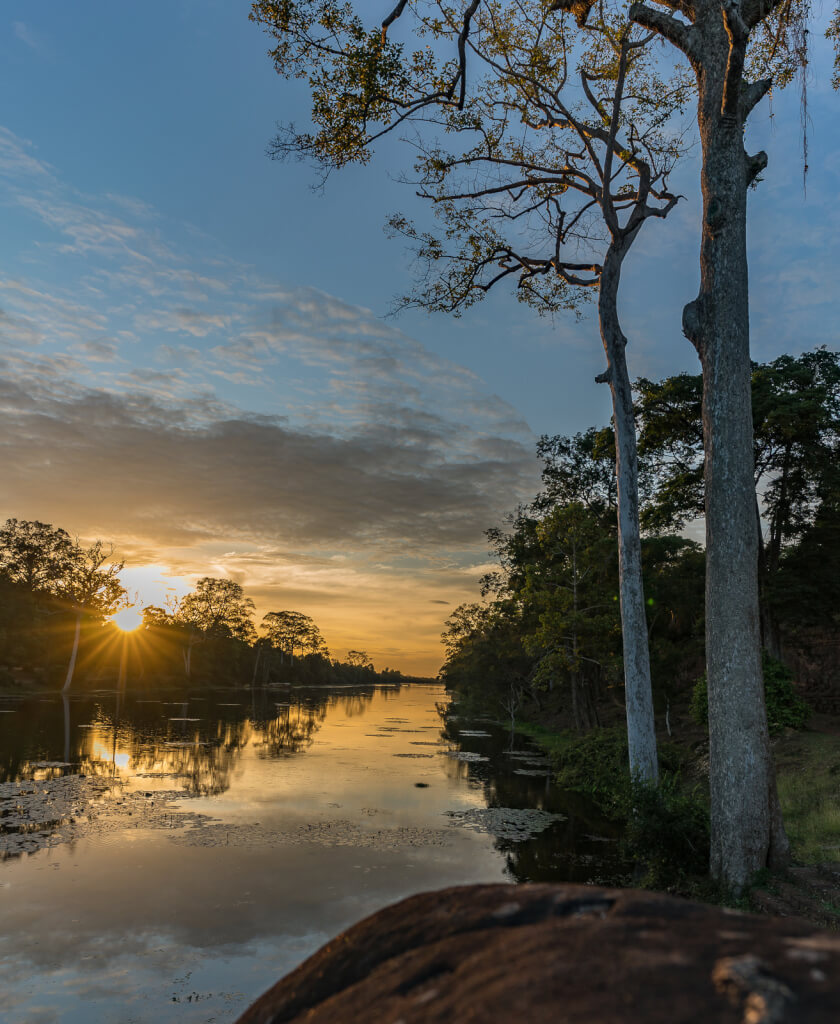 On our second day, we watched the sunrise at Angkor Wat. This photo is not photoshopped, there was no one where we were standing. Amansara has exclusive access to several temples, and our guide took us here for an unforgettable sunrise.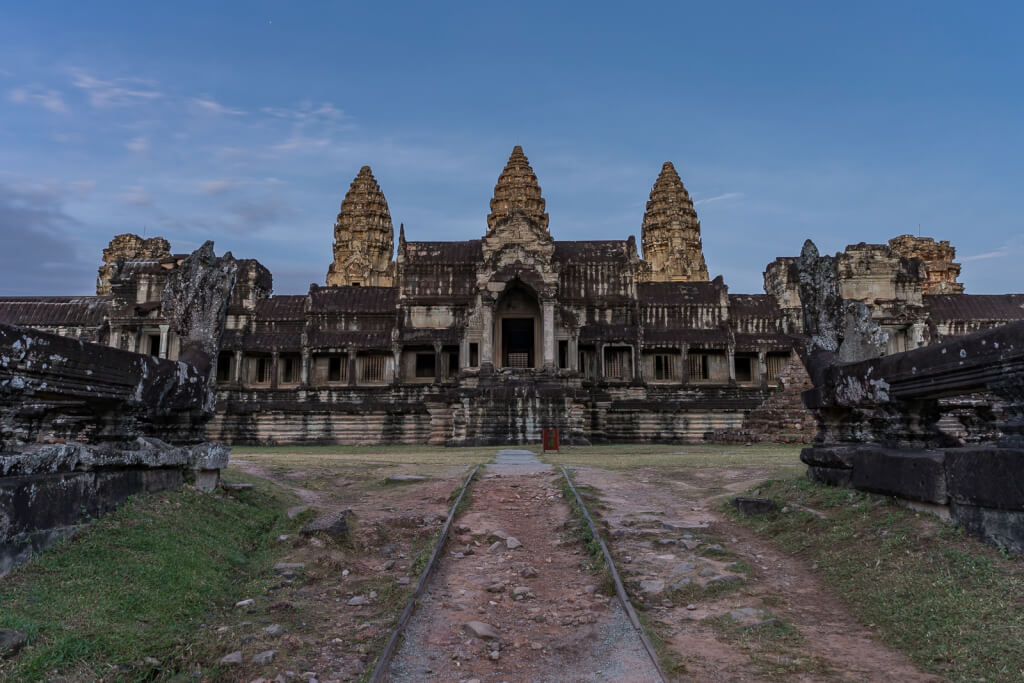 After sunrise, we had breakfast at Amansara's wooden village house in Angkor Park.
Here is a slide show gallery of the breakfast:
After breakfast, we stopped at one more temple before heading back to the hotel.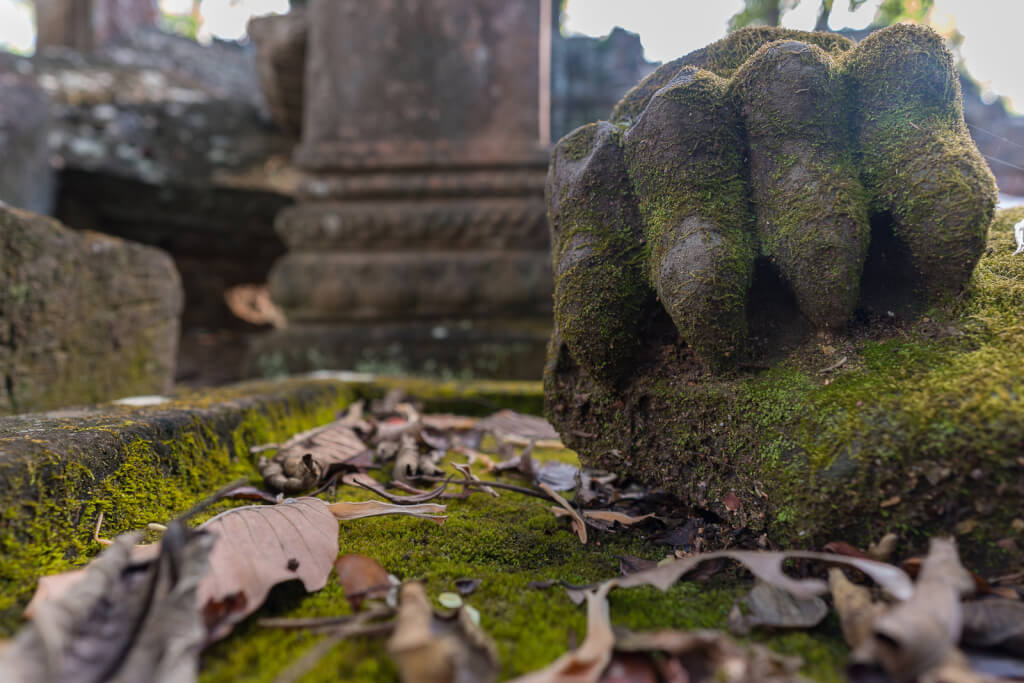 Amansara tours provide you with cool towels, cold water and fresh coconuts. We even had a blanket for the sunrise at Angkor Wat. We will provide a separate more detailed post about the tours once we have a chance to get through all our photos.
Departure
True to the hotel's form, you leave in luxury in the 1950's Mercedes.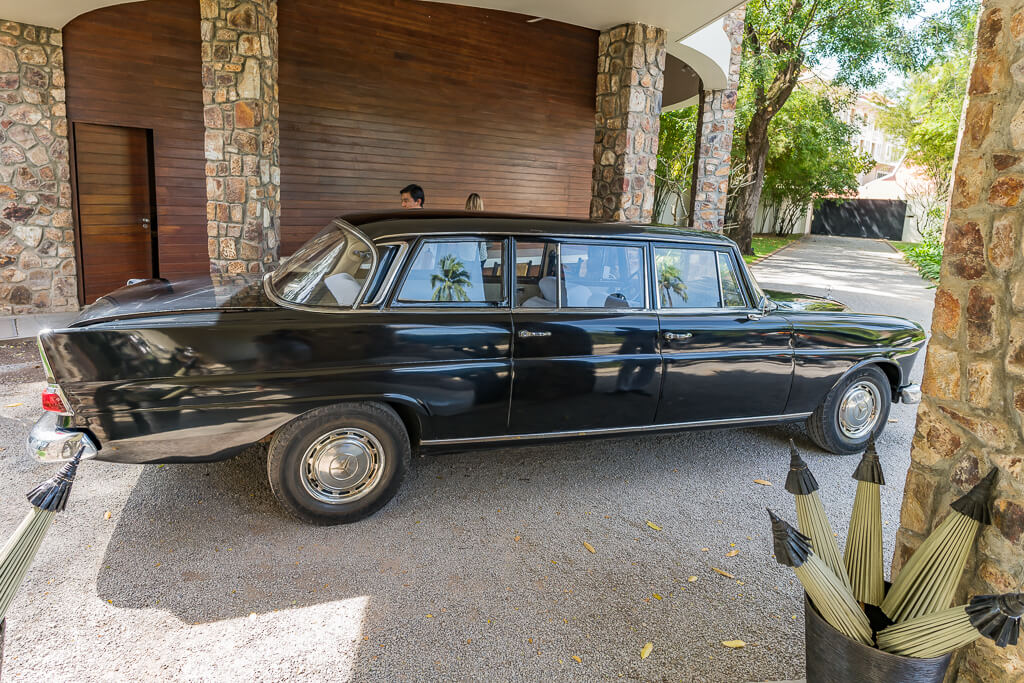 You leave the hotel feeling as if you are leaving a good friend's house.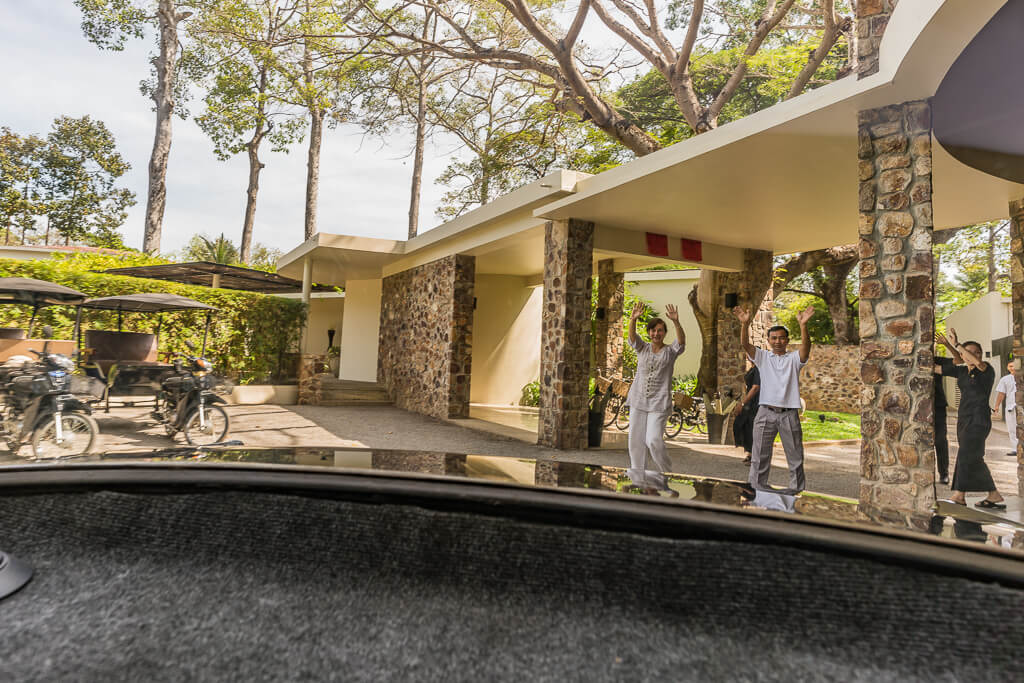 Farewell!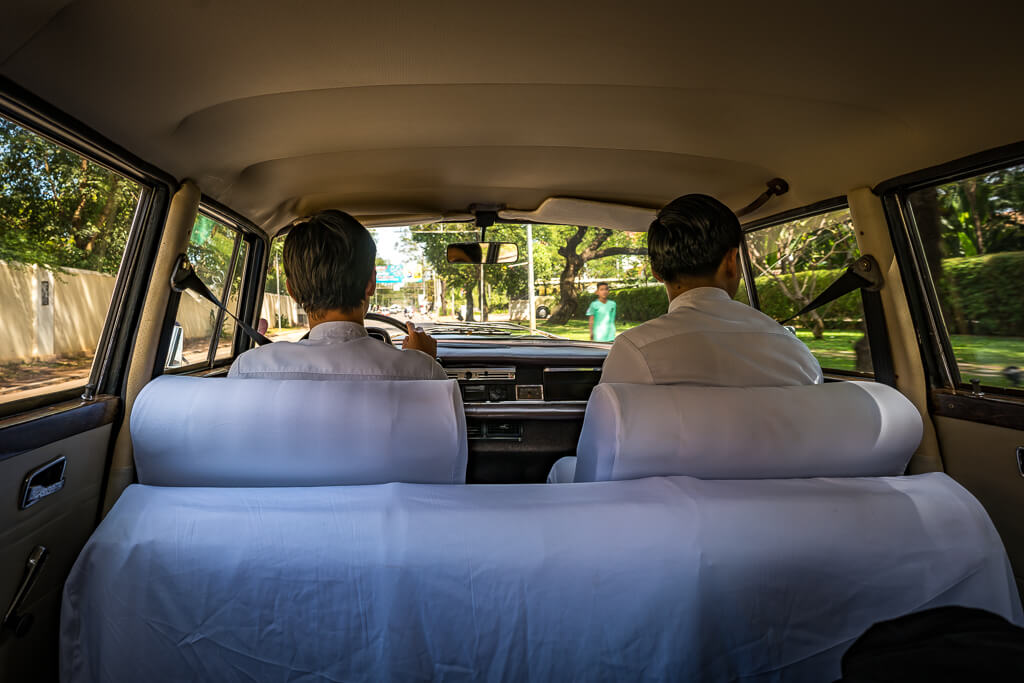 Of course, we notice one final detail as we were standing in line at the airport. Our host had placed luggage tags on our suitcases.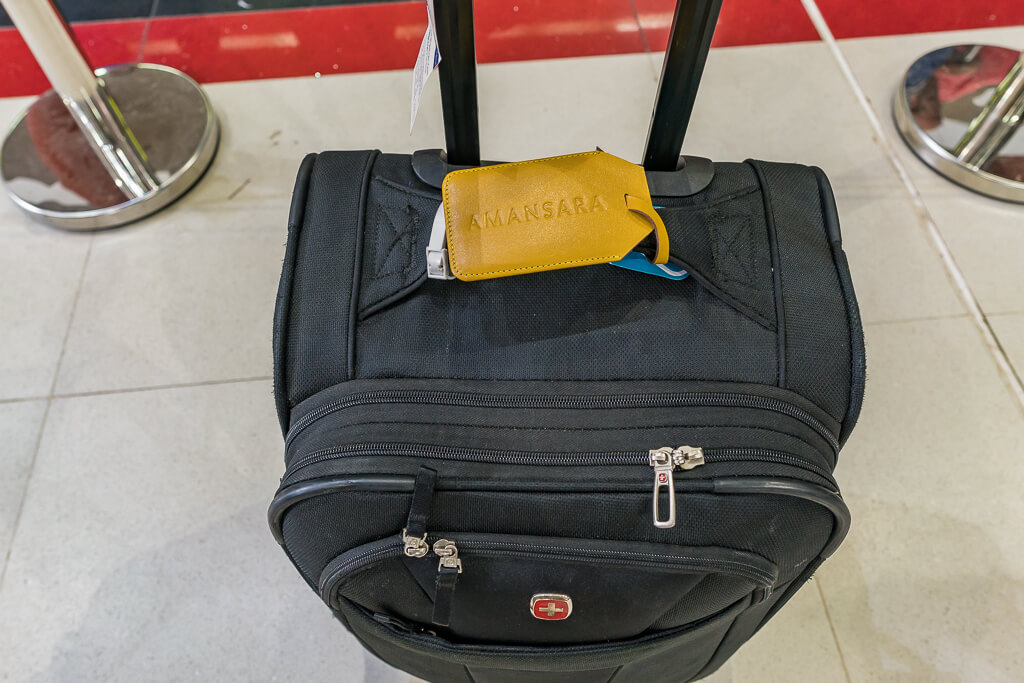 Recommendation
If you enjoy luxury and are heading to Angkor, then Amansara Siem Reap is your hotel.
We loved our stay and wished we could have done the 4-night promotion instead of our 2 nights. The 4 nights would have allowed us to enjoy the beautiful property, including the spa and hospitality of the staff more.
Highly recommended.