It doesn't look like we may have to deal with COVID-19 longer than initially thought. As a result, American and Hawaiian adjust elite qualifications in an attempt to attract and retain passengers.
American AAdvantage
American is making a number of changes to AAdvantage to keep loyal customers flying or to attract new ones, maybe.
Adjusting Elite Qualification Requirements
Earlier this year, American extended all elite statuses expiring on January 31, 2021, to January 31, 2022. That was in addition to reducing elite qualifications earlier in the year. As a reminder, here's what American's standard elite qualifications are:

These are the qualifications for 2021:

And, now, these are the qualifications for 2022:

As you can see, American slashed EQM requirements by 40% across the board compared to the program's original requirements. American also slashed EQSs by half, and slashed EQDs by 40% to 50%, with lower statuses getting a larger EQD reduction.
2021 Headstart
To make earning status even easier, American is giving you a head start in earning EQMs, EQSs, and EQDs. In fact, all of those qualifying metrics earned from October 1 to December 31, 2020, rolls-over on January 1, 2021. This roll-over boost, however, only applies butt-in-seat miles; credit card miles don't count.
EQD Waiver
If you spend $30,000 on any co-brand AAdvantage credit card, American will waive EQD requirements for Gold, Platinum, and Platinum Pro statuses.
Executive Platinum Rewards Adjustments
For those of you still flying a lot, American is adjusting the Executive Platinum Rewards thresholds. Typically, you'd get rewards at 150,000, 200,000, and 250,000 EQMs. However, for 2021, those thresholds are 120,000, 160,000, and 200,000 EQMs.
Choose Your Rewards
While most of the changes American announced are temporary, there are some long-term changes on the way. The first is the ability for Platinum Pro and Executive Platinum members to choose their own rewards. For Platinum Pro members, those choices include systemwide upgrade, Admirals Club day passes, AAdvantage bonus miles and more. Executive Platinum members, on the other hand, you can choose to maintain up to the 4 systemwide upgrades you receive today, or you'll have the flexibility to select from a list of additional rewards.
Additional details, including a full selection of reward options, will be announced at a later date.
Basic Economy Elite Benefits
While Basic Economy has been a penalty box, it seems as if American is turning Basic Economy into standard economy when it comes to elite benefits. So, AAdvantage Elite members can now enjoy Priority Access, Preferred Boarding, upgrades, access to Preferred or Main Cabin Extra seats, or use same-day confirmed flight changes.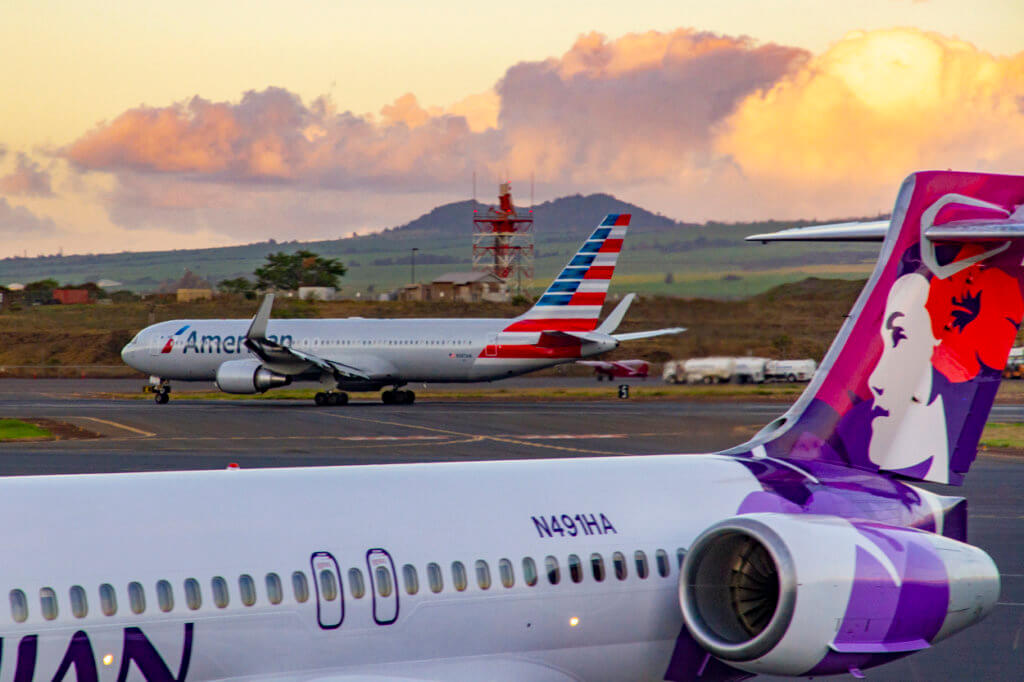 HawaiianMiles
Hawaiian isn't making anywhere nearly as many changes as American did. However, they are adjusting Pualani Elite Status qualifications for 2021. That's right, whereas American's changes apply for 2022 qualifications (earning next year), Hawaiian's changes only apply for the next couple of months.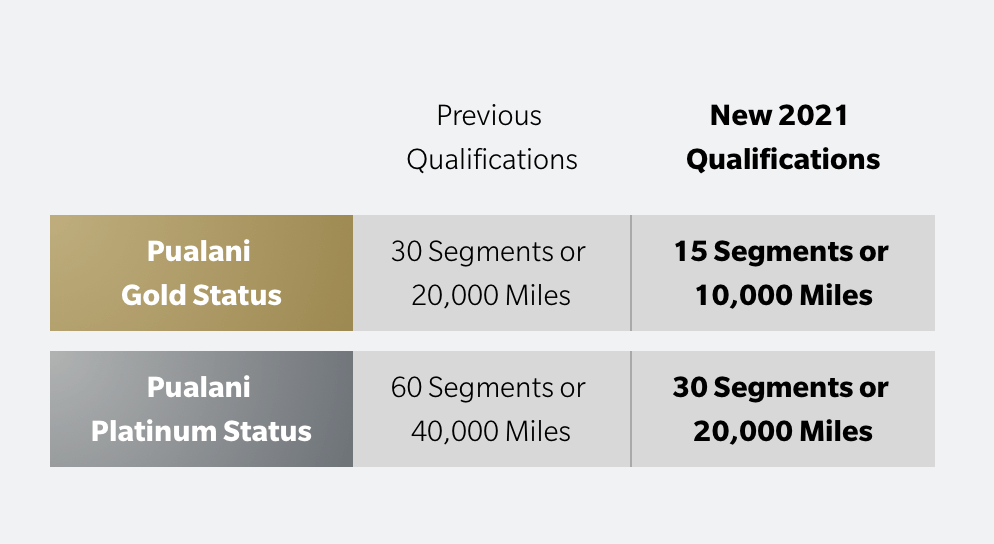 As you can see, Hawaiian is doing a straight 50% cut of all Pualani Status requirements for 2021. That's great and all, but less you flew a lot earlier this year or will fly A LOT the rest of this year, meeting the segment requirements will be difficult. That's eight or 15 roundtrip flights.
Earning via miles will be far easier if you're starting from nothing. To earn Gold, you could fly between Hawaii and most West Coast destinations twice, or fly to NY once, plus island-hop once.
American and Hawaiian Adjust Elite Qualifications, Final Thoughts
It's great to see airlines conceding on elite qualifications. And while not many have done so yet, I expect that to change in the future. After all, the unfortunate truth is that we will likely be dealing with the same issues we are today well into 2021. So, realistically, how many people will take advantage of any of these changes?
What's more, for Hawaii residents, remember that we have the pre-travel testing program to contend with. Not only does that make doing quick turns way more difficult, but it also makes traveling more expensive. After all, in most cases, you're going to be paying well over $100 for each test. And you have to take it each time you come back to Hawaii unless you plan on quarantining for two weeks.