Of all the transferrable points out there, only one transfers to HawaiianMiles – Amex Membership Rewards. And, for a limited time, Amex is now offering a bonus on Hawaiian transfers! That makes now a great time to transfer if you plan on flying with them within the next twelve months.
As you'll recall, Hawaiian doesn't provide the best value for award flights to and from Hawaii. That said, under certain scenarios, you'd be hard-pressed to find other alternatives. For example, if you want to fly direct between Los Angeles or Las Vegas and Hawaii in a flat-bed first class seat, you aren't going to find any other alternatives. Of course, some simply prefer flying Hawaiian too. So, if any of these apply to you, I highly suggest considering this new transfer offer.
Amex Now Offering a Bonus on Hawaiian Transfers
Currently, you can transfer your American Express Membership Rewards Points to HawaiianMiles and get 20% more HawaiianMiles! Typically, you can transfer points at a rate of 1:1 at a base rate of 1,000 points for 1,000 miles. However, for a limited time, that ratio is now 1:1.2, giving you 1,200 HawaiianMiles for every 1,000 Membership Rewards points you transfer. That means, to get a base first class roundtrip award ticket between Hawaii and the West Coast right now, you'd need to transfer 70,000 Membership Rewards points. That'll give you 84,000 HawaiianMiles, while the actual cost is 80,000 HawaiianMiles. To take advantage of this offer, you'll need to make your transfer by March 21, 2022.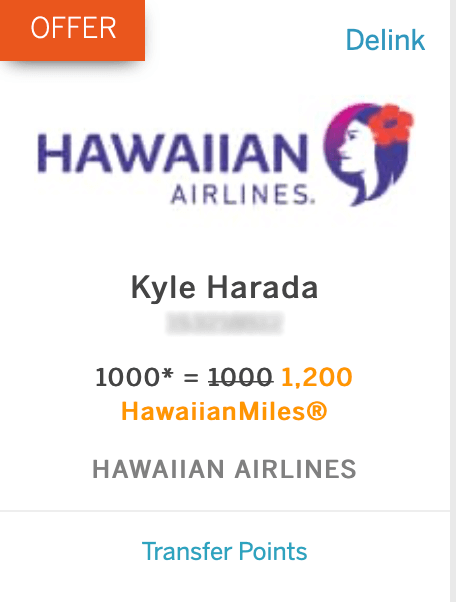 To be clear, this isn't a new offer. However, it's been a while since I've seen Amex offering it, and who knows when it'll come back. That said, unless you plan on using the miles in the near future, I wouldn't pre-emptively transfer anything. Mileage programs are notorious for dropping last-minute changes, and Hawaiian is no different. As you'll recall, they added an enormous number of redemption tiers to Main Cabin awards and split the continental U.S. into three different zones. You might also want to see if an award you're looking at is available at the price you want too. Nothing worse than transferring and then getting burned!
Final Thoughts
Again, if you have an immediate use for the miles, this is a great promotion – it always has been. Me? I've been saving my HawaiianMiles for an aspirational trip. But, given the unpredictability of international travel right now, I'm continuing to put that trip off. Thus, I won't be taking advantage of this offer. If you plan on transferring, though, let me know what where you're planning on going!
H/T: Ben Schlappig