I've long been an Apple customer. While I'm definitely a fan, I wouldn't call myself a super fan. I am embedded in their ecosystem, but I'm not blindly loyal. Case in point, I was skeptical of the Apple Card when it first came out. However, I finally decided to give the card a shot.
Before we go any further, it's worth reminding you that the Apple Card is only available to Apple users. Specifically, you must have an iPhone to apply, as it's built to run primarily off Apple Pay and requires the Wallet app to manage – no separate app can be used to monitor and manage your card.
Apple Card Application Process
Honestly, the Apple Card application process is the easiest one I've ever done – not counting pre-screened or pre-approved offers. You apply through the Wallet app, and since you're already signed into your Apple ID, it pre-fills virtually all of your information for you. All you're doing here is verifying that your information is correct and providing your income and the last four digits of your Social Security Number.
It's worth noting that you can apply to see the credit limit and rate they're offering you without impacting your credit. Once you accept the offer, then Goldman Sachs will request a hard inquiry on your credit profile.
Apple Card Provisioning
Since the intent of this card is for you to use it via Apple Pay, the Apple Card automatically provisions to your Wallet on the iPhone on which you applied, along with its associated Apple Watch (if you have one). You can then add the card to your other devices on which your Apple ID is signed in, but you'll need to know your Apple ID password to do so – no Touch ID or Face ID here.
Once you've provisioned your card to your device(s), they'll ask you if you want a physical card, which will arrive about a week after you apply. You can also set up your payment account, which can be automatic if you already have Apple Cash set up.
Using Apple Card
if you're familiar with using Apple Pay, using your Apple Card is a very familiar experience. The main difference is that your Apple Card will automatically send you notifications for everything, including transactions occurring, Apple Cash rewards posting, and more.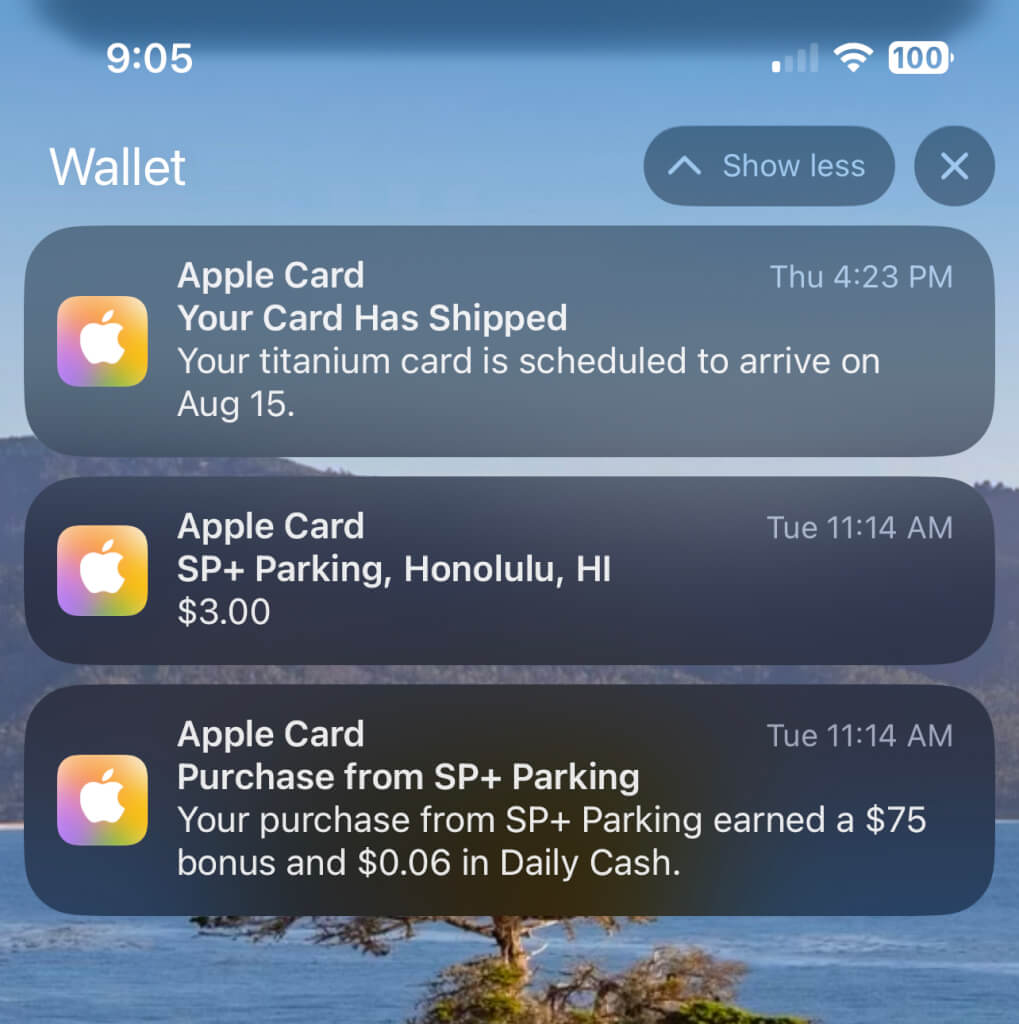 Of course, everything you need to use your card is in the Wallet app. In here, you can see your transaction history, your activity trends, make payments, and even share your card (authorized users) with others in your iCloud family setup. Speaking of paying, you can pay via your linked bank account or through your Apple Cash balance.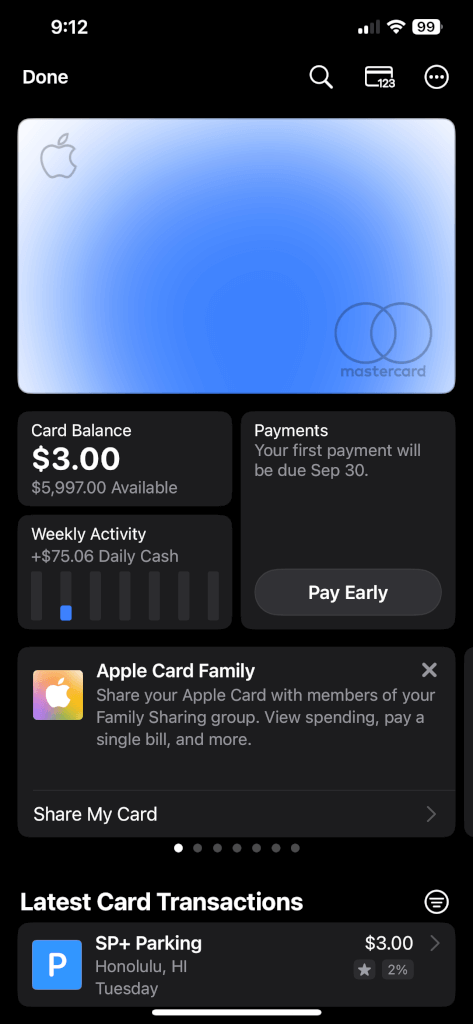 Needless to say, Apple makes using their card exceedingly easy. This is, by far, the easiest, most seamless card experience I've ever had.
Apple Card Benefits
To amen things even easier, Apple Card comes with a lot of consumer-centric benefits. First and foremost, the card has NO fees of any kind. No annual fees, no foreign transaction fees, no late payment fees, nothing. It's worth noting that even if you don't incur late payment fees, the card does have default rates. So be sure to pay on time.
Of course, the benefit that's of most interest on this blog is the card's reward structure, which is also quite simple. All Apple Pay transactions earn 2% cashback with Apple Card, while all transactions made with a physical card earn just 1%. Transactions made at certain merchants will earn 3% cashback. At the moment, those merchants include:
Apple
Ace Hardware
Duane Reade
Exxon
Mobil
Nike
Panera Bread
T-Mobile
Uber
Uber Eats
Walgreens
It's worth noting that the card does offer interest-free financing on the following Apple purchases:
iPhone: 24 months
Apple Watch: 12 months
Mac: 12 months
Apple Displays: 12 months
iPad: 12 months
Apple TV: 6 months
AirPods: 6 months
Beats Flex: 6 months
Accessories: 12 months
Accessories include Pencil, iPad keyboard, Pro Stand, VESA mount adapter, Afterburner Card for 2019 Mac Pro, Apple-branded iPhone cases, Apple Watch bands, Apple-branded iPad cases, Apple-branded Mac covers, MagSafe chargers, MagSafe battery pack, Apple-branded iPhone MagSafe cases, and the Apple branded leather wallet with MagSafe.
Even better, you still earn 3% cash back when using the interest-free financing option for qualifying Apple purchases.
The Physical Card
One of Apple Card's notable features is its titanium card. This card is one of the few that I know of, aside from the Amex Centurion that is made out of this material. That gives it a metallic feel that's distinct from most other premium metal cards these days since it's lightweight. However, the most notable part of its design is its lack of information, There is no information on the card aside from your name, the Mastercard logo, Goldman Sach's name, and Apple's logo.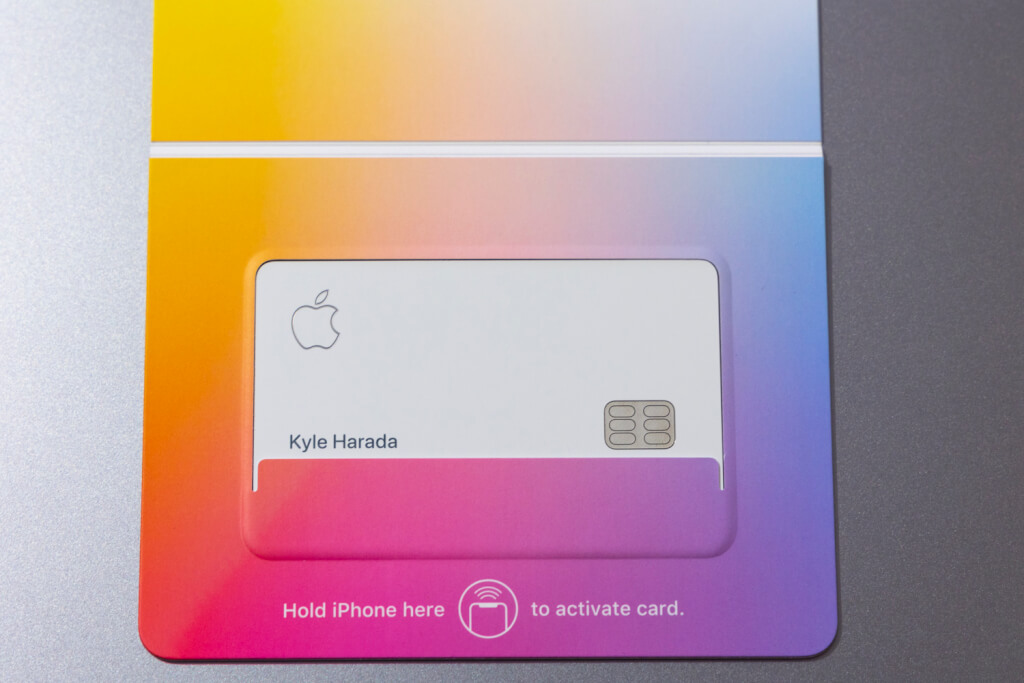 Should you need to access your card information, you can do so in the Wallet app. There, you can access the full card number, expiration date, and CVV. Note: you can implement a dynamic CVV to further enhance your security.
Apple Card Use Case
For me, the Apple Card is something I resisted getting for a long time. I didn't really get the point. But the more I thought about it, the more it made sense – especially since Verizon now forces you to spread iPhone payments across THREE YEARS if you finance via your phone bill. So, naturally, I got the Apple Card so I can take advantage of their financing offer if and when I need to purchase new Apple devices. And I will buy new devices, with iPhone 16 and Apple Watch X all on my radar.
Beyond that, though, I can see using Apple Card for all Apple Pay transactions that wouldn't otherwise earn a higher bonus. That means this card could become my default card in place of the Chase Freedom Unlimited. However, that'll largely depend on what my accrual priorities are at the moment. For example, today, I'm dumping most of my spending on my Southwest Airlines Rapid Rewards Priority Card to take advantage of their current spending bonus offer.
Final Thoughts
There you have it! Four years after it launched, almost to the date, I finally have an Apple Card. That said, as of right now, it's not a card that going to see a lot of use – at least for the time being. However, in two to three years, I'll most definitely use it to purchase my next round of Apple mobile devices, and may start to use it for unbonused Apple Pay spend. After all, earning 2% cashback on a large Best Buy purchase is pretty enticing, right? But we shall see.
Do you have an Apple Card? If so, how do you like it and how do you use it?