Last updated on May 5th, 2018 at 08:04 am
Two weeks prior to our departure for Sydney, Australia, I informed Mr. J of my epic plans for birthday month – an Australian Road Trip.
We drive from Melbourne to Perth! I am a genius.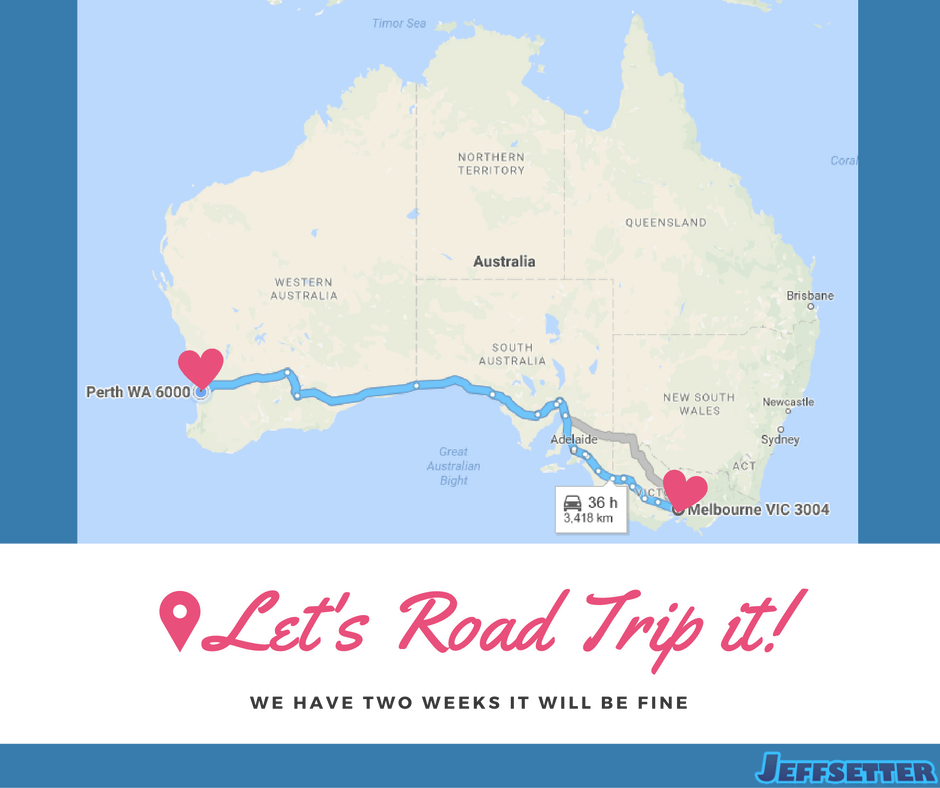 A 36-hour drive in two weeks, no problem!
To put this in perspective for US folks, this drive is the same as driving from Atlanta to Los Angeles – distance and vast emptiness.
Mr. J did not love this epic birthday month plan.
He was worried about his business and internet connections i.e., adult stuff.  Reluctantly, I compromised since his concerns were valid.
We agreed to road trip from Melbourne to Adelaide.
Australian Road Trip
No camper van on this trip like we had in New Zealand.
We rented a little hatchback for around $25 (USD) a day through a deal I found on Kayak.com.
the Route
Once the vehicle was secured, it was time to start planning the route and where we would stay.
We debated about where we would stop:
definitely, the Apostles
absolutely wine country
maybe, Kangaroo Island.
Ultimately, our stops were dictated by where I could find us decent accommodations. Since we didn't have a camper van, we actually needed a place to sleep. I was ok roughing it for a couple of nights, but come on, it's birthday month – where is the luxury? Oh, it's booked because people plan their epic vacations.
Finally, after booking our hotels we settled on our stops and where we would wing it. Here is our final route for our Australia Road Trip: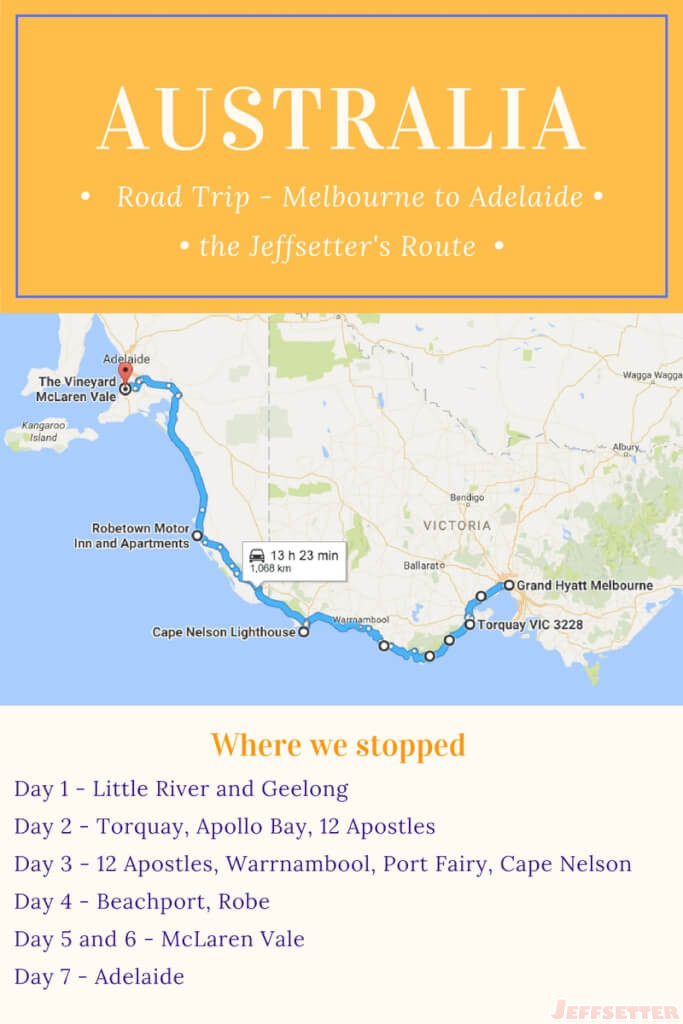 Below, I have a summary of the trip. We will do separate posts the details of each stop. (Eventually, feel free to contact us if you have any questions in the meantime.)
Highlights
Everyone told us that all the big sights are at the beginning of your trip. "You should spend the most time there."
I agree with this bit of advice. However, I would leave enough time for the end as well. We would have loved to spend one more day in McLaren Vale. We also ran out of time for Kangaroo Island.
Our favorite stops were:
12 Apostles – beautiful coastline! I will let the photo speak for itself.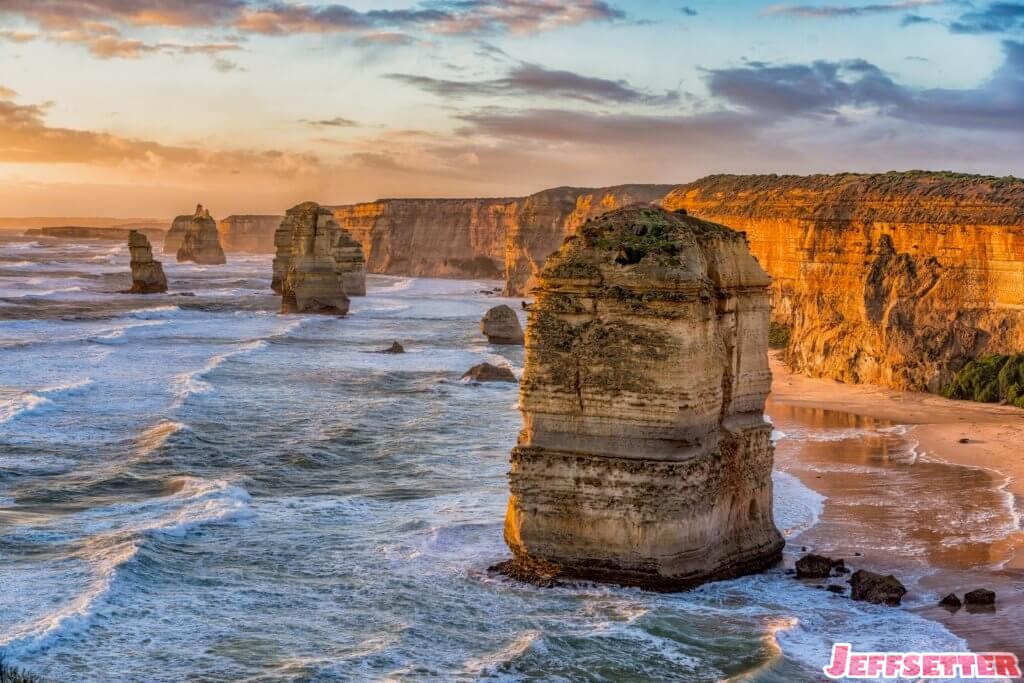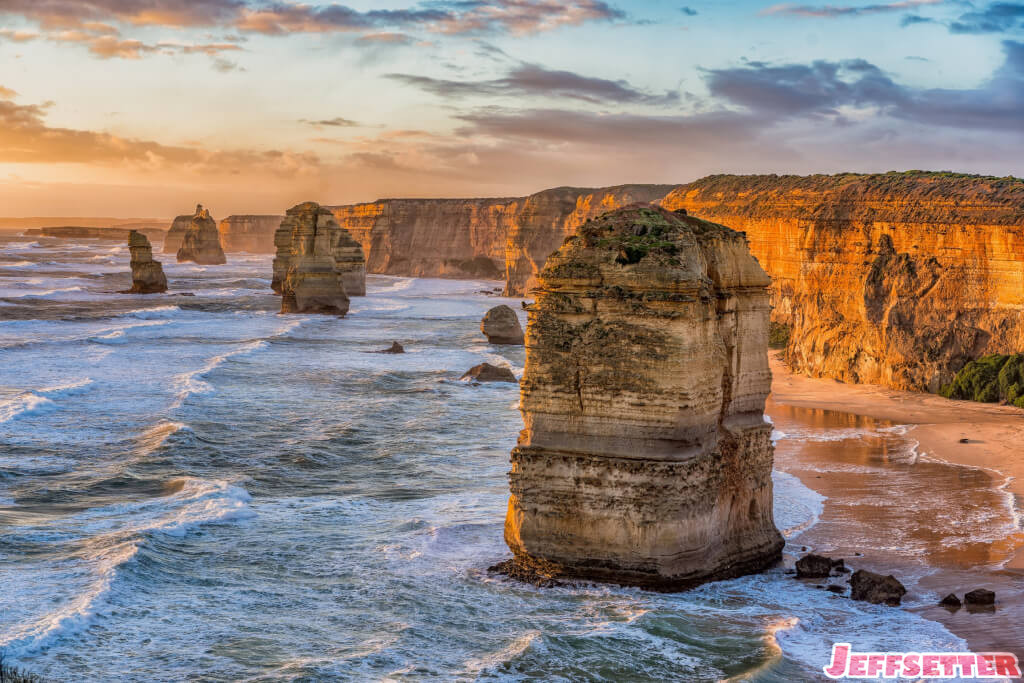 The weather was super windy and random rain.
Expert Tip: Be sure to dress appropriately. We saw a poor family dressed in short sleeves and shorts!! I was freezing in my Patagonia jacket, jeans, and gloves.
Cape Nelson Light House and seeing koalas in the wild.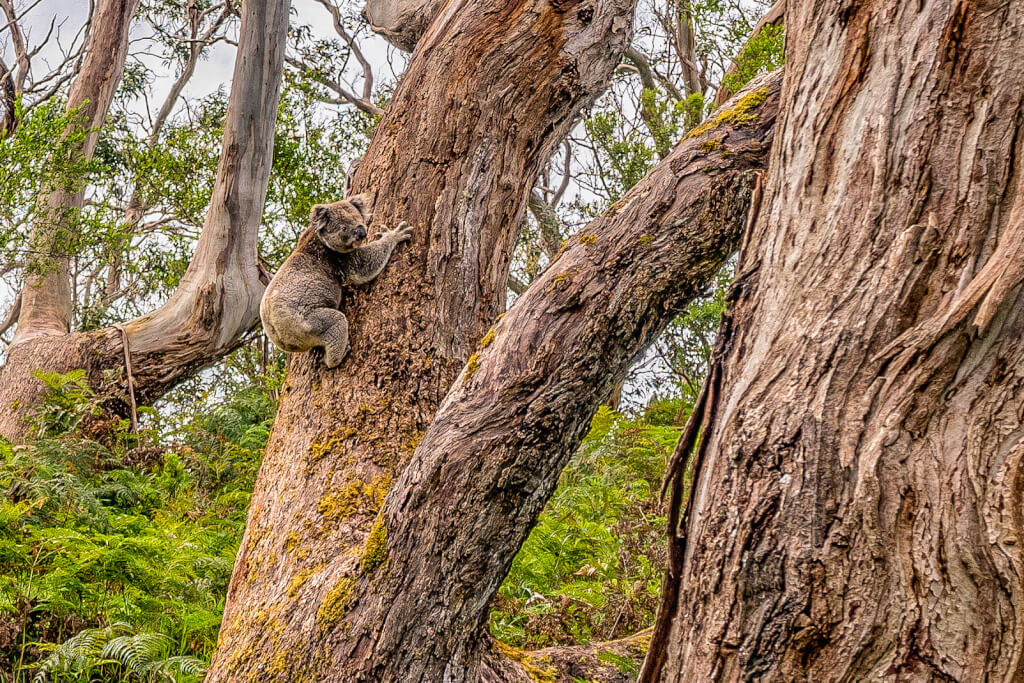 Wine country – McLaren Vale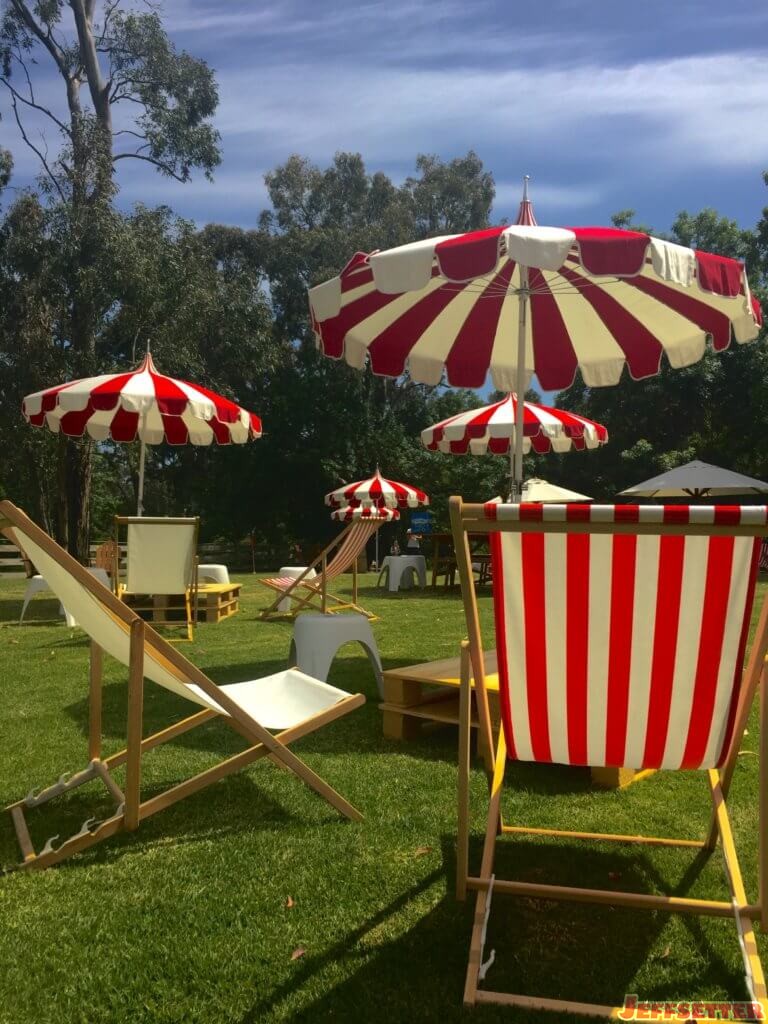 Fantastic, rich Shiraz everywhere and great restaurants. Loved the area and the wines. I wish we could have stayed one more day here.
Next, I want to share everywhere we stay and ate. I have "bottom-lined" my thoughts for each place until. I get around to detailing separate posts for each. If this doesn't interest you, skip to the end, where I share my thoughts on a better itinerary and our lessons learned.
Staying at a lighthouse in Cape Nelson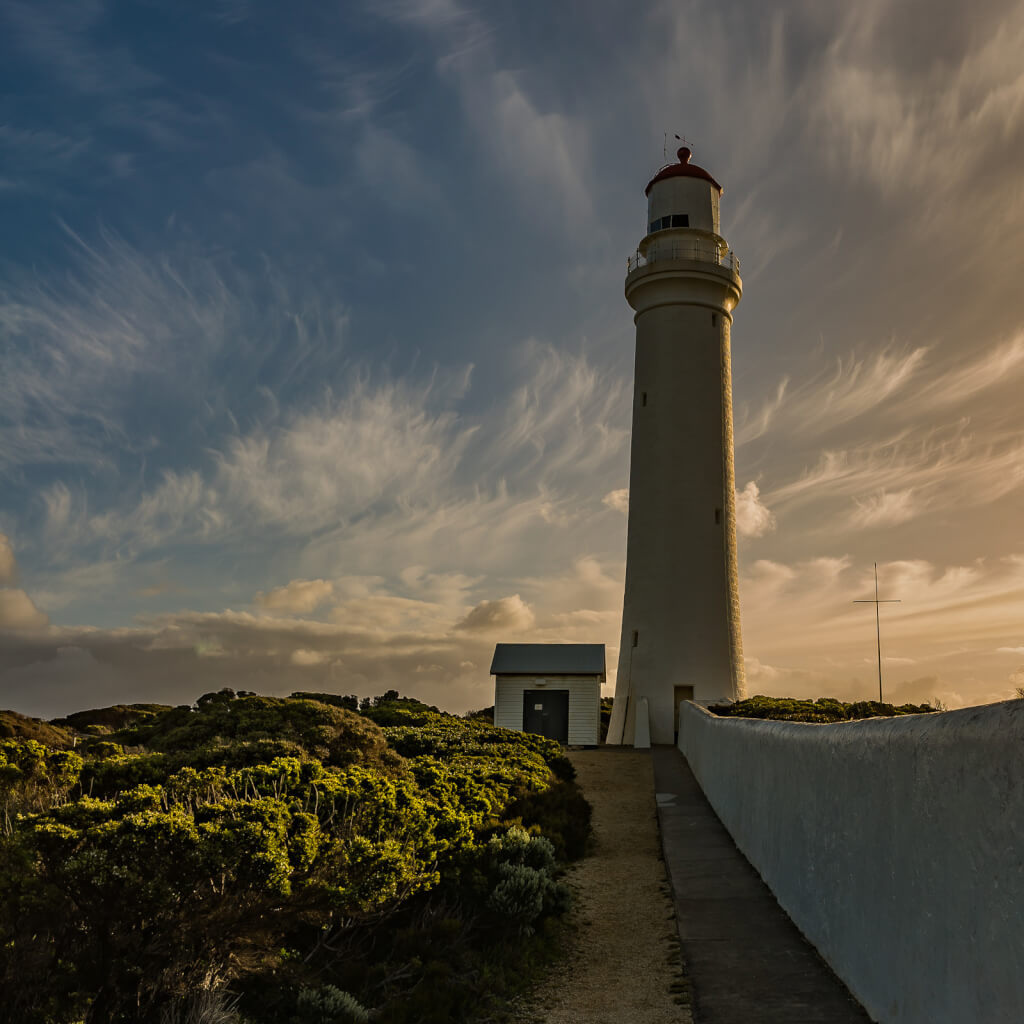 We stayed at the light keeper's cottage. Our arrival included,
a stop at the local bar to pick up the key,
a breathalyzer checkpoint, and
a fierce wind off the coast. I could barely walk into the cottage.
Yet, we made it to the magical spot.
Accommodations
As I noted, you should plan for your accommodations well in advance as the higher-end resorts book up rather quickly.
In general, accommodation prices range from $70 AUD to $400 AUD per night. Rates will be at the higher end during peak season. Yep, a huge range which should suit most budgets.
We spent an average of $145 USD per night on lodging for 7 nights. [Sorry for switching the currency, my records are in USD, not AUD.]
Little River Bed and Breakfast – Adorable! The pub had a live band all afternoon, great for my birthday :)
Great Ocean Road Tourist Park – Clean with laundry facilities, near the 12 Apostles. We booked a cabin room with a kitchenette.
Cape Nelson Lighthouse – One of my favorites! We stayed in the staff quarters of the lighthouse.
Robetown Motor Inn – its fine, clean worked with our budget. We enjoyed the town a lot.
The Vineyard Retreat – Another favorite! We stayed in the Strand house.
Crowne Plaza Adelaide – this is now the Pullman. A solid "good" hotel. I liked the location, very walkable.
Restaurants
The Edge – Geelong – This place was good for appetizers and light snacks. No need to go out of your way to stop here.
The Pond Cafe – Torquay – Fantastic breakfast stop, but busy so plan ahead for peak times.
Waves – Apollo Bay – Mmm crapes, nice for lunch or a shareable snack.
The Hub – Port Fairy – a decent burger, I had a good BBQ pork sandwich.
Waterfront Cafe – Beachport – a great fresh seafood chowder, a small cafe on the water.
Pizza Project – Robe – amazing thin crust wood fired pizzas made to order.
Adventurous Spoon – Robe – Really great breakfast spot. Good coffee and I loved the avocado smash.
The Barn – McLaren Vale – We did a late happy hour, early dinner here. I recommend the Thai Beef Salad and the Pate.
Star of Greece – McLaren Vale area – Fantastic tasting menu, the service is amazing and of course great views and wines.
Golden Boy – Adelaide – Yummy Thai restaurant. Highly recommend making a booking for this busy and trendy spot.
A Better Itinerary and Tips
We loved our trip, but we certainly learned from some of our experiences. Our suggestions and advice to enhance the itinerary and considerations for the drive:
I spent about 32 hours planning our itinerary. My planning time included research, reading reviews, searching for suggestions, talking to colleagues and actually booking everything. I regret not spending more time to know the best time to book.
Book hotels sooner – higher rated hotels were fully booked. There are limited hotels in these small coast town! Our travel dates were in a shoulder season as well. We started booking our trip two weeks before our travel date. We also had one hotel that canceled our stay because of renovations. This is how we ended up at the Little River B&B
Spend the first night in Torquay or Lorne. Our first-day drive was pretty short. Staying in Torquay or Lorne will break up the drive a little better. Also, this will allow you to spend more time in the coastal towns.
Spend the second night in Apollo Bay – no backtracking to the 12 Apostles
Download the offline area on Google Maps – limited phone reception in areas
Watch for wildlife – don't drive at night, we were pretty almost died a thousand times. Those kangaroos are like deer here in the US.
Fill up your gas tank before you leave Port Campbell by the 12 Apostles. At one point, we were a little nervous about whether we would make it to a gas station or not. I know some people tell you to bring a gas can just in case. However, I think that advice applies more to the drive from Perth to Adelaide.
We did spend some time in Adelaide after the road trip. Be sure to leave some time for that.
Consider doing 10 days to make more time for Cape Ottaway and Kangaroo Island. It would have been nice to be able to do some more random stops as well.
Next up:
Stay tuned for the details of our Australian Road Trip.
Struggling with your own itinerary, contact us for help. There is light at the end of the road.