Long before we arrived on the island, I decided that we'd have both our West Maui breakfasts at the hotel. So, as soon as I could do so, I booked reservations for breakfast at Waicoco Maui for our two mornings at the Westin Maui.
Like dinner, deciding to have breakfast at Waicoco Maui was a no-brainer for me. After all, Chef Chris Kajioka and his team put together a compelling menu to tempt you with. Sure, it's a bit pricy, but it's a pretty good deal. However, things do work a little differently during the morning meal.
Breakfast at Waicoco Maui
The largest difference at Waicoco in the morning is the menu format. Dinner is strictly ala carte, but breakfast is prix fixe only. For $32 per person, you get a choice of starter and main, along with a daily sweet treat. Keep that sweet treat part in mind when you plan your menu, as you don't want to load up too much on the sweets.
There is a menu of sides and pastries as well if you're looking for a hardier meal. However, even though these items are great, you likely won't need them. Portion sizes are quite generous!
Breakfast at Waicoco Day 1
On our first morning, things went a little crazy. Given how our dinner went down the night before, the team at Waicoco ended up sending out a few complimentary items. As a result, we ended up rolling out of the restaurant and back up to our room for a post-breakfast rest before heading out for the day.
Smoked Local Fish Rillette
To start, Mrs. Island Miler got the Smoked Local Fish Rillette. Served on toasted sourdough with tobiko, pickled onion, dill, and everything seasoning, this thing is a fantastic flavor bomb! The smoky, umami flavors pair nicely with the twang of the pickles and herbal dill.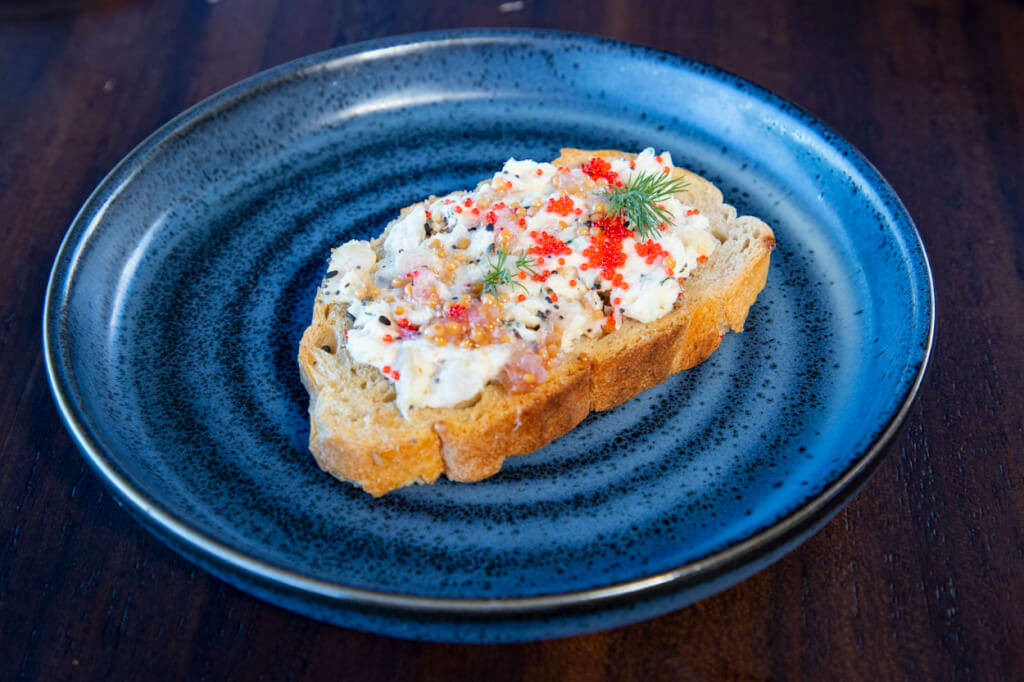 Maui Gold Pineapple
For my starter, I went with the Maui Gold Pineapple. I have an unhealthy obsession with these golden, sweet beauties, especially when I can Microplane some line zest over them at home! Here, though, the team serves the pineapple up with their house lime salt and a wedge of lime. It's tasty and refreshing. What else can I say?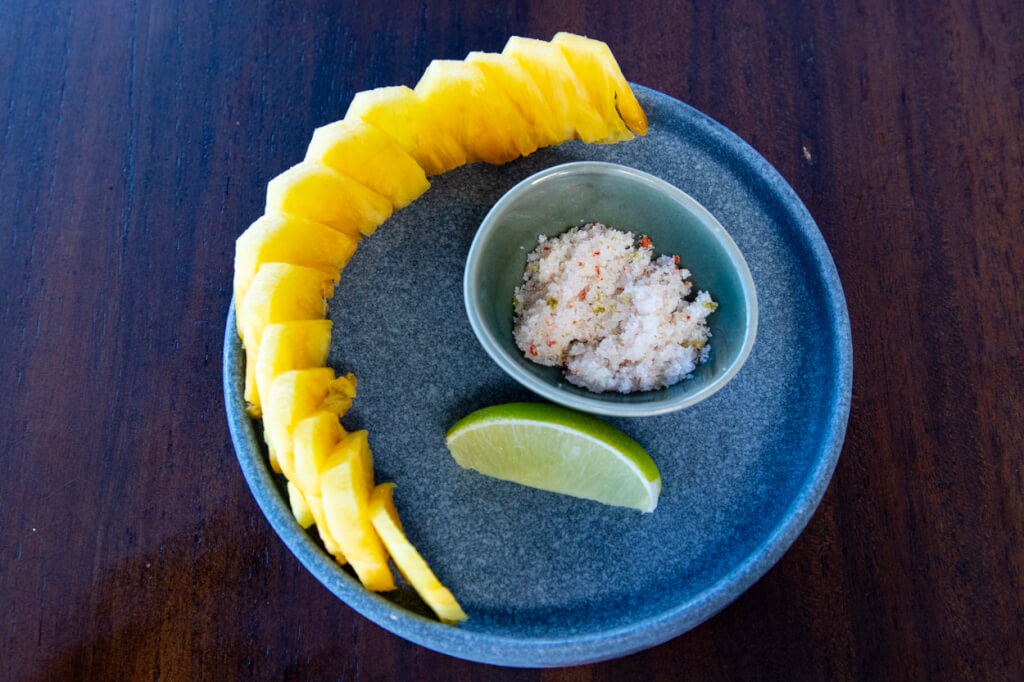 Pastry Trio ($10)
A Pastry Trio also landed on our table, including a chocolate croissant, banana muffin, and a cheddar biscuit, which came with guava jelly and whipped butter. None of the items needed the buttery or jelly, though I did enjoy the extra fruitiness the jelly added to the banana muffin. The chocolate croissant, by the way, is one of the better ones I've had in Hawaii – so flaky!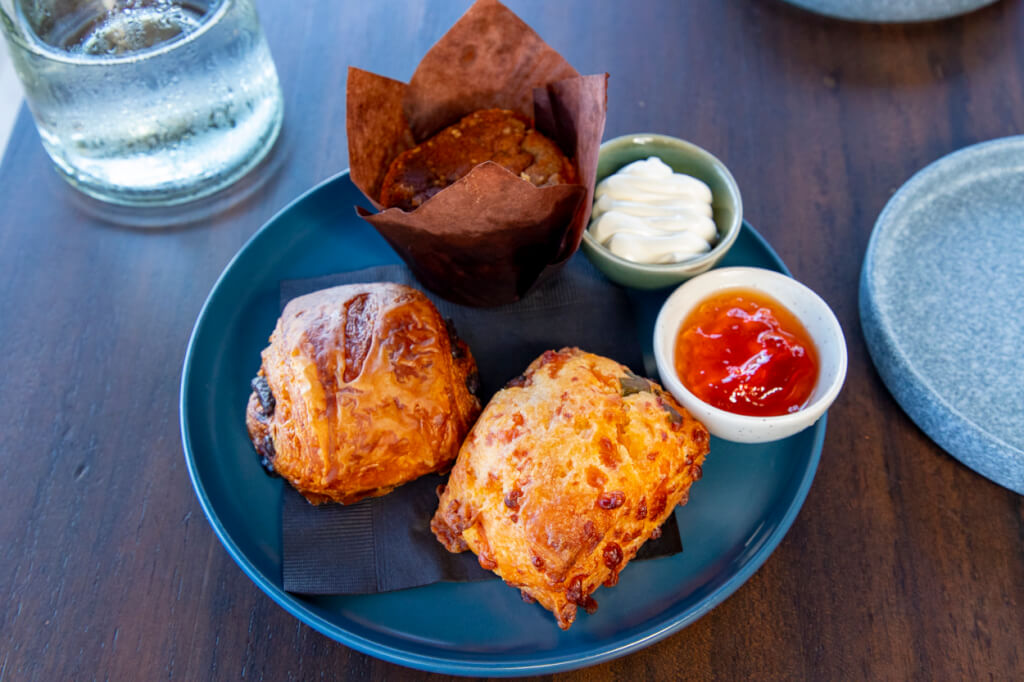 Kiawe Smoked Shakshuka
Mrs. Island Miler got the Kiawe Someked Shakshuka for her main – poached egg, kula tomato, goat cheese, and sourdough toast. This dish is definitely a nod to partner Mourad Lahlou Moroccan heritage and isn't a dish you often see in Hawaii. It is on the spicier side, which is right up Mrs. Island Miler's alley.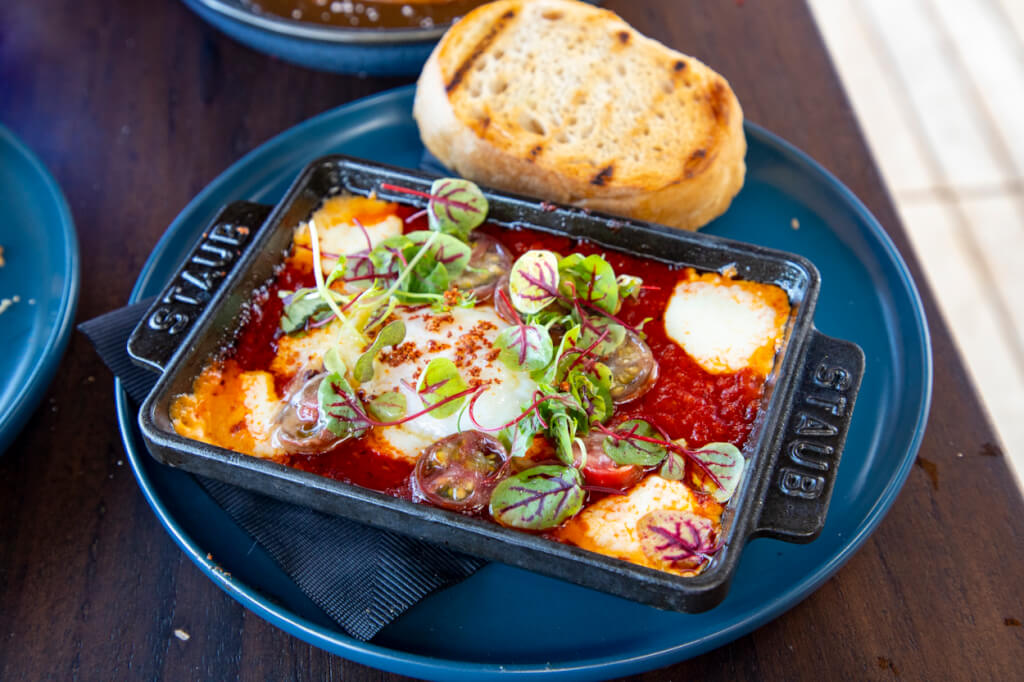 Kaula Pork and Eggs
For my main, I went with the Kalua Pork and Eggs. The dish looks a lot like the local standard Kalua Pig and Cabbage. However, at Waicoco, they make a smoky pork confit blended with braised cabbage that's served with two eggs over rice. It looks deceptively simple, but it is quite full of flavor. At home, though, I'd eat this with a drizzle of shoyu and Hawaiian chili pepper water. 😋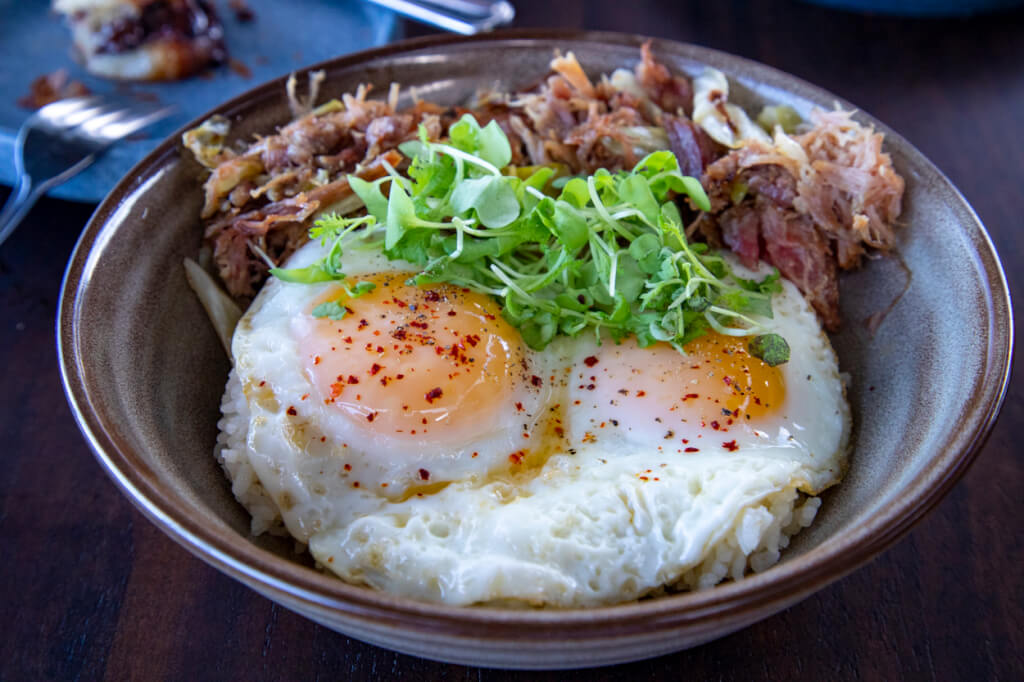 Bananas Foster Pancakes
Also joining our orders was a stack of Bananas Foster Pancakes. These aren't your average pancakes, though. Look at how thick they are! Plus, they come dripping in dark rum caramel with a topping of ripe bananas and crushed macadamia nuts. It's a fantastic dish if you're craving something sweet for breakfast and would probably be even better with a side of bacon!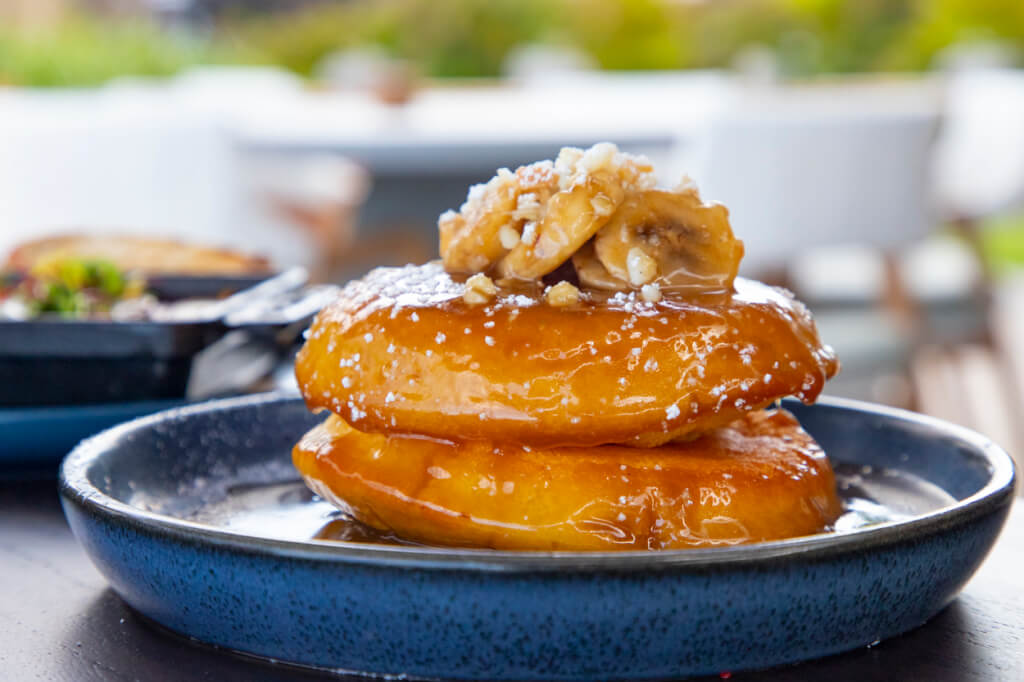 Sweet Bite
To end the meal, we were presented with Caramel Miso Tartes. These tiny bites are insanely decadent, providing a rich, buttery, sweet/savory, umami blast of flavor to end the meal. They're utterly addictive.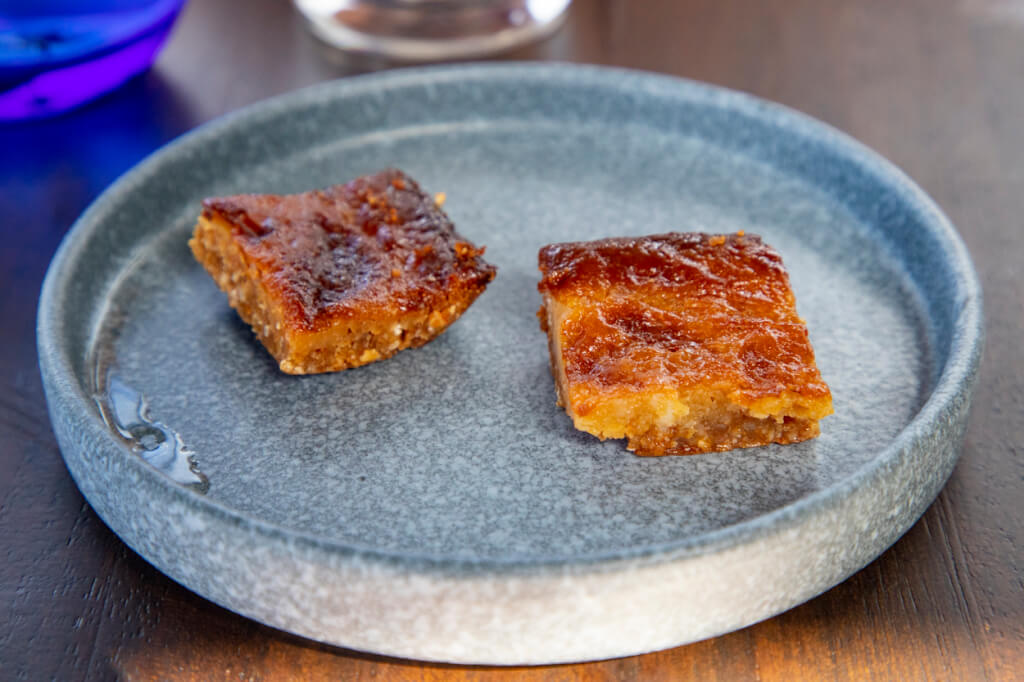 Breakfast at Waicoco Day 2
Returning the following day was a no-brainer. We massively enjoyed ourselves the day before and wanted to try more items on the menu.
Smoked Local Fish Rillette
What can I say? Mrs. Island Miler loved this dish so much she ordered it again.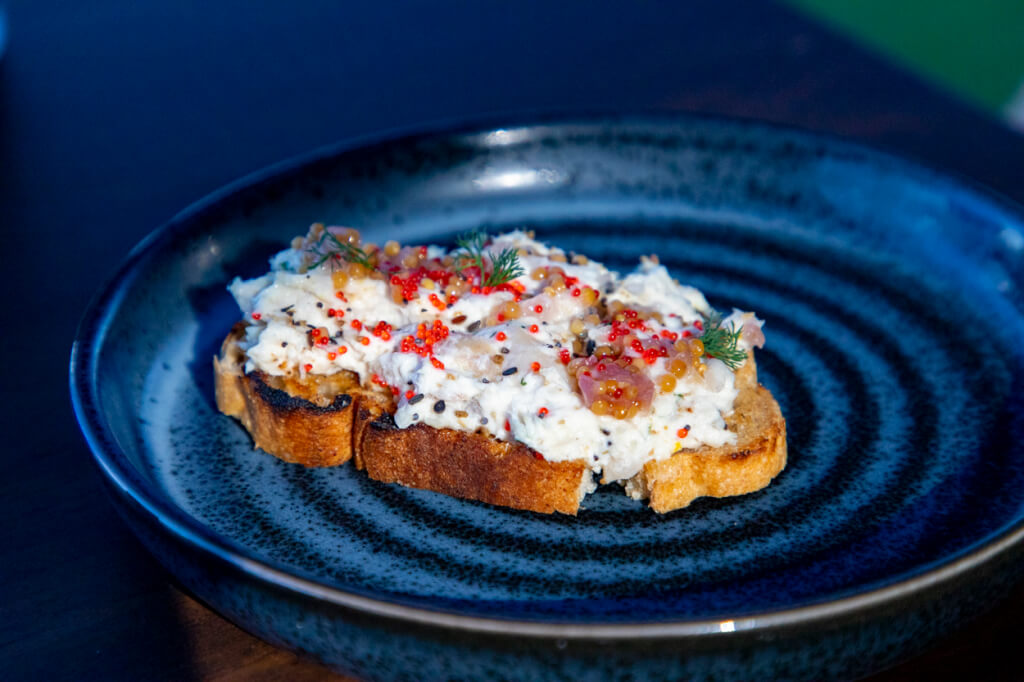 Avocado Toast
Me? I went with the Avocado Toast as my starter on day 2. Here, Chef tops the toast with Kula tomatoes, watermelon radish, macadamia nuts, and basil. It's a quality dish if you're looking for something lighter and don't want the pineapple.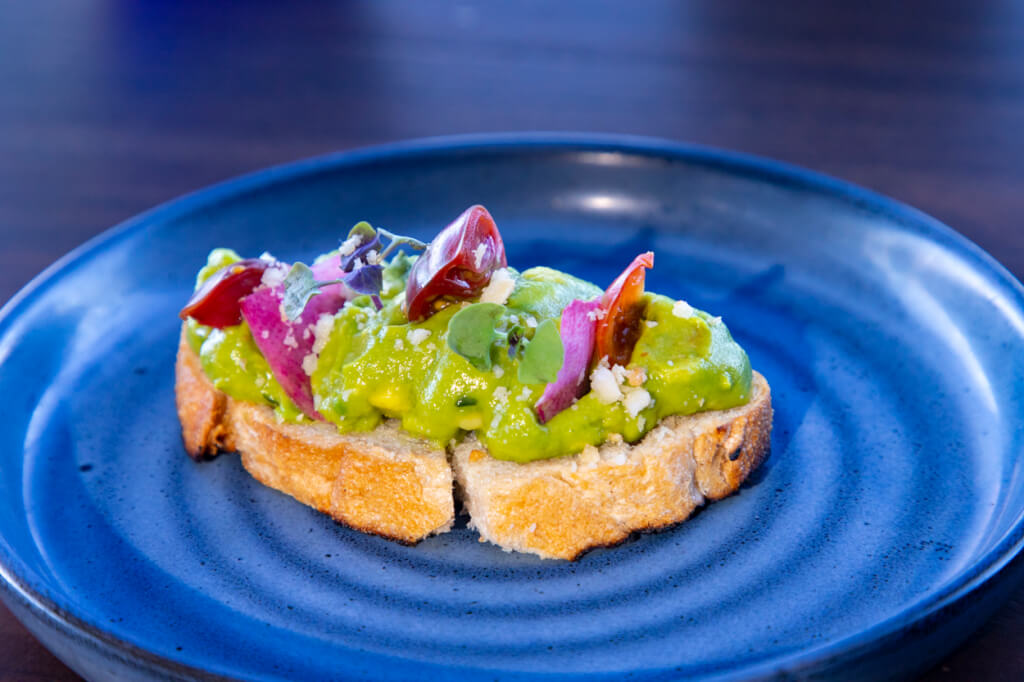 Kula Benedict
Mrs. Island Miler went with the Kula Benedict for her main, which is Waicoco's take on a vegetarian eggs benedict, replacing the ham with avocado. It also comes with a side of volcano-spiced crispy potatoes and a small salad. Mrs. Island Miler enjoyed this dish very much, especially the brown butter hollandaise. It's a decadent dish without being too heavy.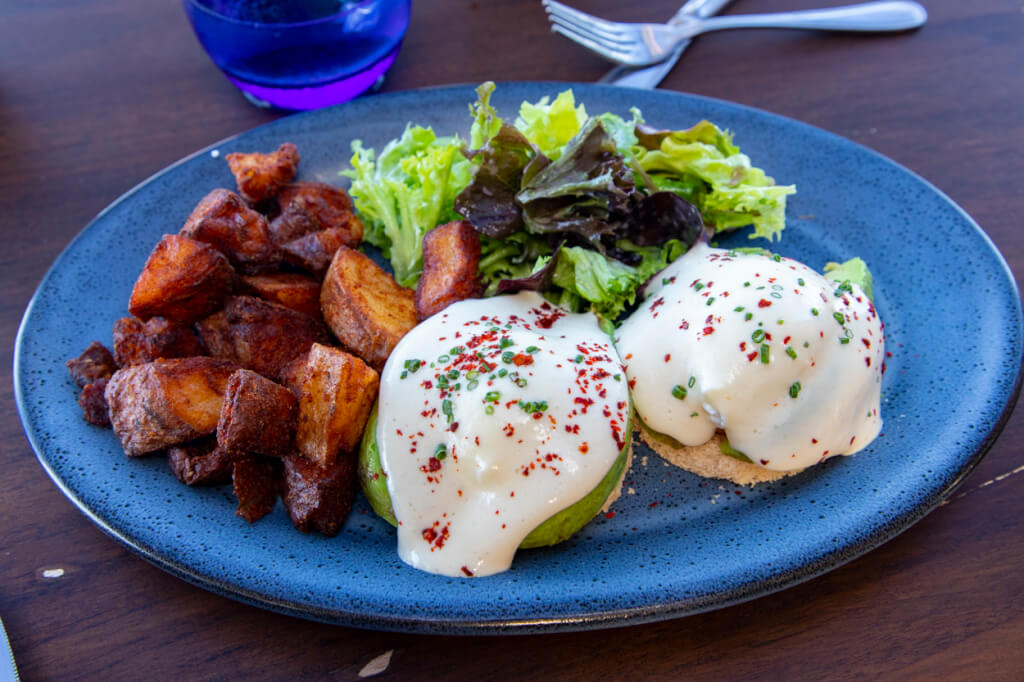 Short Rib Hash
I decided to give the Short Rib Hash a try for my main. Here, Chef takes the classic corned beef hash and turns it on its head. In this dish, you get meltingly soft short ribs with crispy potatoes, an egg, and a side of toasted sourdough. I gotta admit, I was hesitant to order this dish, as it sounds kind of heavy. However, the chimichurri slathered all over the meat and potatoes really helps to balance out the meaty richness. It really is a flavor bomb and a dish I wouldn't hesitate to order again. That said, it is FILLING, so be sure to bring an appetite!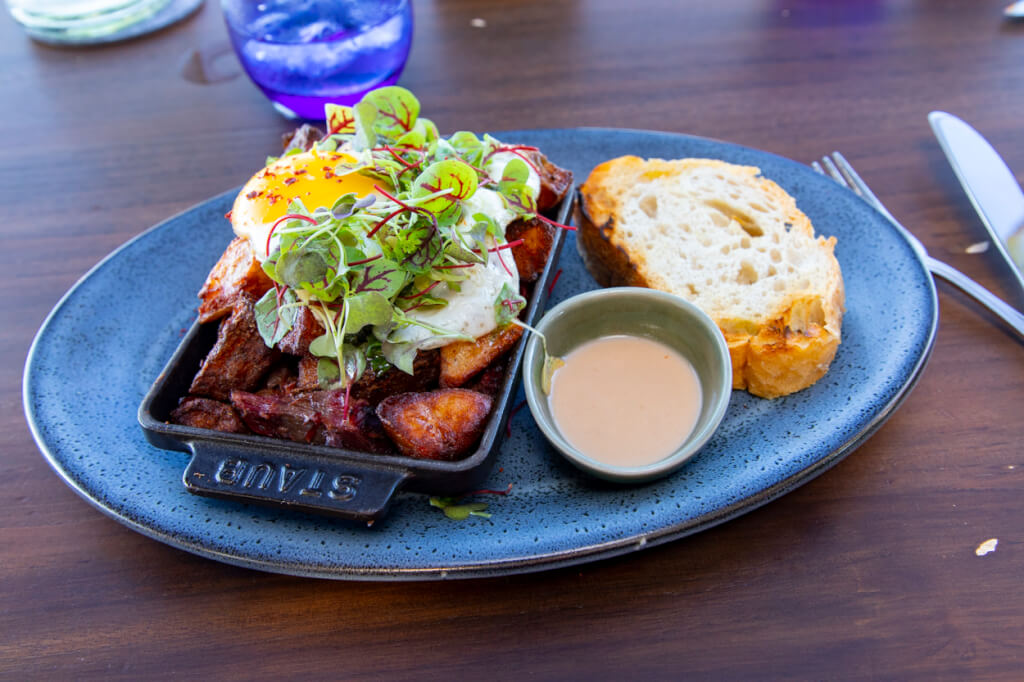 Sweets
During our second visit, we were offered two different sweets. First was a macadamia brownie that tasted more of macadamia nuts than chocolate. The second was a guava pate de fruit, which was very flavorful.
Final Thoughts
Breakfast at Waicoco Maui is fantastic. Both meals were very enjoyable, filled with comforting, delicious bites. I do also like the prix fixe format, as it gives you a bit of freedom and, in my opinion, better value. Sure, the price is already a bit high, but I'd rather spend $32 for this three-course meal than the same or more for some mediocre hotel breakfast buffet. Waicoco's breakfast even turned out to be vastly better than what we had at the Grand Wailea, but I'll get into that later.
At any rate, breakfast at Waicoco is something I encourage you all to check out!
Grand Maui Adventure