One of the hottest restaurant openings in Hawaii last year was a place called Nami Kaze Hawaii. Famous for its modern, upscale take on okazuya fare during their pop-up phase, the restaurant started off as a brunch spot, though they now also serve dinner.
Nami Kaze Hawaii is the brainchild of renowned Hawaii chef Jason Peel. This guy has a long and illustrious career, including stints as Michele's chef de cuisine (at 23 years old!), the executive chef of Roy's Waikiki, Eating House 1849, and an instructor at the Culinary Institute of the Pacific at Kapiolani Community College. But now, together with his wife, Bev Luk, Peel is striking out on his own.
Brunch at Nami Kaze Hawaii
Brunch is available at Nami Kaze Wednesday to Friday from 10 am to 2 pm and on Saturdays and Sundays from 9 am to 2 pm. As mentioned earlier, they're also open for dinner, Wednesday to Sunday, from 5 pm to 9 pm. Dinner is a more recent addition for Peel and his team and maybe something I need to go back to check out someday. However, for my first visit, I stuck with what everyone had been raving about for so long – brunch.
Menu
Nami Kaze Hawaii has an extensive brunch menu. On one page, you'll find a collection of more breakfast-oriented dishes, including benedicts, omelets, toasts, teishokus, sandos, and salads. Page two consists of sweeter items, specials, sides, and a rather extensive list of sushi items. There's so much stuff that it's difficult to pick just a couple of them. It's probably best to go as a group if you can to try more items.
Atmosphere + Service
Service at Nami Kaze Hawaii is definitely their strong suit. Our server was absolutely phenomenal! She was so friendly, helpful, and engaging without being obtrusive. What made this even more noteworthy is the fact that the restaurant uses Toasttab's online menu and ordering system.
Yep, you place your order yourself using your phone, and when you're done, you check out and pay on your own too. Despite this, our server always kept tabs on our orders, ensured they didn't take too long to come out, and always checked to see if we were enjoying ourselves.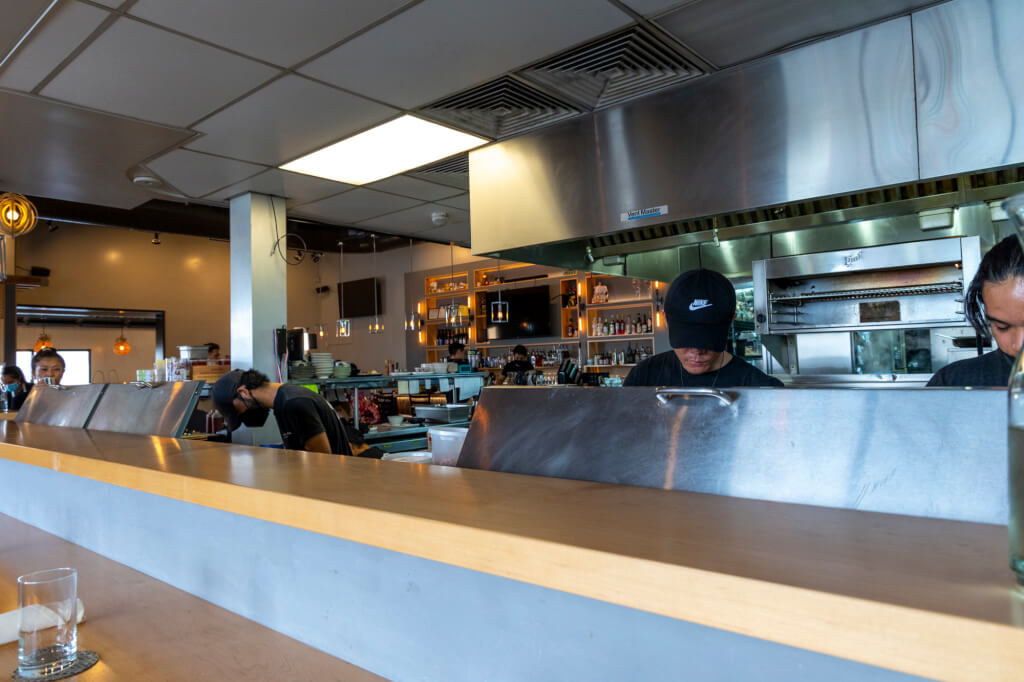 As far as the atmosphere, Nami Kaze Hawaii has a nice, modern vibe to it. Yes, it's a bit lively, but not overly so. It's a good spot for a casual date, group gathering, or family meal. That said, there are three distinct seating options – standard seating, the bar, and the sushi bar. We walked in and got seats at the sushi bar, but everything else was booked up.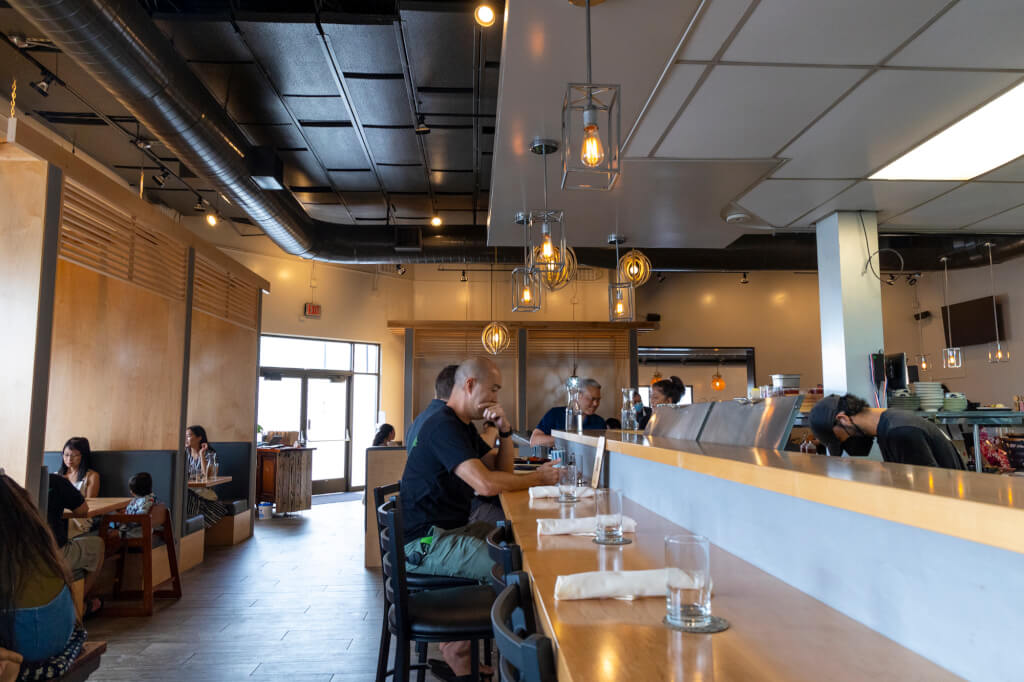 The Food
During our first visit to Nami Kaze Hawaii, we went all out and ordered three dishes plus a side. Since everyone gushed over it, and since both Mrs. Islander and I love mentai, we got the Mentaiko Omelet ($22). Now, an omelet here isn't the typical western type most of us are used to. Instead, it's Chinese steamed eggs topped with seafood, veggies, and sauce. You get a choice of toast or rice with it too.
I went with rice, which was absolutely the right move for this soft, creamy, spicy concoction. Admittedly, this dish was too spicy for me – so much so that I had trouble tasting it. That said, what I could taste primarily tasted like cheese, chili pepper, and ikura. I was hoping for a more assertive mentai flavor, but that wasn't the case. But if you like spicy egg dishes, this is likely a dish for you. Me? My weak tastebuds couldn't handle it, so I likely won't order this again.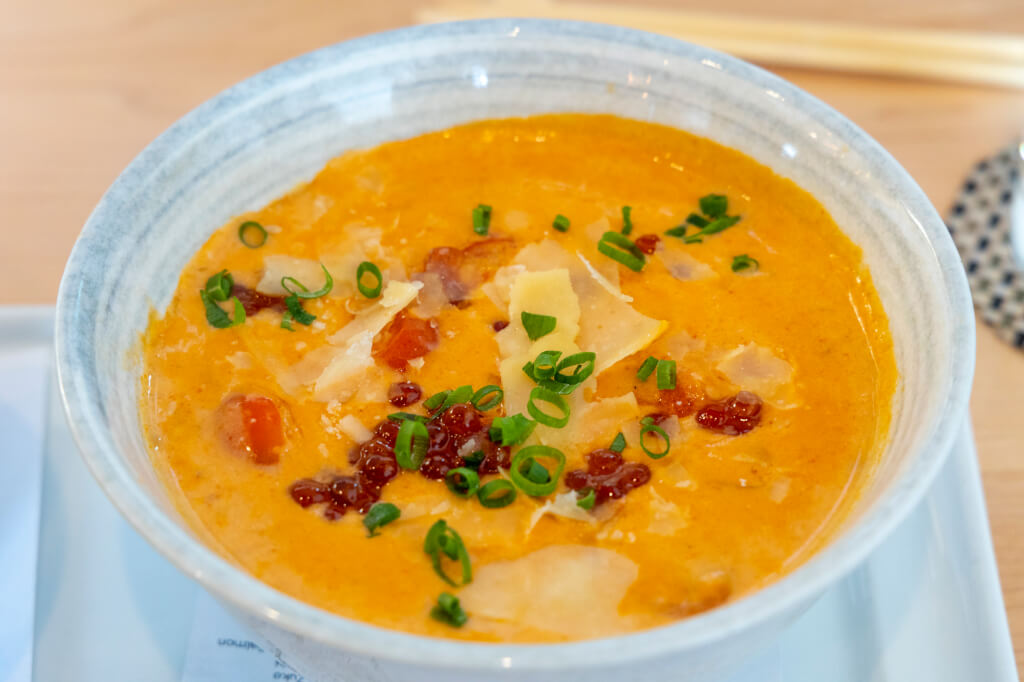 For her dish, Mrs. Island Miler went with the Goteburger ($20) – another specialty of the restaurant. As its name suggests, it's a burger made with Goteburg sausage, though here, they use ground pork. Topping the burger is melted provolone, pepperoncini, teriyaki gel, tomato, lettuce, furikake chicken crumble, and a big shrimp chip. Of course, it comes with a side of crispy & fluffy fries too.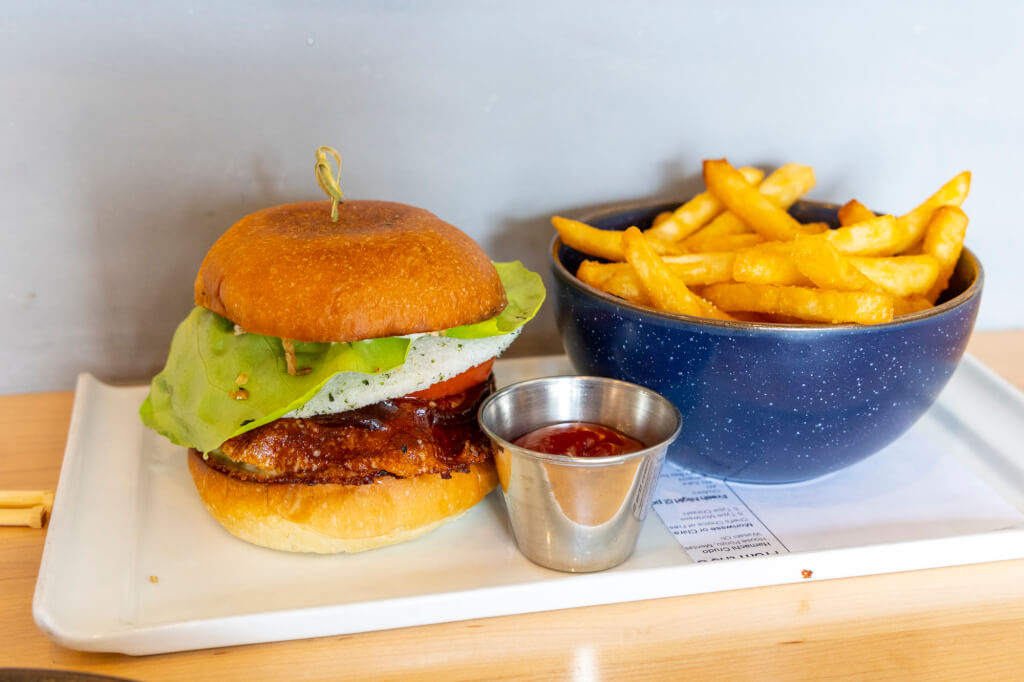 It's a good burger. Despite being well done, thanks to the pork, it isn't dry at all. Sure, the Goteburg flavor isn't all that assertive, but it does enhance the overall flavor. It's just too bad that after one bite, I realized that there's beef in Goteburg. Whoops. Luckily, I didn't react too badly.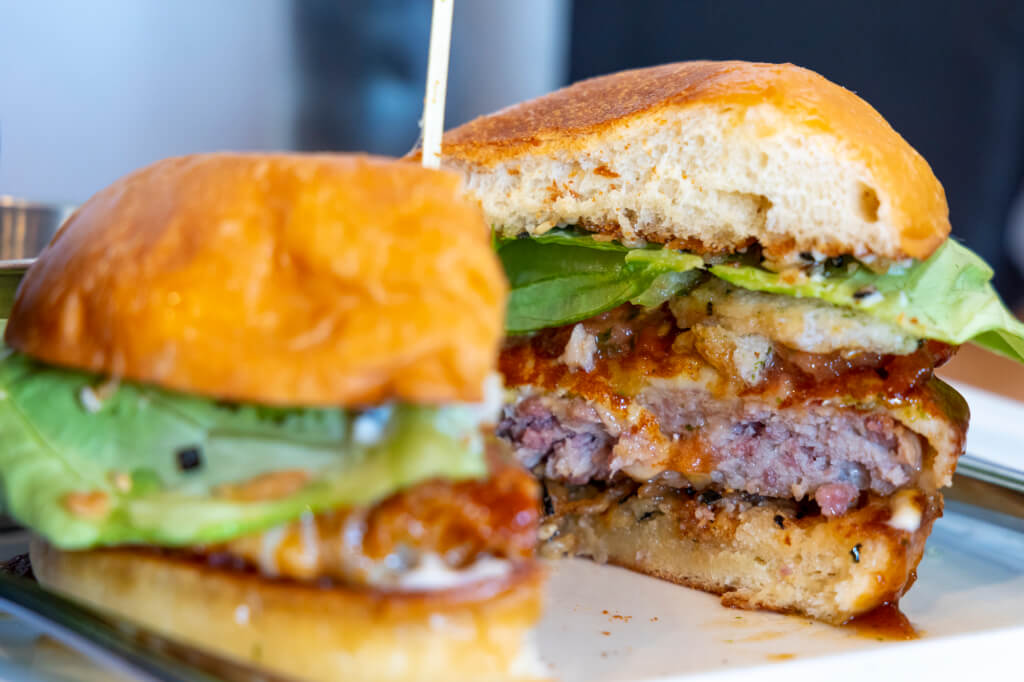 Even though the burger came with fries, we decided to order a side of hashbrowns, too ($6). And, honestly, these were among the best I've ever had. Super crunchy on the outside and creamy on the inside, they're like a high-end tater tot or a much better McDonald's hashbrown.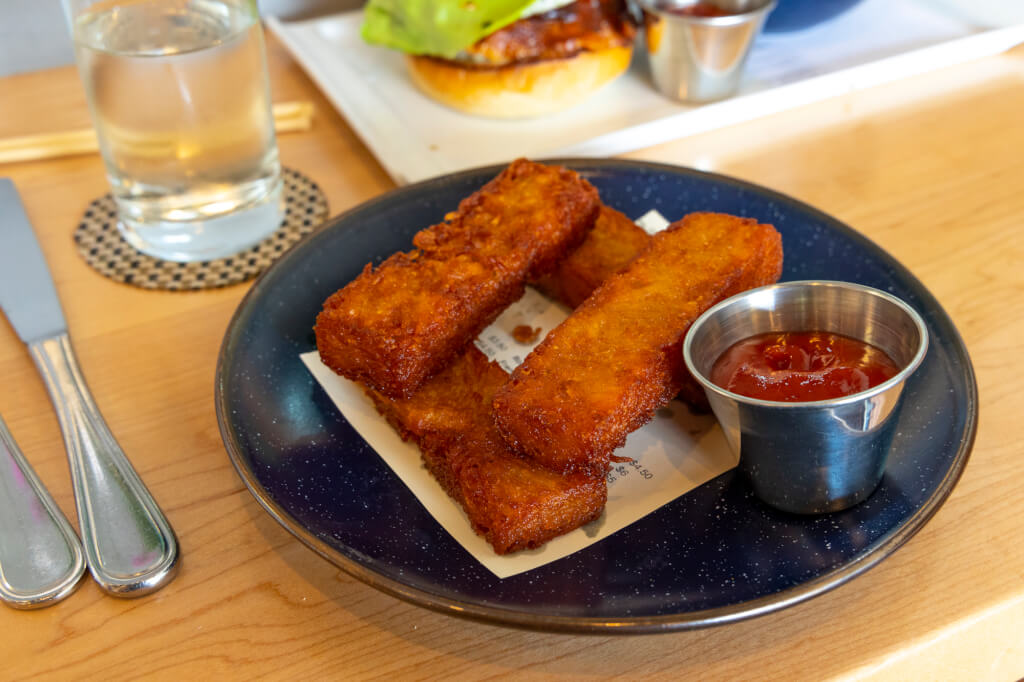 Despite being full, we decided to go all in and ordered another Nami Kaze Hawaii signature item – the Custard French Toast ($22). Now, this isn't your average french toast. Here, yes, you get two thick slabs of griddled bread. But the custard isn't in the coating. No. These bad boys are stuffed with a custard filling. Topping the toast is some coconut tapioca, toasted coconut shavings, candied nuts, basil, and a drizzle of basil oil. A tiny ramekin of mango lime coulis accompanies it.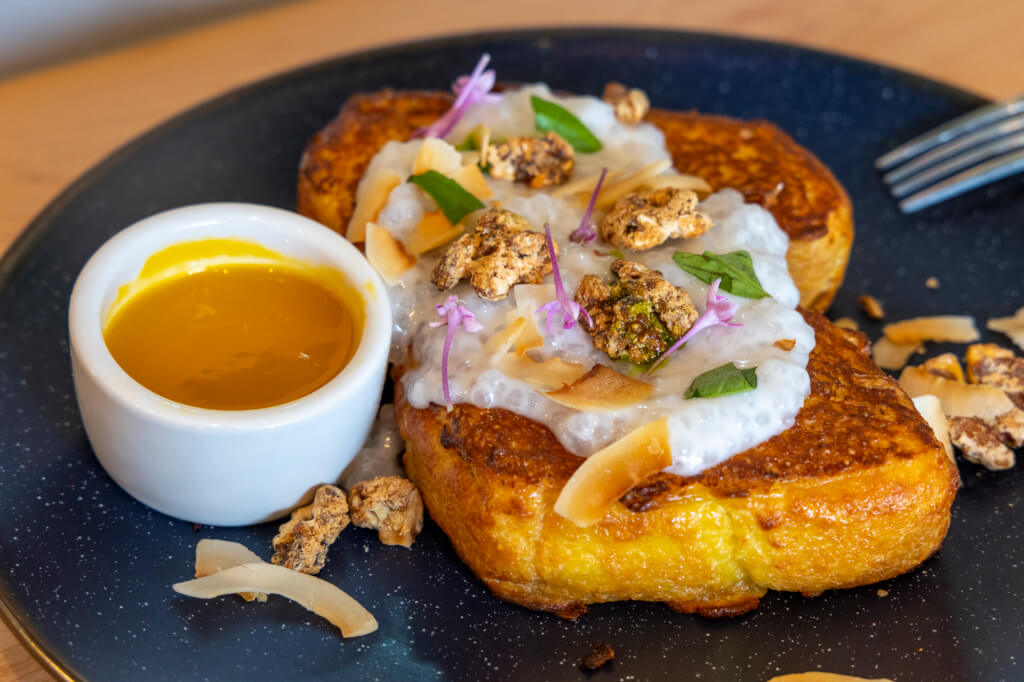 Unlike most french toasts, this one isn't overly sweet. In fact, there are elements of sweetness, tartness, and a bit of savoriness. That basil oil really adds an extra dimension to things with its herbaceous, savory profile, while the coulis adds a beautifully fruity, sweet-tart aspect to it. Honestly, this dish will probably be my go-to brunch item going forward. The only thing I can think of to make it better would be a side of bacon 😉.
Final Thoughts
Though I wasn't a huge fan of the omelet, I'd definitely return to Nami Kaze Hawaii. The service is excellent, the food is well executed, and the cuisine is just different. You aren't going to find another brunch spot quite like this. My only complaint, though, is that the prices are quite high here. Most dishes are over $20, which puts them squarely in line with the Hau Tree. However, whereas they're a beachfront hotel restaurant, Nami Kaze Hawaii shares its space with a commercial fishing supply store at an industrial harbor.
So yeah, this likely isn't going to be a regular spot, but for an occasional splurge? Why not? Just be sure to book as far in advance via OpenTable as you can if you want a standard table.