Since the start of the pandemic, Chase has been giving us periodic bonuses on a wide swath of cards. Well, I'm happy to report that the Chase 5x Points targeted offers are back! Though, what you get – if you get any offers at all – will vary considerably.
Last year, Chase gave me 5x points bonus offers on an interesting mix of cards. For example, I got offers for 5x points on groceries using my Marriott Bonvoy Premier and my World of Hyatt Visa. I say this is interesting because my Marriott Bonvoy Premier was the card I used the most for the past couple of years. On the other hand, my World of Hyatt Visa hasn't seen any use in years. And, looking at things historically, they'd likely think the pattern will remain. Of course, that's not the case at all this year.
Chase 5x Points Targeted Offers Are Back!
To my surprise, I got an email from Chase yesterday targeting my World of Hyatt Visa. Specifically, they're offering me 5x points per $1 spent at Amazon.com through the end of March with an overall spending cap of $1,500. So, basically, the standard Freedom/Freedom Flex quarterly bonus, just earning Hyatt points for spending with Amazon. Given that I've completely depleted my Hyatt account, I registered and plan on taking advantage of this great offer! It's too bad I've already been on a bit of an Amazon spending spree and have been dumping those purchases on my Freedom Unlimited. Oh well.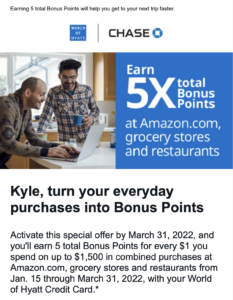 Instinctively, I went over to https://www.chase.com/mybonus to see if any of my other cards had offers on them. NOPE. And, honestly, I expected that. Again, this is the one Chase card in my wallet that sees absolutely no activity at all. But this is also in stark contrast to what was offered last year. I'm not mad about it, though. You guys all know I'm not really into earning Marriott points anymore and am not even going to try to get Titanium status again.
Final Thoughts
Whether you received an email or not, it's worth heading over to https://www.chase.com/mybonus to see if you got targeted for anything. It's worth noting, by the way, that while I lucked out with groceries, this isn't always going to be the case. In fact, looking at Frequent Miler's and Doctor of Credit's posts, there's a HUGE amount of variation in offers out there. You might see statement credits, cashback, or even the same offer as mine but with different merchant categories. Good luck! And let me know what – if any – offers you got.