I'm not sure what's going on with Chase, but when I checked their public-facing sites yesterday, I didn't see the Chase Freedom Q2 2023 bonus categories information or registration. But, if you log into your account, you can register via your Ultimate Rewards account. And you'll want to!
Lately, Chase's quarterly categories from the Freedom and Freedom Unlimited have been fairly consistent and dull. For example, in Q1 2023 we got grocery stores (yay!), Target (yay!), and gyms/fitness clubs (meh). But this coming quarter, they're bringing back a category that will serve many, many people well.
Chase Freedom Q2 2023 Bonus Categories
For Q2 2023, Chase is blessing us with the following 5% bonus categories:
Amazon.com, including Whole Foods
Lowes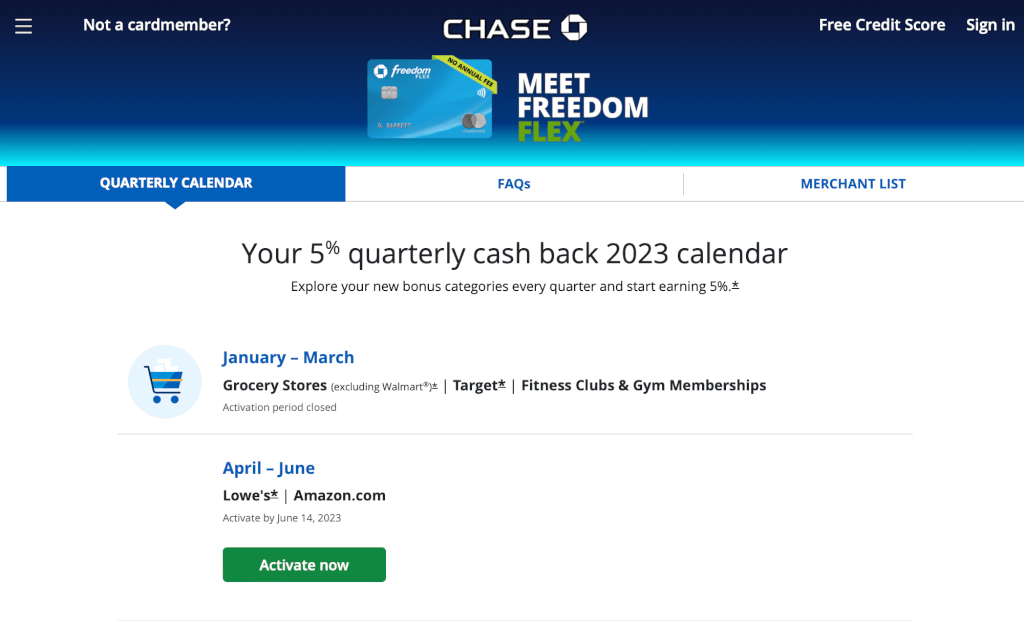 Naturally, virtually anything you purchase via Amazon.com counts towards this quarter's bonus, including Amazon gift cards, Amazon Prime Subscriptions, Amazon Fresh orders, digital content, and even Amazon Marketplace purchases. Of course, what doesn't count are purchases made via international Amazon websites. Likewise, most Whole Foods and Lowes purchases made online or in-store count, with the exception of via international sites and locations, or purchases made from Instacart (or similar) or via contractors, etc.
Honestly, I don't care for supporting Amazon all that much, but I've been shopping with them A LOT lately. The sad fact is that if I want certain things, I often need to shop with Amazon to get them. This includes certain flavors of PopCorners, Clear Care contact solution (really hard to find in Hawaii right now), certain types of lentils, ethnic spices, and more. So this will benefit me greatly!
Final Thoughts
Digging around, I did eventually find a public-facing page that you can register for the Chase Freedom Q2 2023 bonus categories on. That said, one thing that Chase doesn't address is how this works with Amazon Pharmacy. That isn't that big a deal if you have a Freedom Flex, as the card does earn 3% back with pharmacies, including Amazon Pharmacy, so even if you don't get 5%, you at least get the 3%.
By the way, these categories go into effect on April 1, and registration closes on June 14.