With the pandemic raging last year, and the value of its flagship card severely diminished, Chase gave Sapphire Reserve cardholders a one-time annual fee credit. But, it appears that Chase is still offering Sapphire Reserve AF credits this year too.
Earlier this year, Chase said they'd provide Sapphire Reserve cardholders with annual fee renewals credits – at least for those with renewals early in the year. It was questionable if they'd continue to do so for other cardholders given an increasing return to normal. But, it appears they are.
Chase Still Offering Sapphire Reserve AF Credits
Late last month, I received a notice from Chase that my annual fee would be due soon. Soon after, I received another notice that I'd also receive a $100 credit towards my annual fee. Then, as soon as my card cycled, the usual $550 annual fee posted to my account. A couple of days later, that was followed by a $100 adjustment, just as promised. Of course, my overall annual fee is a little higher since I have an authorized user.
Sapphire Reserve Value
Last year, I earned a total of 8,085 Ultimate Rewards points with my Sapphire Reserve, worth $121.85 when redeemed for cash. Plus, I did take advantage of my $300 annual travel credit. What's more, I signed up for and have been using DashPass, which represents another $120 in value. As a result, I received over $540 off value from my Sapphire Reserve. That's not bad for a year devoid of travel and with minimal dining.
Thanks to my credits and earnings, my Sapphire Reserve earned its keep for another year. And with an expected return to travel later this year, I expect to gain more from the card once again.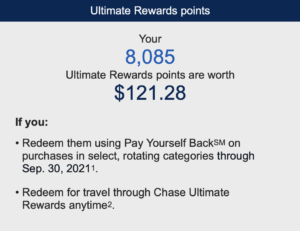 Chase Still Offering Sapphire Reserve AF Credits, Final Thoughts
Have you received an annual fee credit for your Sapphire Reserve? Regardless of if you have or not, are you keeping your Sapphire Reserve? Truth be told, even if I didn't get the fee credit, and even if Chase didn't throw in some extra benefits, I would've kept the card anyway. In the past, the Sapphire Reserve helped me to save money while earning me points and providing good benefits. And while 2020 made the card a bit useless, we will return to normal. So, why not hang on to the card?