Well, that was quick!  Just after Korean Air SkyPass ceased being a transfer partner, Chase Ultimate Rewards adds JetBlue TrueBlue as one.  But, obviously, TrueBlue is no replacement for SkyPass.
As we all know, the loss of Korean SkyPass as an Ultimate Rewards transfer partner was a severe blow.  Yes, booking award flights via SkyPass was a bit of a pain.  But the program offered fantastic value for award flight between the Continental U.S. and Hawaii, as well as to Asia.  And while there were hopes that another international partner would be brought in, that isn't the case, at least for now.
Chase Ultimate Rewards Adds JetBlue
Instead of a new international partner, Ultimate Rewards's new airline partner is JetBlue's TrueBlue program.  And while TrueBlue isn't a bad program, it doesn't offer great award values either.  What it does offer, though, is zero blackout dates on JetBlue flights and the ability to redeem on Hawaiian Air.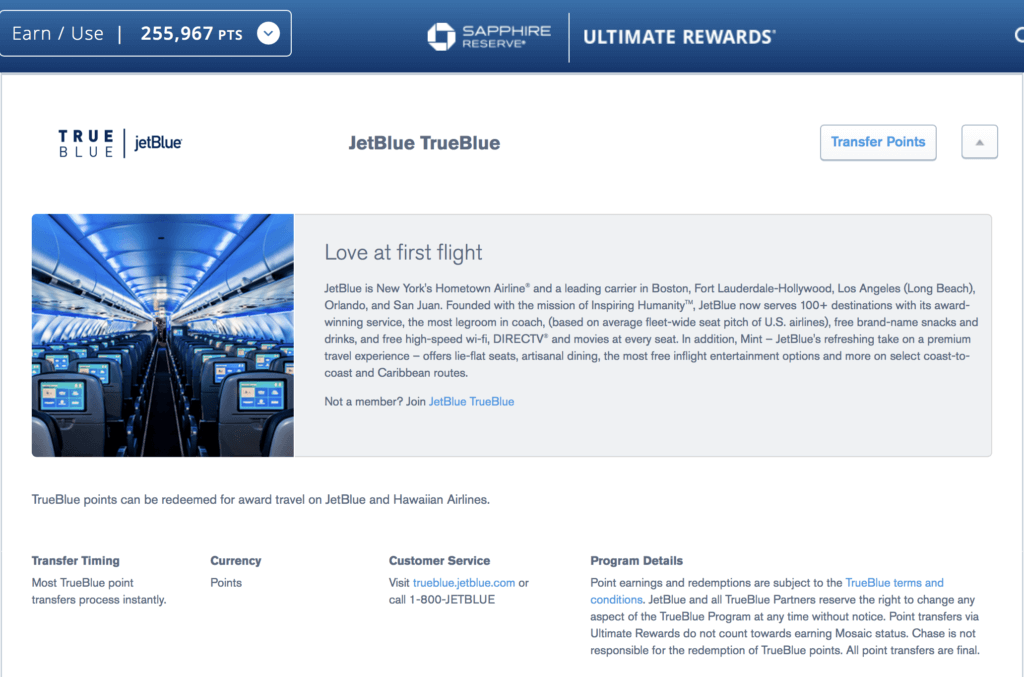 As far as points transfers go, Ultimate Rewards points transfer to TrueBlue at a rate of 1:1.  That's better than the 1.25 to 1 transfer rate offered by Membership Rewards.  And with the combined earning power of the Chase Trio, you can earn a lot more TrueBlue miles with Ultimate Rewards than with JetBlue's own co-brand credit card.  But TrueBlue isn't necessarily a program I'd transfer to for award flights.
Redeeming TrueBlue Miles
Unlike most other Ultimate Rewards transfer partners, TrueBlue's award redemption values are tied directly to the price of a ticket.  This makes award pricing with TrueBlue highly dynamic.  But it also means that, as long as seats are available for purchase, you can redeem miles for a flight.  As far as award costs go, a transcon flight in mid-January prices as low as 21,600 miles roundtrip in economy without a bag, 24,600 miles if you want to check a single bag.  Or to redeem for a Mint award, it'll cost 115,400 miles roundtrip.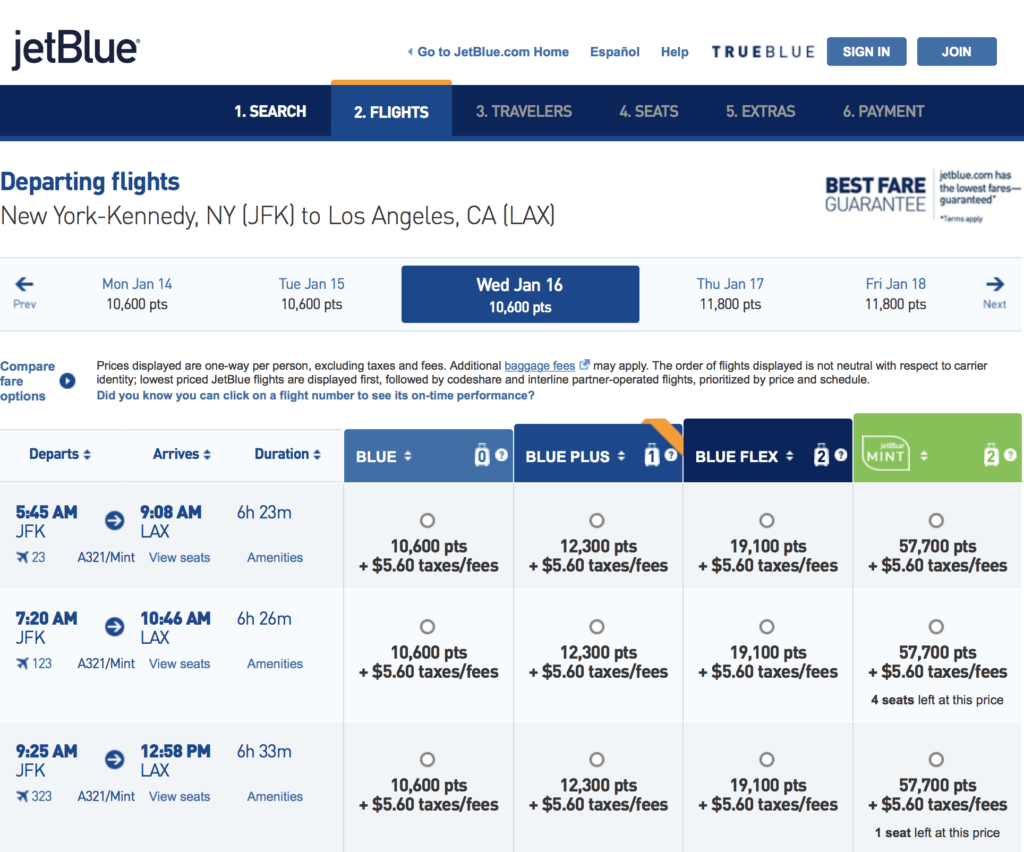 Meanwhile, it'll cost 29,000 Flying Blue miles for that same flight on Delta in economy or 72,000 in business.  Similarly, an economy award ticket on Alaska would cost 24,000 KrisFlyer miles, while a first class award prices out at 89,000 miles.
As far as Hawaii award flights go, it'll cost 44,000 TrueBlue miles for a West Coast to Hawaii award flight on Hawaiian in economy, 90,000 miles in first.  From the East Coast to Hawaii it'll cost 60,000 miles and 140,000 miles, respectively.
Chase Ultimate Rewards Adds JetBlue, Final Thoughts
It's nice that Chase brought on another transfer partner so quickly after the loss of Korean SkyPass.  And, even better, Chase offers the best way to earn TrueBlue miles via credit cards now.  However, TrueBlue doesn't provide the best award redemption options.  For example, Hawaiian Air award flights via TrueBlue cost more than redeeming HawaiianMiles.  But TrueBlue transcon award flights in economy are a decent value at 21,600 miles, with similar flights from Delta going for 23,000 SkyMiles, 25,000 miles on United, and 16,254 points on Southwest.