As you'll recall from the intro post of this series, I got violently ill during my time in Vegas. So, to get myself some medical attention, I headed to Code 3 Urgent Care at McCarran Airport.
Why Code 3 Urgent Care at McCarran Airport?
The thing about obtaining medical attention away from home is finding provider that participates with your insurance. Luckily, I have Blue Cross/Blue Shield, which meant I had a number of options in Vegas. But Code 3 Urgent Care at McCarran Airport had the best reviews of the urgent care centers in the area.
Location
Code 3 Urgent Care at McCarran Airport is at, well, the McCarran International Airport. More specifically, Code 3 is in McCarran's Terminal 1, on the second floor above American Airline's check-in counter.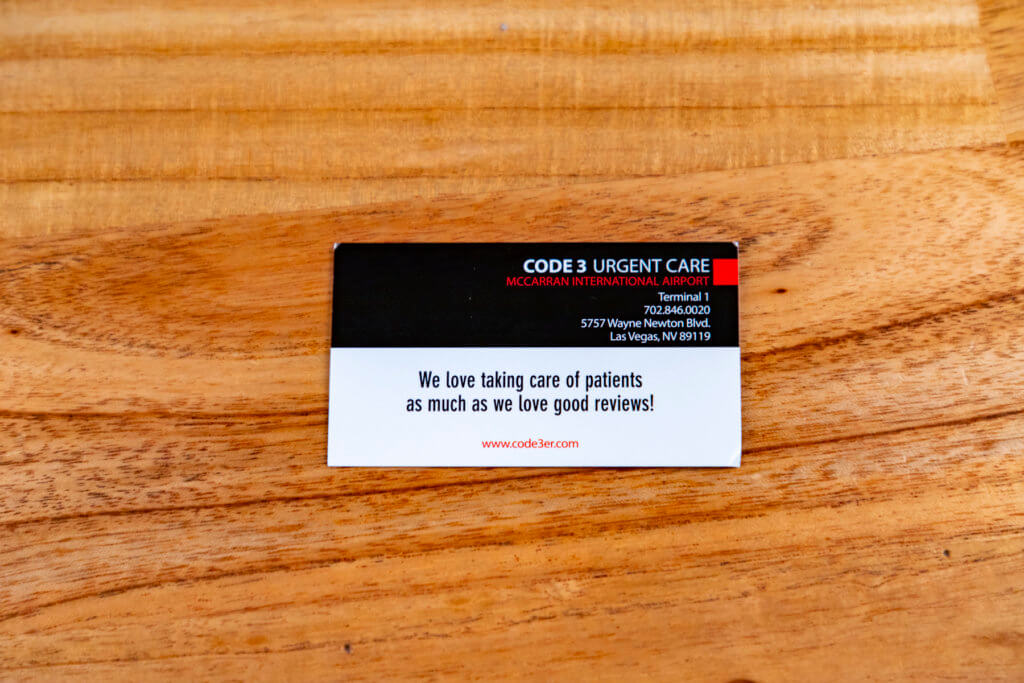 Services
Code 3 Urgent Care provides many services at their location. In fact, they offer more services than my standard doctor! They even fill prescriptions, though I'd recommend going elsewhere for that. If you use their prescription services, you won't be able to use insurance. As a result, while my visit cost me all of like $12 with insurance, I ended up paying over $50 total with the meds I got prescribed.
Going in, I thought I had food poisoning or the stomach flu/Norwalk virus. So, they ran through the normal physical tests like pressing my abdomen through to blood testing. After taking a blood sample, I was given a shot in my ass (first time ever) for nausea and was hooked up to an IV to treat my severe dehydration. While receiving my IV, the doctor came in and told me I had a viral infection and that I should remain on a BRAT diet for the next few days. He then gave me a prescription for nausea and anti-diarrhea medicine.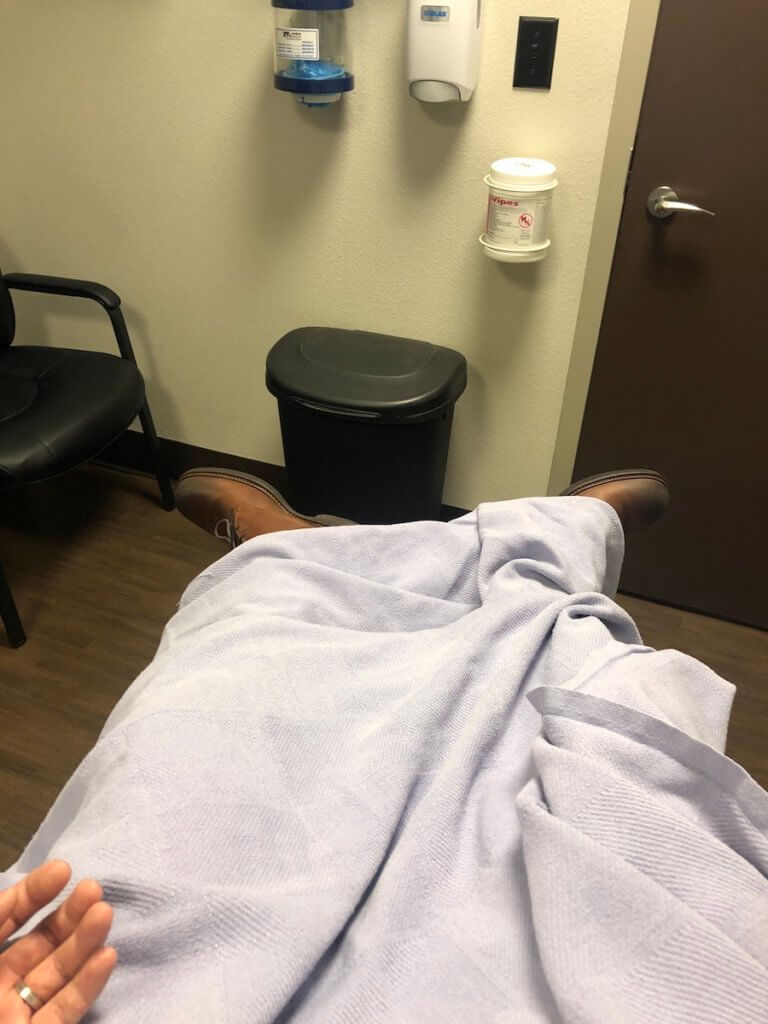 After finishing the first round of IV, my heart rate and blood pressure was still quite high, so they decided to give me another round of IV. YAY! Another hour stuck in there. By the way, the IV makes you cold, so be sure to take a blanket if offered when receiving IV.
Quality of Service
The quality of the medical treatment was undoubtedly good, so I'm going to focus on how I was treated in this section. My initial experience was excellent; the receptionist was incredibly friendly and personable.
Once admitted, my primary caretaker was a paramedic. She was a little gruff, but was fantastic as well. She treated me very well and was great to chat with. We even joked around a bit, which helped lift my spirits. After all, laughter is the best medicine, right?
As for the doctor, he was a bit much. It seemed like he had a chip on his shoulder, as he was quite arrogant. Heck, I felt like I was being a bother to him. But, he did indirectly provided me with some levity, as he reminded me of Wilmer Valderrama's That 70's Show character, Fez.
Code 3 Urgent Care at McCarran Airport, Final Thoughts
Hopefully, you don't ever get sick while traveling. But if you do, I'd recommend heading to Code 3 Urgent Care for your medical needs away from home. Yeah, it wasn't perfect, but I was happy with the price and most of my experience. That said, outside of Las Vegas, Code 3 has locations across Texas. Check out their website for more locations.
My Dismal Las Vegas Experience
Code 3 ER at McCarran Airport