Last week I reviewed Ululani Shave Ice, which is a pretty famous shave ice company on Maui, making amazing shave ice with largely all-natural syrups.  This time, however, I'm going to talk about Country Shave Ice, which is a small, relatively unknown shave ice company on Oahu that makes it own syrups, most of which are organic and all-natural.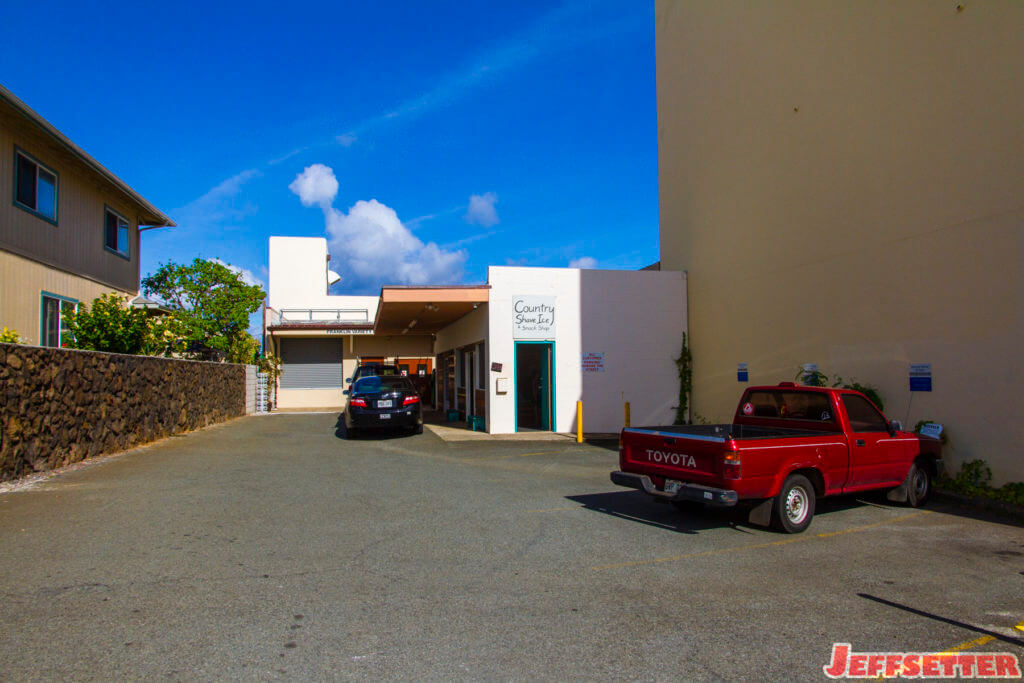 Located in Kaimuki, a short drive away from both downtown Honolulu and Waikiki, Country Shave Ice is a tiny shop located in a nondescript building behind a Bank of Hawaii Branch.  Parking is not available in the tiny lot in front of the shop, instead you have to park in the paid lots across the street.  One lot (the upper one) offers free parking for the building Country Shave Ice is located during certain times, while the lower one, owned by Bank of Hawaii, is always paid.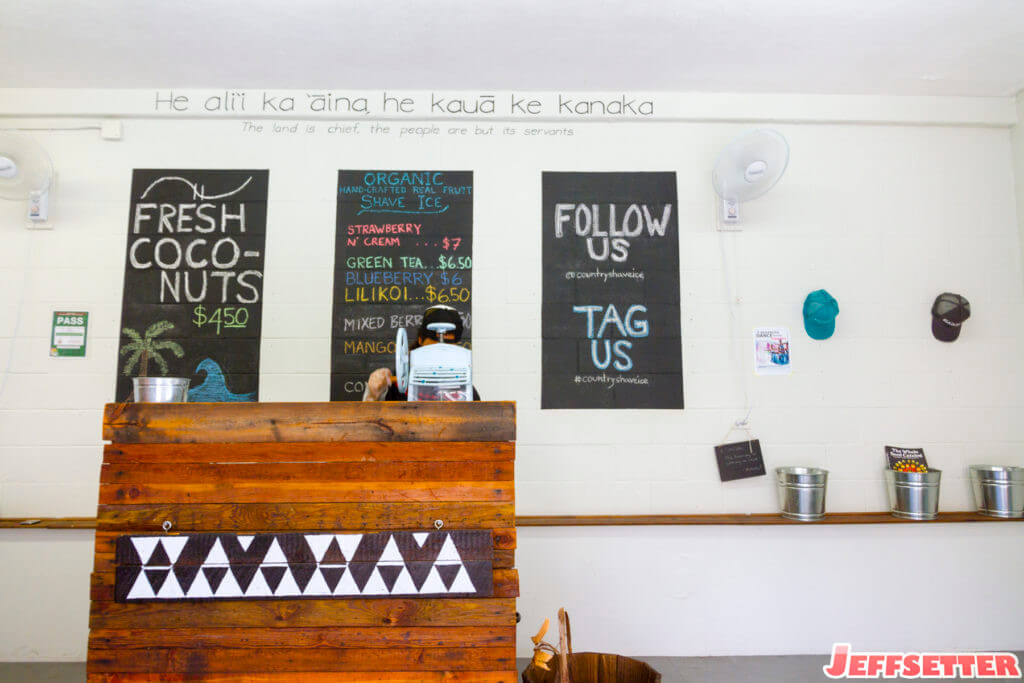 The shop itself is rather spartan, with a couple of tables, a few counters, and hand-cranked shave ice machine.  Seating overall is limited, but that doesn't matter to me.  What can be hard is the fact that this is a cash only establishment, and while I normally avoid places that don't take cards, I make an exception for Country Shave Ice, because I love them that much!  As you can imagine, the processes here are very manual.  And it's true, getting your order will take some time.  Not only are the shave ice machines manually operated, but they layer your flavor of choice into the ice to ensure more even distribution.  A lot of pride and care is taken into making this products.  And yes, I did say flavor; you can only choose one per order.
As far as flavors go, Country Shave Ice definitely doesn't have an enormous variety like many other places do.  But what they lack in quantity, they make up with quality.  The flavors here are very natural, but intense.  We've talked to the owners before and they said they like strong flavors, which I'm very thankful for!  And because they try to source much of their flavors from fruits they grow or are grown locally, availability can be mixed.  They do also offer specials here and there, especially for seasonal fruits, so be sure to follow them on Instagram for updates.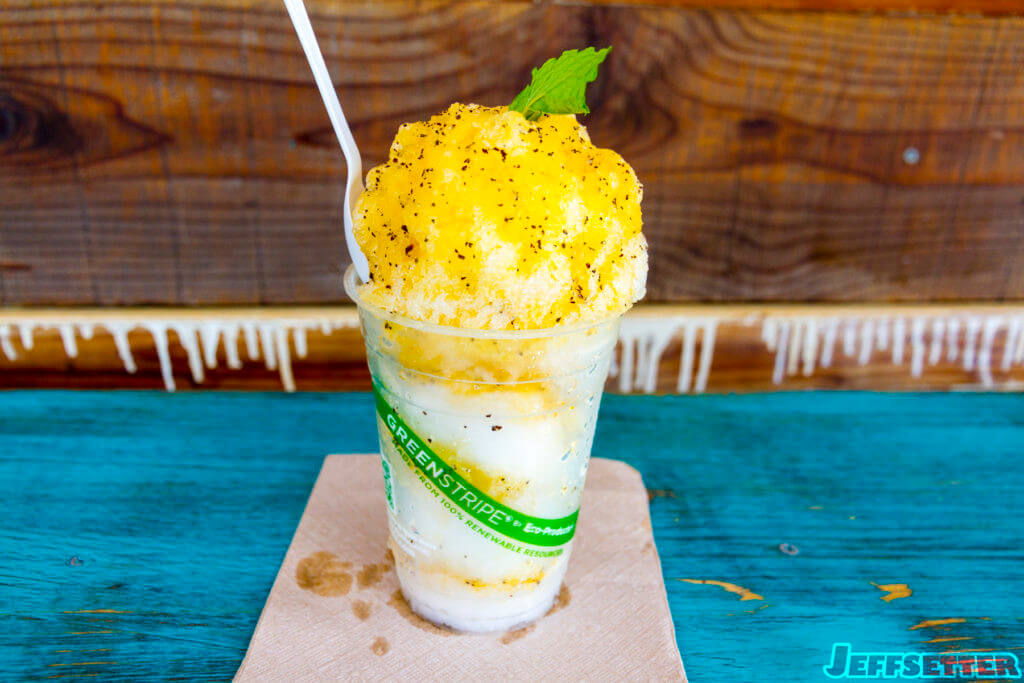 My favorite flavor at Country Shave Ice is the lilikoi (passion fruit).  The flavor is strong and has a pleasingly tart, refreshing quality to it.  I know it looks like there's a lot of white ice in there, but because of the layering, you won't really notice it.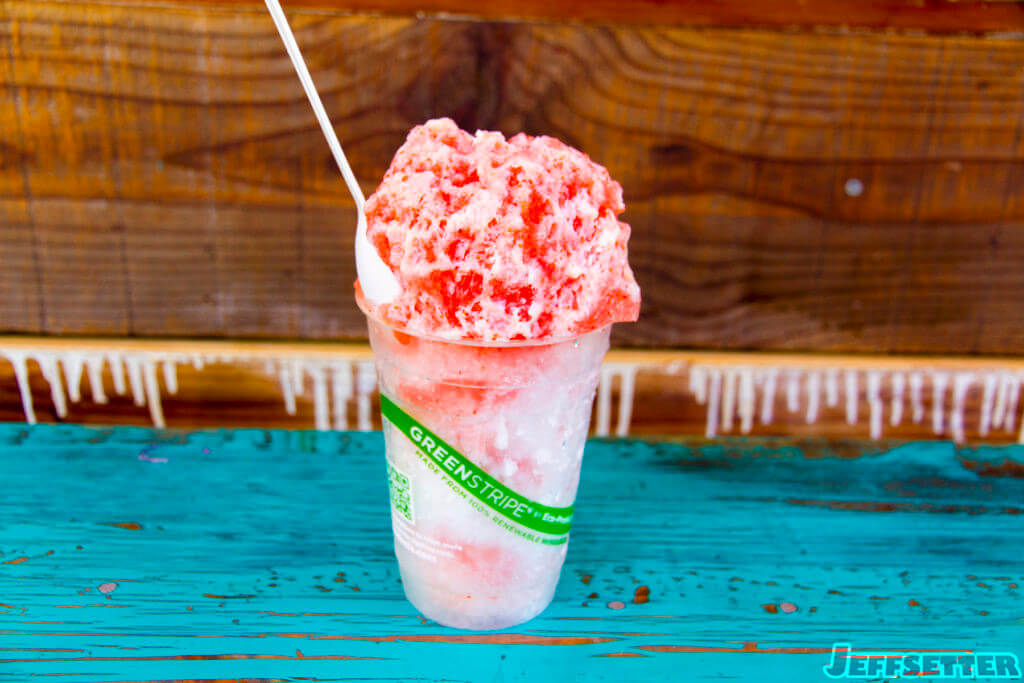 From what we've heard, the Strawberry 'N Cream is the crowd favorite.  This one combines a decidedly sweeter strawberry syrup (compared to the lilikoi) with sweetened condensed milk.  And yes, this one does taste a lot like fresh strawberries!  No artificial flavors here.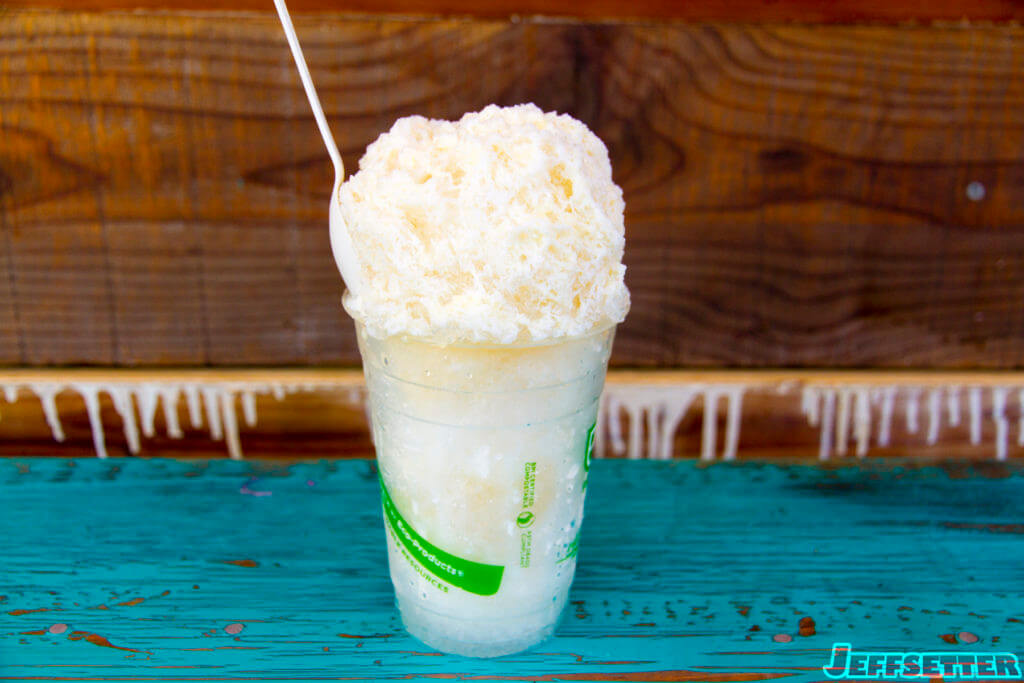 This one is the Haleiwa Lime Pie.  As the name suggests, it's a key lime pie like flavor, but instead of key limes, locally grown limes are used.  It has a cream, sweet/sour/bitter flavor to it that I thought was pretty good, but lilikoi is still better in my humble opinion.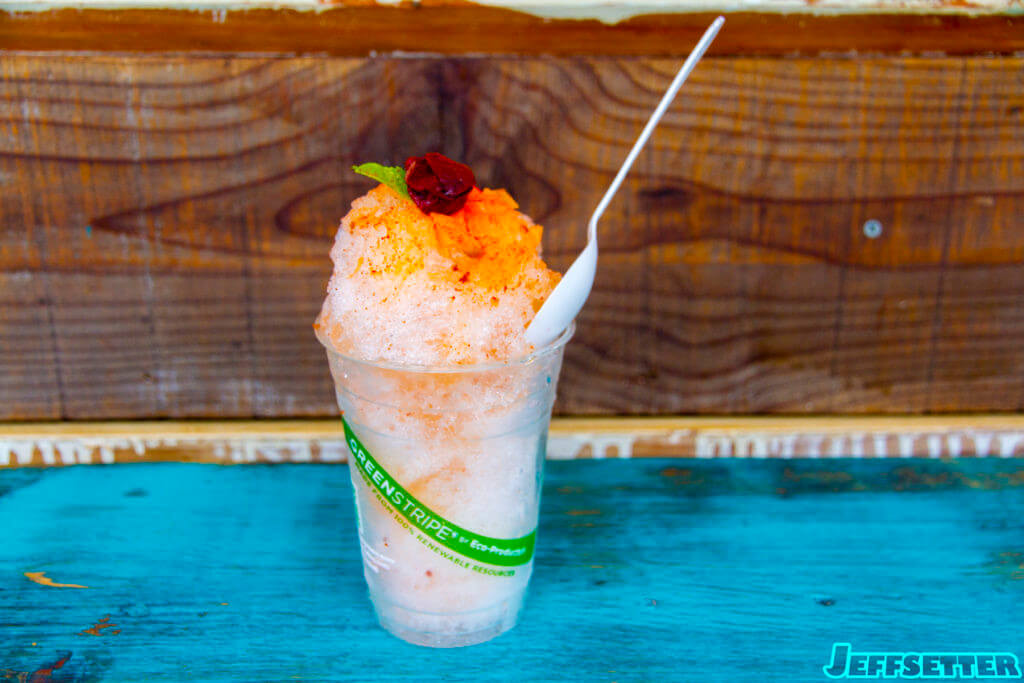 A truly unique and definitely seasonal flavor is the Li Hing Pickled Mango.  It's definitely a truly local taste, and perhaps an acquired taste.  This one is more of a tart/salty flavor than anything else, but is nice if you are a fan of local pickled mango.  In fact, to make this flavor, the shop actually makes (and sells) pickled mango, with the pickling liquid forming the base of this flavor.  This one, however, is definitely not organic or all-natural simply because li hing mui is not.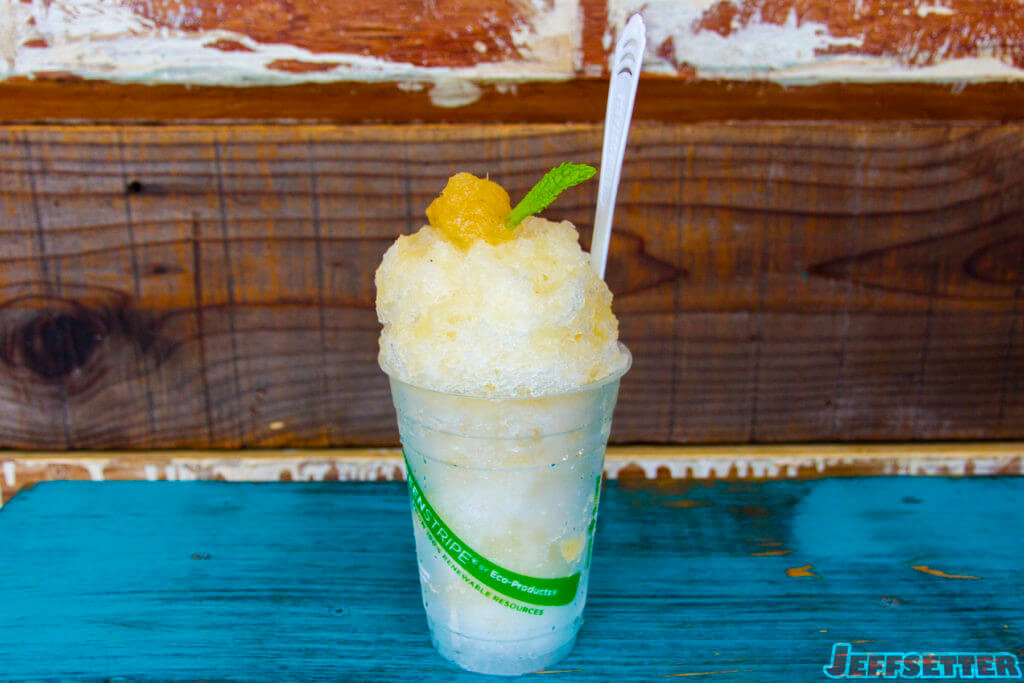 Another flavor you may seem from time to time is the Mele Kalima, or Honey Cream pineapple.  This flavor uses a locally developed variety of pineapple that has white flesh and nearly zero acid.  It's pretty sweet, but is a must try for pineapple lovers.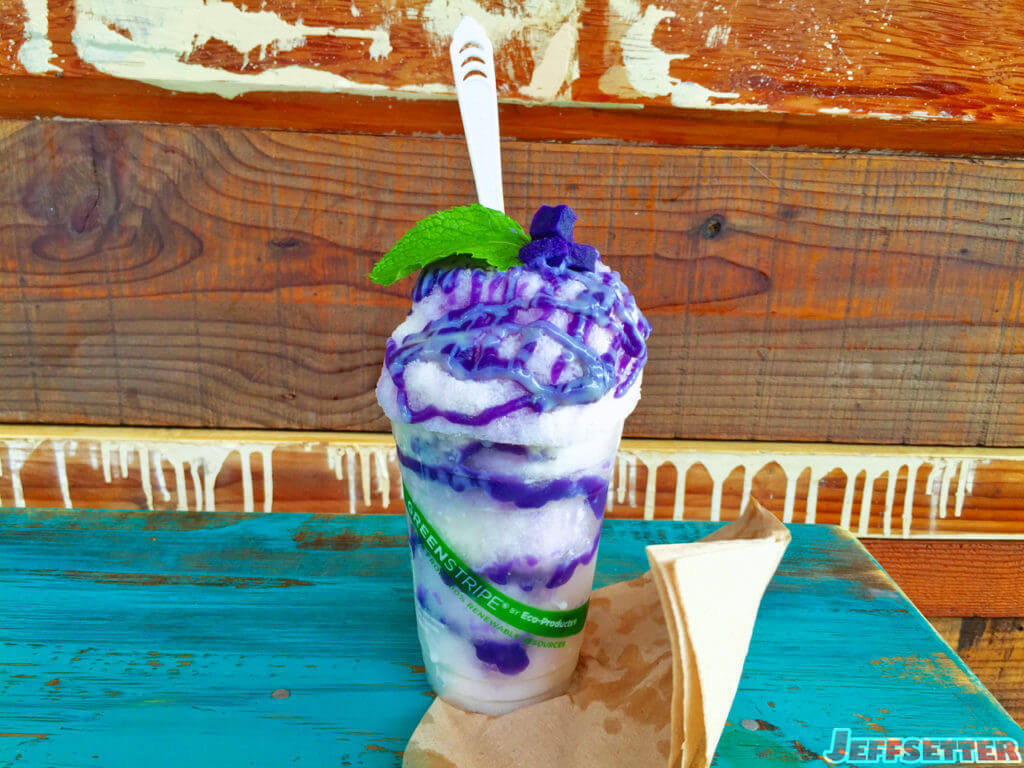 My wife's favorite flavor is the Sweet Potato Haupia.  This is another really unique flavor, which doesn't use syrup at all.  They actually layer an Okinawan Sweet Potato puree into the shave ice, along with a liquified version of haupia (native Hawaiian coconut pudding).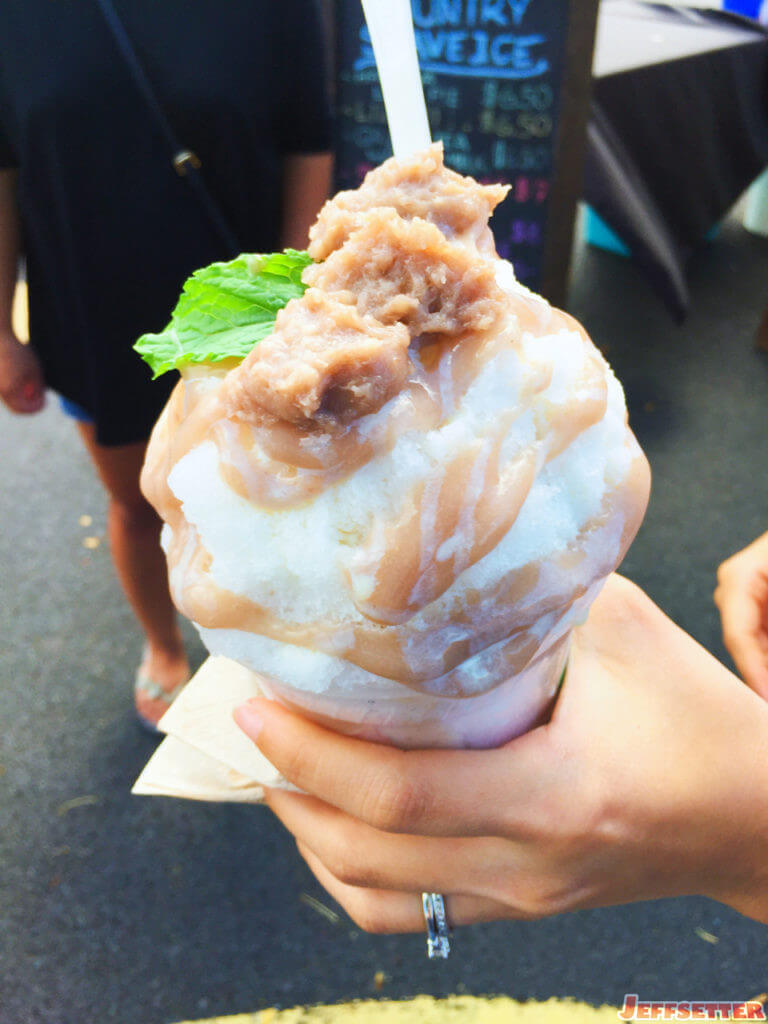 My wife's second favorite flavor is this supremely unique Sweet Kalo flavor prepared Kulolo style, topped with fresh, hand-pounded pa'i'ai.  Say it with me now, pah-ee-I.  Kulolo (the ku part sounds like "cue" but with a k sound and loh loh) is a traditional Hawaiian dessert made of shredded taro and sweet coconut milk, which is really delicious.  Pa'i'ai, on the other hand, is a thicker and more traditional version of poi.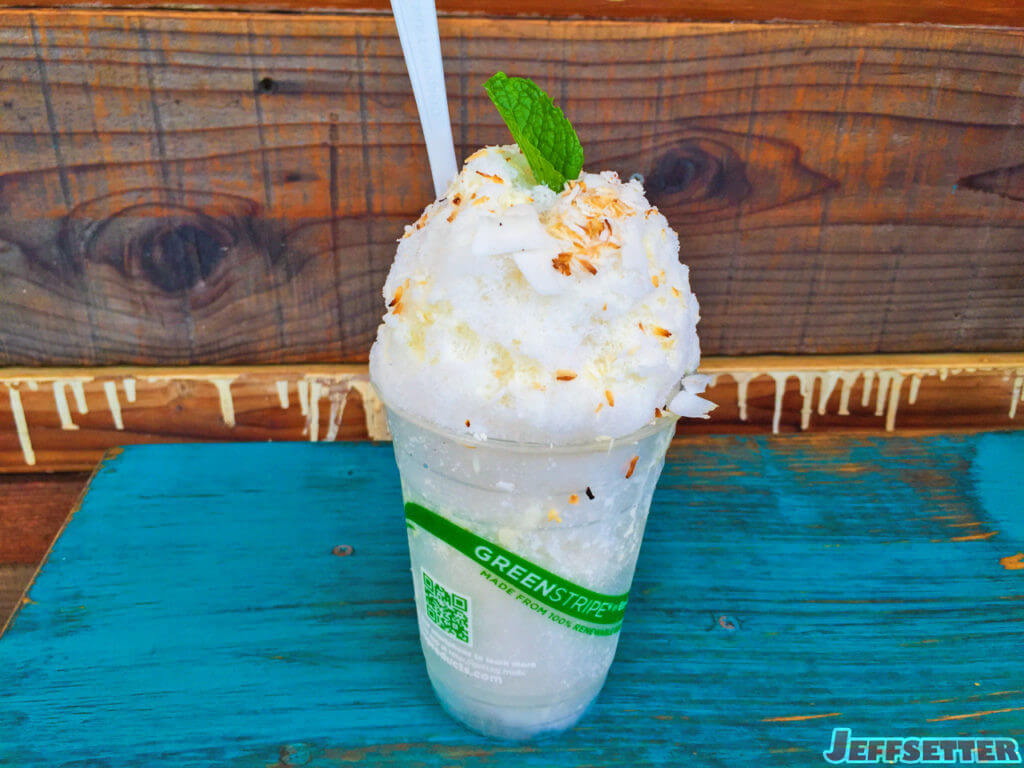 If you love coconut, you'll probably want to try the Haupia flavor, which again, is a traditional Hawaiian coconut pudding.  This one is really coconut-y, which is brought out even more with the addition of shaved and toasted coconut on top.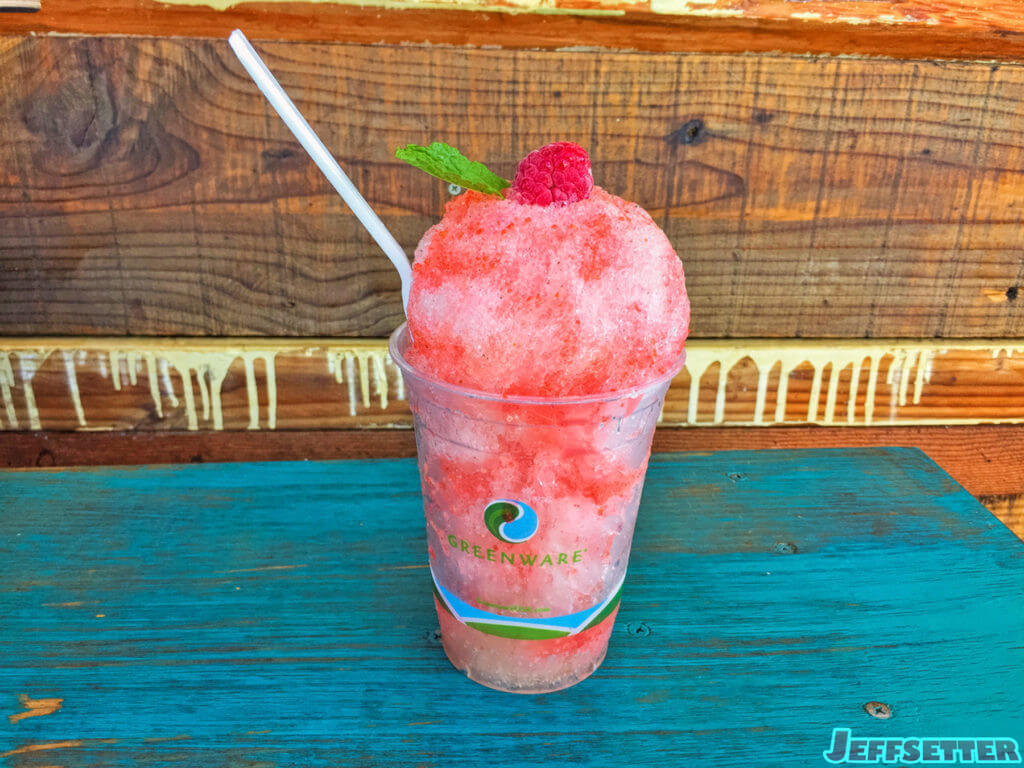 For the berry lovers out there, I recommend the Maui Vanilla Raspberry.  It has a nice, sweet raspberry flavor with hints of vanilla.  It's a nice, refreshing, fruity flavor.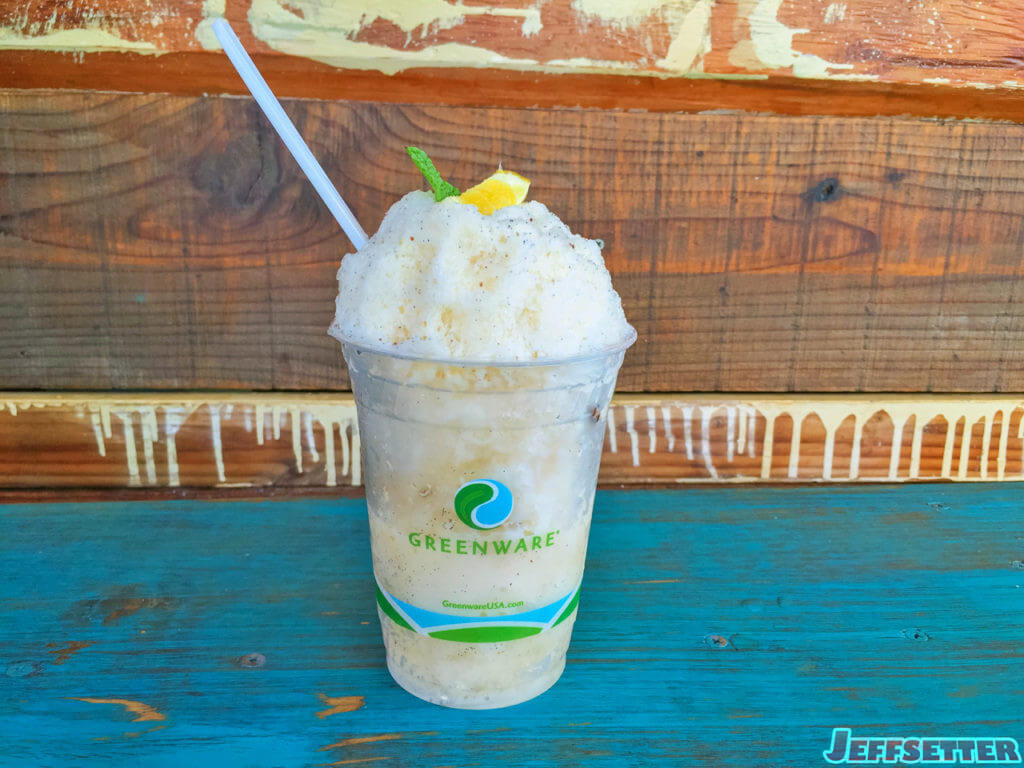 The Hawaiian Orange Dream is a new twist on a childhood favorite, combining local oranges, cream and Maui vanilla in a delightful shave ice that'll remind your of an orange creamsicle.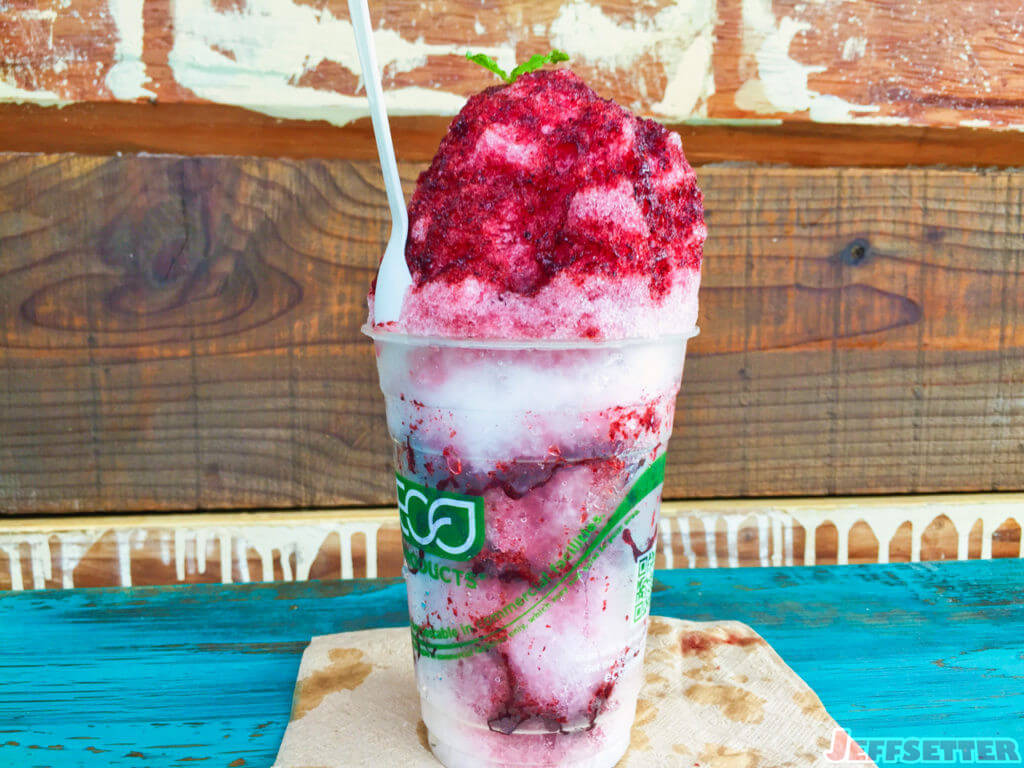 Of course you can't win 'em all, and the one flavor I'm not a fan of so far is the Mixed Berry.  To me it tastes too vague and bland.  But I know there are people that like it… Me?  I'd rather have the Maui Vanilla Raspberry.
If you're on Oahu and want to try something different and delicious, I highly recommend Country Shave Ice.  It isn't far from Waikiki, and while you may have to wait for it, it's totally worth it.  I guarantee this shave ice will be much more worth your time than Matsumoto's.  And if you don't feel like going to the Kaimuki location, Country Shave Ice does have a truck up on the North Shore and do regularly appear at festivals and events around the island.