Last updated on March 22nd, 2020 at 05:25 pm
At the moment, Hawaii has only two confirmed cases of COVID-19. Are there more here? Probably. But, for now, we seem low-risk. Yet, COVID-19 impacts in Hawaii are growing by the day.
A LOT has changed in the past couple of days. Here in the US, we went from being nonchalant regarding COVID-19 to being extremely paranoid. The panic, though, doesn't mean enough is being done, especially by our government, to curtail its spread. But, that's a discussion for a different forum. Instead, today, I want to focus on the impacts the pandemic is having here in Hawaii.
Impacted Major Events in Hawaii
We all know that huge events in the Continental US like SXSW, Coachella, etc. have been canceled or postponed. Heck, even Disney Parks around the world are closing, which is a rarity. But, here in Hawaii, many notable events are beginning to see cancelations and postponements too.
First up is the Kapiolani Community College Farmers Market. Occurring every Tuesday evening and Saturday morning, the KCC Farmers Market is one of the largest and most popular in Hawaii. In fact, many people go there to buy locally made products and delicious meals rather than produce. But, out of an abundance of caution, the market won't be held for the time being.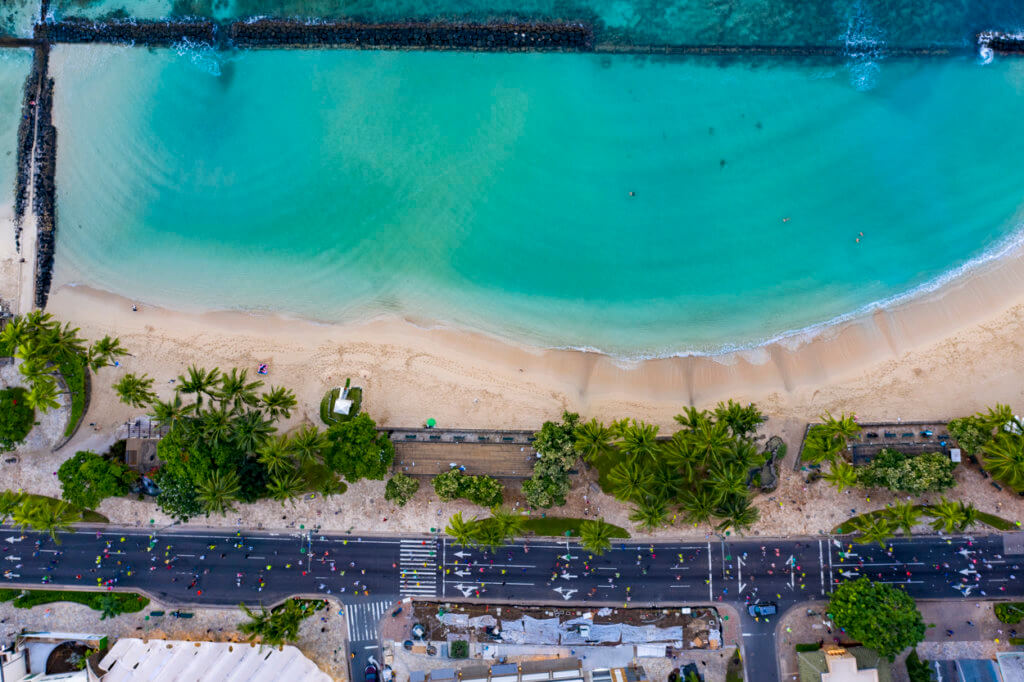 Another major event getting the ax is the Hapalua Half Marathon. Scheduled for April 5, the half marathon is not canceled – yet. It's hoped that it can be rescheduled for sometime in September, but organizers need to negotiate this with the City & County of Honolulu. If the event does get canceled, though, participants can defer their entry to the following year.
The final major event not happening as scheduled is the 57th Annual Merrie Monarch Festival in Hilo. Scheduled for April 12-18, the Merrie Monarch Festival is the world's premier hula event.
Other Impacted Hawaii Events
There are quite a few smaller events not happening now thanks to COVID-19 too. Those events include:
Salt Kakaako's St. Patrick's Day Celebration
Aloha Hawaii Food Bank Great Chefs Fight Hunger
Murphy's Bar & Grill St. Patrick's Day Block Party
Noodle Festival
Prince Kuhio Day & Ho'olaulea
Kona Brewers Festival (postponed)
Lavaman Triathalon
Waikiki Spam Jam
Lei Day Events (May 1)
Lantern Floating Hawaii
Kauai Bon Dances
Other Closed Attractions
As the situation continues to progress, we're seeing attractions beginning to close too. Here's what's closed now:
Aloha Stadium – including swapmeet
Battleship Missouri Memorial
Bishop Museum
City & County of Honolulu Parks such as Ala Moana Beach Park and Kapiolani Park, to name a few – meaning restrooms will be unavailable at all City parks
Hanauma Bay thru 4/30
Hawaii Children's Discovery Center thru 3/30
Hawaii State Parks – including places like Diamond Head, Kalalau Trail, etc.
Hawaii Volcanoes National Park
Hawaiian Mission House Museum
Hawaiian Railway Society
Ice Palace
Iolani Palace
Kauai County Beach Parks now require a permit for access with fees coming in at $50 per vehicle and $5 per person – failure to pay may result in fees of $5,000 and up to a year in prison
Kualoa Ranch
Leahi Farmers Market
Maui County Parks
Mauna Kea Visitor Center
Neal S. Blaisdell Center thru 4/30
Pearl Harbor Aviation Museum
Pearl Harbor National Memorial
Polynesian Cultural Center thru 3/31
Royal Hawaiian Ban performances thru 4/30
Sea Life Park
Tours of Kalaupapa thru 4/11
USS Bowfin Submarine Museum & Park
Waikele Premium Outlets
Waikiki Aquarium
Wet n Wild Hawaii
Impacts on Tourism
Despite having just two confirmed cases so far, Hawaii is seeing steep declines in visitors. The impacts, though, aren't the same on every island. On Oahu, for example, Waikiki hotels are seeing occupancy rates as low as 60% to 40%. However, Aulani out in Ko Olina is nearly at capacity.
Anecdotally, hotel occupancy appears to remains high on Kauai and Maui too. How do I know this? Well, room rates on those two islands remain relatively high. Yes, there are some dips, but nothing major.
Coming back to Oahu, though, while I haven't seen this myself, many crowded areas are now quite empty. These areas include Waikiki in general, Ala Moana Center, and more. It's quite eerie, really, and shows just how bad things are now.
COVID-19 Impacts in Hawaii, Final Thoughts
For us in Hawaii, COVID-19 is a bit of a double whammy. Residents are certainly afraid of catching the virus, which is understandable. But, we're also concerned about the economic damage its causing our state. After all, with no tourists coming and spending money, hotels will layoff staff, business and restaurants will fold, and tax revenues are taking a major dive. Economically, we're already in pretty lousy shape. In fact, it's estimated that 6,000 Hawaii residents will lose their jobs this year because of COVID-19. And all of these big event cancelations aren't helping – though it's not a good idea to hold them at this point too.
For me personally, I've seen my conference in Vegas get postponed. I was supposed to go in late April, but now I'm not sure if and when it'll happen later this year. So, now, I'm trying to figure out what to do with a reservation I booked with Tock. And, I'm hoping Alaska will eventually let me cancel/change my flight home in early May. My flight to Vegas is no problem, as Hawaiian is already allowing changes up through the end of April.