Last updated on January 20th, 2020 at 10:46 pm
I'm leery of Yelp reviews and ratings, as many reviewers are, well, entitled. But, Da Poke Shack scored number one in Yelp's 2014 rankings, so I thought I'd head over and see what all the fuss is about.
On our final day on the Big Island, we had most of the day to kill before our flight home. You see, our hotel couldn't offer us late check out, so we needed to be gone by noon. So what to do to kill time on a Sunday? Eat. And, why not give Kona's most famous eater a try, right?
Da Poke Shack's Location
Da Poke Shack is right on Ali'i Drive, which is the main drag through Kona town. However, whereas the Courtyard King Kamehameha is in central Kona, Da Poke Shack is nearly 3 miles away to the south.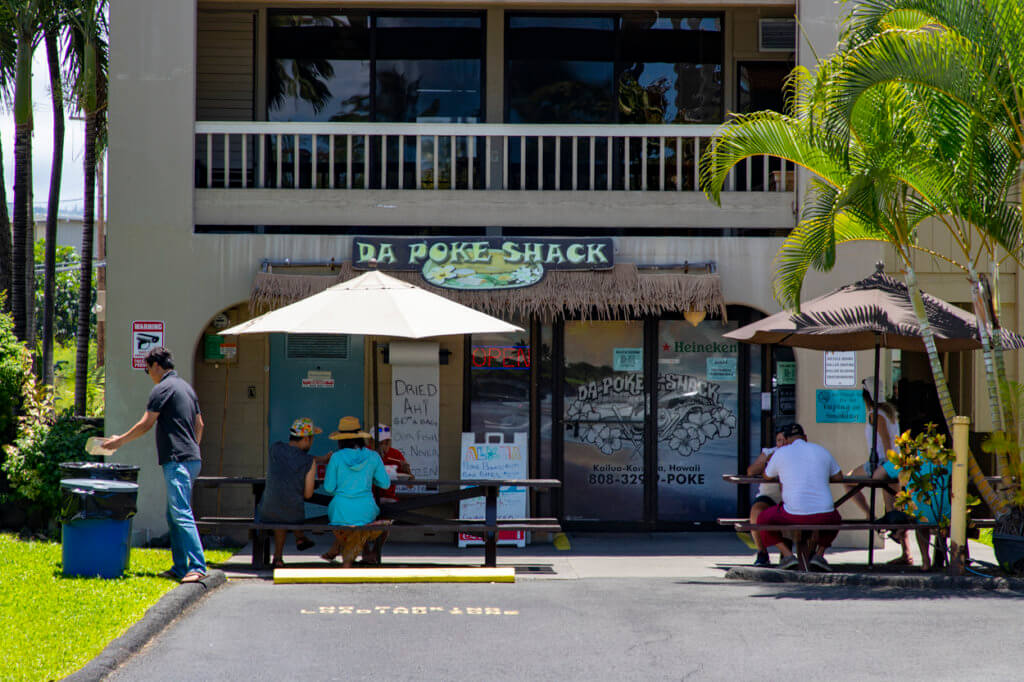 It's worth noting that Da Poke Shack is housed in a shabby condo-hotel called the Castle Kona Bali Kai Resort. And, as you might imagine, that means parking is at a premium here. In fact, the tiny parking lot has a 15-minute time restriction on it.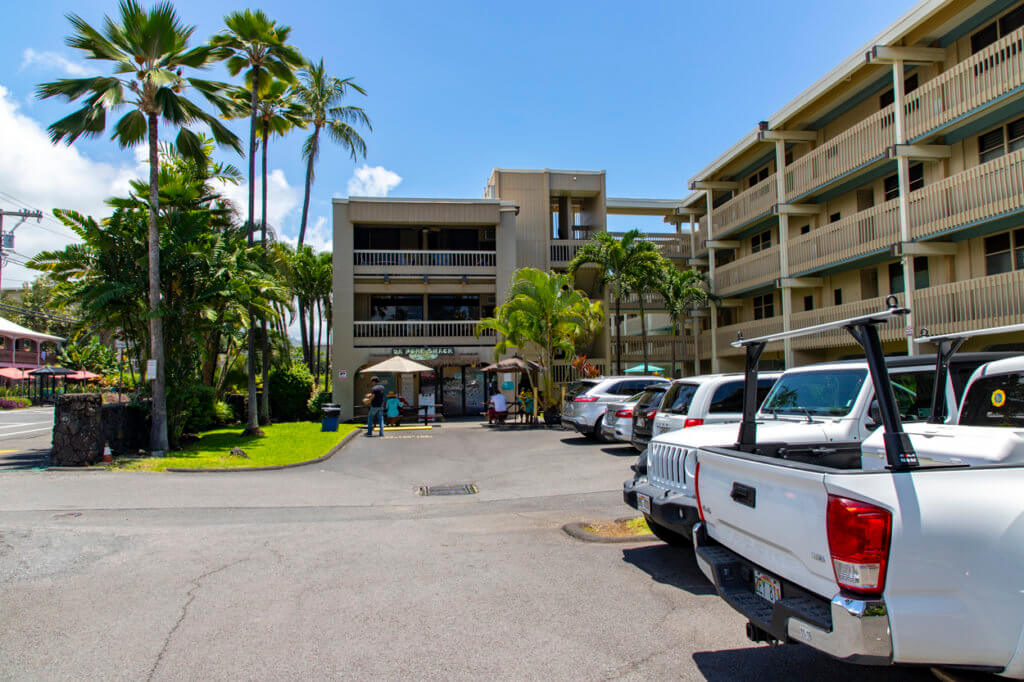 How it Works
Da Poke Shack is your typical take-out spot. You stand in line and place your order at the counter.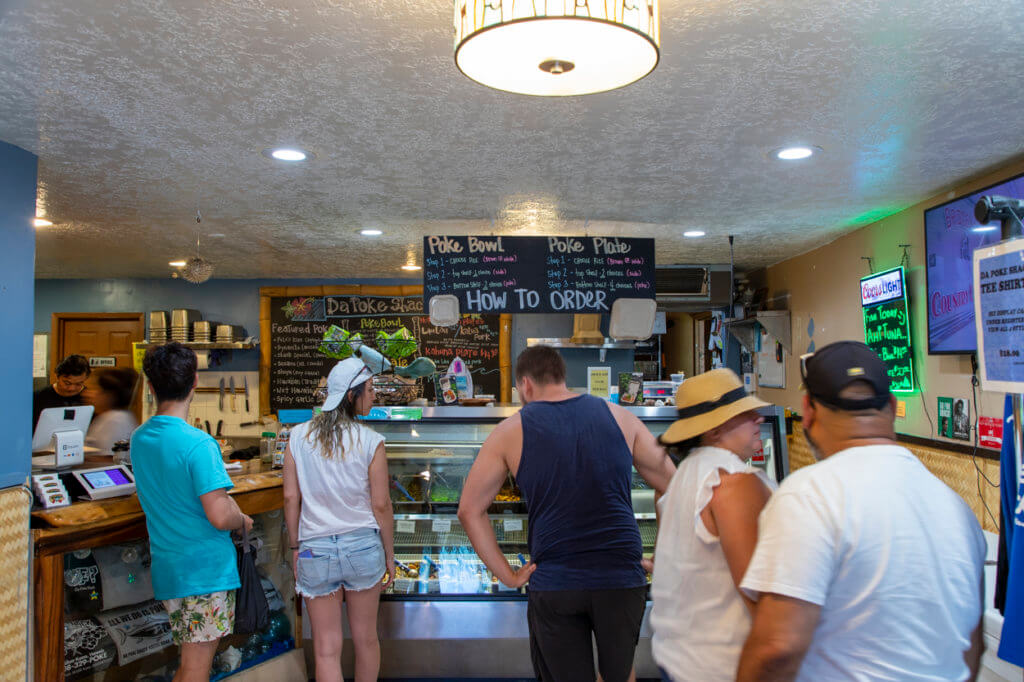 When you place your order, you've got two choices, the poke bowl, and the poke plate. With both options, you get a choice of white or brown rice. Where the two differ, though, is the number of choices you get for your sides and poke. The poke bowl allows you one side and 2 poke, while the plate simply doubles that. Sides, by the way, are the items on the top shelf of the display case, and the poke choices are on the bottom shelf.
The Menu
In case you're wondering, here are the poke options:
Shack Special: sweet miso & honey with roasted seaweed
Pele's Kiss: spicy Hawaiian chili pepper aioli
Sesame: made with both sesame oil & seeds (GF)
Shoyu: classic flavor with Hawaiian soy sauce
Hawaiian: traditional style with limu kohu & Hawaiian salt
Wet Hawaiian: award-winning and savory made with roasted kukui nut
Dynamite: da bomb avocado aioli
Spicy Garlic Sesame: spicy Hawaiian chili pepper, garlic and sesame seeds (GF)
Spicy Scallops: cooked bay scallops with spicy Hawaiian chili pepper aioli
Kim Chee Tako: cooked octopus with Korean sauce (GF)
Spicy Garlic Tako: cooked octopus with spicy Hawaiian chili pepper and garlic
Fresh Garlic Shrimp: jumbo shrimp with fresh garlic (GF)
Taegu: dried and seasoned codfish (GF)
Chuka Idako: cooked whole baby octopus with sweet sauce (GF)
Wasabi Tako: raw octopus with wasabi (GF)
Poke of the Day: chef's inspiration that changes daily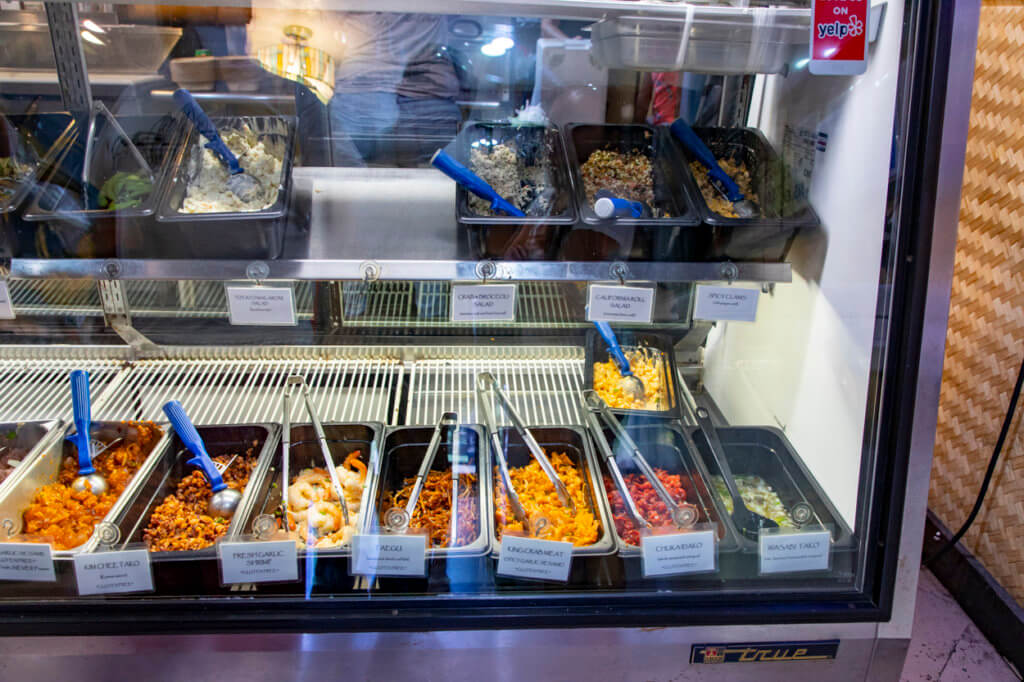 And the sides options include:
California Roll Salad
Teriyaki Calamari
Potato and Macaroni Salad
Spicy Clams
Broccoli Crab Salad
Spicy Crab Salad
Wakame Seaweed Salad (GF, V)
Kim Chee Cabbage (GF)
Kim Chee Cucumbers (GF)
Sesame Garlic Edamame (GF, V)
Kim Chee Mussels (GF)
Hajiki & Quinoa Salad (GF, V)
Edamame and Wild Rice Salad (GF, V)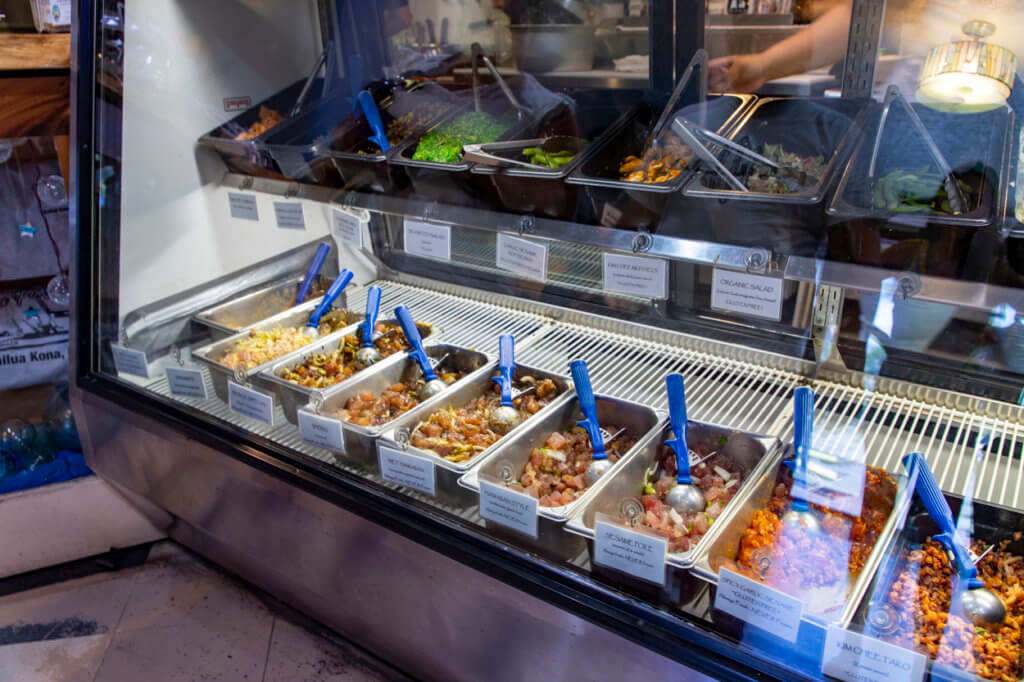 Da Poke Shack does have some hot options too. Specifically, there are three of them, a lau lau plate, a kalua pig plate, and a combo plate.
What We Ordered
Both Mrs. Island Miler and I got the poke bowl. Da Poke Shack's poke bowls, by the way, aren't your average bowl. It's more a mini poke plate lunch, as you get a scoop of rice with portions of poke and your side next to it. Think of it as a deconstructed poke bowl.
Anyway, Mrs. Island Miler got the Wet Hawaiian and Spicy Garlic Sesame Pokes and the Kim Chee Mussels. That's a lot of spice!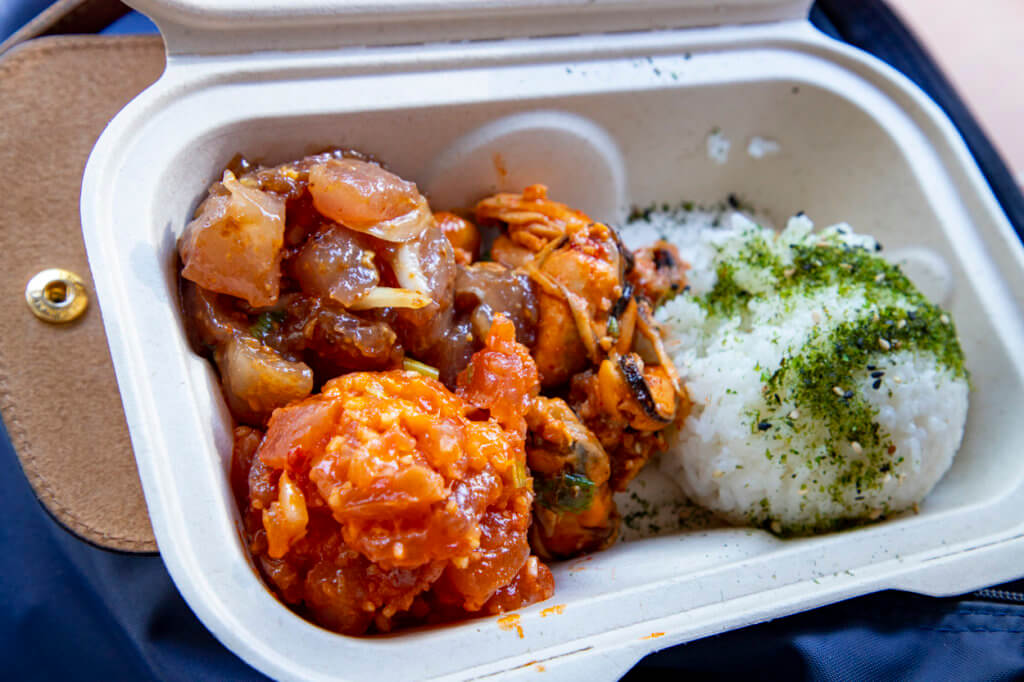 She liked all her options, though, and indeed they were all tasty.
Me? I went with the Wet Hawaiian, the Shoyu, and the Broccoli Crab Salad.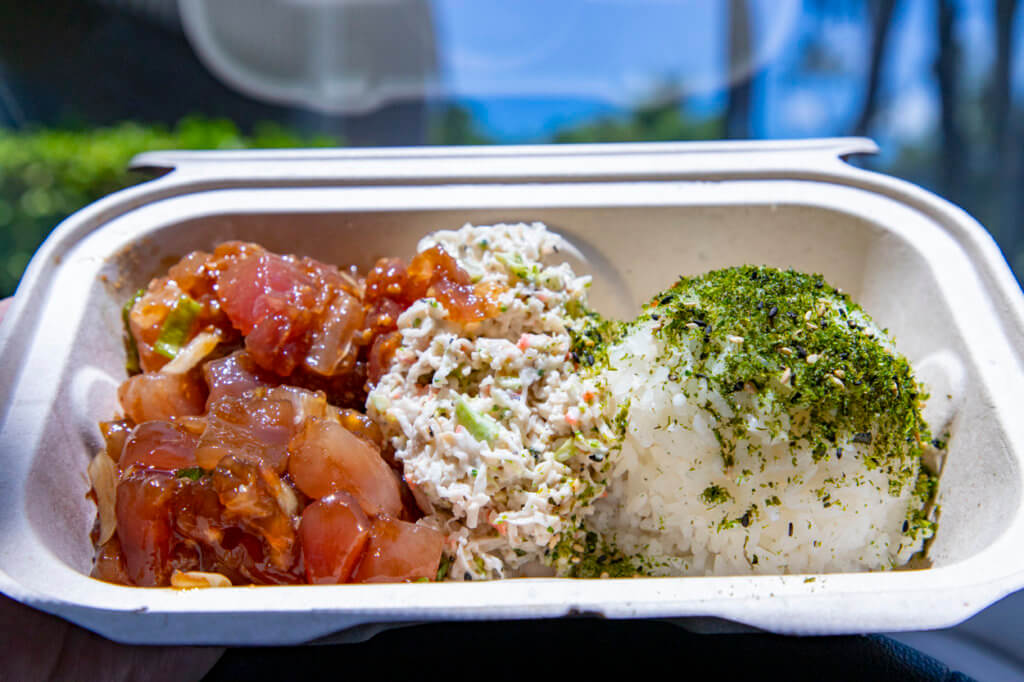 I loved both of my poke options. The Wet Hawaiian has an assertive Inamoa flavor (nutty, umami) along with good salt and oceanic flavors. The Shoyu, on the other hand, is full of that shoyu umami and skews on the saltier side much like Off The Hook's. However, the Crab (Krab) Broccoli salad was too much broccoli stem and black pepper for my liking. Oh, and my biggest critique is the mushiness of the rice.
Da Poke Shack, Final Thoughts
Despite my apprehension thanks to Da Poke Shack's Yelp fame, I'm glad I gave the place a try. Their poke is fantastic stuff! They're right up there with my favorites from Oahu and are way better than KTA.
But, seriously, have you seen Yelp's 2014 Top 100 list? As much as I love Da Poke Shack, I don't think they should rank 44 spots higher than Le Bernardin. Nor should my beloved Marukame rank higher than Le Bernardin. Heck, The French Laundry also appears on the list at 38, while Alinea comes in at 7th. Really?!
Big Island LUV