Delta made another unpopular change to their Skymiles earlier this week and slapped the Skyteam alliance in the face during the process. There are also unfounded rumors that they called Skyteam fat, but I have yet to hear this from a credible source.
I don't need to go into too much depth on what happened, because many bloggers that I read have already covered it in great detail. Common theme: they are not happy.
For those of you who may not have read the news, Delta has made a change to the way you can earn Medallion Qualifying Miles (MQM's) on flights with Skyteam partner airlines. While the airlines I regularly fly (Air France and KLM) are unaffected, some carriers that fly to the Pacific have been cut out of earning opportunities completely. You will no longer earn MQMs while flying on Korean Air, Hawaiian, Malaysia or Olympic airlines.
Here is my interpretation of Delta's new earning chart: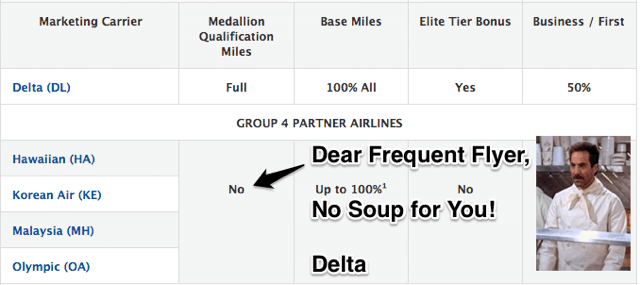 Delta's Mileage Earning Changes Don't Affect Me… Yet
I have never flown any of the airlines that were chopped and I really don't intend to fly them on a paid ticket any time soon. While I aspire to fly the Korean Air Airbus A380 in First Class, that will be an award redemption as opposed to a full fare ticket and I wouldn't earn MQMs on that segment anyway.
That means that this change does not negatively affect me today or any point in the foreseeable future. If anything, I may benefit from less Delta elites swelling the ranks of the upgrade list. That's the stance that Delta Points takes on the matter, going so far as to say he actually likes the change.
Delta's Mileage Earning Changes Does Affect Others
I do feel bad for those affected by the change. Rapid Travel Chai talks about how this change screwed him over pretty good.  I can't help but feel bad for those affected.
Delta Will Ruin Other Things This Year
Even though this change doesn't affect me, it is a sign that Delta will be making more changes that will make Skymiles even less valuable. The one change that many are predicting is that they will switch their mileage redemption away from an award chart and move it to some sort of arrangement where you need to pay with your miles at a fixed value. For example, they would make each mile worth 1 cent in value. If that were the case you would no longer be able to redeem international business class tickets for 100k to 150k Skymiles, but rather pay somewhere in the ballpark of 450k to 1 million Skymiles for an international business class ticket. Yikes!
If that happens, I'll have no choice but to give up dreams of a healthy relationship with Delta. That would be the last straw.