Last updated on March 3rd, 2013 at 08:54 am
If you have a Delta Skymiles Frequent Flyer Account and an Starwood Preferred Guest Account, you should take the time to link the two together so that you can take advantage of the new Delta SPG Crossover Rewards program that provides benefits to elite members of both programs.
First announced earlier this month, Delta is partnering with Starwood in unprecedented ways – going well above and beyond the traditional partnerships between airlines and hotel chains. The integration between these two brands is going very deeply and provides significant benefits to elite members of the airline/hotel program.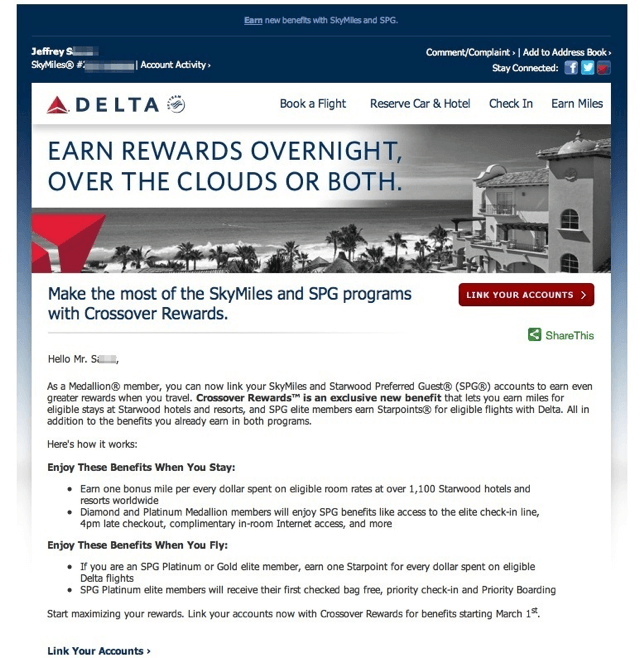 As far as promotions and integrations go, I have never been more excited with a hotel and airline hookup in my entire history as a frequent traveler. This is like Ross and Rachael hooking up in Friends, or Jim and Pam in the early seasons of the Office.
As a Delta Platinum member and aspiring SPG loyalist, this relationship is a match made in heaven. I can enjoy the premium properties that Starwood has to offer without needing to meet a minimum stay requirement to get benefits. In addition, if I can achieve Gold level with Starwood, I will earn extra points each time I travel on Delta (which could easily amount to 10,000 to 20,000 points a year).
This promotion is also important to me because of what it is not. In the past, Delta has partnered with Hilton Hotels for their crossover promotions, so any benefits shared between the programs resulted in being granted more points/miles in an inflated currency. It was like trading Pesos for Rupees and neither of them were all too exciting. Given my recent break up with Hilton Honors, it is great to see that Delta is also choosing a new partner to team up with.
SPG on the other hand has kept the value of their points at very strong levels, making it difficult to earn points and thus keeping the value of their redemption very high. The Delta SPG Crossover Rewards program will allow for a new earning opportunity without bringing SPG points to inflationary levels. A big win for me.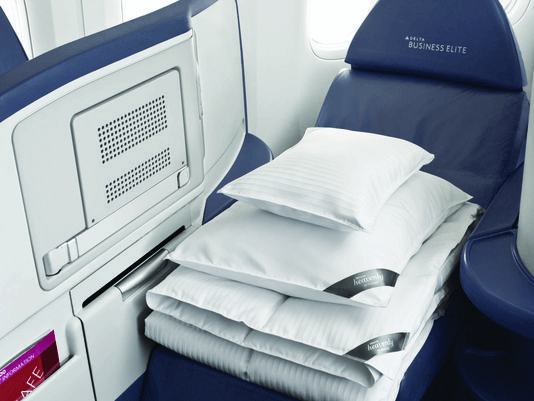 In addition to the new ability to earn miles and points between SPG and Delta, you will also be able to enjoy SPG's famous Heavenly Beds on future international Business Class flights on Delta.
Summary of Delta SPG Crossover Rewards
Delta Elites receive the following benefits while staying at an SPG property:
1 Bonus Delta Skymile mile for every $1 spent at an SPG hotel (this is in addition to Starpoints earned)
Platinum and Diamond Delta elites receive SPG benefits such as:

Late checkout
Free Internet access
Elite Check In line
Room Upgrades (but not suite upgrades)
SPG Elites receive the following benefits on Delta flights:
SPG Gold and Platinum elites earn 1 Starpoint for every $1 spent on Delta flights
Platinum elites get free checked bags, priority boarding status and more
Overall, these benefits are excellent for those who have Delta Platinum or Diamond status, decent if you have any Delta medallion status. They also make me want to get Gold status in order to earn tens of thousands of potential Starwood points on my business travel.
How to Sign Up?
If you are an elite member of Delta or SPG, you should receive an email about the program changes in the next few days. If you do not, you can go to the Crossover Rewards page on Delta.
Enter your SPG Number and agree to the terms and conditions!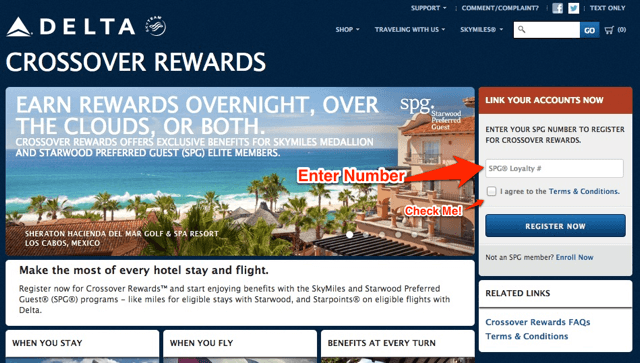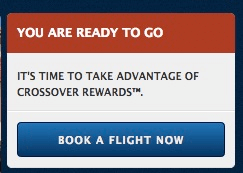 And you will receive an email when complete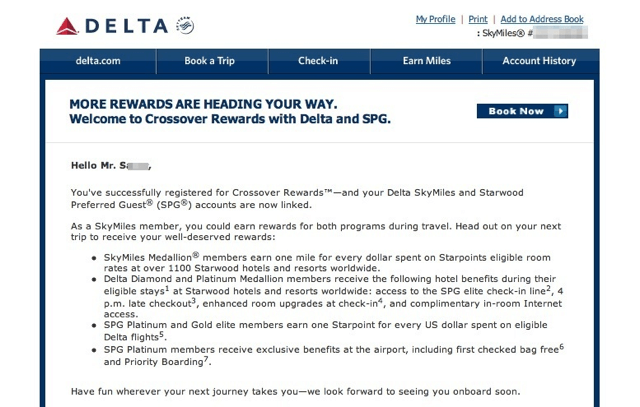 I just signed my wife and me up. What about you? Sign up now – it's a no brainer!