To be honest, aside from being a nicer hotel than the Sheraton, half the reason I chose the Westin Maui was for easier access to Waicoco Maui. Naturally, this meant our first dinner on-island ended up being dinner at Waicoco Maui.
If you're planning on dining at Waicoco Maui, there are a few things you should know. First of all, plan ahead and make reservations (Resy) so you don't get stuck not being able to dine here. Second, most of the tables at Waicoco Maui are outdoors. We never once had a problem with this – we dined here three times during our stay. Third, Waicoco Maui is in the Westin Maui's Hokupa'a Tower fronting the beach. Fourth, yes, this place ain't cheap – you're at a hotel restaurant in an upscale hotel on MAUI. What did you expect? Besides, I've seen far higher pricing for much lower quality on Oahu, so…
Fifth, this might have been fixed by now, but the restaurant didn't have a liquor license during our visit, though the hotel had a bar set up just steps away for your convenience. A lot of people are complaining about this on review sites, but the workaround isn't bad. This isn't the restaurant's fault either – blame Maui County for being glacially slow.
Dinner at Waicoco Maui
The menu at Waicoco is comprised of a large shared plates section, a handful of large plates, and another section of "Ohana Style" large format plates. We opted to go with a shared plate, a large format main, and an additional side during our visit.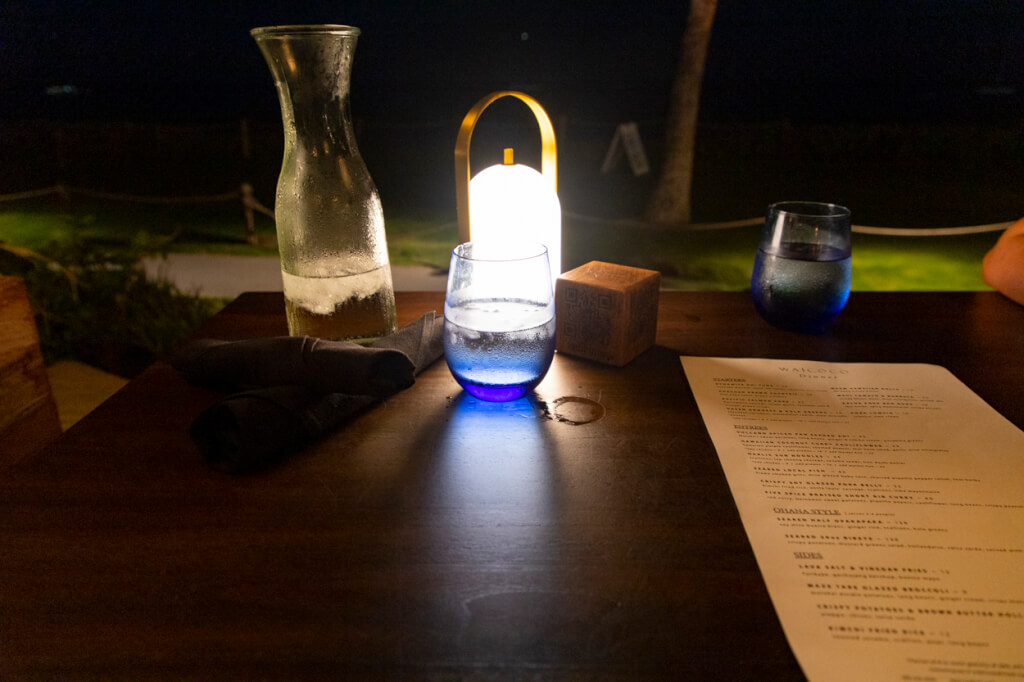 Dynamite Ahi Tuna
To start, we went with the dynamite ahi tuna, which is Executive Chef John Taube IV's take on the local favorite spicy ahi. To me, the flavor profile here is a cross between Sriracha and Tex-Mex spices, which is further reinforced by the cilantro crema. It's different from what we're used to but delicious nonetheless – especially since the fish is of very high quality and freshness.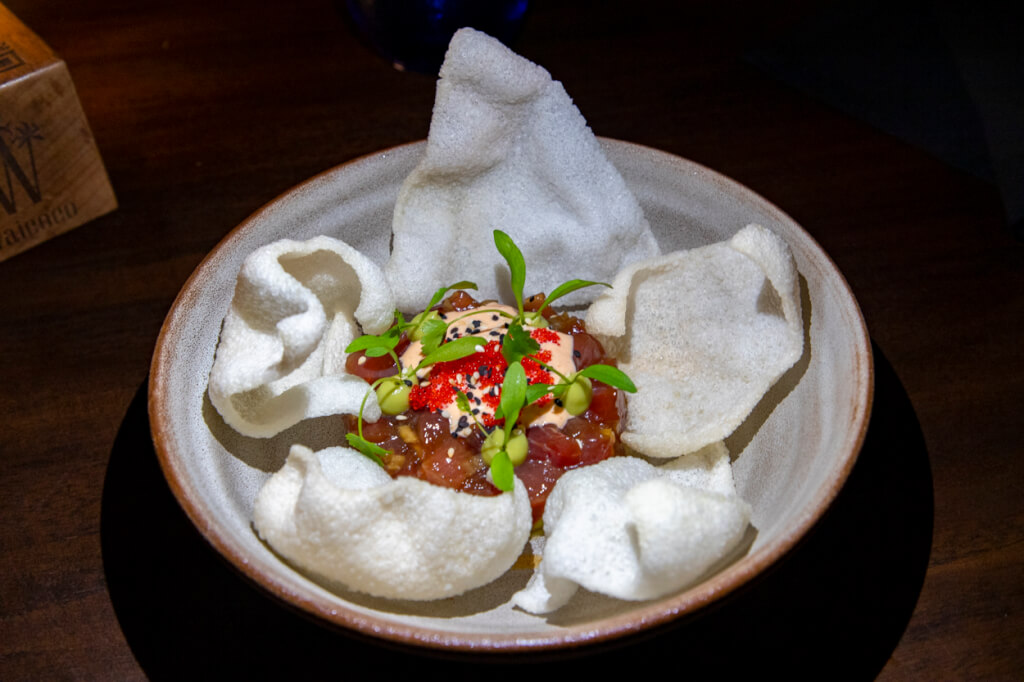 Ohana Style Seared Opakapaka
Mrs. Island Miler and I decided to go with the large format Ohana Style seared half fish for our main. On this night, the fish was Opakapaka – a real treat! Here, you get one whole seared filet, a miso-glazed collar, herb and Kula greens, ginger rice, miso beurre blanc, and Ohana sauces. Everything in this dish was superb – especially the sauces. However, the star of the whole thing – the fish – was a big letdown. There was a bit of an ammonia taste to it, indicating freshness issues.
I brought the issue up with Chef/Owner Chris Kajioka and, after a brief conversation, I concluded that we were just unlucky. It happens with fresh wild fish at times – I know because this happens to me at home on occasion too. Nevertheless, Chef Kajioka went out of his way to make things right, and I'm very appreciative of him for this. Kajioka, aside from being an outstanding chef, has always been great with guest service, which is why we've been fans of his since his Vintage Cave days.
Lava Salt & Vinegar Fries
As good as things were that night, to me, the highlight was our side order of Lava Salt & Vinegar Fries. Just look at these lovely, golden, crispy fries! They were utter perfection in every single way. We loved the interplay of acid, fat, and salt in the dish and could stop inhaling it. My only critiques are that I wish they'd use more vinegar (personal preference) and that the kimchi ketchup had more kimchi flavor.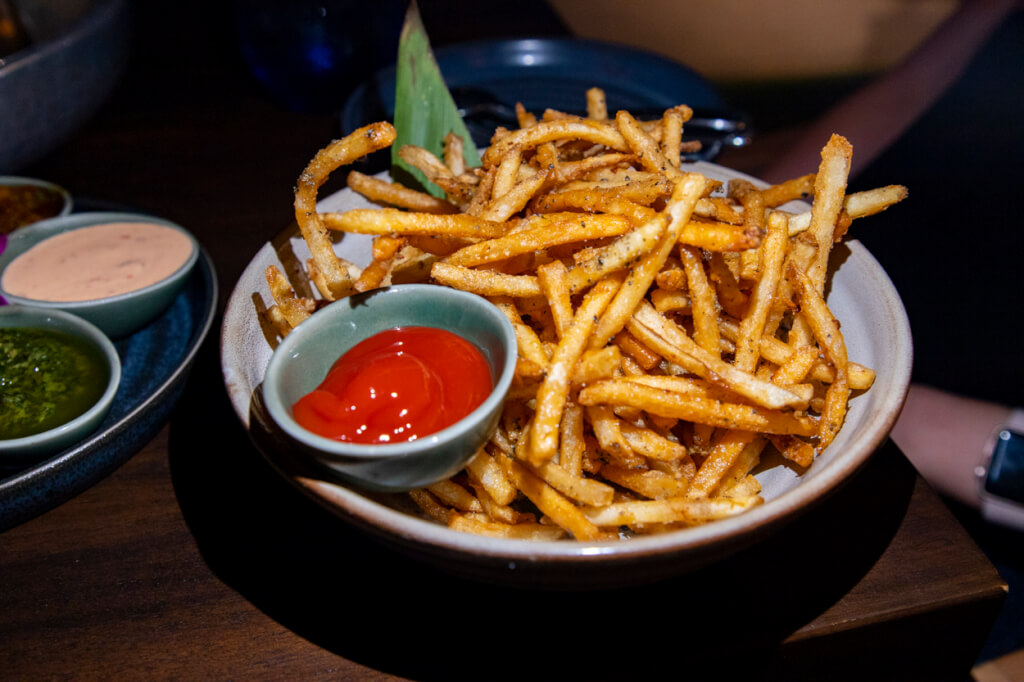 Lilikoi Tarte
Given how much we enjoyed desserts at Hau Tree – and given how similar the ones here looked – we weren't leaving without a sweet treat. I opted for the Lilikoi Tarte with salted chocolate creme and cocoa crumble that night. I must say; usually, I'm not a fan of chocolate with lilikoi. However, the tart, fruity tarte matched well with the SALTY chocolate creme and sand-like, sweet cocoa crumble. The micro mint also helped add another layer to the dish by adding a sweet, cooling, grassiness.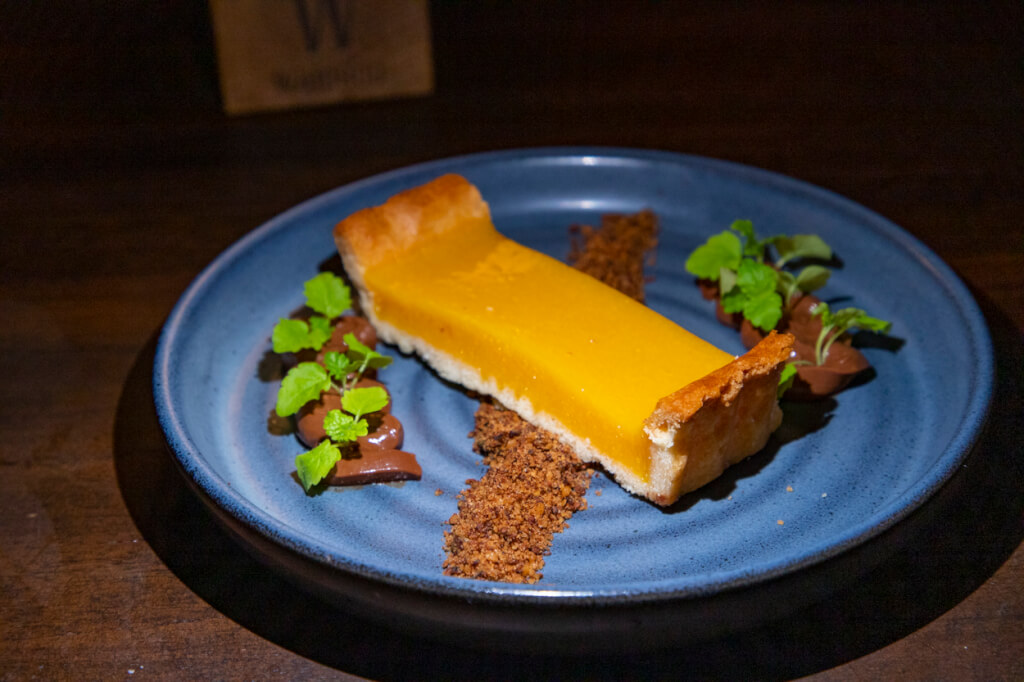 Miso Caramel Creme Brulee
Mrs. Island Miler can never turn down a creme brulee – especially not one that sounds as interesting as the miso caramel version here. Interestingly, this creme brulee was barely sweet at all, which is the exact opposite of what you'd expect. It would seem that the miso helps to add a subtle salty savoriness to the dish without being readily apparent itself. We also appreciated the slight bitterness of the caramelized sugar layer, which is often lacking in most preparations.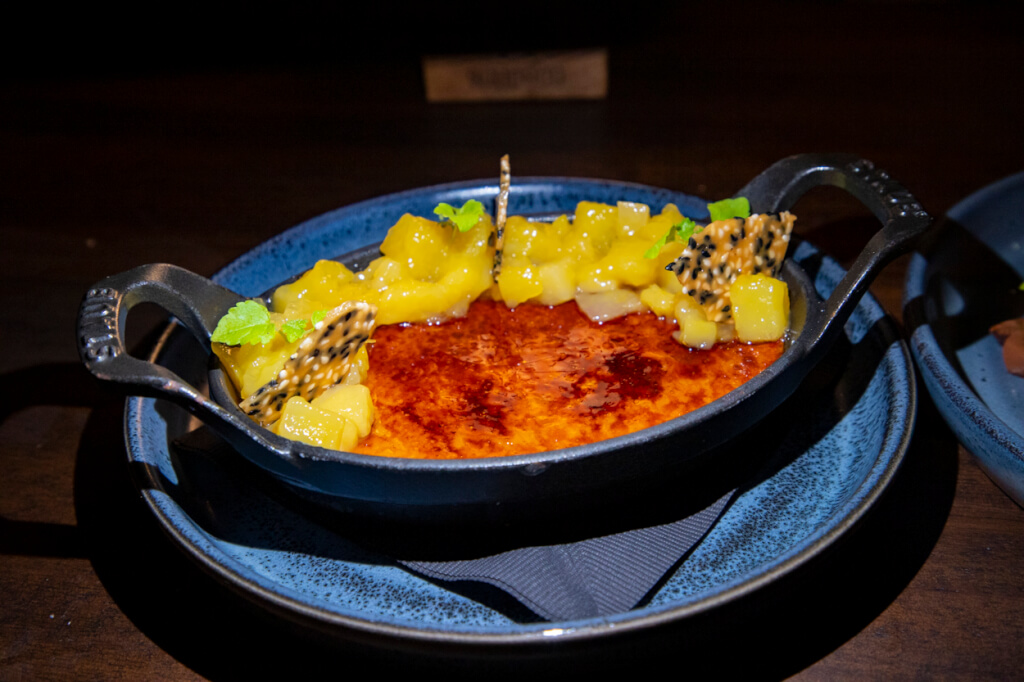 Service
The host staff at Waicoco was great, though our server was a bit less polished. It's not that she was outright bad – she was just very rough around the edges and didn't seem all that knowledgeable about the menu. What's more, she often pushed higher-priced items, which I normally take as a bad sign unless you can convincingly back up your claim.
Final Thoughts
Despite the disappointing fish, we thoroughly enjoyed our meal at Waicoco Maui. Now, I'm sure there are those of you that are questioning my judgment here. But, I used to go fishing a lot and often cook fish at home. I typically source my fish from respectable merchants that reliably supply fresh fish, and, even with that, I occasionally come across fishy fish. Again, it's the risk you take with wild fish. This is especially true of Gulf of Mexico shrimp, which can have a smell and taste so strong that they're inedible. So, with that, I'd return to Waicoco Maui without hesitation.
Grand Maui Adventure