As the pandemic set in last year, I did many things to occupy myself in our new reality. One of those ways was to discover Hawaiian chocolates. I'm not talking about chocolate bars merely made in Hawaii. No, I made it a point to find and sample true tree-to-bar chocolates. And what I found surprised the hell out of me!
Of all the agricultural products Hawaii makes today, coffee and pineapples probably our most well-known. But with the fall of the sugar industry, Hawaii has been (slowly but surely) diversifying its agriculture. Sure, much of this is focused on food production – which is fantastic. However, some of this is for other things like spirits, dairy products, wine, tea, and, yes, chocolate.
Why chocolate? Why not? Hawaii is at the most northerly latitude at which cacao trees will grow. This means Hawaii is the only state in the US that is capable of growing cacao. Notice I said "state" – US territories like Puerto Rico can totally grow cacao – and in fact, they do! But the terroir that makes Hawaii a great place to grow coffee also makes it a fantastic place to grow cacao. And just like our coffee, the characteristics of our chocolates vary greatly depending on what island it's grown on and even what part of the island it's grown.
So, let's dive into all of the chocolates I sampled over the past year. First up, I'll be covering the chocolates of the Big Island.
Note: all chocolates I purchased are dark varieties averaging around 70% cocoa mass.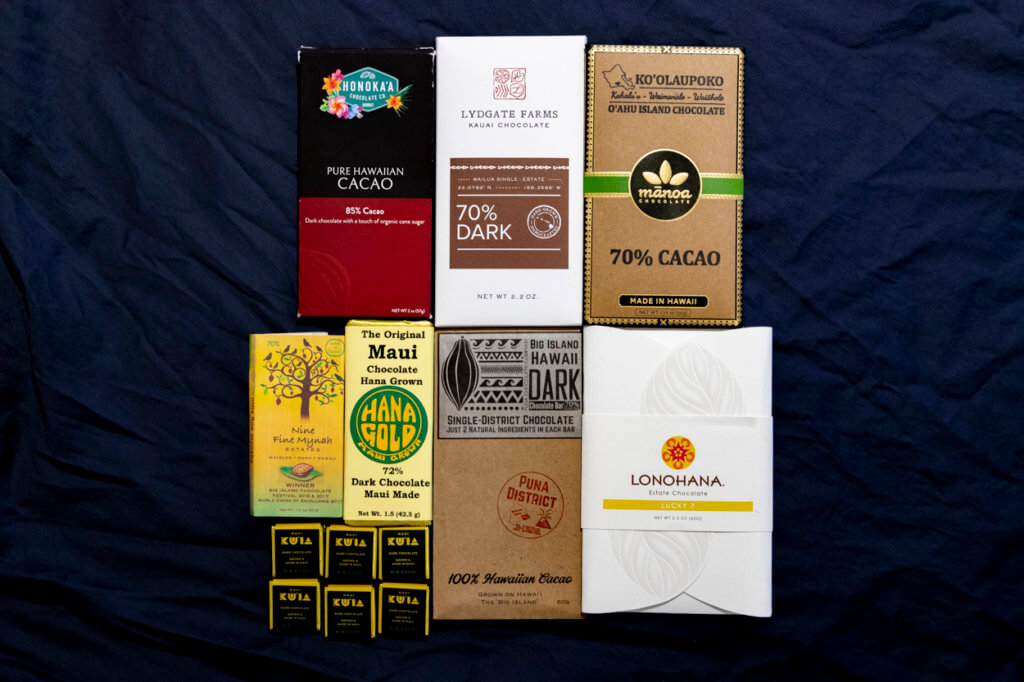 Big Island
Cacao trees were first introduced to Hawaii on Hawaii island back in the 1800s. But, a formal chocolate industry didn't begin in Hawaii until the late 1990s. And it was here on the Big Island that Hawaii's first tree-to-bar operation was born. In 1997, Pam and Bob Cooper purchased an orchard growing macadamia nut and cacao trees and began building the Original Hawaiian Chocolate Factory. Unfortunately, I didn't sample Original Hawaii Chocolate Factory chocolates because not only are their bars expensive, but their shipping made it cost-prohibitive for me. But, I did sample chocolate from many different regions of the Big Island.
The Big Island's most diverse bean-to-bar producer is Puna Chocolate. Located on the Big Island east side, Puna chocolate sources beans from their own farms and other farms in Puna, Hilo, the Hamakua Coast, Waipio Valley, Kona, and Ka'u. They then process each of these into a variety of single-origin bars. Though each of their bars has its own distinct character, I noticed a consistent, unique funk across their line.
Puna Bar (70%)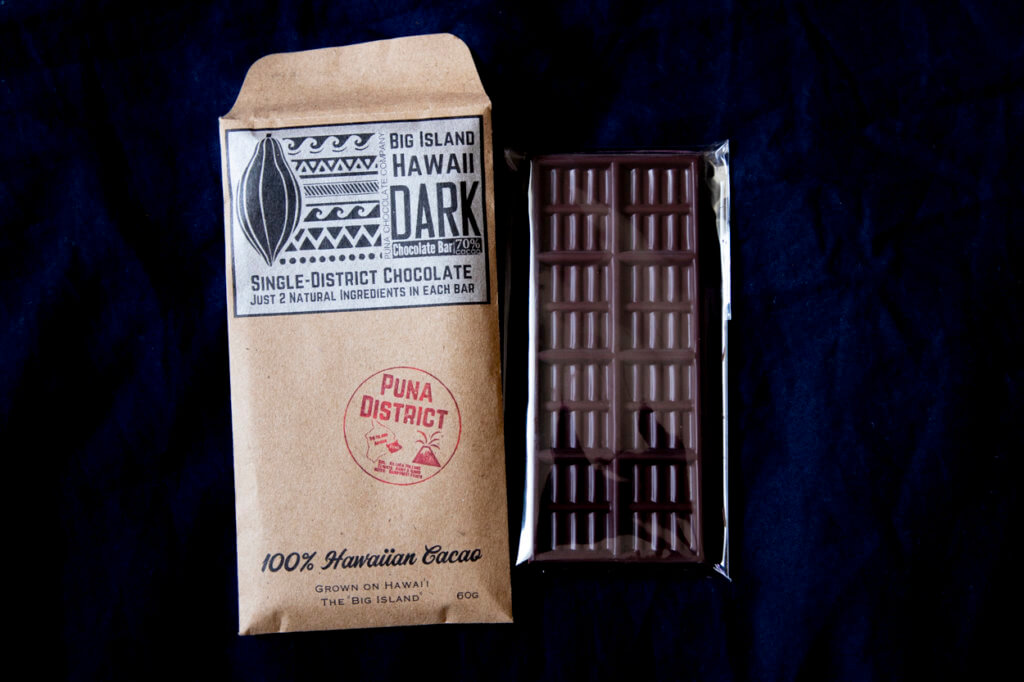 Located on the Kilauea volcano's flanks, Hawaii's Puna District is one of the youngest parts of the Big Island. At 620 feet above sea level, the Kurtistown portion of Puna (where Puna chocolate's orchard is) is a wet, tropical rainforest with mild temperatures year-round. This weather, however, makes for challenging fermentation conditions. As a result, the Puna Bar has assertive earthy, mossy qualities to it. These flavors then give way to pronounced sweet cocoa with a hint of roasted almonds. The bar finishes with a light fruitiness and subtle tang.
Hamakua Bar (70%)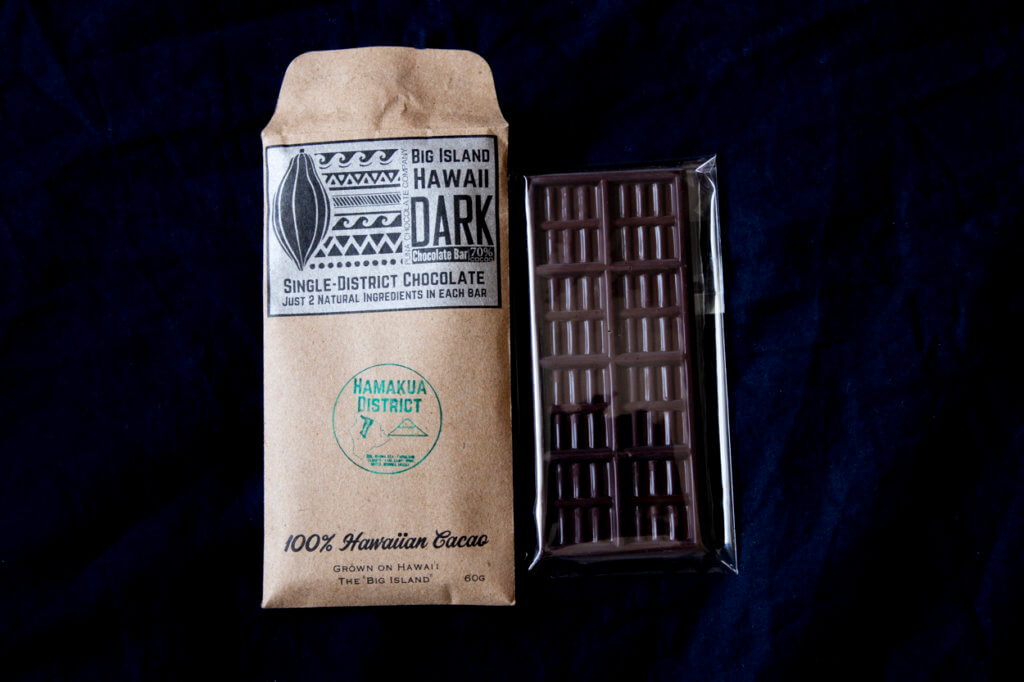 Historically a sugar-growing region, the Hamakua Coast is a wild and rustic area on the slopes of Mauna Kea. Warmer and windier than Puna, the earthy funk that's so prominent in the puna bar is less persistent in this bar. What's more, the core flavors take on a nuttier profile, tasting of honey-roasted macadamia nuts and almonds with cocoa. This was, in my opinion, the sweetest bar of the bunch despite having the same ratio of cocoa mass to sugar.
Waipio Valley (70%)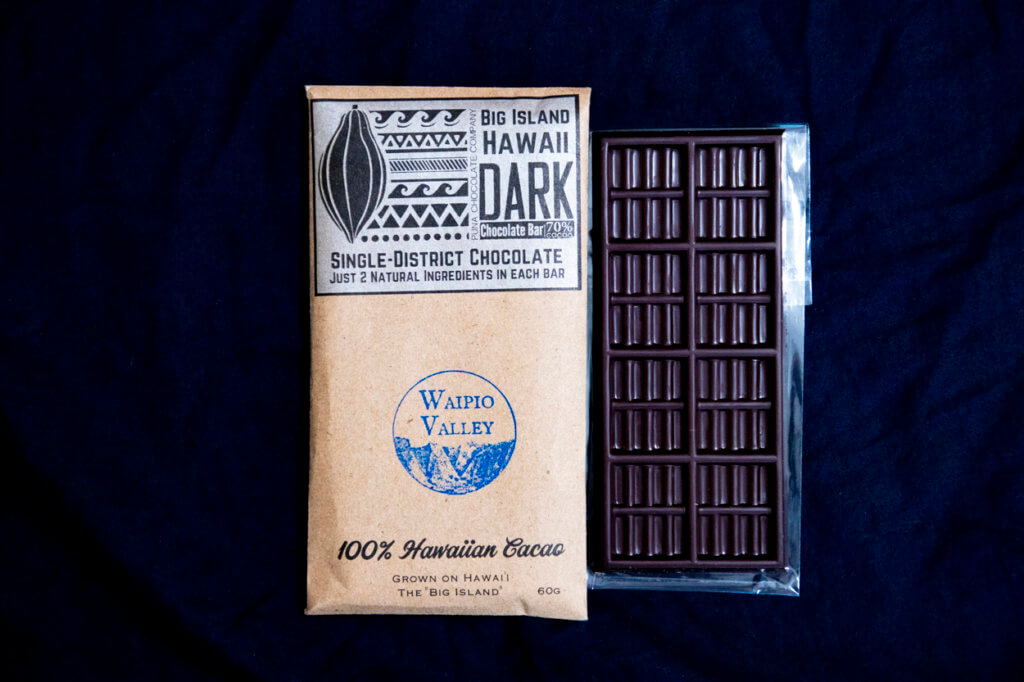 This is the rarest of Puna Chocolate's bars. Made with cacao grown in the lush valley in the middle of the Hamakua Coast, it carried with it a unique flavor profile. Starting with a mild earthy funk, an intense, dark cocoa profile takes over with notes of licorice and spice. The bar then ends with a lingering bitterness of unsweetened cocoa powder rounded out with a faint acidic twang.
Kona Bar (70%)
Kona is the polar opposite of Hilo. Located on the slopes of Hualalai, the second oldest volcano making up the Big Island, Kona's climate is much drier and hotter than that of Puna or the Hamakua Coast. These factors result in one of the best coffee-growing regions in the world and an excellent cacao-growing region too. And, as you might imagine, these growing conditions result in chocolate that shares qualities with the region's world-famous coffee. As a result, Puna Chocolate's Kona Bar has a classic cocoa flavor with hints of coffee and roasted nuts with an acidic, fruity finish comprised of cherry and raspberry notes.
Kokoleka Lani (70%)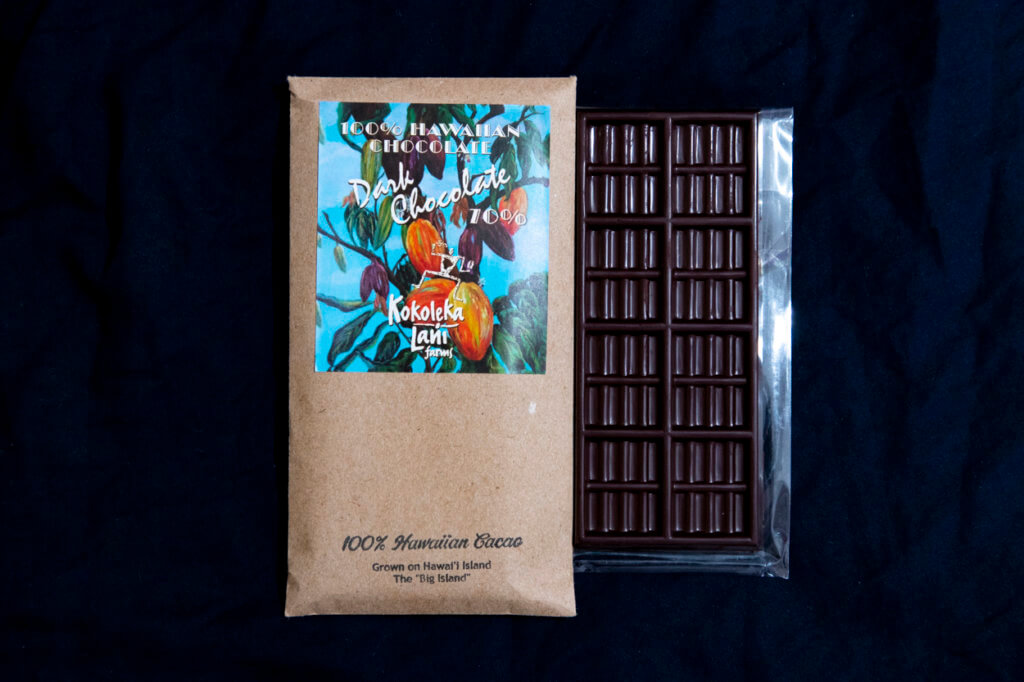 Puna Chocolate's Kona Bar is a blend of beans from different growers. But the Kokoleka Lani Bar comes from a single farm – Kokoleka Lani Farm. Interestingly, this bar tastes vastly different from the standard Kona Bar with none of Puna Chocolate's signature funk. Instead, we have a rich, creamy bar that coats your mouth and is redolent with deep, fudgy flavors with hints of raspberry and cherry. Yes, a 70% bar that's creamy and almost dairy-like yet has no dairy at all!
Based in Honolulu, Madre Chocolate draws inspiration from the Maya, Omec, and Aztec when processing their bars using beans from around Hawaii and the world. Currently, they offer 26 different bars ranging from single-origin bars to flavored ones.
Kona Bar (70%)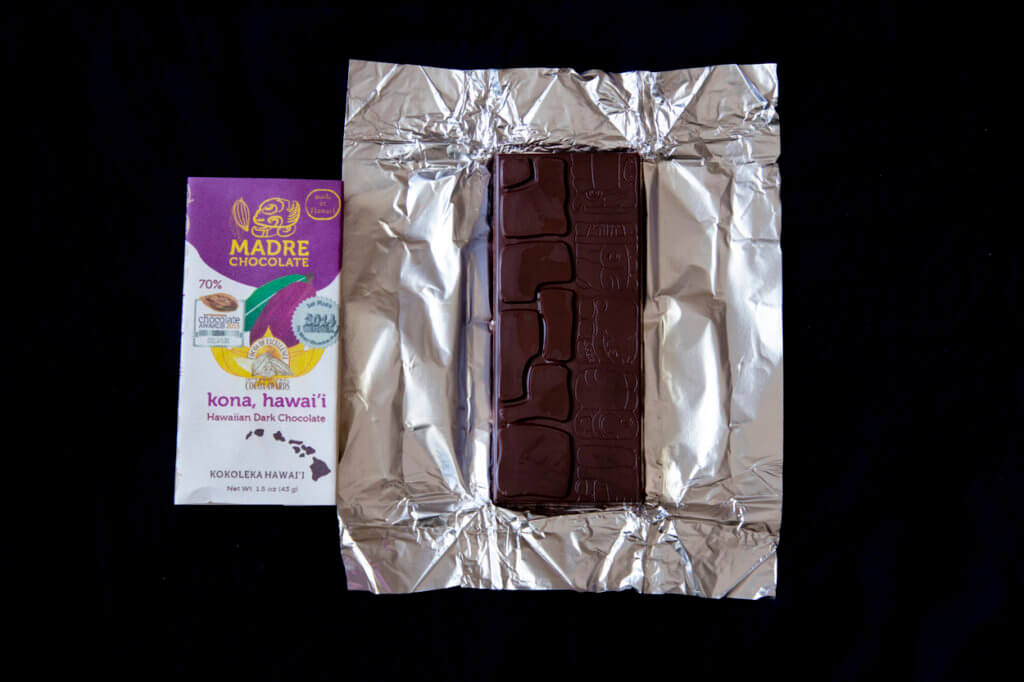 For its Kona Bar, Madre chocolate sources its beans from Likao Kula Farm, situated at the 1,600-foot level overlooking downtown Kona – specifically the area near Da Poke Shack. The resulting chocolate starts with sugary cocoa on the nose layered with roasted almonds and almond butter before finishing with a slight hint of fruit. It's a surprisingly sweet bar, given its cocoa mass.
Located on the lush Hamakua Coast, Honoka'a Chocolate is one of Hawaii's newest chocolate producers. Making chocolate since 2018, the farm produces a variety of single-origin bars with beans sourced from not only the Big Island but a variety of other places like Fiji, Vietnam, and Madagascar, among others. However, when I ordered from them, their Big Island beans came from other farms from around the island. They eventually plan to make a farm-to-bar chocolate, but their trees aren't producing quite enough cacao yet. That said, the bars they make now are good.
Pure Hawaiian Cacao (85%)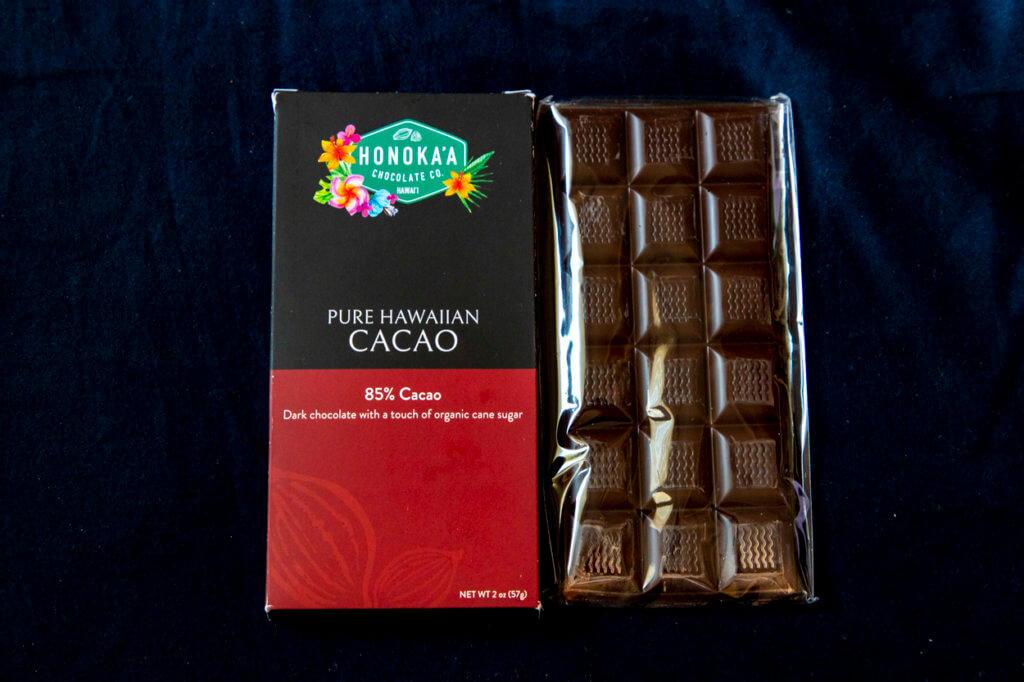 Honoka'a Chocolate's Pure Hawaiian Cacao bar at 85% cocoa mass is the darkest bar I've sampled from a local producer. As a result, this bar is decidedly not sweet. Rather, it's a pleasantly bitter bar with a robust, pure cocoa flavor. What's more, the bar has a fantastic mouth-coating, velvety texture. Interestingly, though, the bar has small sugar crystals in it. I'm not sure if this is on purpose, but it adds a subtle and pleasant crunch to the bar – think calcium crystals in cheese.
Based on the Big Island and Oahu, Hawaiian Crown might be better known for their Kunia Gold Pineapples grown on Oahu. But, they produce tree-to-bar chocolate too. Located in Hilo, Hawaiian Crown both grows its cacao and produces its chocolate here. Currently, Hawaiian Crown offers just two bars in its lineup, including a 70% dark bar and a 70% bar with Ka'u Coffee blended in.
70% Dark Chocolate Bar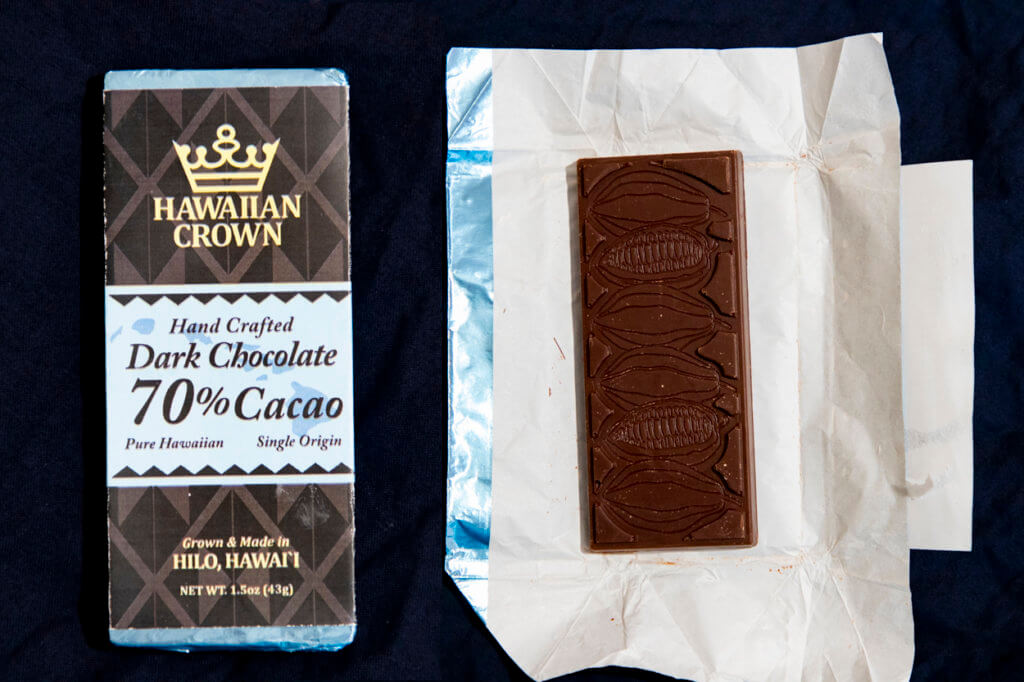 This bar is probably the sweetest and most focused I've sampled from any island. It has a very classic chocolate flavor dominated by cocoa and fudge. That's about it. Think semisweet chocolate chips just a bit darker.
Discover Hawaiian Chocolates – Intro + Big Island, Final Thoughts
With the diversity Hawaii's cacao industry has to offer, I doubt I've tried everything – even when considering a single island. In fact, I know I missed a couple of Big Island-grown bars since I haven't sampled Manoa Chocolate's Hawaii Island and Kealakekua bars. Plus, as mentioned earlier, I haven't tried the Original Hawaiian Chocolate Factory's bars either. But with more and more operations coming online all the time, this list will get dated quickly. So, I encourage you to get out there and explore all that Hawaii has to offer. And stay tuned for my next installment of discovering Hawaiian chocolates.