Last updated on June 23rd, 2023 at 12:22 pm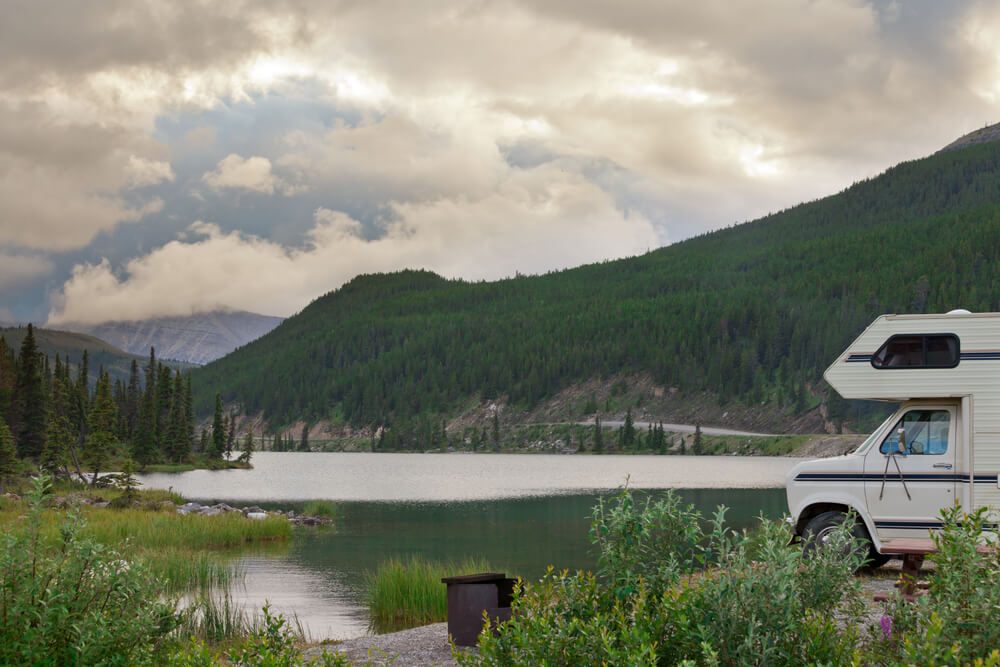 All of our reviews are based on exhaustive research, industry experience and whenever possible, hands-on testing. When you make a purchase using one of our chosen links we'll receive a small percentage of the proceeds. This supports the site and keeps Jeffsetter running. You can read more here.
When camping in an RV, we often seek out some of the most remote areas we can. Sometimes we may even travel in inclement weather because it's no problem to camp when you have a home on wheels!
However, what does this mean for your upcoming trip when the weatherman is predicting thunderstorms? Should you be worried, or even consider canceling your trip?
RVs are tall, metal structures which makes it sound like a bad thing to have during a lightning storm. But do all RVs attract lightning?
RVs do not attract lightning, but thunderstorms and heavy winds can be dangerous. If you have a tall rig with a flagpole or tall antenna atop it, then the antenna may be susceptible to a lightning strike. Keep this in mind while camping, especially if you do have these more dangerous rig accessories.
Lightning can be dangerous so let's learn more about it together, as well as how to stay safe!

The Facts And Myths Of Lightning
Just like most scientific facts and figures, lightning has been around for long enough that the truth has become unclear regarding how it behaves and how it can harm humans. We know lightning can be harmful, but what we know to be fact may in actuality be fiction after years of misinformation!
Let's look at some of the myths and truths surrounding lightning strikes!
Myth: Lightning Only Strikes Metal
Lightning does not only strike metal. Lightning strikes anything, and randomly. Lightning also does not strike at a direct 90 degrees; it has been known to strike at a 45-degree angle and beyond.
Trees are often struck by lightning, and they can explode and catch fire from the heat. Mountains and rocks have been struck before and of course people too. Granted, tall and pointed structures such as the Empire State Building are consistently struck by lightning, but height has more to do with it than metal.
Metal does not attract lightning, it is simply a bad thing to be near should lightning be striking. You will not be automatically struck if you are wearing metal jewelry or are holding something metal. However, you never know when and where lightning will strike, so safety first!
Myth: Lightning Never Strikes The Same Place Twice
Lightning has been known to strike multiple places multiple times, and so saying it can't strike the same place twice is a myth. Some taller locations often experience many strikes, and sometimes during the same storm!
If you are in a thunderstorm and notice lightning striking, stay indoors. The storm may not be moving quickly and could easily strike the same location again.
Myth: RVs Attract Lightning
Given that lightning is not attracted to anything and there is zero rhyme or reason to where it strikes, RVs do not attract lightning. However, if you have a tall rig with a flagpole or tall antenna atop it, you may be tempting fate.
The taller and pointier the structure, the more likely it is to be struck by lightning. Keep this in mind while camping, especially if you do have these more dangerous rig accessories.
Myth: I Am Safe From Lightning If I Lay On The Ground Outside
Lightning is tricky, and the only truly safe place you can be during a thunderstorm is inside a proper structure, or even a car. Laying on the ground outside will not keep you safe from lightning, especially if it strikes nearby. However, it isn't the worst thing you can do and will do in a pinch if there are zero structures around.
In a true emergency, such as hiking during a thunderstorm, the best thing you can do is seek lower ground and ideally a ditch. Avoid trees and other tall locations, and hunker down. Lightning will strike higher objects first, so you may be safe if you stay low.
However, lightning can travel through the ground if it strikes close enough to you, so remaining outside during a thunderstorm is still the worst thing you can do. If you have no other options, keep low, and seek shelter away from tall objects.
Truth: I Am Safe Inside My RV During A Thunderstorm
Unless your RV is made entirely of wood or canvas, chances are high that you are safe inside your RV during a thunderstorm. However, if the storm gets bad enough, your RV may not be your safest choice either.
If you're only worried about lightning strikes, stay in your rig and hunker down for the night. If the winds are high, you may want to seek shelter in your tow vehicle or car, or even proceed to a hotel for the night.
Thunderstorms are no joke, but why are RVs a fairly safe place to go when lightning strikes? That all comes down to science and the ingenuity of the Faraday Cage!
Why The Faraday Cage Matters
The reason we are told to seek shelter during a thunderstorm is because of the concept of the Faraday Cage. This was invented by Michael Faraday in 1863 and essentially describes the ideal place you should be to ensure that you are safe from lightning.
The Faraday Cage is described as a continuous covering of conductive material, this means any sort of metal frame or cage counts as this. Your car is indeed a Faraday Cage, and being inside it during a storm might be the safest place you can be!
The idea is that lightning strikes a potential Faraday Cage and is conducted around the metal frame, keeping its contents safe from harmful electricity. Distributing the lightning around the frame disperses it and cancels out any negative effects on anything inside the cage as explained in the short video below:
It may sound a bit scientific and confusing but essentially if you are able to get into a shelter or structure with metal surrounding you, you will be safe! So this means that your travel trailer tow vehicle or car is one of the safest places you can be during a thunderstorm!
Is My RV Safe During A Thunderstorm?
Chances are, remaining inside your RV will be a very safe place for you during a thunderstorm. My vintage travel trailer has a metal roof, sturdy metal frame, and wooden walls, which means I am safe inside my Faraday Cage!
However, it is important to know if your RV's frame is metal. Chances are, it is, but your roof and walls may not be. No matter the material, however, your RV will provide a lot more shelter and safety than being outside in the storm! Just check what your walls and roof are made from, as fiberglass may not be as reliable as aluminum.
Thunderstorms often bring heavy winds with them, and this is where remaining inside of your RV during a thunderstorm might be tricky. Chances are, your RV windows may not be able to handle any major winds or potentially large hail, so always keep this in mind before traveling.
You may be worried about the height of your RV and the potential for lightning to strike it. This is a fair concern, but so long as you are inside, there's nothing else you can do. However, if you have time to prepare for the thunderstorm, here are some tips you can try to ensure you and your family remain safe!
What RVs Are NOT Safe During A Thunderstorm?
There are certain types of RVs that are simply unsafe or not recommended during a thunderstorm. There are some that may be safe, but you should probably check with your manufacturer before heading out into potentially hazardous weather.
The number one unsafe rig you can camp in during a thunderstorm is a pop-up trailer. These are essentially tents on wheels and offer no true safety from lightning given their canvas roof and sides.
Lightning will destroy any and all tent-like structures, so tents are not a safe place to go during a thunderstorm. Keep this in mind should you choose to camp with a pop-up during the stormy season. Seeking a more permanent and metal structure is a better bet!
The other potentially dangerous rig you can camp in during a thunderstorm is one that doesn't have a metal roof or walls. Some fiberglass trailers have metal in the frame or structure, some may not. It's essential to know what your rig is made from so you can be safe should lightning strike!
Are RVs Safe In Lightning?
As I've said already, RVs are actually pretty safe rigs to be in during a thunderstorm, but only if they have an outer layer of metal or the walls and roof are metal. As explained in the Faraday Cage video above, the metal will act as a protective layer and direct the lightning away. Being inside an RV with metal framing or a metal layer is a good thing if a thunderstorm is brewing.
If you're adventuring in a travel trailer that doesn't have a metal layer and instead is made from canvas or another material, I would advise jumping inside your tow vehicle until the lightning passes. The metal exterior of a car or truck will help deflect the lightning away, whereas canvas or wood won't be able to do so.
Is It Safe To Be In A Camper During A Lightning Storm?
So you've driven for a few hours, arrived and checked in at the campground, only to find out there's a storm on the way…what should you do? Well, if you're traveling in a rig with a metal frame, walls, and/or roof, the best thing you can do to be safe is to stay inside your camper. It's safe to remain inside your RV if it has metal framing and a metal roof as it will act as a protective barrier if lightning hits the rig.
I always think it's best to be as safe as possible and take all the necessary precautions against lightning, so unplugging the electricity is another great safeguard to take. Part of RVing is embracing nature and everything it throws at us, but lightning isn't something you want to mess around with.
According to the CDC, the risk of getting hit by a lightning strike is less than one in a million! These odds are definitely on our side, and thankfully, nearly 90% of people struck by lightning survive.
Other Safety Tips For Camping During A Storm
Whether you are anticipating a storm or it sneaks up on you, safety should always be a priority. Here are some easy tips I think are worth keeping in mind before going camping in inclement weather!
Always Check The forecast
A little bit of rain can ruin a normally magical camping trip, let alone a torrential downpour that often accompanies a thunderstorm. Checking the forecast before you reserve anything is important, and having a last look before you leave is a must!
Some storms come on quickly, and if you are planning a camping trip, a thunderstorm could be a dangerous and completely valid reason to reschedule. It might be a bummer, but you may be happier in the long run!
Carry A First Aid Kit
My little family of three (two adults, and one dog) has multiple first-aid kits! We keep one in our rig and one in the car, because we always try to be prepared. Camping without a first aid kit is a big no in my book; you should always have some first aid with you when heading outside!
If a thunderstorm occurs and you lose power in your rig, first aid kits often include warming emergency blankets and more. You may not think you'll ever need one, but I think it's better to be safe rather than sorry.
Have Battery Operated Supplies
Not only is a first aid kit always a priority for my family when we go camping, but we also always bring battery-operated accessories! Having portable and battery-operated tools can be invaluable during stormy weather. These items may include flashlights, power banks for charging electronics, radios, and even portable generators or things to jump your car.
Not all of these are necessary at all times, but if you're worried about having certain necessities no matter your power situation, certain battery-operated devices may be good to pack with you!
Tie Down Or Put Away Anything Outside
Thunderstorms often bring high winds. Winds are the number one thing RVs are notoriously weak against. The smallest object, when caught by the wind, could prove dangerous and ultimately damaging to your rig and even those inside it!
Camp chairs, cookware, tables, and anything remotely portable should be packed up as long as you have the time. If a thunderstorm is already raging, leave it all be and go inside immediately. However, if you know a storm is coming, packing up your outside gear, including your awning is a great call.
Bring Everyone In, Especially Pets
Once thunder clouds start brewing in the sky, playtime's over. Bring all the kids in, the dogs, everyone. Don't stick around and finish up your game of horseshoes or frisbee. The kids and pets may be disappointed, but it is the safest thing you can do for your family.
Lightning can often strike suddenly, with little to no warning. If you have family hiking or otherwise away from camp, reach out to them. Having a way to keep in touch is vital during a storm should you be separated.
Unhook Your Rig, And Not Just Electric
The main cause of damage to your RV that could potentially happen is damage to your electrical system. If your RV is struck by lightning and you are still plugged into shore power or even battery power, you may fry your entire system!
The safest thing to do during a thunderstorm is unhook everything, especially if you might need to leave quickly. It may not sound convenient, given the need for convenience while camping. But unhooking not only your electrical system but your propane and water as well is your best best.
Lightning will fry anything still plugged in inside of your rig, so any expensive electronics run the risk of damage should there be a surge. Plumbing and water in general should always be avoided during thunderstorms, as water conducts electricity.
Should any damage happen surrounding your campsite like trees exploding, having your propane tanks closed up and removed from your rig may also be a wise choice. Unhooking your rig's batteries may sound like a pain too, but it doesn't take much to fry those too- only one lightning strike to be exact!
Stay Inside And Try To Have Fun!
The best advice I can give anyone camping during a thunderstorm is to stay inside. While it may not be ideal, especially if you unplug your electricity and plumbing, fun can still be had even if it's different than your original expectations.
Bringing battery-operated options is smart, or going traditional with board games and other old-fashioned fun might sate some of your guests. Thankfully thunderstorms usually don't last very long, and once the storm safely passes, camping fun can resume!
Conclusion
Thunderstorms and lightning strikes are no joke. Having a safe place to stay while you wait out a storm is paramount. Thankfully, your rig should be able to keep you safe during a thunderstorm, with these other helpful tips!