After dinner at Utage Restaurant & Lounge, Mrs. Island Miler and our friend wanted to check out a spot across the parking lot called Double Three, which is bubble waffle and soft serve ice cream shop.
Known as Egg Waffle in its native of Hong Kong, bubble waffle is kind of a more recent trend here in Hawaii. This shop in particular opened back in 2019, meaning they've been around for four years, provided you count 2020 as a year. And while these waffles are often eaten plain in Hong Kong, they're frequently served with toppings here in Hawaii. Here, of course, they do soft serve.
Double Three Location
As I mentioned earlier, Double Three is across the parking lot from Utage Restaurant & Lounge, which means its in the City Square Shopping Center in Kalihi. It's a tiny shop that's right next to a vape shop and kind of shares a doorway with them.
Ordering at Double Three
To place your order at Double Three, you need to fill out a little form. It was crowded and busy in there, so I didn't get a photo of it, but it's pretty straightforward. You can choose waffle only, ice cream only, or both. From there, you can choose flavors, syrups, toppings, and more. Once done, they ring you up, and issue you a pager to notify you when your order is ready. It's worth noting that all waffles are made to order, so expect to wait about five minutes if you're the only one there. But wait times can extend to thirty minutes or more if they're busy.
What We Ordered
I'm really predictable when it comes to ice cream – chocolate. Naturally, I ended up ordering a chocolate bubble waffle, with chocolate soft serve, and Oreo crumbles. The bubble waffle was quite good, having a lightly crispy exterior with a light, mildly chewy interior. The flavor isn't so great, though, as it lacked almost any chocolate flavor at all. Likewise, the chocolate soft serve had just a hint of a vaguely chocolate flavor with an icy texture. The Oreo was, honestly, the main source of flavor on my order.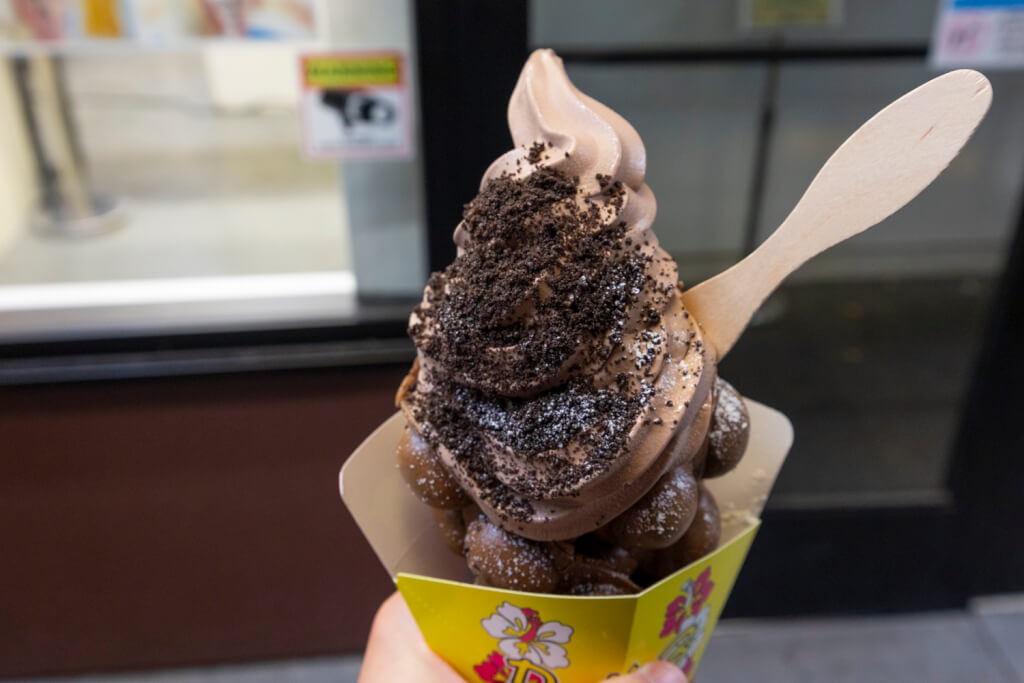 Mrs. Island Miler went with the Fruitty Pebbles soft serve in a vanilla bubble waffle, sprinkles, and Oreo crumbs. Though I didn't try her's, she was far happier with her order than I was with mine. So it would seem that, if you come here, you should stay away from the chocolate flavors and go with the more "interesting" stuff. It's worth noting that Mrs. Island Miler didn't have an issue with the ice cream texture like I did.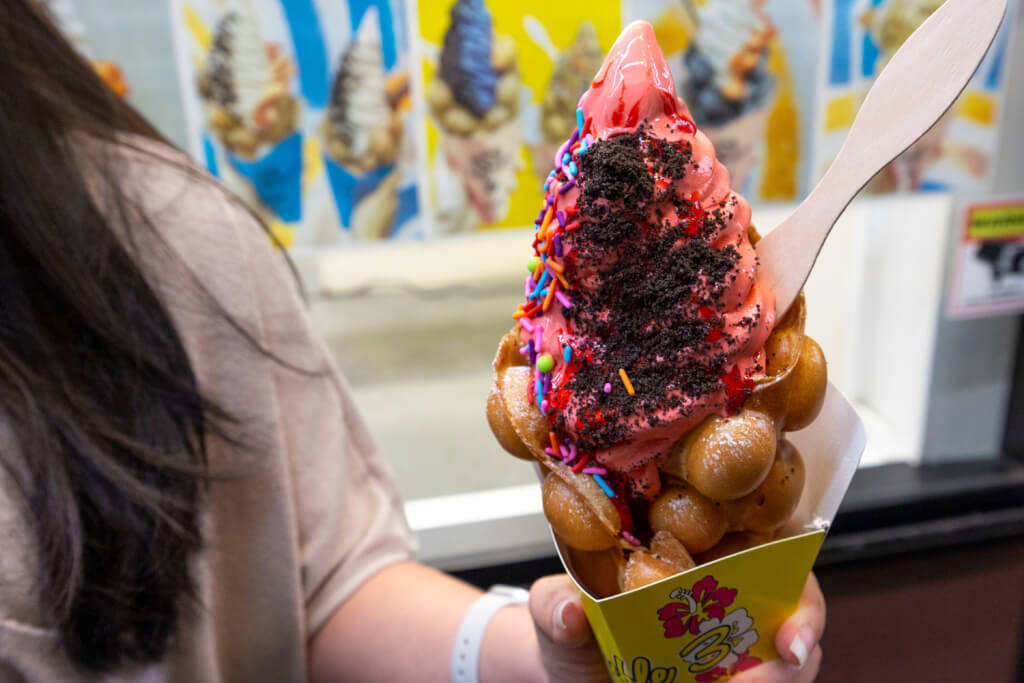 Final Thoughts
Given my preferences, I wasn't really a fan of Double Three. But if you're someone that likes more "fun" flavors, come check this place out. It isn't cheap – we paid over $20 for our two orders – but you do get your money's worth. Though it doesn't look like much, these things are quite substantial. We certainly could have shared just a single order, and I think we will when we return.