To celebrate Earth Day, Southwest Airlines is letting its frequent fliers earn 20 Rapid Rewards points per dollar when they offset their carbon footprint. Not only will you get Rapid Rewards points, but Southwest will also match your carbon offset purchases two to one.
Like many other large airlines in the U.S., Southwest is working towards fueling its fleet with sustainable aviation fuel (SAF). In fact, by 2030, Southwest expects to use SAF for 10% of its needs which, while not a lot, if more than Hawaiian has committed to doing right now. But, at least for now, Southwest is committed to doing a little more.
Earn 20 Rapid Rewards Points per Dollar
In celebration of Earth Day, and in an attempt to educate customers about their carbon footprint when traveling, Southwest is letting us earn 20 Rapid Rewards points per dollar spent on offsetting our carbon use. To do so, you'll need to go to this page on their website.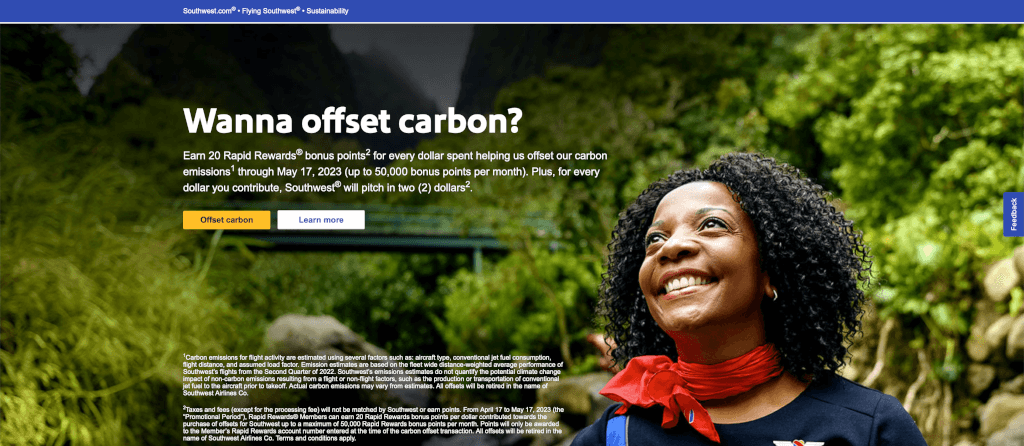 From there, you can only make purchases by entering flight information. Since I haven't gone anywhere yet this year, I began putting in my flight information for last year. Apparently, my flight from Honolulu to Hilo and back with Mrs. IslandMiler last year produced 416.78 lbs of carbon dioxide (just for the two of us), which will cost me $3.52 to offset.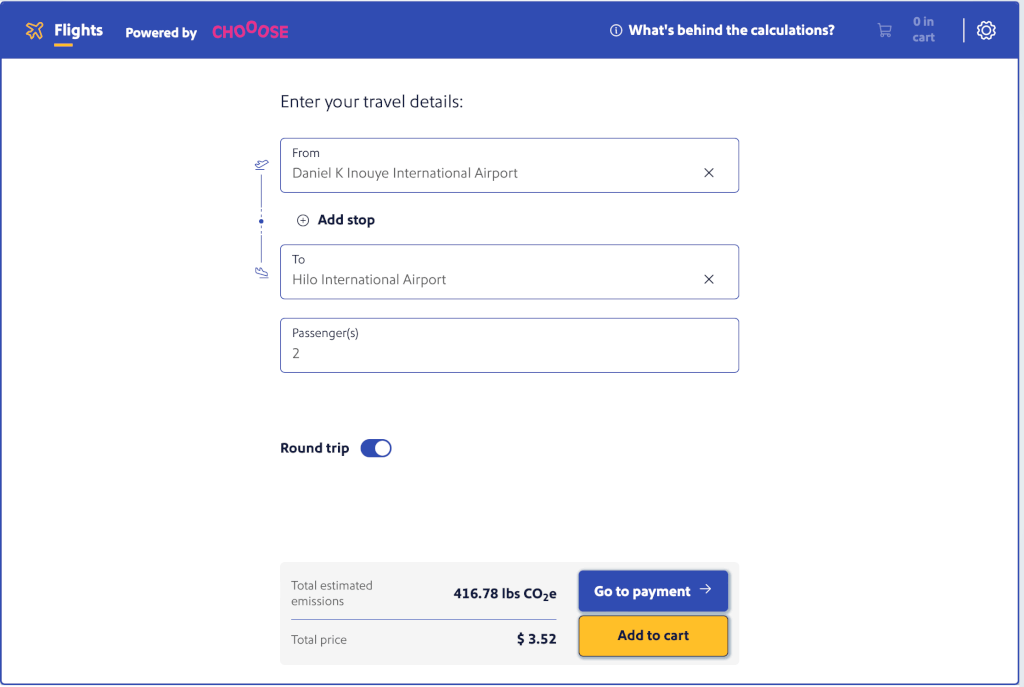 In all, my air travel last year produced 2.12 tons of carbon dioxide . To offset that will cost me $21.07, inclusive of a $0.40/passenger/segment fee, and a processing fee that amounts to 2.9% plus $0.30. Subtracting for the fees, my carbon offset will earn me 326 Rapid Reward points.
In case you're thinking that isn't a lot of points, remember that a base Rapid Rewards only earns six points per $1 spent on Wanna Get Away and tops out at 12 points per $1 spent on Business Select fares. A-List Preferred, on the other hand, earn 12 points per $1 to 24 points per $1, respectively. So, for those of us that don't have status with Southwest, this is a great chance to scoop up points QUICK.
How to Maximize This Promotion
Since the fees for the carbon offset transactions are based on passengers per segment, the best thing to do would be to punch in two of the fathers airport pairs as possible. Unfortunately, you can only use airports that Southwest flies to, though, thankfully, you're not limited to real Southwest routes. So, to minimize your fee liability, be sure to use HNL and BOS – a route Hawaiian operates, but that also works with the carbon offset tool. This will come out to 1,064.85 lbs of carbon dioxide, $5.11, and 87 points per person you add.
Final Thoughts
It's sounds like a lot to earn 20 Rapid Rewards points per dollar, and it kind of is. Unfortunately, for my Hawaii people, you'd need to spend over $400 on this promotion to earn enough points to earn you a free inter-island flight. At that point, you're better off just buying your ticket – especially when an inter-island ticket currently comes in at about $50 to $60 (base) per person and segment.
That said, I do like this promotion. You can help to offset your own impacts while earning points for it and Southwest will offset even more.