Labor Day is one of the largest shopping days in the U.S. This year, Hawaiian Airlines fans can earn 5 HawaiianMiles per dollar on Labor Day when they shop in-store. However, the offer is available only at a specific mall and has a minimum spend requirement.
As you all know, I'm not really a fan of Hawaiian Airlines. But if you are, you probably know this type of deal happens fairly frequently, and it is almost always the same thing. But if you haven't heard of its most recent incarnation, then here's your heads up.
Earn 5 HawaiianMiles Per Dollar on Labor Day
If you want to earn 5 HawaiianMiles per dollar on Labor Day, here's what you need to know:
Location: Kahala Mall
Date: Monday, September 4th
Minimum Spend: $100
Redemption Limit: $300
Redemption Hours: 10:30 am to 6 pm
Redemption Location: Center Court
You can attain your minimum spending requirement with a combination of receipts from as many stores within the mall as you like. However, certain merchants have a $100 credit limit under this promotion. Those stores include:
Apple
AT&T
Gamestop
Lenscrafters
Longs Drugs
Macy's
Ross Dress For Less
Sephora
Verizon
T-Mobile
Whole Foods
Naturally, tax and tips do not qualify as part of your spending requirements under the promotion. Further, you must opt for printed receipts for all of your transactions – Kahala Mall's redemption tables will not accept electronic/email receipts. And, of course, any returns will trigger a clawback.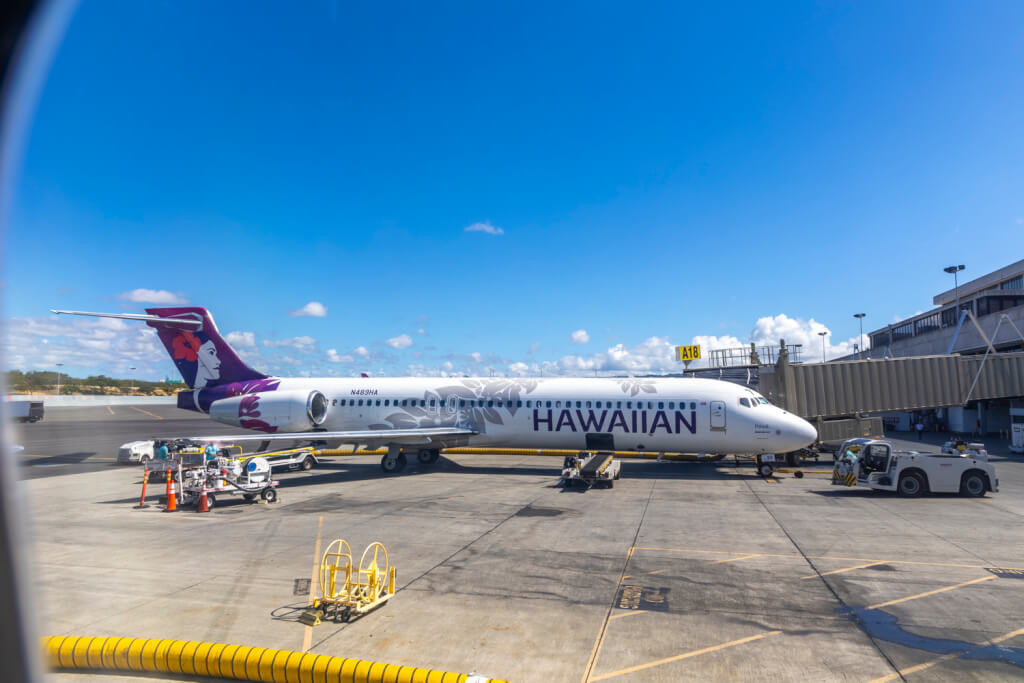 Stack Your Earnings
When you shop to earn 5 HawaiianMiles per dollar on Labor Day, it isn't tied to any specific form of payment – you can pay with cash, credit, or debit. But savvy shoppers will use specific cards to stack their earning potential. For example, let's say you make the following purchases at Kahala Mall on Monday:
$100 at Whole Foods
$100 at CPK
$100 at Tori Richard
If you put the above purchases on your Hawaiian Airlines World Elite Mastercard, you'll earn 1,500 miles from the Mall's offer plus another 500 miles from the card, as the card earns 2x miles for grocery and restaurant spend. That gives you a total of 2,000 miles.
However, if you have an American Express Gold Card, you can earn 4x miles on the grocery and dining portion of your spend, which would be 900 Membership Rewards (MR) points, which you can redeem 1:1 for HawaiianMiles. That gives you an overall accrual of 2,400 miles.
Yet another option is the American Express EveryDay Preferred Card, which earns 3x points for groceries plus a 50% bonus if you make 30 transactions during your billing cycle. If you maximize those earnings, then you can earn an additional 450 MR points from Whole Foods, 150 MR points from CPK, and 50 MR points from Tori Richard, giving you 750 additional MR points that transfer 1:1 to HawaiianMiles. That's 50% more additional miles than you would've earned with the Hawaiian Airlines World Elite Mastercard for roughly the same annual fee.
Earn 5 HawaiianMiles Per Dollar on Labor Day, Final Thoughts
Honestly, is it worth your while to take advantage of this promotion? If you were already planning on hitting up Kahala Mall for their Labor Day Sale, then sure. However, it's not something I'd go out of my way to get. 2,000 – or even 2,400 miles – won't get you anything. But if you're working on saving up miles for redemption soon, then heading to the Mall may make sense. However, one thing is certain – you can earn quite a bit more miles if you pay with certain American Express cards. But hey, you do you.