Yesterday, I was looking at my account, anxiously awaiting the ability to merge my accounts once again.  And that's when I noticed that Earning Marriott Rewards Ambassadors status is different.  What do I mean by this?  Well, it comes down to what Marriott considers qualifying activity.
With Marriott's new loyalty program now in effect, many of us are still trying to make sense of it all.  As of yesterday, many accounts were still in disarray, and even when I called to make adjustments to existing reservations, things weren't going so smoothly.  The associate was very friendly, calm and collective, but I did feel bad for her trying to make head or tells of a system that wasn't working the way it should.  But beyond the basics, many of us are still trying to make sense of how things will work going forward.  Marriott, after all, hasn't been as forthcoming as many would like.  Slowly, by slowly, though, we'll figure things out.  Case in point, how earning Elite status works under the new program.
Earning Elite Status 101
Now, for existing Marriott Rewards members, things aren't so different than they were before.  Yes, there are new tier levels, and Gold is now just a big a joke as Silver; but status is still earned based on the number of Elite Qualifying Nights (EQN) you accumulate during the calendar year.  And, as has been the case for some time now, EQNs include those earned via stays, credit card spend (Marriott Premier Visa only), rollovers (RIP), Rewarding Events, etc.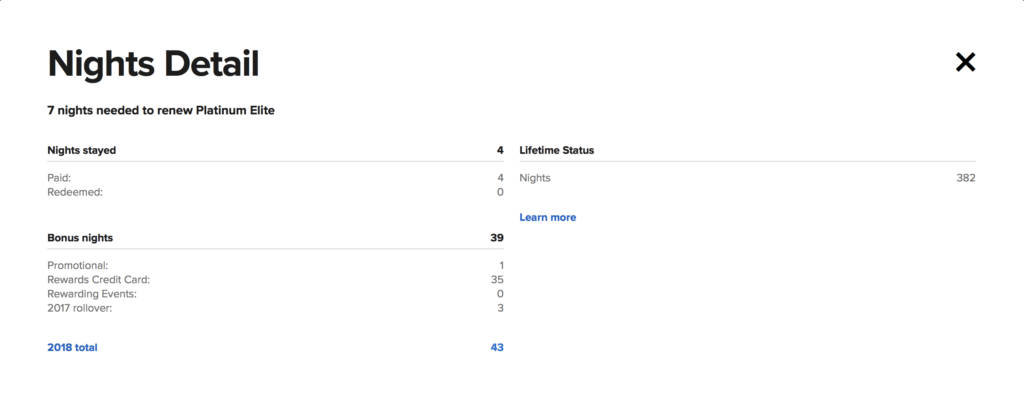 For example, the above is what my 2018 earnings look like thus far.  As you can see, the bulk of my EQNs came from credit card spend, though I do have a number of stays coming up throughout the rest of the year.  But, as I was looking over my account on the new system, I noticed this: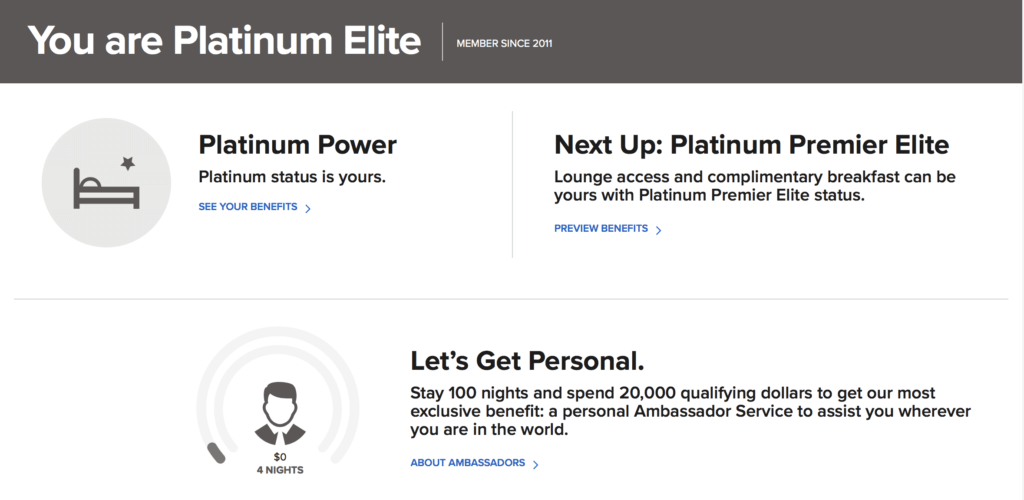 Not All EQNs are Equal
Apparently, not all EQNs when it comes to earning Marriott's top-tier status.  As the graphic above shows, only nights spent in bed at a Marriott property count towards Ambassador status.  And, you know what?  I have no problem with that.  It should be for those actually spending that many nights annually on the road to reward those that deserve it most.  So long as the restriction only applies towards earning Ambassador status, which it should.  After all, even the new Marriott Rewards credit cards are marketed as providing 15 EQNs to help you achieve status faster.
Earning Marriott Rewards Ambassador Status is Different, Final Thoughts
Again, I have no issue with the way Marriott is handling qualifications for its Ambassador status and even applaud them for it.  I'm happy with being just a Platinum Elite and am hoping I'll be able to achieve Lifetime Platinum Elite (LTP).  Once my accounts combine, I should automatically become Lifetime Gold, so I'll only need to earn 200 more nights and maintain status for two more years to achieve my goal.  That, however, is contingent on the Marriott Rewards Premier Visa maintaining its EQN earning benefit.  If that ability is taken away, well then I'll likely never achieve LTP status.  And that, my friends, is when I'll take my business elsewhere for sure.  But for now, I'll continue to chug away.