Great news!  Kilauea Volcano's lava flow 61G has reached the sea.  In the wee hours of Tuesday, July 26, the lava flow crossed the Emergency Access road and flowed into the ocean.  This is the first time in 3 years that Pele (goddess of fire) has met her sister Namaka (goddess of the sea).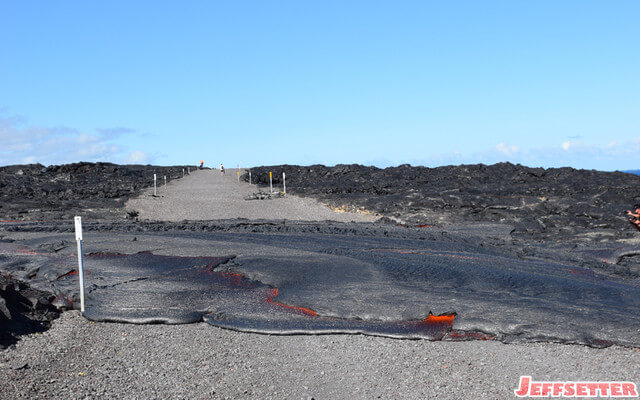 Flow 61G actually originates from the Pu'u  O'o vent on Kilauea's East Rift Zone.  In fact, the East Rift Zone is the most active region of the Kialuea Volcano.  This zone has been in a state of near continuous eruption for over 30 years now.  It's also responsible for most, if not all lave flows entering the ocean during that time.
Unfortunately the Pu'u O'o vent and other vents in the East Rift Zone are inaccessible.  So unless you take a helicopter tour, you aren't going to see the flow's origination point.  But that's ok, Flow 6G, like most of Kilauea's flows, isn't the result of a fountain eruption.  Rather, it's just a flow originating from the Pu'u O'o vent underground.  Likewise, the glow you see at Kilauea's summit (Halemaumau crater) isn't from an eruption or a flow.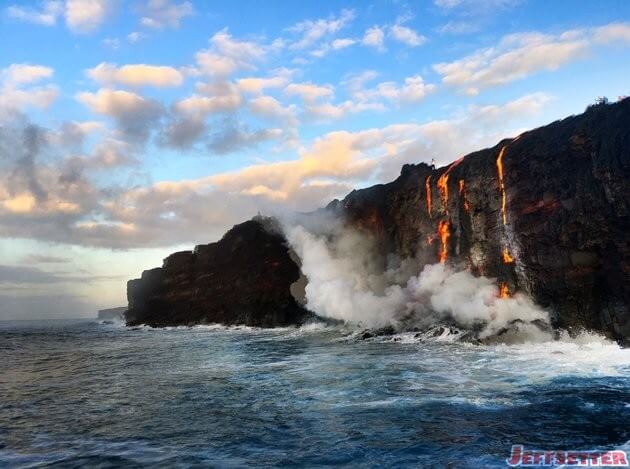 To access the flow, you can approach from the Hawaii Volcanoes National Park or the State Highway.  For viewing from Volcanoes NPS, simply drive to the end of Chain of Craters Road.  There, you'll park in the small lot or along the road near the Holei Sea Arch.  From there, it'll be a 10 mile roundtrip hike through the jagged, hot, lava dessert.  To access the flow from the State side, simply drive to the end of Highway 130 and park.  From there you'll need to hike 6-8 miles one-way along the gravel Emergency Access Road to reach the flow.  Volcanoes National Park is open 24/7, though the viewing area may not be.  Check with Park Rangers before heading out.  The State viewing area does close nightly at about 9pm.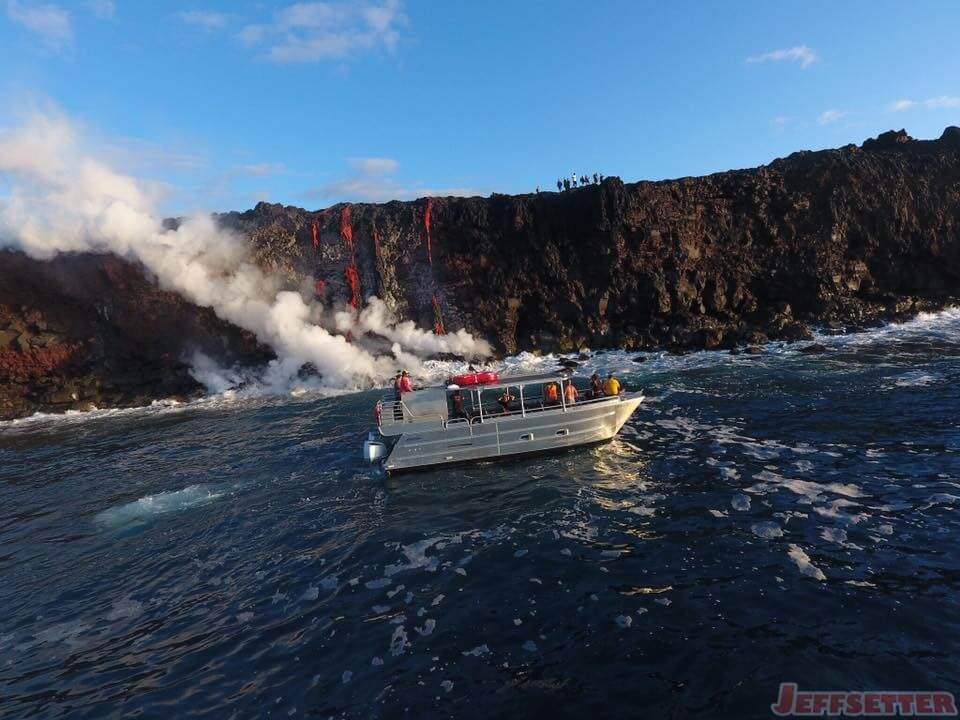 Another alternative to view the flow would be to simply take a boat tour.  The one above, Lava Boat Tours, is responsible for the majority of the photos of the flow from the ocean.  They were the first on the seen and have been running tours since day one of the flow 61G's ocean entry.  I can't vouch for their service as I've never been on one of their tours.
At any rate, if you've dreamed of seeing a lava flow and/or new land being formed, now is the time.  It's best to get to the Big Island NOW if you can, as flows often change course or stop suddenly without warning.  Likewise, the flow could go on for years without interruption.  Either way, the sooner you can go the better.