Today's podcast was a short episode today where I share something that has been recently on my mind. To date, the one way podcast has been a place where I sort of just talk about what is on my mind, travels, etc.
It's not been consistently delivered, "produced", or anything along those lines.
And I kind of like it that way. I speak into a microphone and anywhere from 100 to 500 of you listen to what is going on. I still have a hard time believing that any of you have the patience to hear me this long.
I could continue doing "weekly' episodes, with Jeffsetter and BoardingArea as my main distribution channel for listeners. Each week I would talk about travel topics on my mind.
Or I have another direction where this could go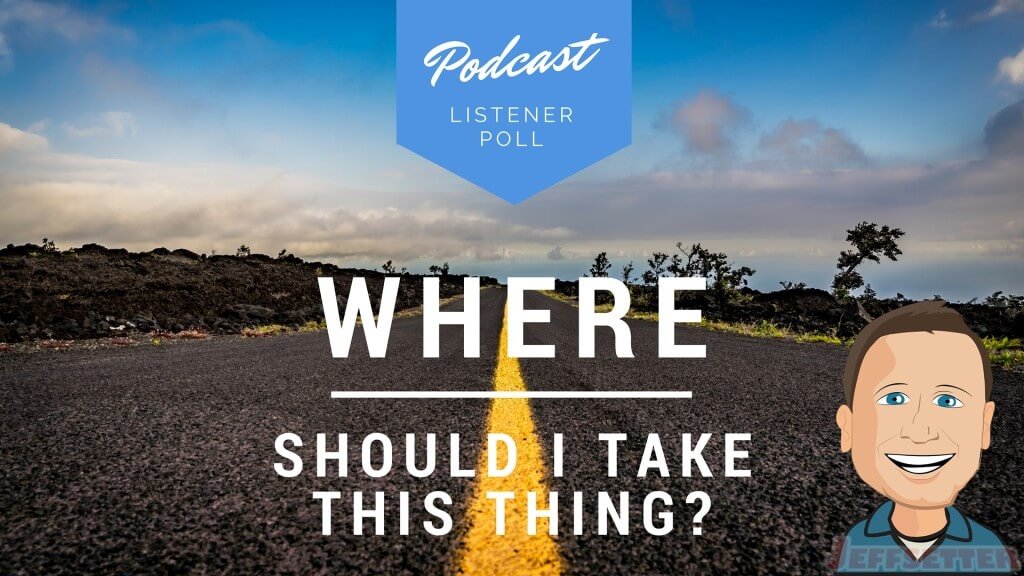 Lately I have been getting a lot of interviews about being a digital nomad and full time traveler. We were featured in my local paper in MN last week, which was a huge deal for me.
It seems like there are a million travel blogs talking about points and miles, and I can't add anything new other than personal experiences.
There are probably an equal number of blogs talking about being a full time traveler, I just haven't really read them.
And there are probably a million people trying to start a blog writing about starting a business as well.
But I don't know that there are a lot of people who are trying to do all three at the same time. This is an intersection where I feel that I can be unique and stand out. But it also is risky, because the audience seems much more narrow.
I recorded audio for a podcast called "how to live a cool life" earlier this week and it was one of my favorite interviews, because it got to talking about all of these things. Travel, points and miles, working on the road, relationships, travel tips, freedom of choice and what it means to me, etc.
We talked about potentially creating a new podcast where I go into way more depth on this topic and focus on all of these things and being a part of his growing podcast network.
Now that sounds really interesting. Creating more in depth podcast episodes about the business of full time travel, personal finance interviewing others and sharing tips so people can do it on their own is very appealing to me. We would still talk points and miles, but it would be as a means to an ends, and not the ends.
Plus, it would come with more resources for promotion and reach an entirely different audience.
But at the same time, this would be somewhat of a departure from what we have been doing on the One Way Podcast and it may alienate the hundreds of listeners for the podcast.
So while nothing is really happening behind the scenes yet, I thought I would pose the question on the podcast. Would you stop listening to the podcast if I changed focus slightly?
Would you be more engaged if the podcast were more professionally produced and fit to a more regular schedule?
I am guessing that this one might be split down the middle.
So I have set up a poll to vote in this post and encourage you to leave comments.
[polldaddy poll=9284107]