Hawaiian Airlines fans have a reason to celebrate a little more this New Year as, for a limited time, you can get 20% more HawaiianMiles when you transfer your American Express Membership Rewards points! Vegas (or Hawaii) just got a little bit closer.
As you all know, American Express periodically offers bonuses when you transfer Membership Rewards points to their transfer partners. Right now, that bonus applies to Hawaiian Airlines.
Get 20% More HawaiianMiles
From January 1 to 31, 2023, you'll get 20% more HawaiianMiles when you transfer points from American Express. To take advantage of this offer, all you need to do is redeem points during the promotional period with a minimum of 1,000 points per transaction in 1,000-point increments. The maximum number of points you can transfer is 999,000 points, which would net you a whopping 1,198,800 HawaiianMiles. Of course, you do also need to pay taxes for the transfer, amounting to $0.60 per 1,000 points or an additional 120 points.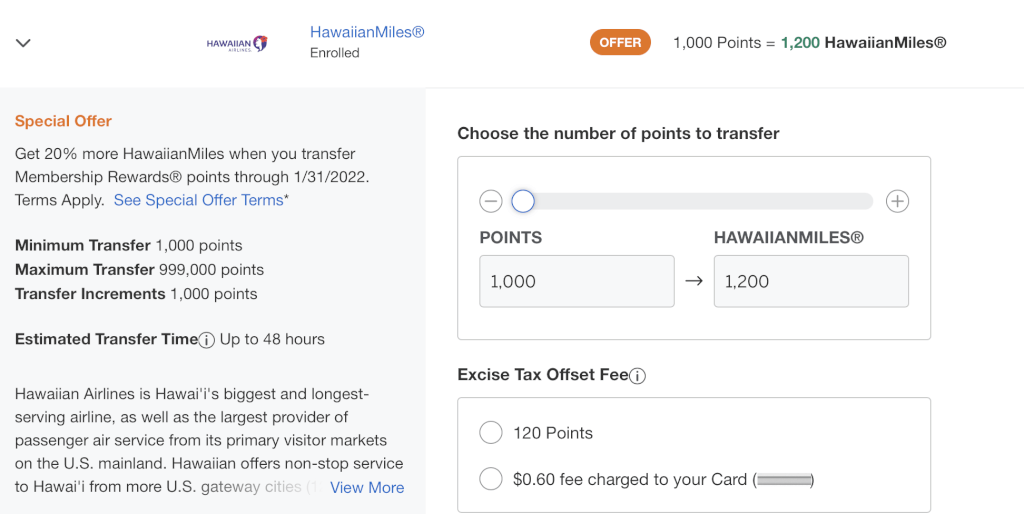 If you're planning a big HawaiianMiles redemption this year, now (or sometime this month) might be a good time to make a transfer. Here is some example uses for this promotion:
Roundtrip Economy West US Flight: 34,000 MR points + $20.40 (or 4,080 extra MR points) –> 40,800 HawaiianMiles
Roundtrip First Class West US / Economy Asia: 67,000 MR points + $40.20 (or 8,040 extra MR points) –> 80,400 HawaiianMiles
Roundtrip First Class Asia: 109,000 MR points + $65.40 (or 13,080 extra MR points) –> 130,800 HawaiianMiles
These aren't earth-shattering savings, but they do help! Of course, the more you transfer, the more you get. It's just too bad Amex charges taxes on transfers – Chase doesn't. However, I wouldn't advise using extra points to pay for the taxes, as they almost negate the bonus.
Final Thoughts
While it's always nice to see this bonus roll around, it isn't as good as the 25% bonus Amex was giving us last year. But, hey, a 20% bonus is a 20% bonus. So, who's planning on to get 20% more HawaiianMiles? And if you are, where are you planning on going with them?