*Update: this deal is no longer available*
I just signed up for a Chase Sapphire Preferred card for my family and used the following method to get a maximum bonus for signing up. Please note that this method may not work for everyone or may not last long.
If you visit the standard Chase Sapphire Preferred credit card landing page, you will see an offer for a 40,000 bonus on the credit card. This is a quality signup bonus and something that I was about to take advantage of at some point this week after seeing that 5,000 bonus points were being added for an authorized user.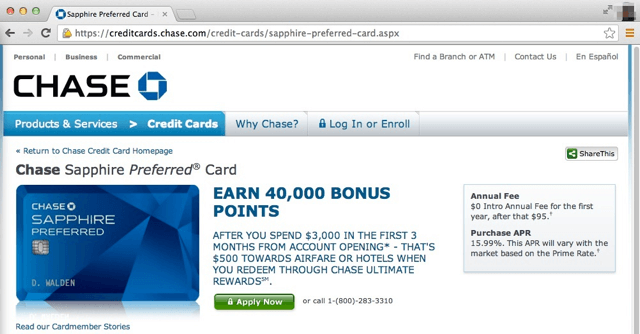 Then Gary alluded to a 50k + 5k signup bonus being available and wrote a post on it. Before I was able take advantage of this offer, it was reported to be no longer available. However, if you read the comments on the post you will notice that there is a specific link that allows you to still take advantage of that offer. You can do so by going to this link directly:
*Update: this link has been removed because it is no longer working*
If this is your first time visiting the Chase site on your computer (in other words, if Chase has not set a cookie on your computer to indicate you are a returning visitor), you should see the 50,000 point signup bonus, which also entitles you to 5,000 additional points if you add an authorized user to the account.
If you have visited the Chase site previously, then you may only see the 40,000 point signup bonus, even when using the link above.
Depending on your web browser, the way to get around this is to choose incognito mode (Chrome), Private Browsing (IE, Safari, Firefox), which allows you to browse the web without recognizing cookies from your previous visit or being set for your this visit.
Here is a screen shot of my computer when displaying the 50k bonus.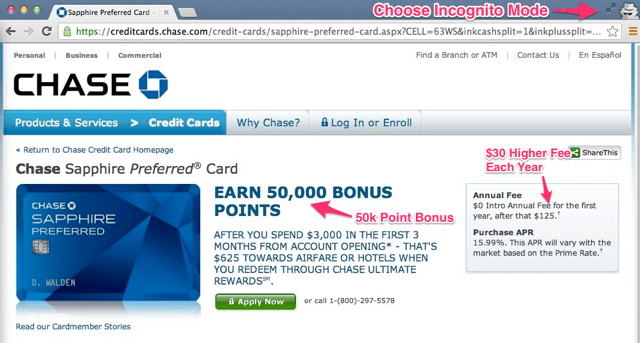 Once I was in incognito mode I went through the application and was instantly approved. I had a friend do the same thing last night and he was approved as well. Please note that your results may vary here and you should only sign up for credit cards if it makes financial sense to do so.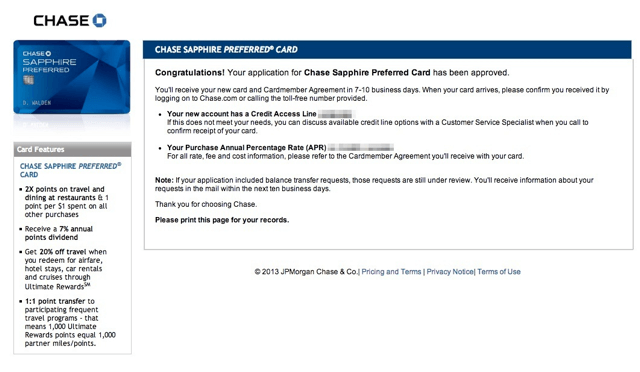 Is 10,000 Additional Points worth an additional $30 Annual Fee?
Depending on how you feel about annual fees for credit cards, you may find that it is not worthwhile to pay an extra $30 a year for 10,700 points (10,000 points plus a 7% annual dividend). Here is how I would break down that decision (it's early in the morning so please forgive me if the math is a little off):
Year 1: With the annual fee waived, it makes complete sense to choose the extra 10,700 point bonus and pay $0 extra.
Year 2: If we average out the bonus plus annual fees over 2 years, it may look something like this:

50k Bonus: 50k base points + 3k minimum base points for spend + 3,710 point dividend = 56,710 points for $125 fee.
40k Bonus: 40k base points + 3k minimum base points for spend + 3,010 point dividend = 46,010 points for $95 fee.
That means in year 2 you earn 10,700 points for an additional $30. It would be difficult to get this many points for that price elsewhere.

Year 3: In year 3 you will still have a minimum of 10,700 extra points for an additional $60. I still consider this to be worthwhile.
All of these calculations assume that you are comfortable spending $3,000 in the first 3 months of holding the card to receive the bonus. No matter how I look at it, it makes the most sense to choose the 50k point deal, assuming that it is available to you when you read this. It also works out for Chase as well because they are getting more revenue out of their long term customers for choosing the higher bonus.
Either way, Chase's strategy works best when we turn into loyal customers who hold the card for a long time. Chase is willing to make a short term investment to develop a long term customer. Understand that the longer people hold these cards, the more likely large signup bonuses will be available in the future (because that indicates their new customer acquisition strategy is working).
H/T to the comments on Gary's and Lucky's Blogs for Originally Discovering this method. I do not receive affiliate credit for this link, I just wanted to point you in the direction of a signup bonus that I have taken advantage of myself. Now my entire family is outfitted with Sapphire goodness.