Outside of Tex-Mex, San Antonio doesn't appear to have much in the way of fusion cuisine, at least in my opinion.  And I don't mean kitschy fusion for the sake of being fusion, I mean real melding of cuisines.  But things appear to be changing with a new breed of restaurants opening.  One of which is The Granary Cue & Brew.
The Granary Cue & Brew
Located at the Pearl Brewery, The Granary is a restaurant and brewery that celebrates barbecue and beer.  Obviously.  But its so much more than that.  The restaurant actually presents a progressive, seasonally-driven menu.  Think California Cuisine, but adapted to Texas tastes and ingredients.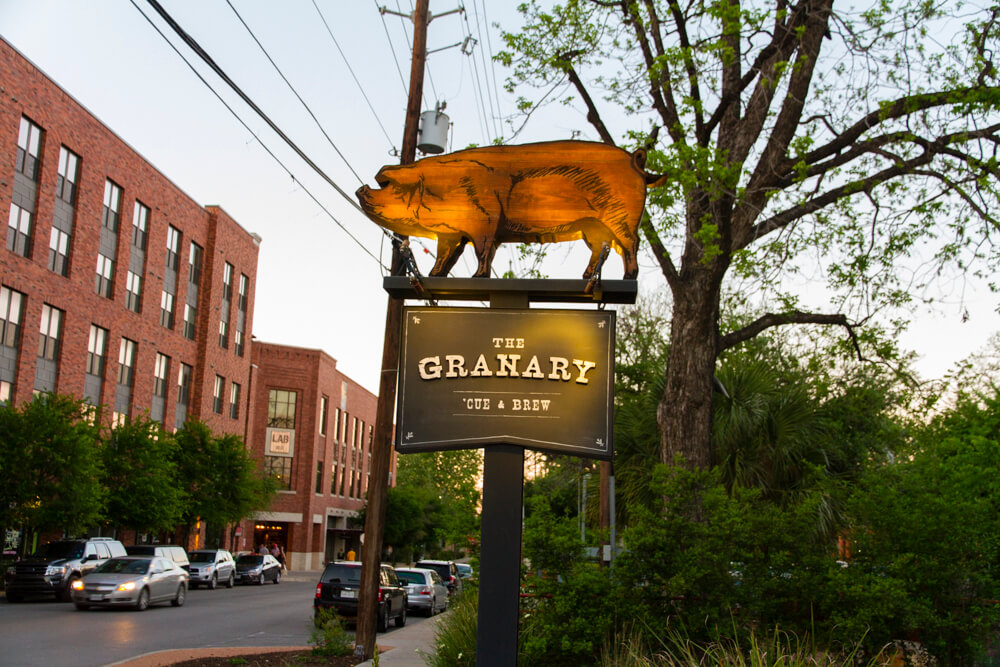 Service
I made my reservations for a Thursday night during my conference.  It was the one free night we had during the conference, so I had to make my choice count!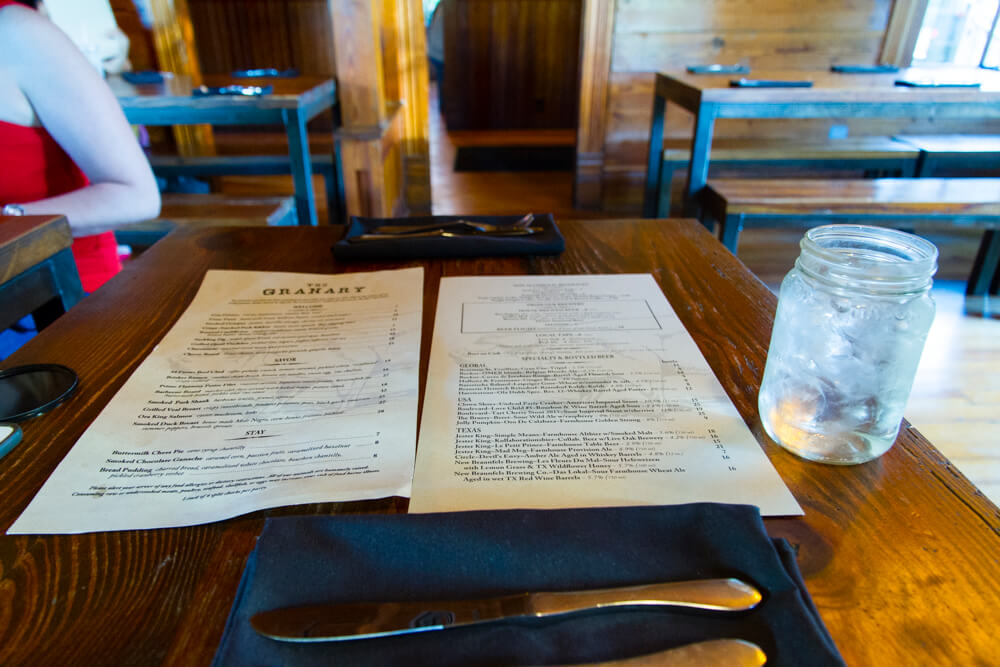 When I arrived at the restaurant, the friendly host greeted me and had me seated right away.  Once seated, my server introduced herself and went over the menu with me.  She gave my a bunch of great recommendations, but I was dining solo, so I couldn't try everything.  Instead, I decided to try one of her recommendations and try the basic, traditional stuff for my main.
The Food
To start, I went with my server's recommendation and ordered the Texas Toast.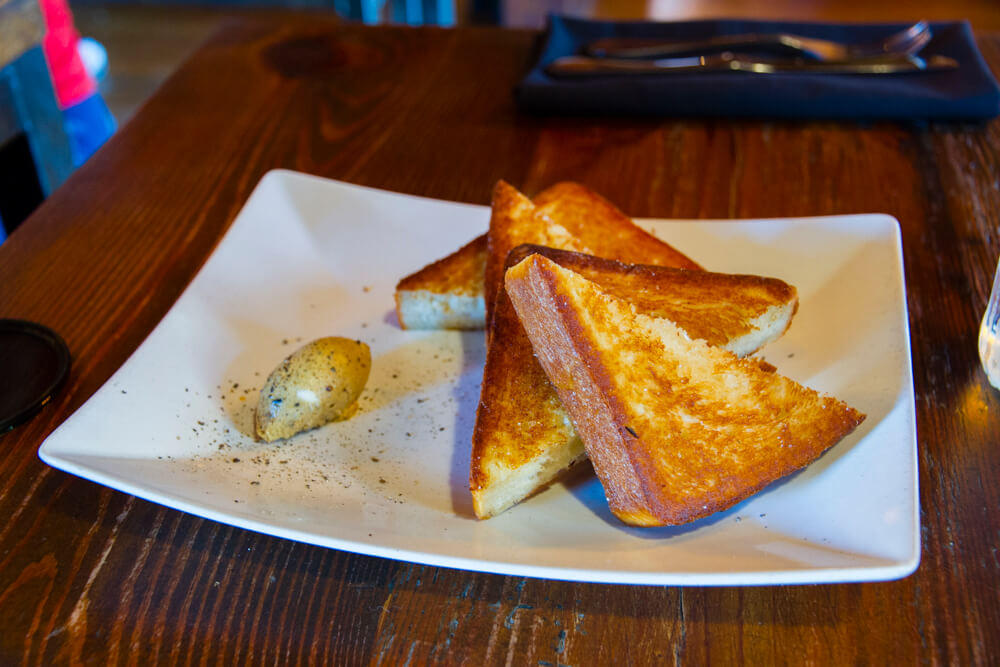 Looks and sounds simple, but it is not.  The standard Texas Toast is buttered, toasted, and served with barbecue butter.  I was skeptical about the barbecue butter, but my server said they take the barbecue pit drippings and make a compound butter with it. The toast with the butter is fiendishly good, but I could literally feel my pores clogging with every bite.  It's super filling too, so you really can't eat much.  In fact, without the black pepper, it would be even more difficult to eat.
For my main, I went with the Barbecue Board.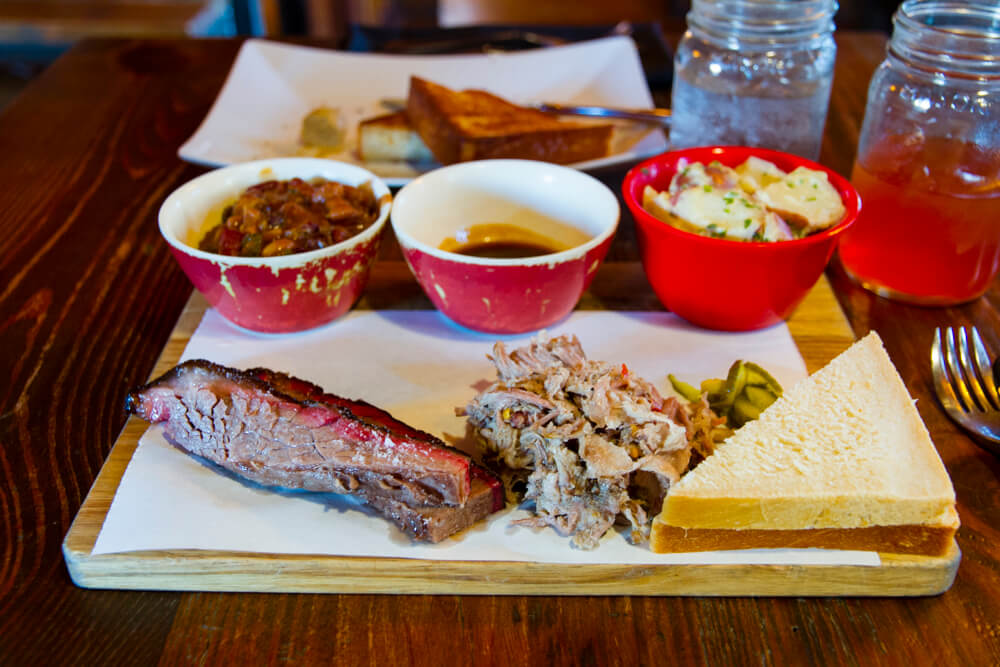 The Barbecue Board comes with brisket, pulled pork, baked beans, potato salad, buttermilk bread, pickles, and 'cue sauce.  Compared to the Smoke Shack, the brisket at The Granary Cue was much more moist and had a bit more fat.  The pulled pork still didn't have as much flavor as I'd like, but I'm probably too used to Hawaiian kalua pig.  Nothing some cue sauce doesn't fix!  The baked beans, though, were very flavorful and had nice bits of bacon in it.  Yum!
I so wanted to try the the Bread Pudding with bourbon chantilly and pickled cranberry sorbet, but by this point I was too full.  Oh well… Will have to make it a point to get back here sometime in the future.

The Granary Cue Final Thoughts
Though there weren't many places I got to eat in San Antonio, the Granary Cue was easily my favorite.  Service was good and the quality of the food great.  Besides, there's many more things I want to try on the menu, like the bread pudding, Brisket Ramen, 44 Farms Beef Clod, Smoked Octopus, and more.  And while this isn't a traditional barbecue experience, The Granary definitely gets traditional barbecue right, while also offering a variety of modern takes.  It's some place I'd definitely recommend to anyone visiting Alamo City.