This is our 6th and final post about things to do and eat in Hawaii. Kyle has been an amazing contributor to Jeffsetter over the past 6 weeks and I wanted to thank him for his great contributions. Please leave positive comments for Kyle if you also enjoyed his posts.
Here is a list of Kyle's posts: Things to do on Oahu | Oahu Dining Guide | Things to do on Maui | Maui Dining Guide | Things to do on the Big Island | Big Island Dining Guide. 
The Big Island isn't exactly known for its dining the way Oahu & Maui are.  Not to say there isn't great food on the B.I., but you'll have to be willing to travel for it.  And It's worth noting that what's considered upscale dining on one side of the island, is quite different from the other side.
The Seaside Restaurant is the Hilo version of upscale/fine dining, save for the restaurant at the Volcano House within Hawaii Volcano National Park. The restaurant looks like it was converted from the house on the outside, and continues to look like that on the inside, including the glass over the table cover.  Service is friendly, but rough around the edges.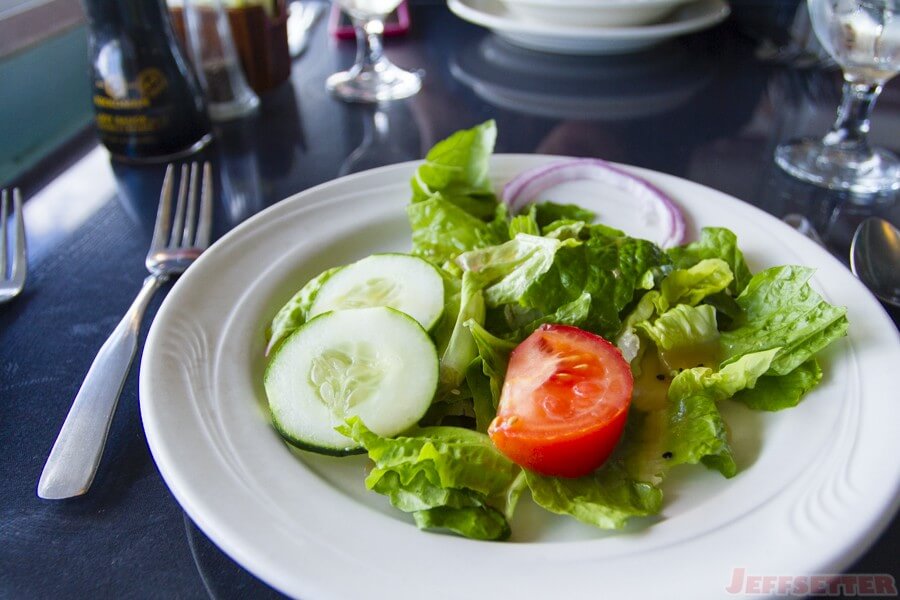 Salads here are fresh, if unremarkable.  The house sesame dressing is tasty, but honestly tastes like store bought dressing with some extra ingredients added to it.  My wife had soup, which she said tasted exactly like canned soup.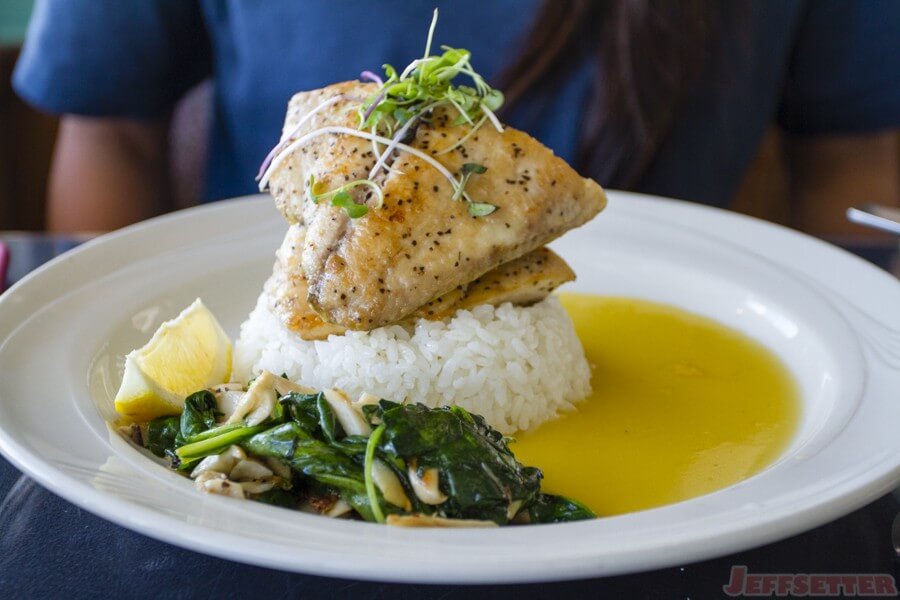 Where this restaurant does it's best, however, is with seafood.  The wife ordered the above Seared Kona Kanpachi with a Lilikoi Butter Sauce.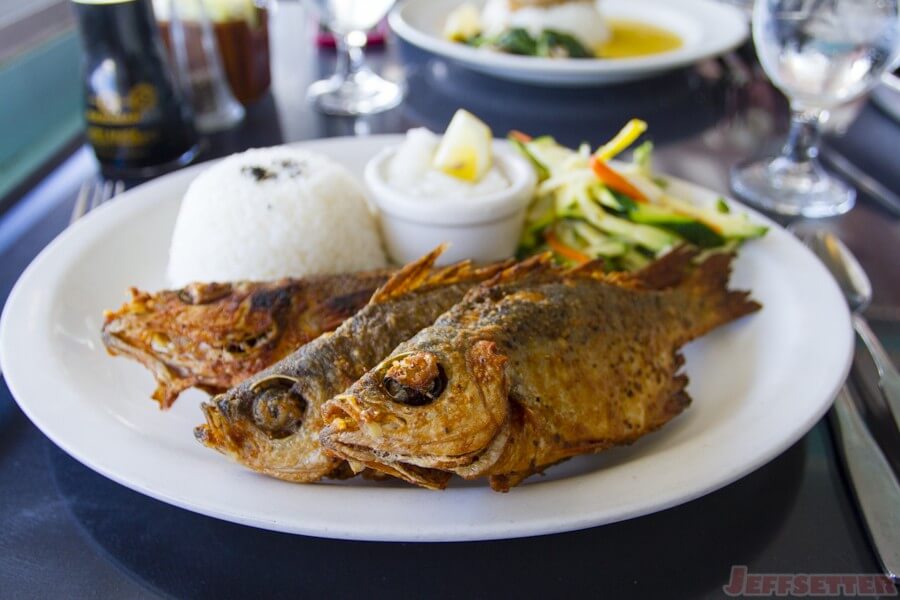 I, for one, ordered a childhood favorite… crispy fried Aholehole (Hawaiian Flagtail).  This was delicious, but at nearly $30, was very expensive.  Being too full, we skipped dessert.
Ken's House of Pancakes is probably the only 24 hour restaurant in Hilo, and one of the few on the entire island.  They're known for their breakfast foods, but they do serve regular lunch and dinner items.  I haven't been here in years, but generally it's known for having average food in a convenient location not far from the airport.  Locals that do go there often make this their first stop when arriving in Hilo.  The few times I went there I ordered omelets with pancakes and doused them with coconut syrup.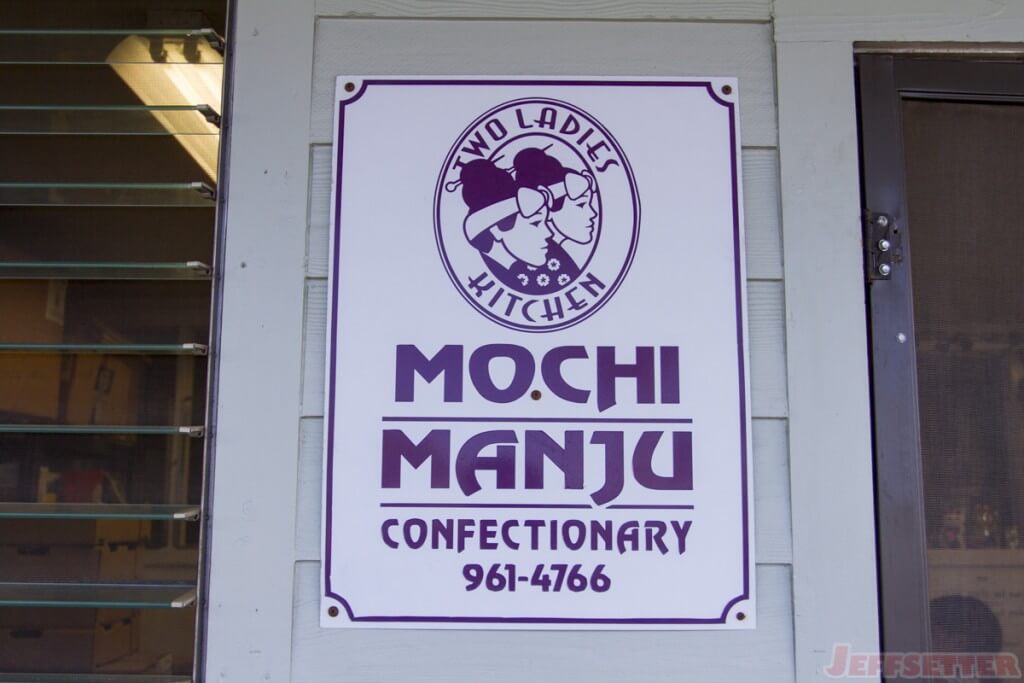 Two Ladies Kitchen is a Big Island institution located in downtown Hilo.  As the sign suggests, they make the Japanese confections mochi & manju here. Mochi, of course, is the pounded glutenous (sweet) rice cakes, while manju is a pastry/pie like shell that's usually filled with sweetened azuki beans.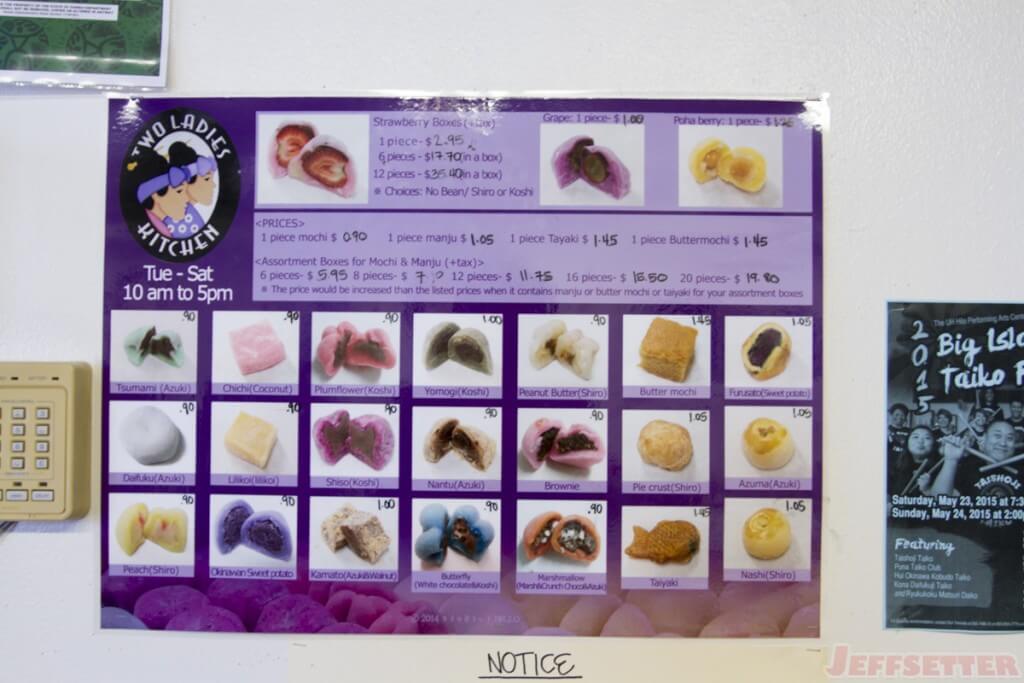 The variety of mochi they have here is insane and many are pretty nontraditional.  What Two Ladies are best known for, however, are their strawberry mochi.  It's basically a large strawberry with a little sweetened azuki beans wrapped in mochi.  Were items for them are the grape & poha berry mochis.
Unfortunately, the USDA prohibits the transportation of strawberries from Hawaii to the US mainland, so you won't be able to bring this home.  Besides, all of the mochi needs to be consumed within 3 days max.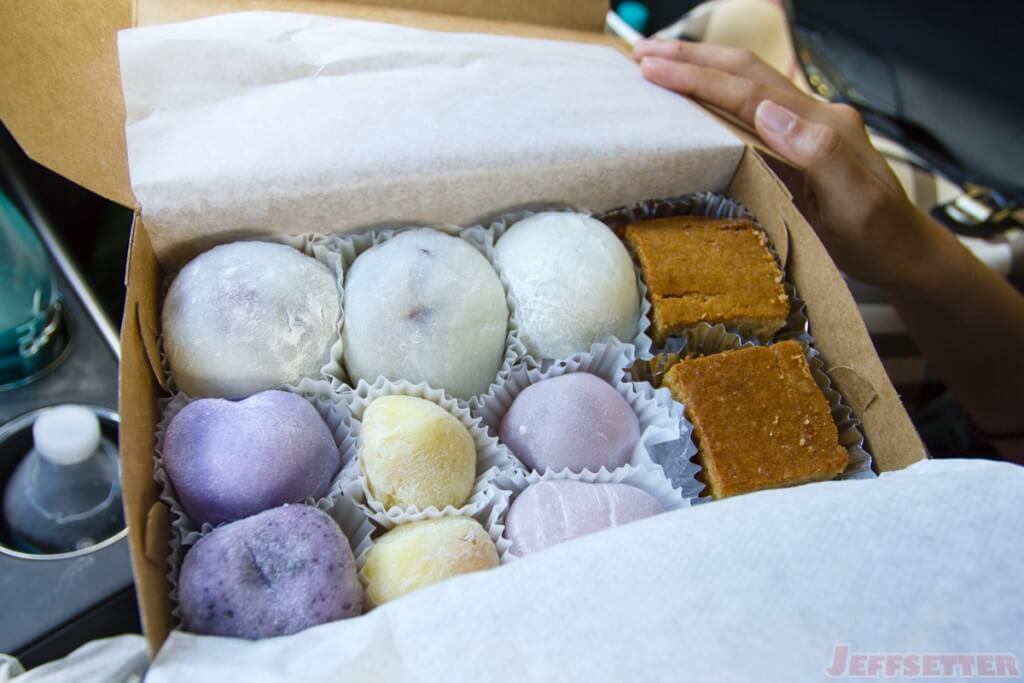 My favorites?  The strawberry of course!  The lilikoi, butter, shiso, grape, and Okinawan sweet potato are other favorites.  They're open only Tues-Sat, 10am-5pm.  There is no parking lot, so you'll need to find street parking or park at the nearby park and walk over.  This small, mom & pop shop is cash only.
The Rim is probably one of the only true white table cloth restaurants on the Hilo side of the island.  Unfortunately you'll need to pay the park admission fee to access the restaurant.  I haven't dined here before, but the menu does look reasonably interesting and the view looks pretty good too.
Cafe 100 is credited with creating the infamous Loco Moco (white rice, hamburger patty, gravy and an egg or two).  It's a hearty and much beloved local dish.  While the loco moco is what they're best known for, they do serve other items like fried chicken, sandwiches, breakfast plates, etc.
Hilo Bay Cafe is another local icon, located right on Hilo Bay.  It's an upscale restaurant serving American classics like crab cakes, steaks, etc with a local twist.
Cafe Pesto is a popular Italian restaurant located in downtown Hilo and in Kawaihae, though the Kawaihae location is the original.  While it's advertised as an Italian restaurant, they do have a mixed menu that includes surf & turf, wok fried seafood, etc.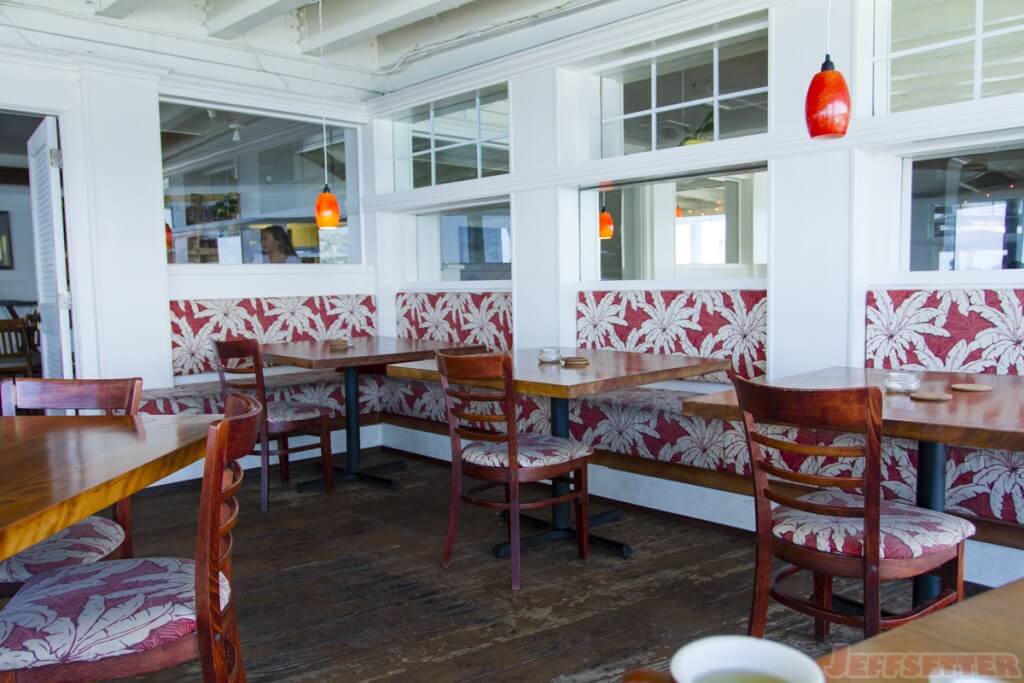 Daylight Mind Coffee Co. is a wonderful casual restaurant/coffee shop with great food in a small shopping center along Ali'i Drive in downtown Kailua-Kona.
Located right on the water, the restaurant has wonderful views and is filled with the sounds and smells (in a good way) of the ocean.  Open for breakfast, lunch and dinner, the restaurant has a focus on locally sourced ingredients and serves a decidedly American style menu heavily influenced by Hawaii.  The wife & I dined here for both dinner and breakfast and thought the food was quite good.
Dinner was definitely delicious with the roasted local beets at the very top, pan seared monchong (sickle pomfret), pan seared scallops with coffee smoked pork belly + sweet corn succotash, and lilikoi chocolate opera cake.  The food was very well prepared with excellent technique, balance and a nice amount of uniqueness.  The value wasn't bad for the Big Island and quality of food too.
Breakfast was also good with the tropical fruit salad (top), banana bread french toast, and Kona Kine Benedict (kalua pig).  I didn't care much for the benedict, largely because the kalua pig was bland and this was so plane, but everything else was good.
Service here was also great!  Very professional and friendly.  This place was a no brainer in my opinion, and one which I will return to on future visits to Kona.
This one is an easy one to find.  Located near the Kona Costco, Mrs. Barry's Kona Cookies are among my favorite cookies.  She sales many flavors, including ones made with Kona Coffee (of course), but my favorite is the simple chocolate chip with or without mac nuts.  And of course, it's a popular omiyage (gift) to bring back when visiting the Big Island (as is Two Ladies Kitchen) among locals.
Big Island Grill in Kona a few blocks from the Courtyard by Marriott King Kamehameha's Kona Beach Hotel (try saying that hotel name five times fast!) is your typical greasy spoon.  They serve just about everything from saimin, to chicken katsu, to beef stew, and yes, loco moco.  I've had the saimin here, which was ok.  The noodles were way overcooked though.  And if you go for the loco moco, you can have a standard one, or you can get crazy and add stuff like roast pork to it.
I have not had the pleasure of dining here, but Merriman's Waimea is local celebrity chef, Peter Merriman's flagship location and original restaurant.  One of the founding fathers of Hawaii Regional Cuisine, Merriman's focuses on local ingredients and culinary influence, executed with the best of western cooking techniques.  If you like Monkeypod Kitchen or Merriman's on one of the other islands, this is a must visit restaurant.
And that's about it for my Big Island Dining Guide.  There are, of course, many, many more places to eat, especially when you factor in all the hotel restaurants on the Kona side of the island.  But the Big Island is, well, BIG and I haven't spent nearly enough time there to fully explore its culinary scene, let alone, all the great activities and sights the island has to offer.