Last updated on December 16th, 2021 at 02:00 pm
Last year, I not only neglected to do a credit card strategy post – and you know what? I didn't do a Hawaii credit card award travel guide either. And while it's not clear when travel will resume, much has changed last year. So, I think it's prudent to do a Hawaii credit card award travel guide 2021 edition.
As travel providers scrambled to survive the fallout of the pandemic, some loyalty programs took a hit. Plus, card issuers, desperate to preserve their cardholder base, made changes to their earning structures. So, let's see what points program reigns supreme this year.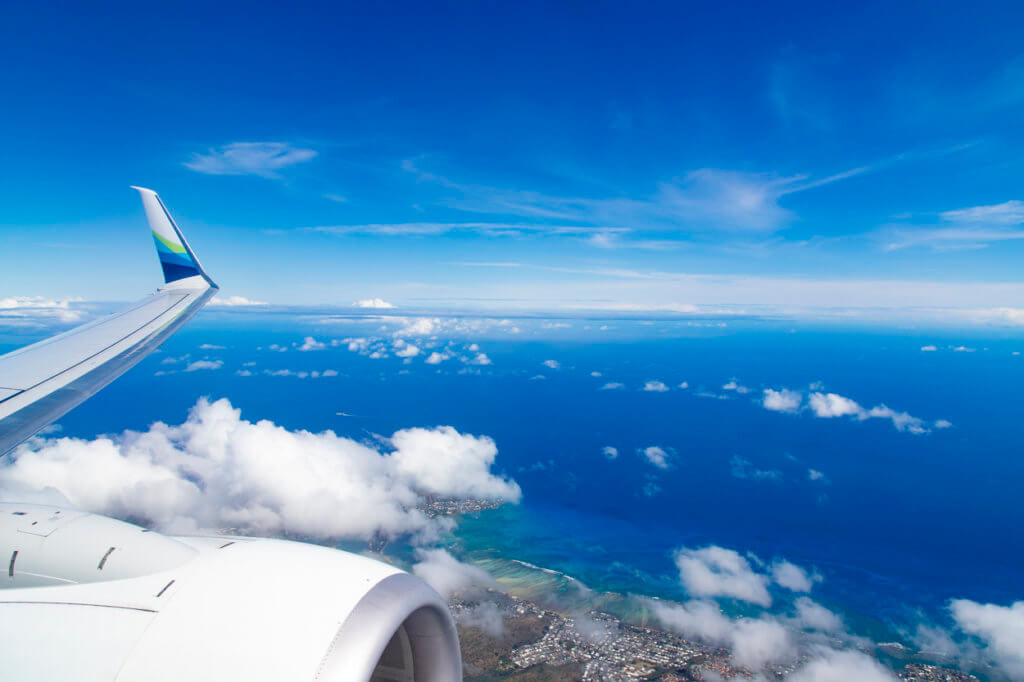 Hawaii Credit Card Award Travel Guide 2021Assumptions
Due to the changing earning landscape, I'm changing up my spending assumptions to make them a bit more accurate. So, this year, I'm breaking the categories down a little more and am using data from various sources to change my spending levels a bit. As a result, this year's assumptions are as follows:
Groceries: $5,000
Gas: $3,800
Dining: $4,000
Drugstore: $1,000
Internet/Phone: $4,400
Travel: $6,000
Entertainment: $2,700
Other: $10,000
Based on the above assumptions, here's how your spending and earning would potentially look popular cards/card combos.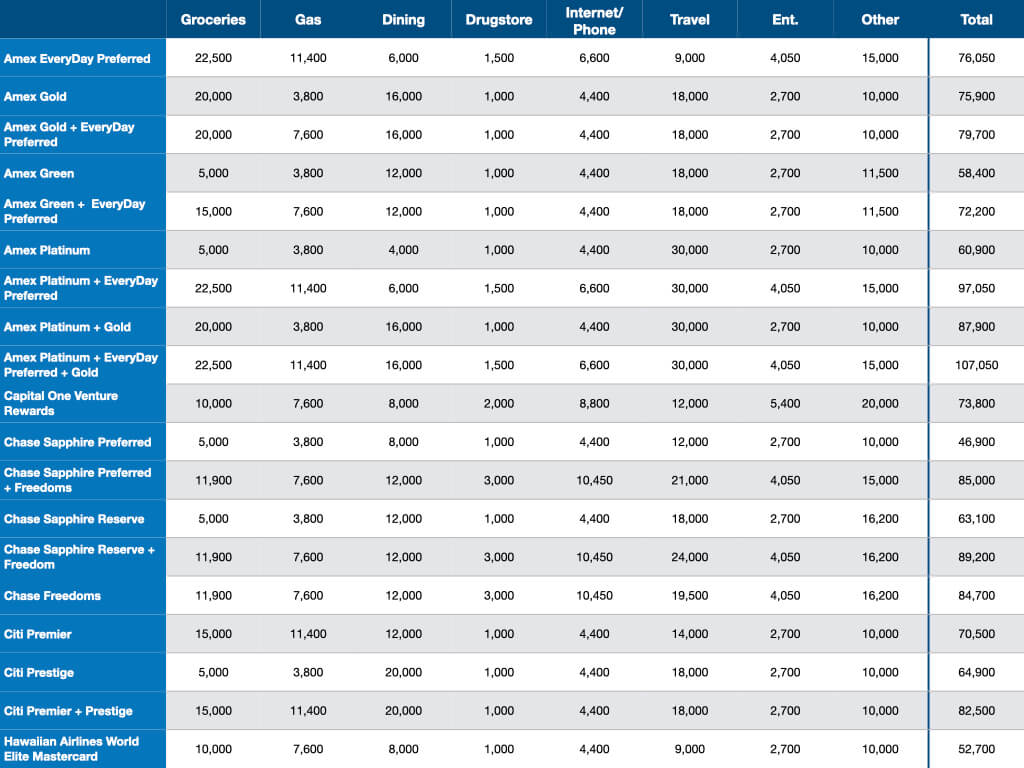 As was the case in previous years, the insanely expensive trinity comprised of the Amex Platinum, Amex Gold, and Amex EveryDay Preferred is the top earner. Everything else, however, remained roughly the same. The notable exception being the Chase Freedom cards. Assuming you make roughly half of your travel purchases via the Ultimate Rewards portal, the Freedom Unlimited + Freedom Flex combo earns nearly as much as the two with the Sapphire Reserve.
What's more, if you manage to make ALL purchases with them, you'll earn more than someone with a Sapphire Reserve + Freedom combo and splits travel purchases between the two. And, as you'll notice, the Sapphire Reserve alone earns less than the two Freedoms on their own. It's important to remember, though, that if you redeem for travel via Ultimate Rewards (and don't transfer), the Sapphire Reserve's points are worth 50% more. So, when redeemed in that way, the Sapphire Reserve + Freedom combos 89,200 points acts more like 133,800 points.
Shopping Portals
It's worth noting that you can earn even more points by shopping via an issuer's online portal, such as the one offered by Chase. However, due to the variable nature of these portals, I'm not going to attempt to include them in this calculation. And, I usually do earn quite a few points via the Ultimate Rewards and Alaska Mileage Plan portals.
Annual Fees to Earnings
Now, let's look at how cumulative annual fees compare to earnings among the top few cards/card combos:
Amex Platinum + Gold + EveryDay Preferred: $900:107,050
Amex Platinum + EveryDay Preferred: $650:97,050
Sapphire Reserve + Freedoms: $550:89,200
Amex Platinum + Gold: $800:87,900
Sapphire Preferred + Freedoms: $100:85,000
Chase Freedoms: $0:84,700 – NOTE: you can't transfer points unless you have one of the Sapphires
Remember, don't take the above annual fee figures at face value. Many of these cards offer statement credits and other perks that bring down the net annual fee. For example, the Sapphire Reserve has an easy to use $300 annual travel credit, which makes its net annual fee $250, and that's before considering its other perks.
20201 Credit Card Transfer Ratios
While earning a lot of points is all well and good, it means absolutely nothing if you can't transfer them to an airline program. So, here's what the transfer ratios look like for the big four credit card programs. Note: I didn't include all transfer partners for each program in this comparison because we're focusing on Hawaii travel here.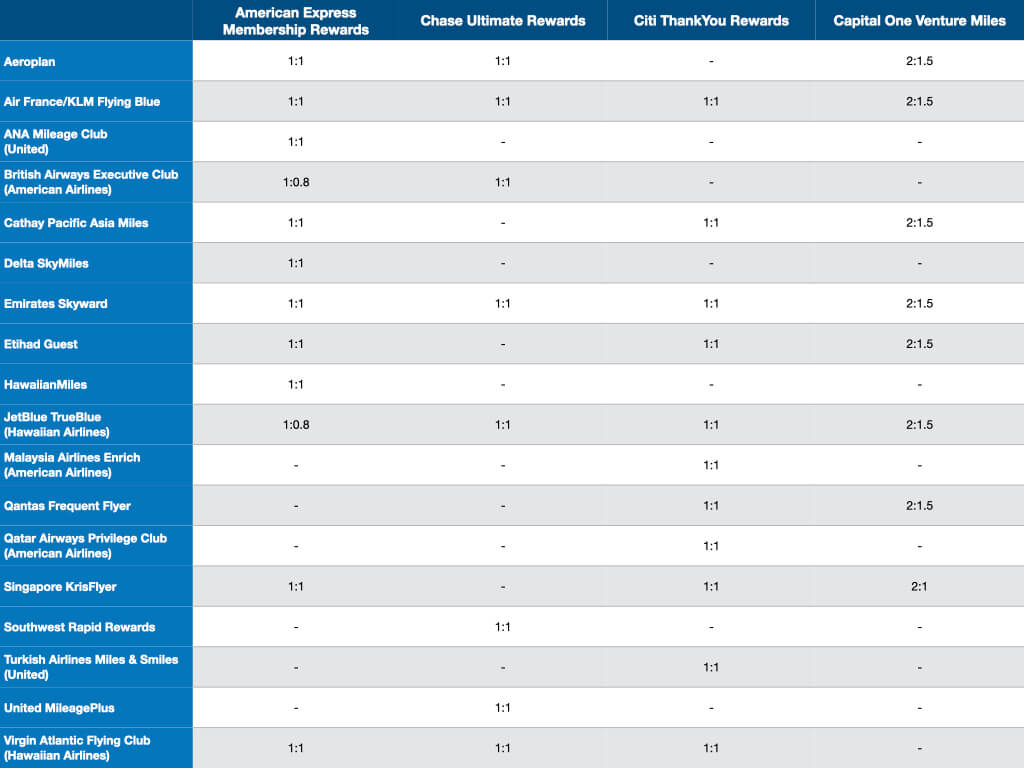 As you can see, American Express has the most airline transfer partners of the bunch. Citi, however, has the most unique variety as far as this comparison goes. What's more, Citi and Chase are the only two that offer a 1:1 transfer ratio with all of their partner airlines. That said, for all you Hawaiian Air diehards out there, Amex is the only program that transfers directly to HawaiianMiles. But, you don't have to transfer to HawaiianMiles to fly on Hawaiian.
Points to Miles
After transferring your credit card points into frequent flyer programs, you'll obviously end up with a varying number of airline miles or points. Here's how that looks, assuming you transfer 100% of your points into a single program. Also, I based these numbers on the biggest earning combo available to each of the programs.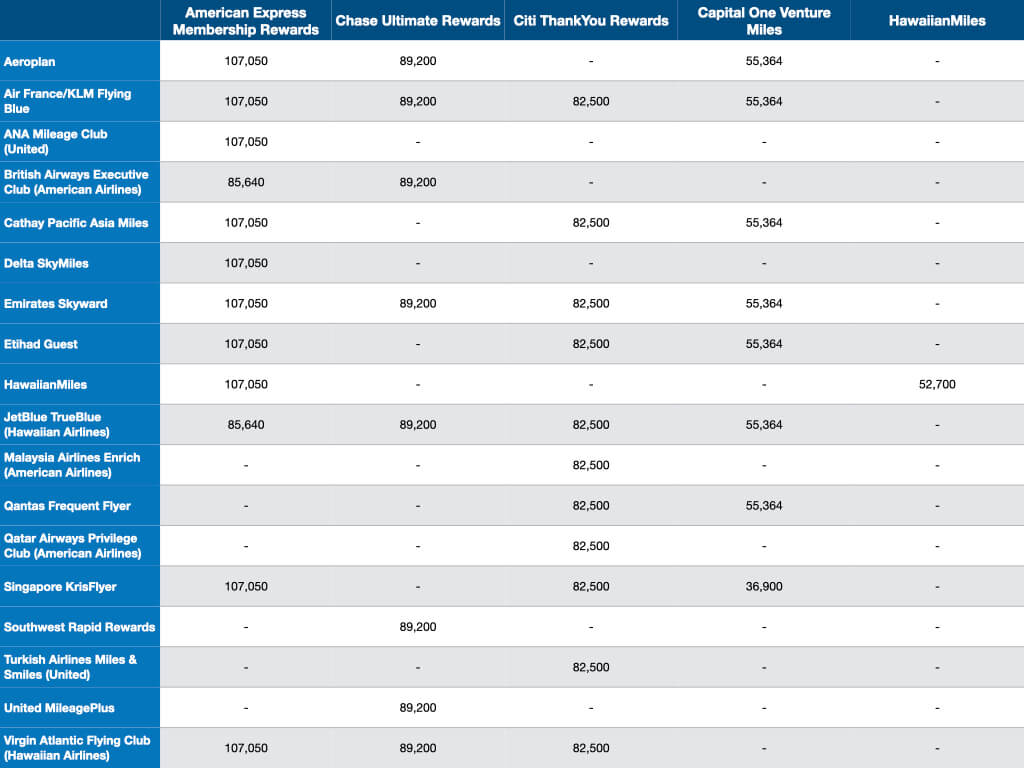 What Those Miles Get You
Now, the number of miles/points you get due to your transfers is only half the story. How those miles/points translate into travel is also important. Now, not all airlines have award charts, so I did my best to find their lowest available redemption rates through randomized booking searches. But, even airlines that have charts will often charge more depending on demand. So take these figures with a grain of salt since, especially in Delta's case, you likely won't see their lowest redemption rates.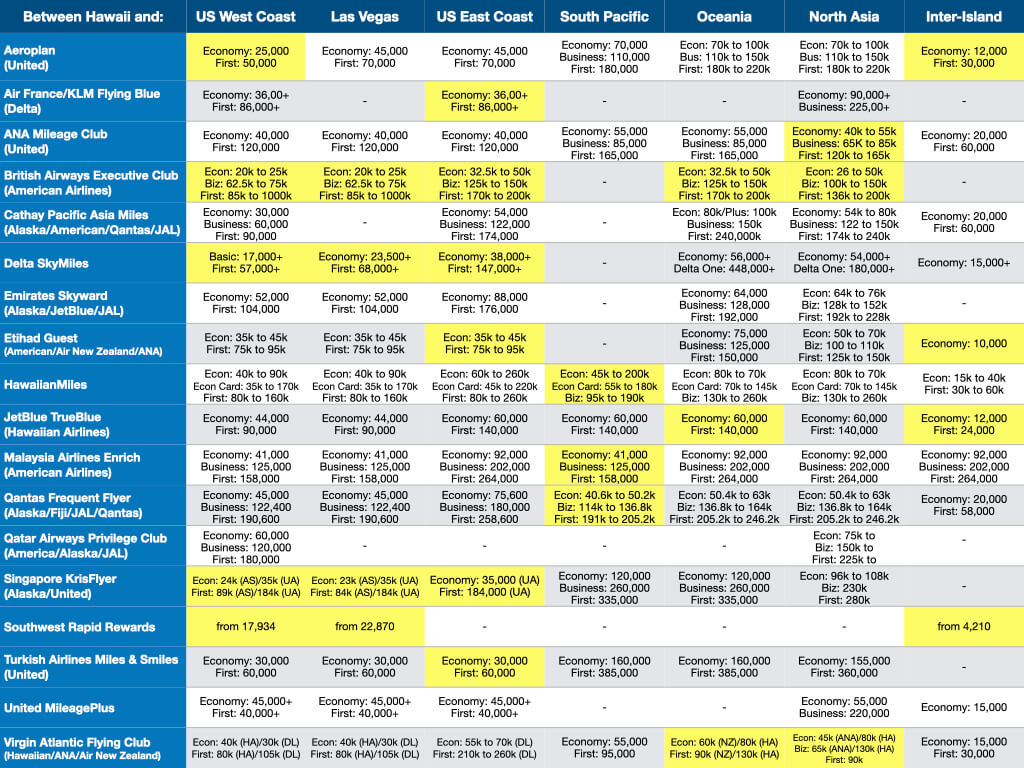 Hawaii-West Coast Winners
As you can see, I highlighted the best redemption options for each region in yellow. Surprisingly, Delta is your absolute cheapest option for travel between the US West Coast and Hawaii – but that's only if you can find that rate. Again, that award rate is very rarely available. The same can be said of Southwest's absolute minimum rate too. But if you can't find those ultra-low rates with those airlines, Aeroplan (on United), British Airways (on American), and Singapore (on Alaska) offer outstanding, fixed rates for this route too.
Hawaii-East Coast Winners
For those looking to travel between the US East Coast and Hawaii, Turkish Airlines (on United) is your absolute best option. You can fly United Polaris for 60,000 miles roundtrip! The only program that comes close is Etihad, with an off-peak rate of 75,000 that'll get you into American's first class product. Their off-peak economy rate also ties with Singapore (United) for third-best value behind British Airway's (America) off-peak economy rate.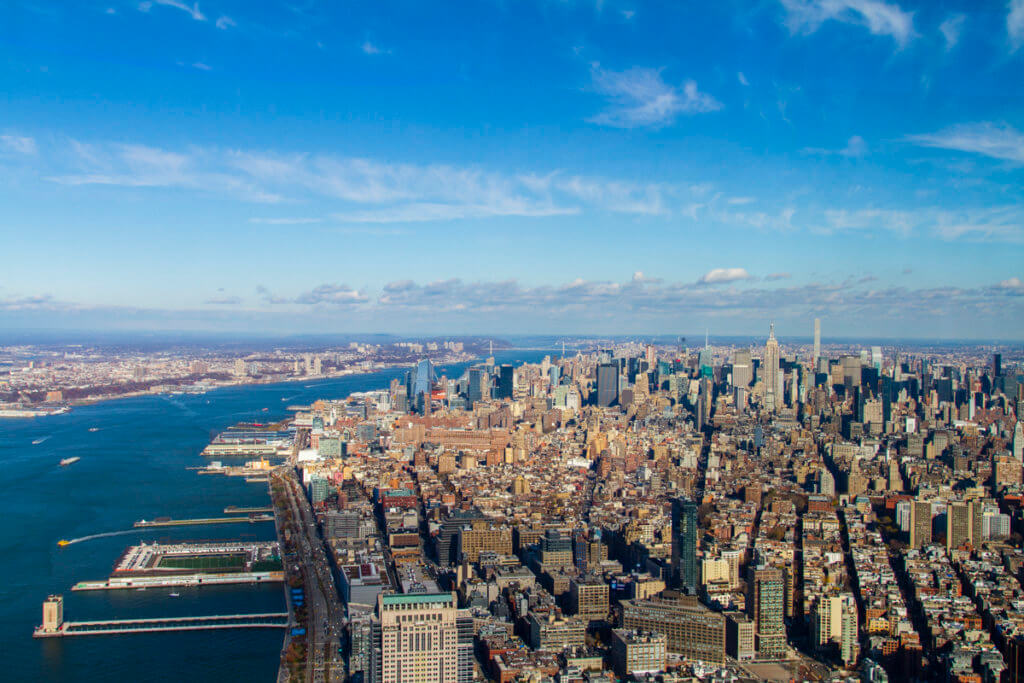 Best for Hawaii-South Pacific
Now, Hawaiian did win a single category, and that's for first class travel to the South Pacific from Hawaii. At 95,000 points, this is your best option. That said, if you're looking to fly economy, Qantas (Fiji) beats Hawaiian by over 4,000 miles.
Hawaii-Oceania Bargains
Want to visit the land of koalas and kangaroos? British Airway offers an absolute steal with its off-peak rates. However, your best bet for first class, in this case, is to redeem via Virgin Atlantic for travel with Air New Zealand. This scenario is the same for travel too much of North Asia too, though I'd spring for the 90,000 miles redemption via Virgin Atlantic for a first class flight on ANA's flying honu.
Best for Inter-Island Flying
Flying between the Hawaiian Islands? Southwest reigns supreme by a LONG shot with Etihad Guest (Hawaiian via codeshare partner) coming in a distant second. Realistically, though, you'll likely pay around 6,000 points for a roundtrip flight on Southwest. However, compared to everyone else, that's still quite the bargain.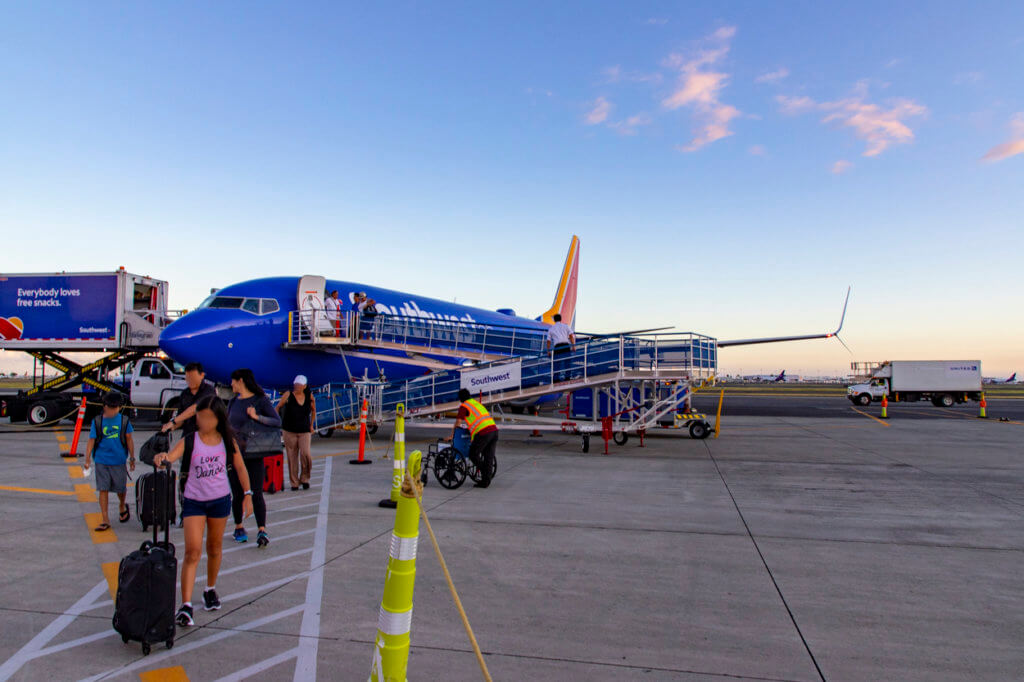 How Much Can You Fly?
This is a lot of data to digest. So, let's take a look at this from another angle – how many flights can you get based on the number of points earned. Now, I'm not going to run through every scenario here cuz that's a tad crazy. But, here are a few examples:
Hawaii-West Coast

British Airways

Amex Trio: 4.25
CSR + Freedoms: 4.45

Singapore Air

Amex Trio: 4.45
CSR + Freedoms: 3.7
Capital One: 1.5

Southwest
Delta
Hawaiian

Hawaiian MC: 1.5
Amex Trio: 2.67

Hawaii-East Coast

British Airways

Amex Trio: 2.63
CSR + Freedoms: 2.7

Turkish

Citi Prestige + Premier: 2.75 or 1 first class

Hawaiian:

Hawaiian MC: 1
Amex Trio: 1.8

Inter-Island

Southwest
Etihad

Amex Trio: 10.7
Citi Prestige + Premier: 8.25
Capital One: 5.4

Hawaiian:

Hawaiian MC: 3.5
Amex Trio: 7

Hawaii-Japan

British Airways

Amex Trio: 4
CSR + Freedoms: 3.4

Hawaiian Air

Hawaiian MC: LOL
Amex Trio: 1.3
As you can see, an average year of spending can get you quite a bit of travel. Yes, you do need to put a bit of planning into this mixed in with some luck, but it's not impossible. What's more, standalone airline credit cards, as is evident with Hawaiian's, is often the loser of these comparisons. That's not to say you shouldn't carry one. Many have their merits. But, maybe think twice about your card decisions.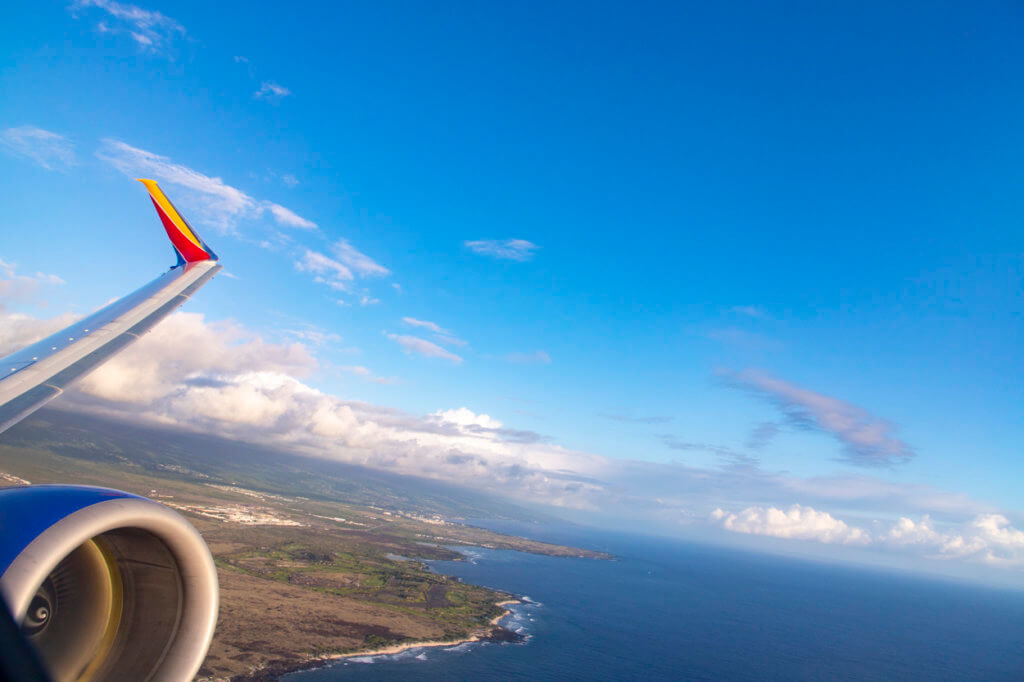 Hawaii Credit Card Award Travel Guide 2021, Final Thoughts
I hope this Hawaii credit card award travel guide helps you to better navigate the award travel landscape. Especially since it shows that in this hobby, you can't take things at face value. Often, claims of big rewards are just that and don't translate into great returns. What's more, these charts show you don't have to spend an absurd amount on annual fees to get great rewards either. Ultimately, though, which programs you decide to participate in is up to your own personal preferences. For example, Amex Membership Rewards is clearly the best program when you consider all the variables. But, for my purposes, Chase Ultimate Rewards serves me just as well – if not better. And you may even feel the same as I do, especially if you're loyal to exclusive transfer partners such as Southwest, United, and Hyatt.
We've always been a fan of Chase credit cards and it's not the first time one of their cards has shown up on our lists.
For those of you that travel with someone only once a year and don't want to go through all this craziness, there are much simpler options out there for you that will still save you a nice chunk of change. But I'll save that for a future post 😉.