Last week I had a day trip to Maui for work. This meant that I'd be flying Hawaiian Airlines within Hawaii for the first time since 2019 on Hawaiian Air 306 Honolulu to Kahului. And, boy, was it an interesting flight.
I didn't book these flights, so I can't tell you all how much they cost and whatnot. What I can tell you is that the three of us that traveled hopped over that day on an early afternoon flight out to Maui, followed by a late evening return. So, if you want to be technical, I guess this wasn't so much of a day trip but more of a half-day trip.
Hawaiian Air 306 Honolulu to Kahului
Things for out Hawaiian Air 306 Honolulu to Kahului flight went off the rails right from the start. For one, I had no idea that you can only use the bag drop in Check-In Lobby 3 for neighbor island flights, which meant we stood in line for nothing. Security was a non-issue, but we flew out of B Gates in Terminal 1 – the old Aloha Airlines terminal – which was a mess. The restroom here is closed for maintenance, while the Hawaiian Air help desk isn't staffed here. Oh, and there isn't enough seating in the holding areas for a Boeing 717, which is odd since they carry roughly the same number of passengers as the 737-200.
Of course, things immediately got more interesting when a domestic dispute erupted in the terminal, followed by a hoard of State Sheriffs descending on the terminal. Turns out, the offending family was supposed to be on our flight. However, after a bit, it was determined that the father was being removed from our flight.
That, of course, distracted us from the fact that our flight – Hawaiian Air 306 – was being delayed. There was no announcement, no updates on the screens, and no push notifications from Hawaiian's app. We kind of found out at random. The fact that our 1:15 pm boarding time came and went helped too. In fact, when I checked Flight Radar 24, it showed that our aircraft (N477HA) was still on the round in Lihue at our scheduled boarding time. It eventually departed over an hour late and pulled into gate B2 shortly after 1:30 pm.
Hawaiian Air 306 – Boarding
Once our plane was opened up, the passengers and crew of the previous flight began filing out, followed by a new crew heading onboard. Shortly after, the preboarding call was made at 1:48 pm – 33 minutes after the scheduled boarding time and eight minutes after our scheduled departure time. Interestingly, first class, zone 1, and zone 2 were called together at 1:51 pm. Zone 3 followed three minutes later, followed a minute later by our zone – 4. After a long hold on the jetway, I eventually took my seat in 14F, which is the first time I'd sit on the starboard side of an aircraft on an inter-island flight.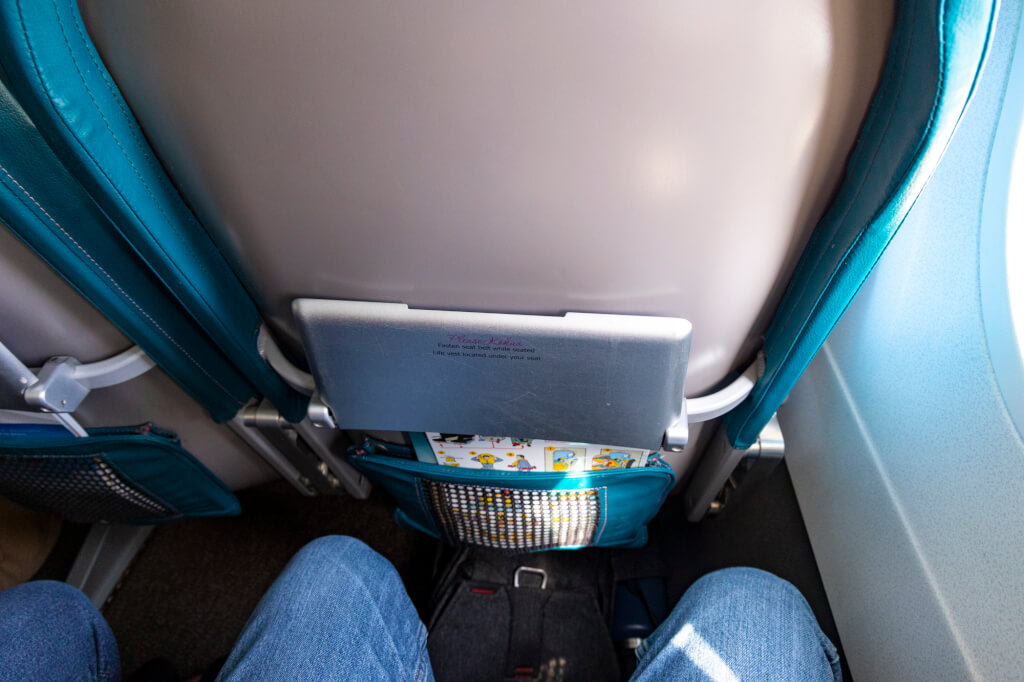 16 minutes later, the door to our aircraft was closed. Finally, Hawaiian Air 306 was ready to be on its way. By the way, the windows on N477HA were horrifically scratched and dirty! The below photo has been cleaned up quite a bit in Lightroom and still looks terrible!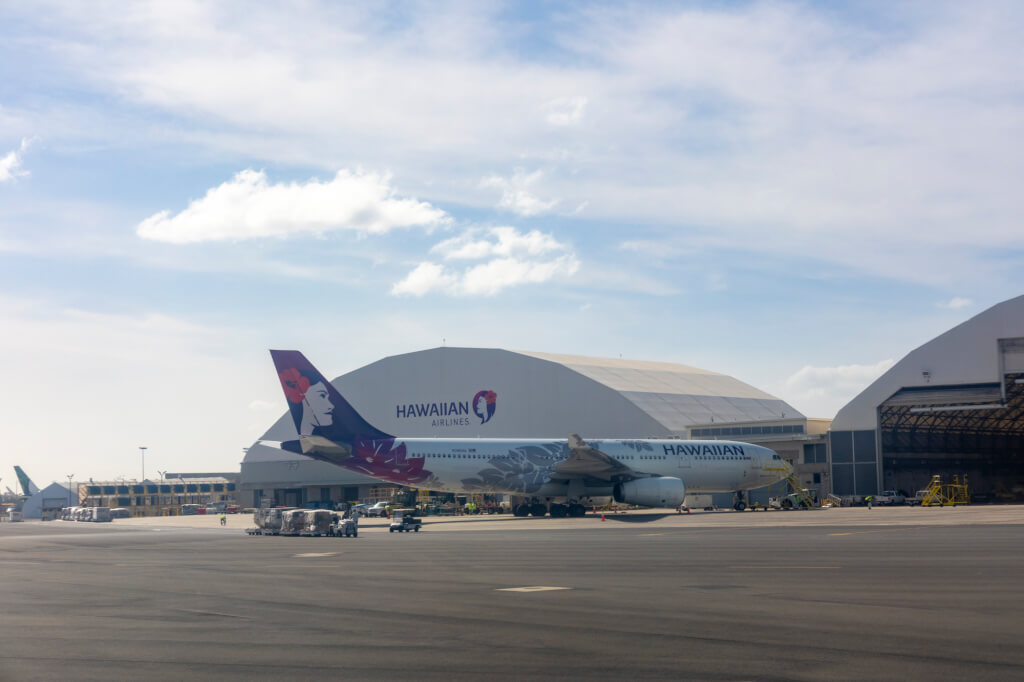 Three minutes after the door was closed, our aircraft began its pushback from the gate at 2:13 pm – 33 minutes late. Thanks to resurfacing work on runway 8L, we had to take a slightly different route to 8R – the Reef Runway. It took us seven minutes to get within the vicinity of our departure runway, where we ended up holding for a total of eight minutes, thanks to early-afternoon congestion at HNL.
I passed the time as we held by, watching the choppy surf off the Reef Runway. It was quite a windy day, which would make for an interesting flight.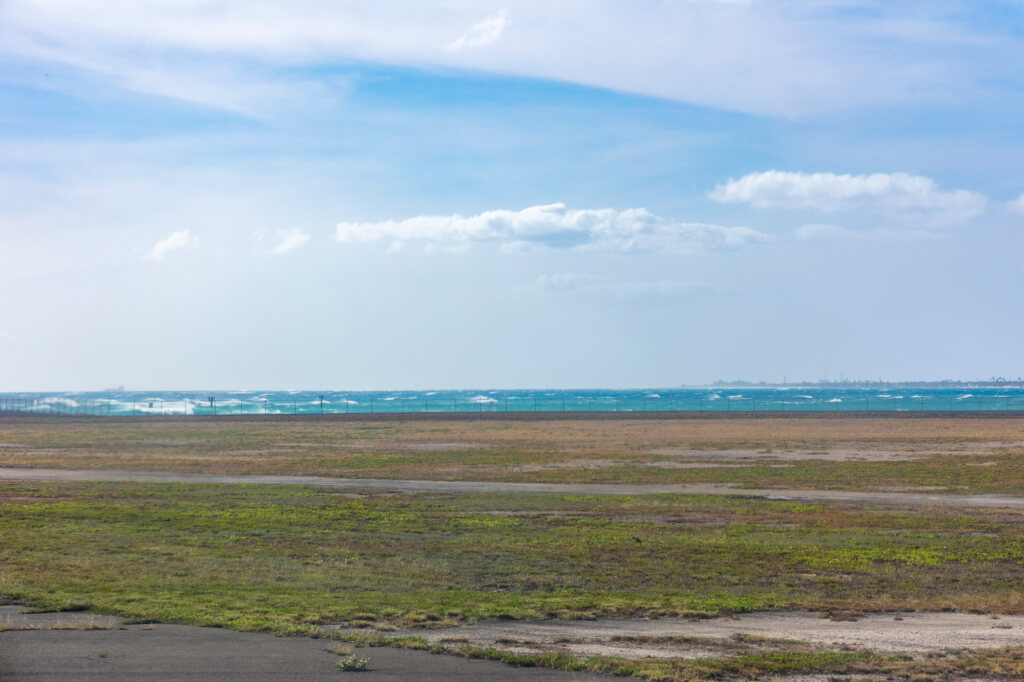 Takeoff
At 2:33 pm, we began our takeoff roll. Almost immediately, we began banking to the right and headed south. After a bit, we began flying in a more south-easterly direction as we headed over to Maui.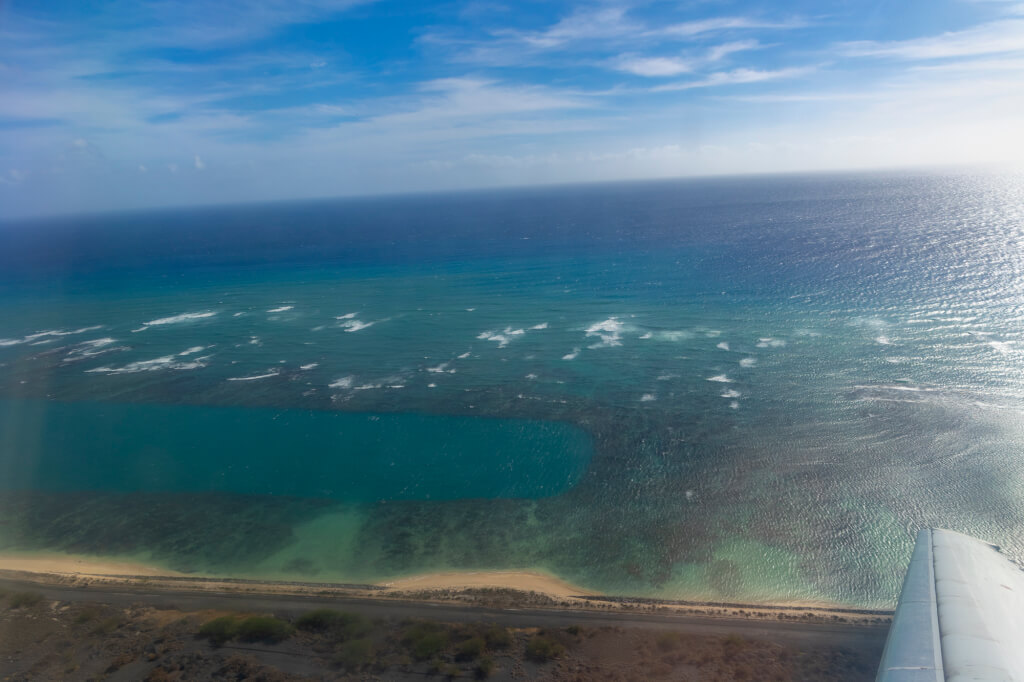 Hawaiian Air 306 Service
Roughly seven minutes after takeoff, service began. On this particular flight, we were given a choice between water and POG. I believe it was only recently that Hawaiian brought back POG onboard, so I had to have one. It's sweeter than the Haleakala Dairy version we buy at grocery stores, but it's good. I only wish it was cold.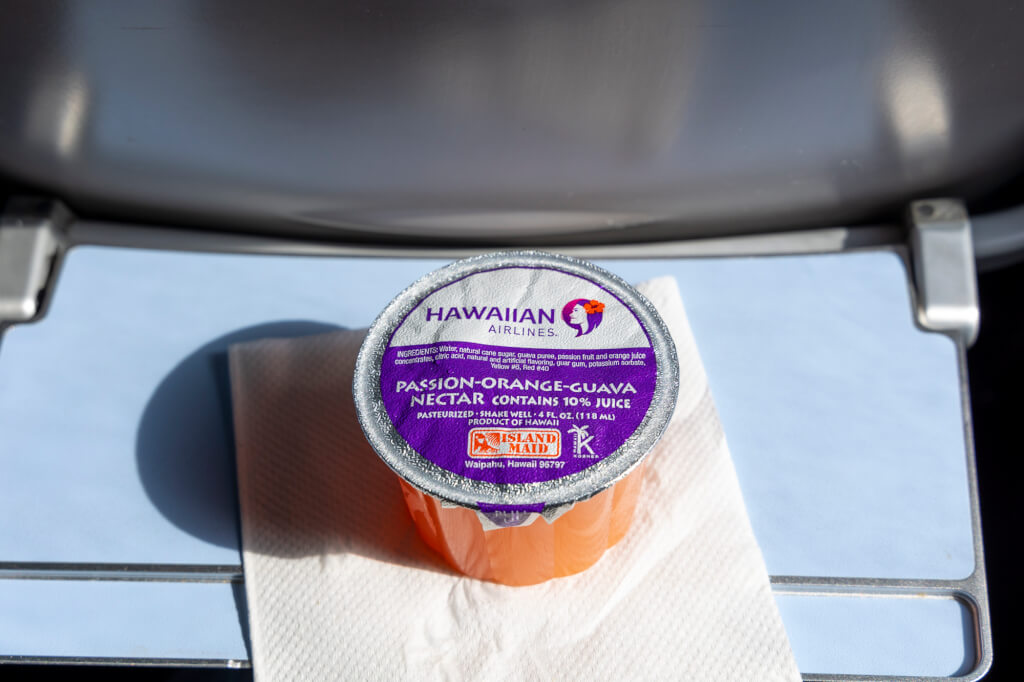 This being a short flight, we began our initial descent five minutes after the drink service began at 2:45 pm, which is also about when flight attendants came back around to collect our trash. Luckily, they were able to finish doing so quite quickly. You see, our entire flight was slightly bumpy, but as we got closer to Maui, things got more interesting.
Arrival
As we made our way past Kaho'olawe, we began our final descent into Kahului. At this point, the ride began getting quite rough, to the point that we were experiencing significant drops. Wee! That said, I was able to get a decent shot of Haleakala, Molokini, Mauna Kea, and Mauna Loa.
Flying into Maui's central valley, you could really feel our pilots wrestling against the strong winds. We were often flying at around a 10-degree angle to keep on track to the runway. The engines were also constantly spooling up and down in an effort to combat the winds. Yet, despite the struggles, we touched down pretty softly at 2:55 pm. Major kudos to our flight crew for their exemplary flying skills!
After a short taxi, we pulled into our gate at 2:59 pm – 34 minutes behind schedule. Two minutes later, the door opened, and we began filing out.
Kahului Baggage Retrieval
Waiting for us at the baggage claim of Kahului Airport was a complete circus. Apparently, they're renovating the claim, so only two carrousels are open. Carrousel one was handling ALL Hawaiian Airlines inter-island flights, while carrousel two was handling ALL overseas flights.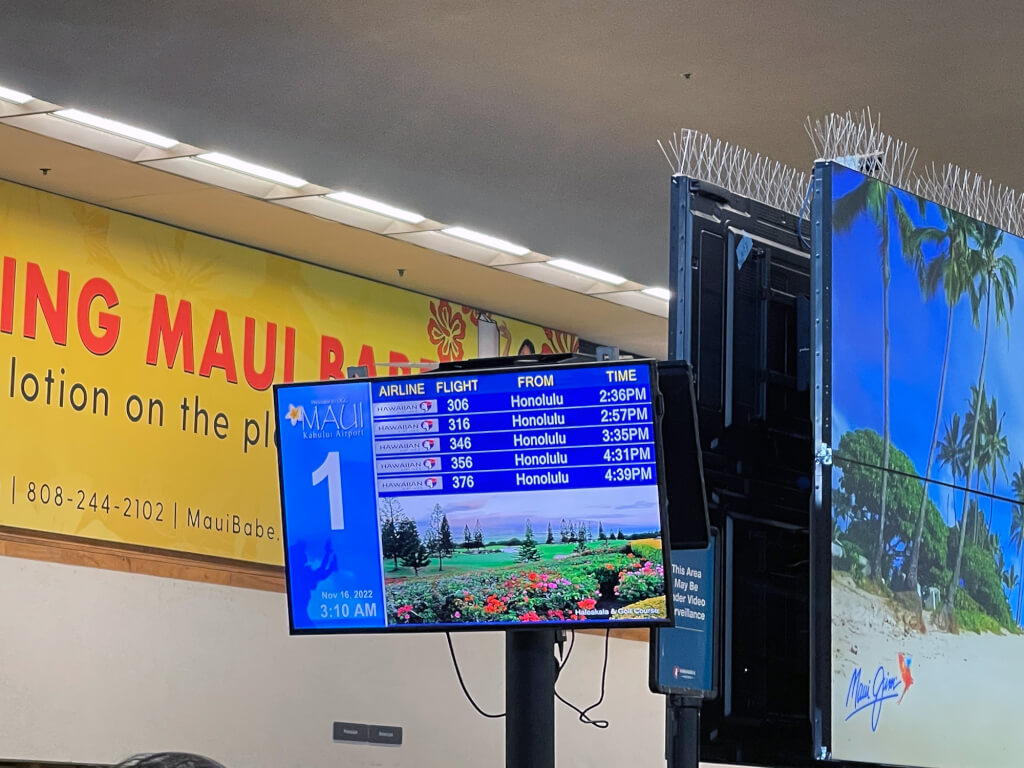 Carrousel one was clogged with people, not only from Hawaiian Air 306 but from several other recent arrivals. However, carrousel two was far worse. It was a literal moshpit of people, thanks to multiple United, American, Delta, and Hawaiian flights all arriving around the same time. It was INSANE!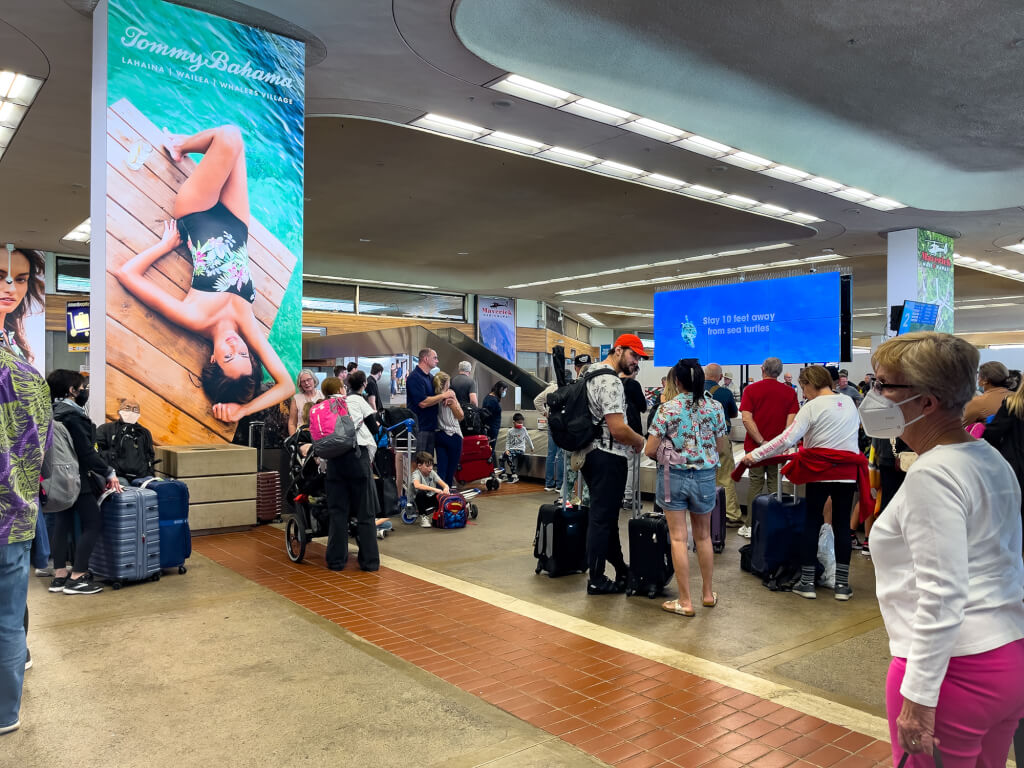 At any rate, we retreived all of our checked bags within 17 minutes of the cabin door opening, which is pretty good for Hawaiian.
Hawaiian Air 306, Final Thoughts
I'm disappointed but unsurprised by our delay – it's par for the course for me when flying with Hawaiian. In fact, our return flight (HA 575) was delayed by about 15 minutes too, thanks to a late arriving aircraft. However, thank's to Hawaiian's insane block times, we managed to pull into our gate in Honolulu on time. I won't review that flight separately, though, as, aside from the time, it was roughly the same.
I will say it seems like Hawaiian's 717 fleet is becoming less and less reliable. At the same time, that's not surprising given that the youngest of these birds are now 21, and the oldest has been flying for nearly a quarter century. That's a long time, given their harsh operating style and environment! In fact, one frame has already been scrapped, while another may have been removed from the fleet. That leads me to question when the heck Hawaiian will begin replacing these jets.