In a ceremony for employees and guests last week Hawaiian Airlines welcomes its first A321neo.  And soon a new era will begin at Hawaii's hometown carrier.
Meet N202HA
I've been tracking Hawaiian's first A321neo for a while now.  And early last week, N202HA made its final journey home to the Islands.  Prior to its arrival in the Hawaii, N202HA made a few stops along the West Coast to complete cabin installation and for ground crew training.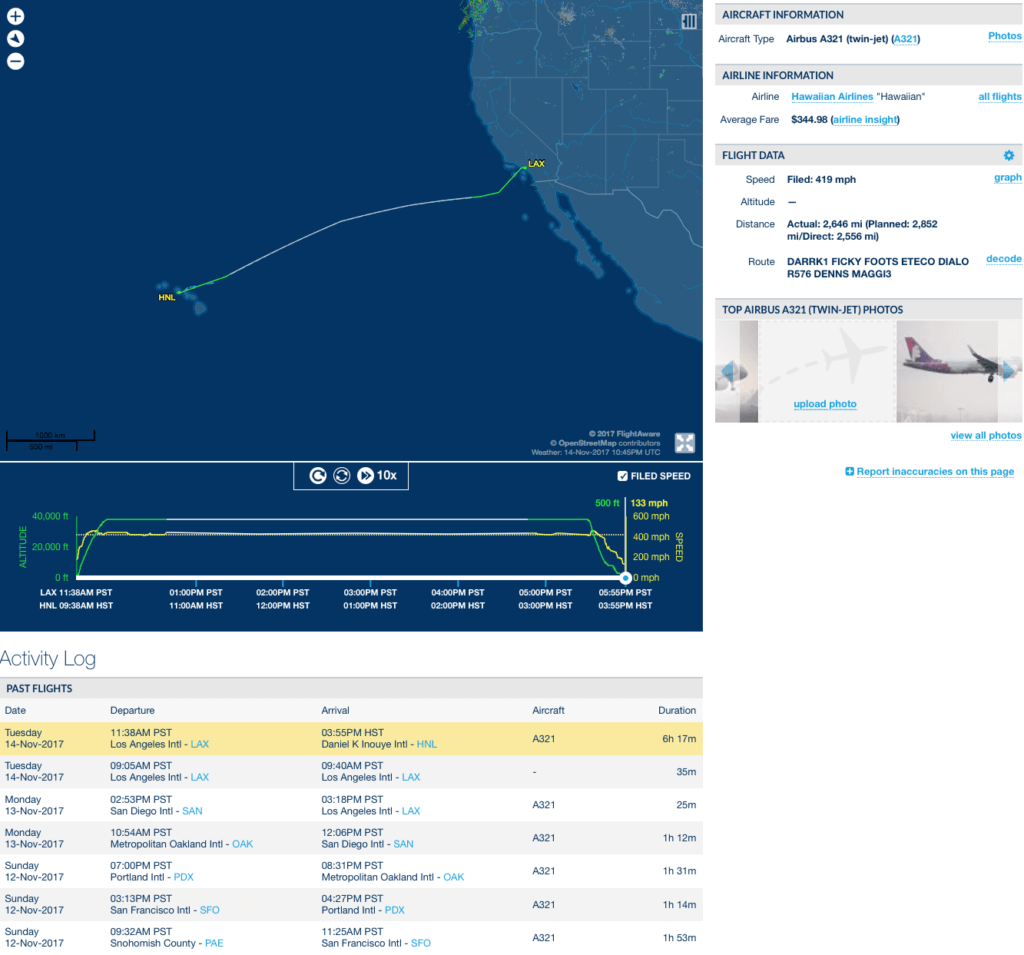 Upon arrival in Honolulu, N202HA was towed to the Hawaiian Airlines terminal for more ground crew training.  She was then transported to the other side of the airport for her official blessing ceremony and a media and employee preview.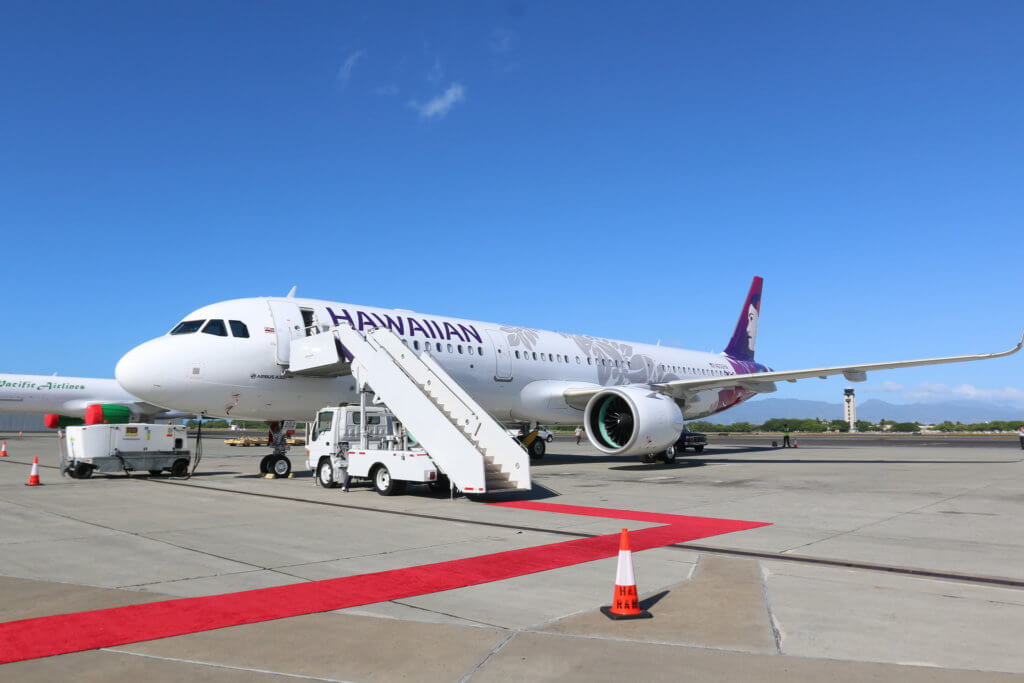 And in the tradition of the Airline, N202HA has been given a Hawaiian name.  Whereas the A330 fleet bears the names of constellations and the 717 fleet bears the names of native Hawaiian birds, the A321neo fleet will be named after native Hawaiian plants or leis.  Hawaiian hasn't been specific on the naming convention of this aircraft type, but N202HA has been named "Maile."  Of course, Maile is both a vine and a lei made from said vine.
How Does it Stack Up to the Renderings?
Back in April, Hawaiian gave us our first glimpse at the A321neo interiors.  And those initial renderings were very promising!  But of course, rendering are renderings, so I've been very interested to see how the real aircraft interiors look.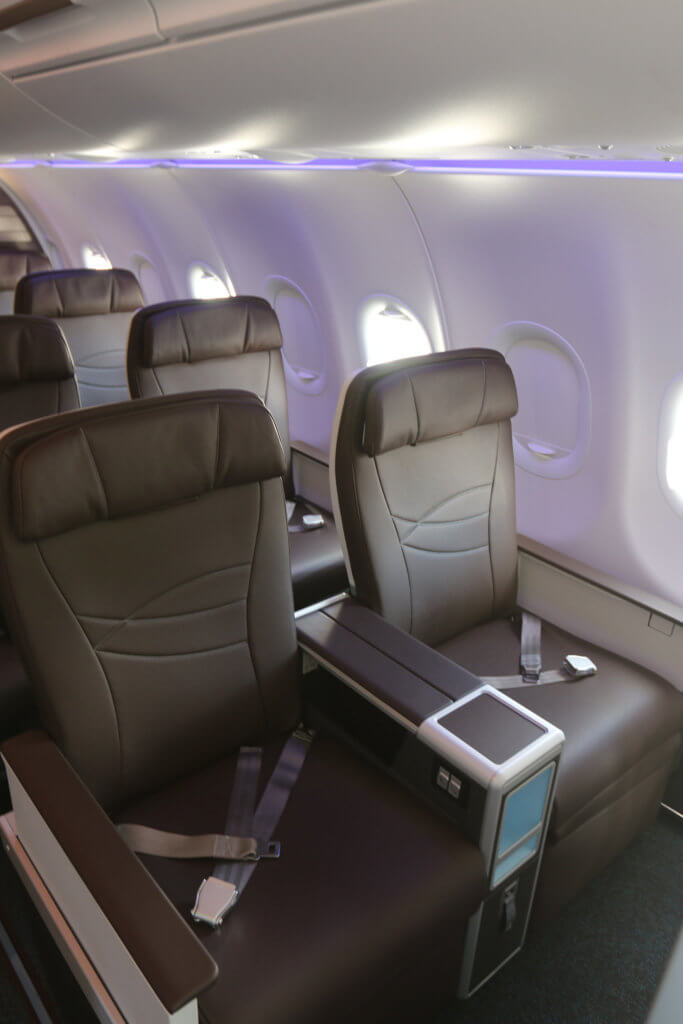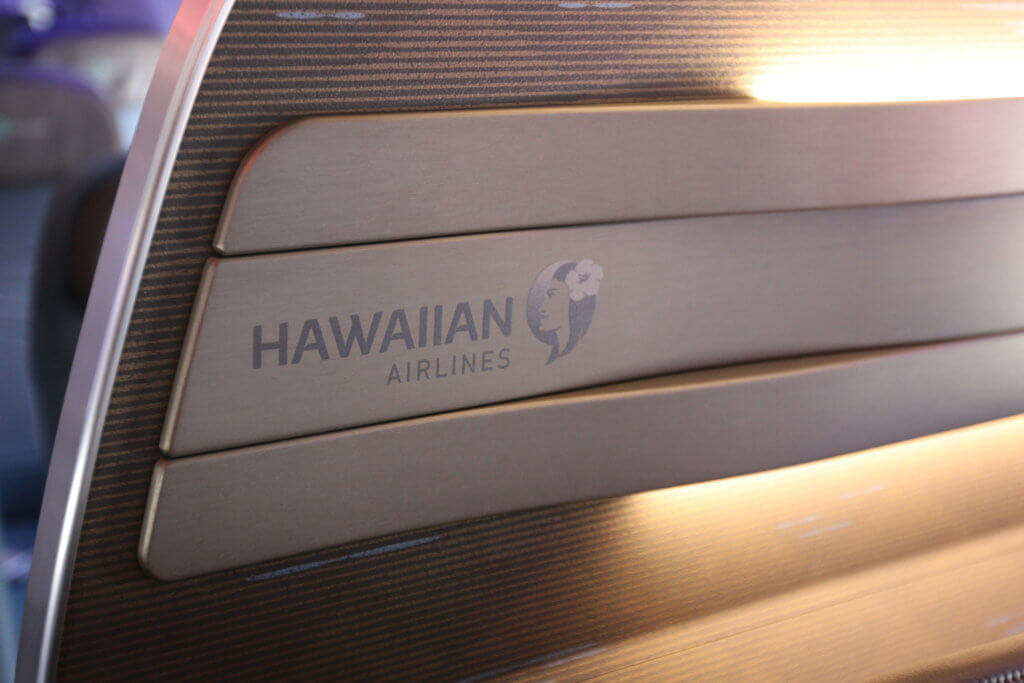 As you can see, the real aircraft does look quite similar to the renderings.  That's a good thing to me.  And the real aircraft even has a number of neat details not originally previewed.  For example, take a look at this lavatory sign.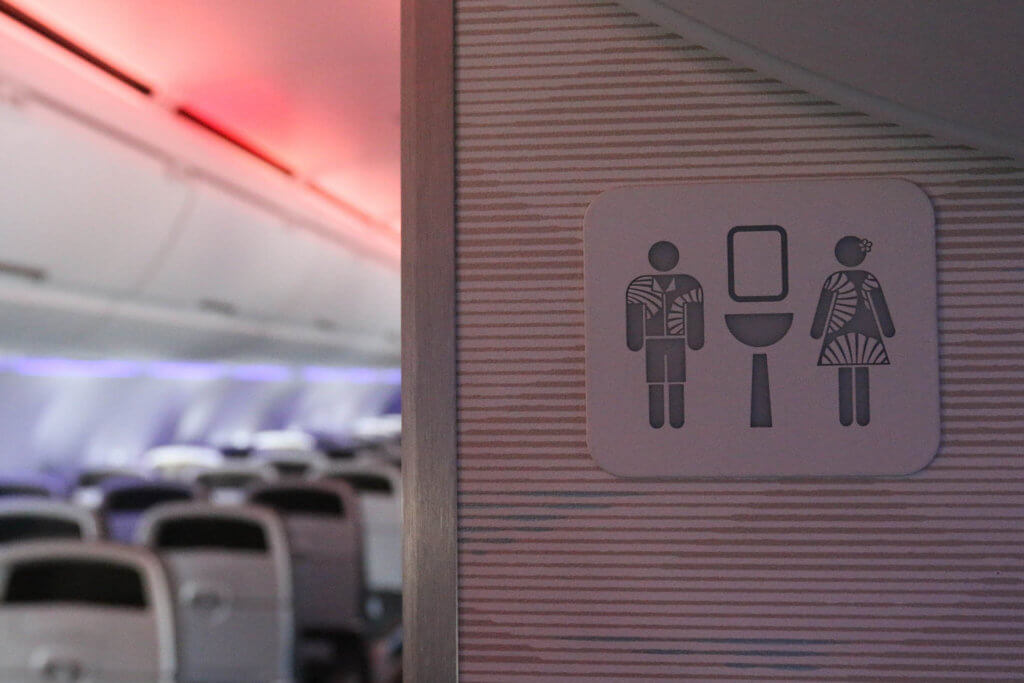 I'm happy to see larger overhead bins installed on this aircraft as well.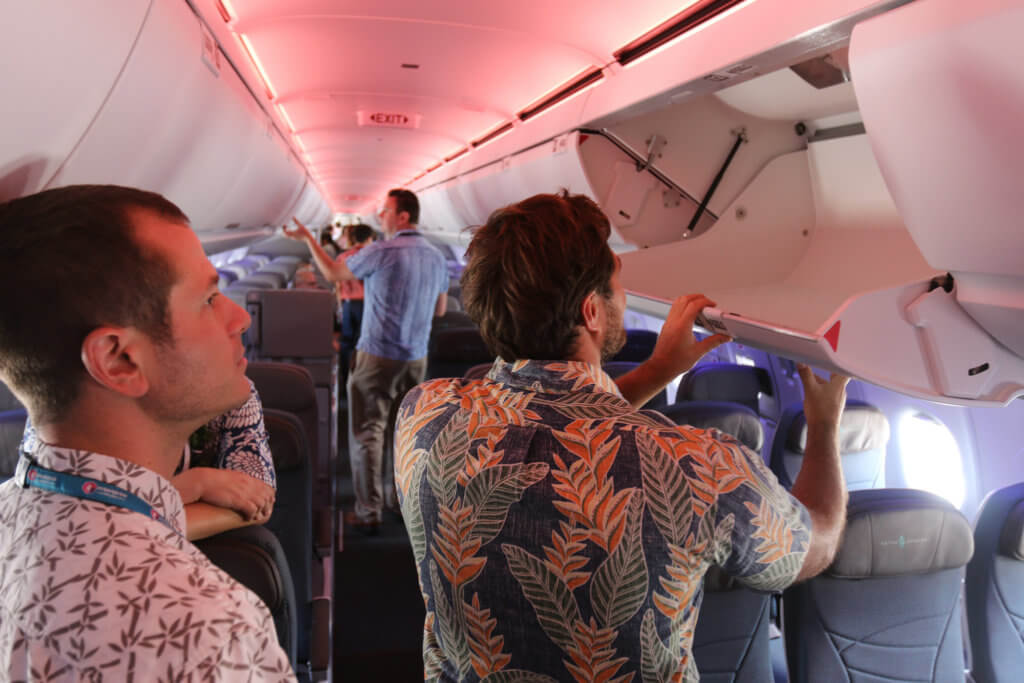 Unfortunately, the A321neos will not have standard 120v power outlets in economy, nor will it have seatback entertainment.  What the A321neos will have, though, is USB ports at every seat and over-the-air media streaming (though no wifi).  But, as a leisure airline, Hawaiian doesn't have to have wifi or power at every seat.  Is it disappointing?  You bet.  But it is what it is.
Hawaiian Airlines Welcomes Its First A321neo, Final Thoughts
The A321neo has been a long time coming for Hawaiian, and though I find A321neos in general kind of funky looking, Maile is an attractive aircraft.  The interior is quite attractive and I love all of the details Hawaiian included.  Given a choice, though, I'd rather fly an A330 (or maybe even a 787)  since the seating arrangement on those aircraft are 2+4+2.  For now, though, the A321neo will not serve Honolulu.  The three initial routes are as follows:
Portland, Oregon – Kahului, Maui commencing 1/18/2018
Oakland, California – Lihue, Kauai commencing 4/11/2018
Los Angeles, California – Kona, Big Island commencing summer 2018
And for more photos of its newest aircraft, check out Hawaiian Airline's Flickr account.