This past February I decided to take the wife to Maui for the Presidents Day/Valentines Day weekend.  I had Hyatt Gold Passport Visa certificates to burn and the Andaz had space, so why not?  Of course this meant yet another trip on Hawaiian Air to the Valley Isle, but this time in Hawaiian Extra Space.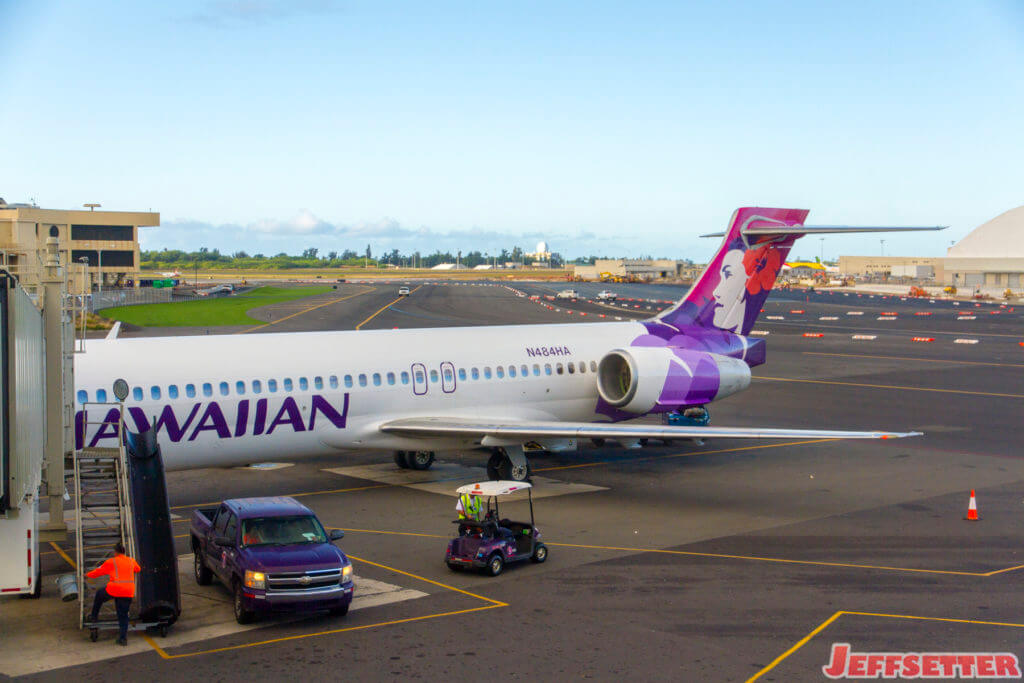 Though I've reviewed Hawaiian Air's inter-island service before, I thought it worthwhile to revisit because of the new product.  Like American's Main Cabin Extra, Hawaiian Extra Space provides more legroom and priority boarding.  Unlike American's product, however, Hawaiian Extra Space seats are not all clustered together.  Rather, Extra Space seats are located in the front of the economy cabin and by the emergency exits.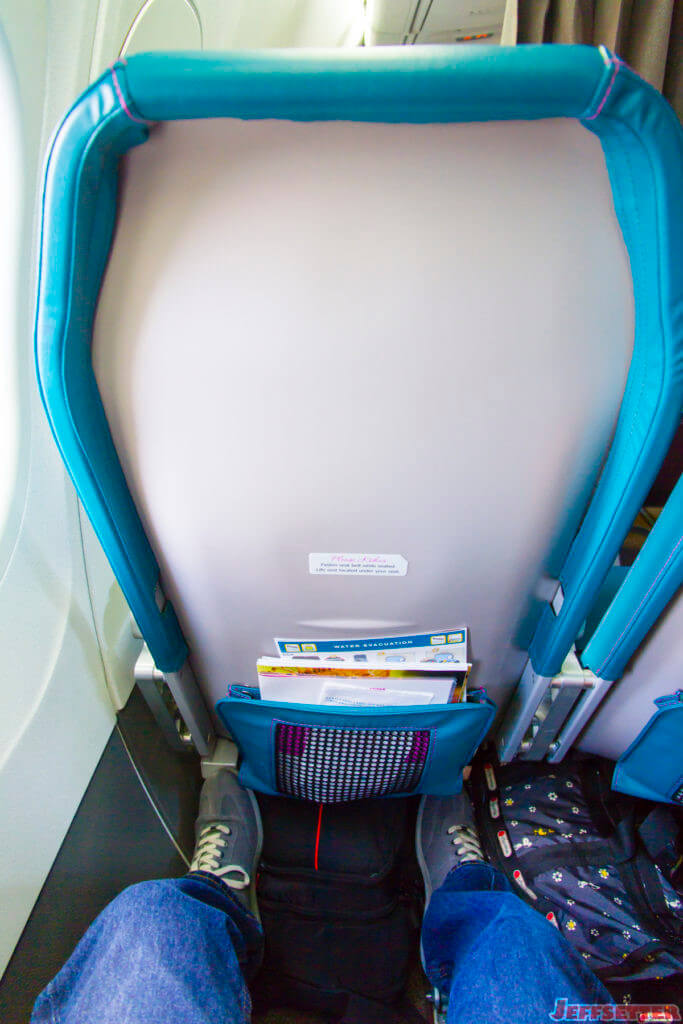 Not having the option available at booking, I upgraded our seats at check-in.  In fact, the first two rows of Extra Space seating are only available for upgrade at check-in.  No matter which route you go, though, Extra Space costs just $20 more per segment.  While that might seem like a lot for a little extra room on a 30 minute flight it's worth it to me.  Why?  Because Hawaiian's flights are usually very full, so the Group 2 boarding makes the process MUCH less stressful.  Having Group 2 boarding all but guarantees you'll have overhead bin space.  Unfortunately, there are no mileage earning benefits for upgrading.  Mileage for Extra Space flights are earned at the normal rate.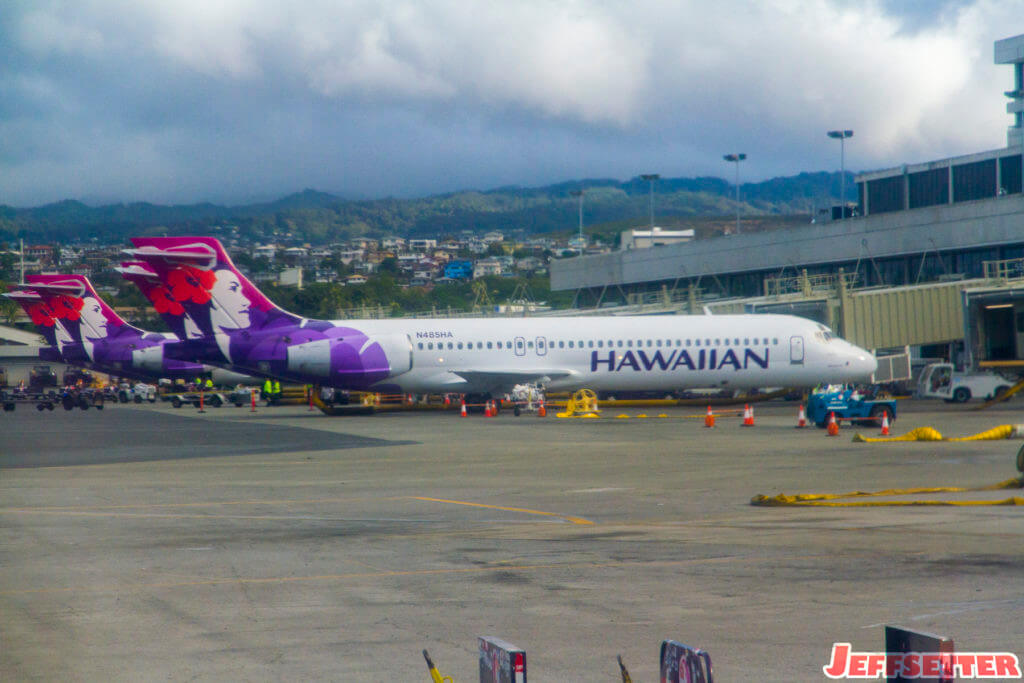 Unfortunately the convenience of priority boarding was offset somewhat by a delay.  In what's become incredibly common for me flying Hawaiian, our flight was delayed by 45 minutes.  That's not a terribly long delay, but it can make a big difference during inter-island flight rush hour.  This time around it meant that our rental car agency barely had any cars left.  We ended up being stuck with a dented up, falling apart, somewhat smelly Dodge Dart for our weekend.  But I digress.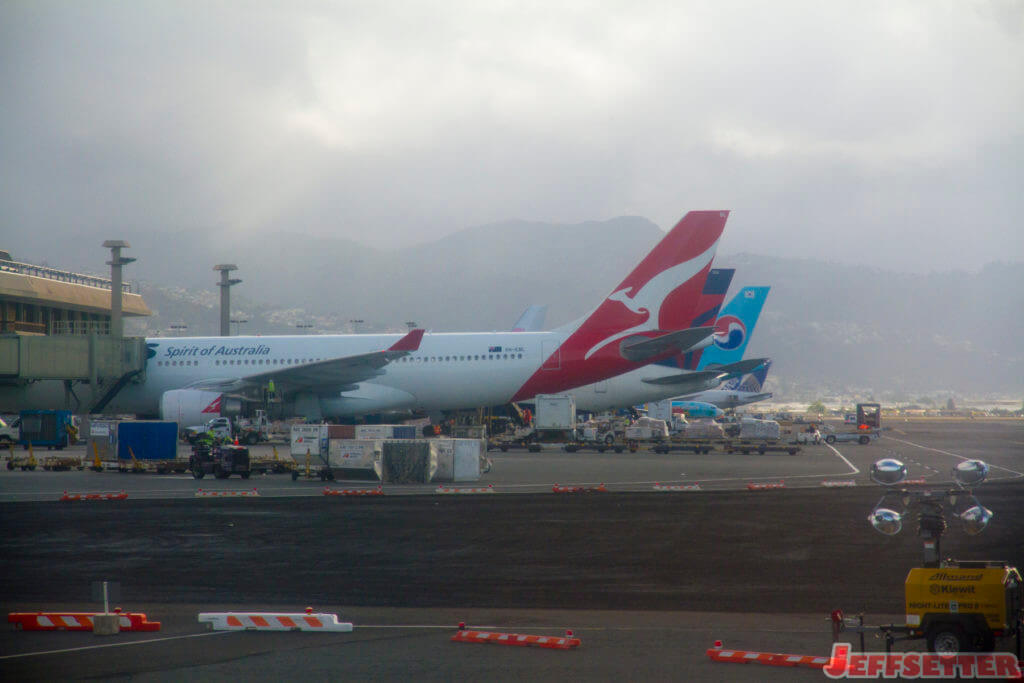 A happy result of our delay was being able to snap a photo of this lovely bird!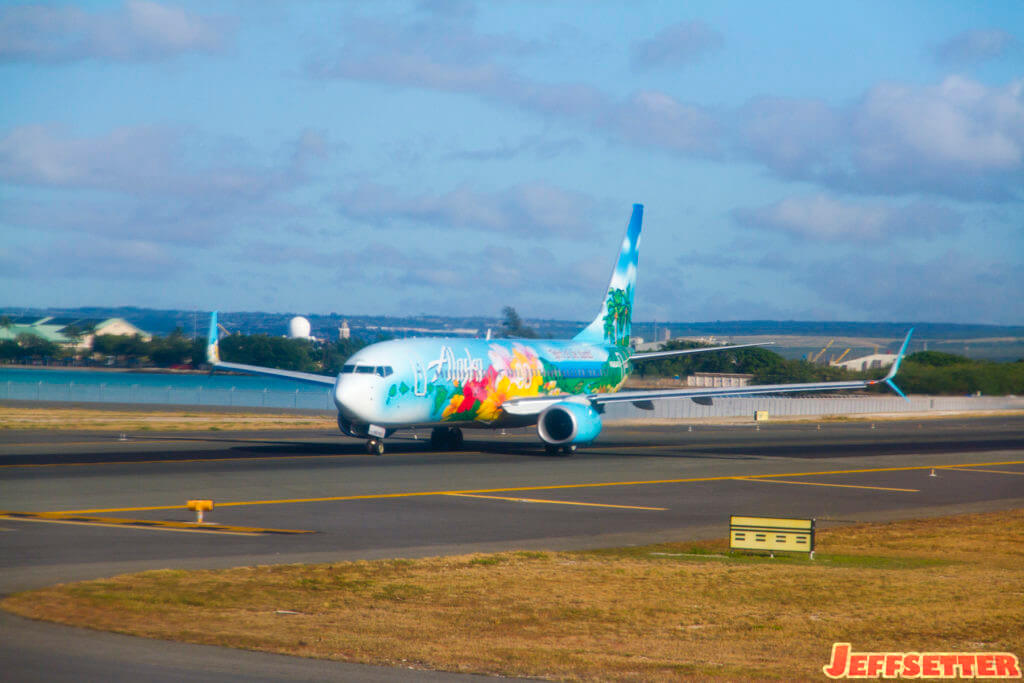 Alaska Air has outstanding special liveries, and this one designed by a local student is no exception.  It looks especially good with those split-scimitar winglets!
The glare on my window was awful on the climb out, so no photos this time.  I also skipped the beverage service because I had to pee!  But I did pull the tray table out just for you guys ?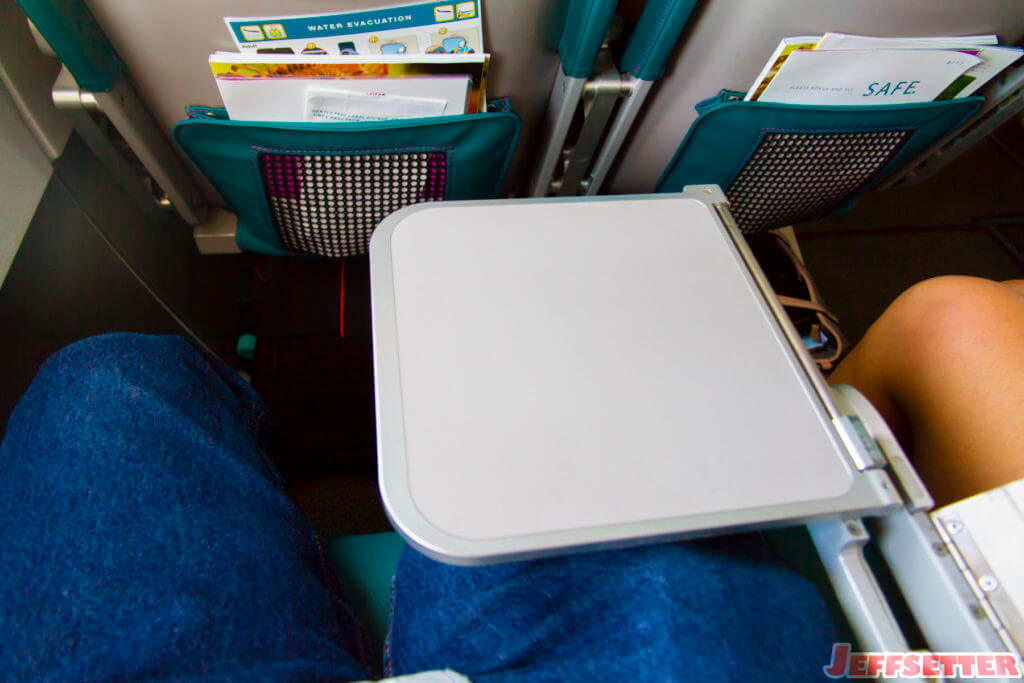 Unlike normal economy seats in which the tray table folds down from the seat in front of you, the Hawaiian Extra Space seats feature pullout tray tables.  This also means, however, that the armrests are not movable.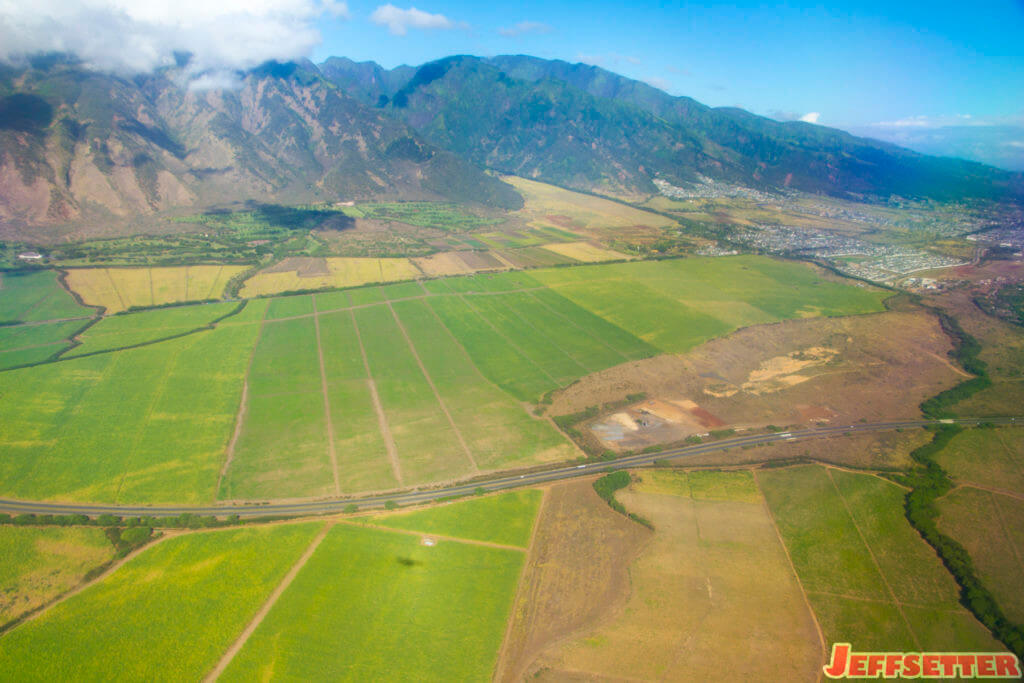 Soon enough we were descending into Kahului Airport.  During our final approach I made it a point to snap some photos of the sugar cane fields.  Unfortunately this would be the last time we got to see the massive expanses of green.  Later on this year the Pu'unene Sugar Mill will cease operations ending the centuries long sugar industry in Hawaii.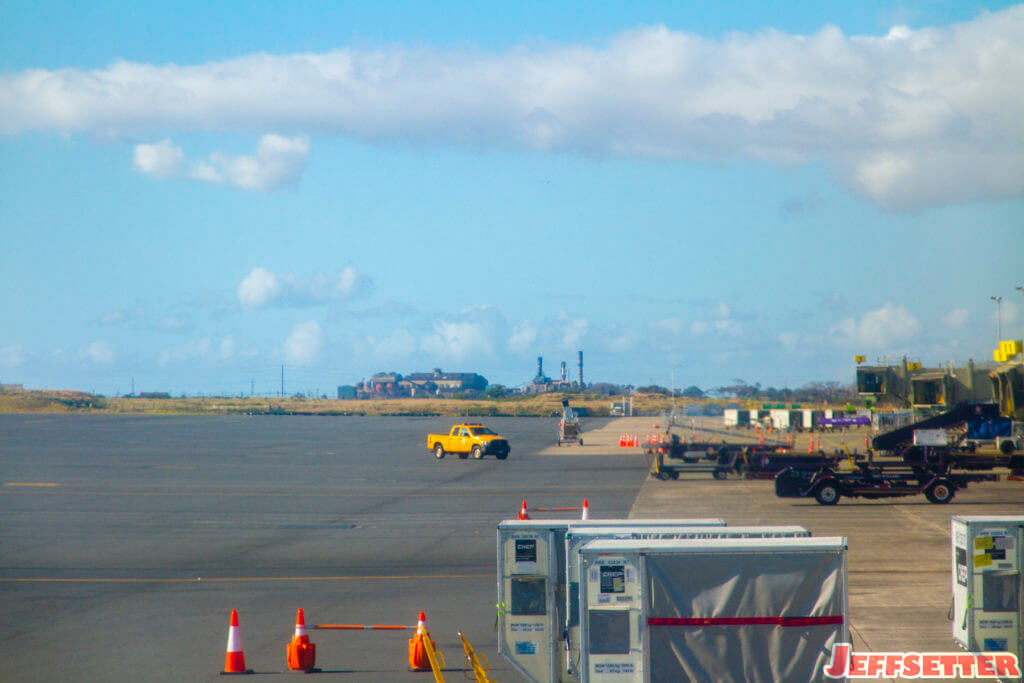 In no time at all we were on the ground.  Thanks to the diminutive size of Kahului International Airport, we parked at the gate just a few minutes after touchdown.  Being at the very front of the economy cabin meant that we were able to deplane equally quick.  Once off the plane I sprinted to the restroom and then to the rental car shuttle.  From there we headed straight to our hotel.
Valley Isle Love
Hawaiian Extra Space HNL-OGG