A very rare thing happened last month: an endangered Hawaiian Monk Seal born on Waikiki Beach.
On the night of June 28 to 29, something incredible happened.  An endangered Hawaiian Monk Seal was born on crazy Waikiki Beach.  And this birth is, in fact, the first such case since the National Oceanic and Atmospheric Agency began keeping records in the 1970s.
The Monk Seal + Pup
The mother monk seal, RH58 a.k.a. Rocky, is a regular around Oahu.  However, according to local news outlets, all of Rocky's previous pups were born on Kauai.  This is where Rocky herself was born 17 years ago.  But this time, for whatever reason, she chose to give birth on the congested Waikiki Beach.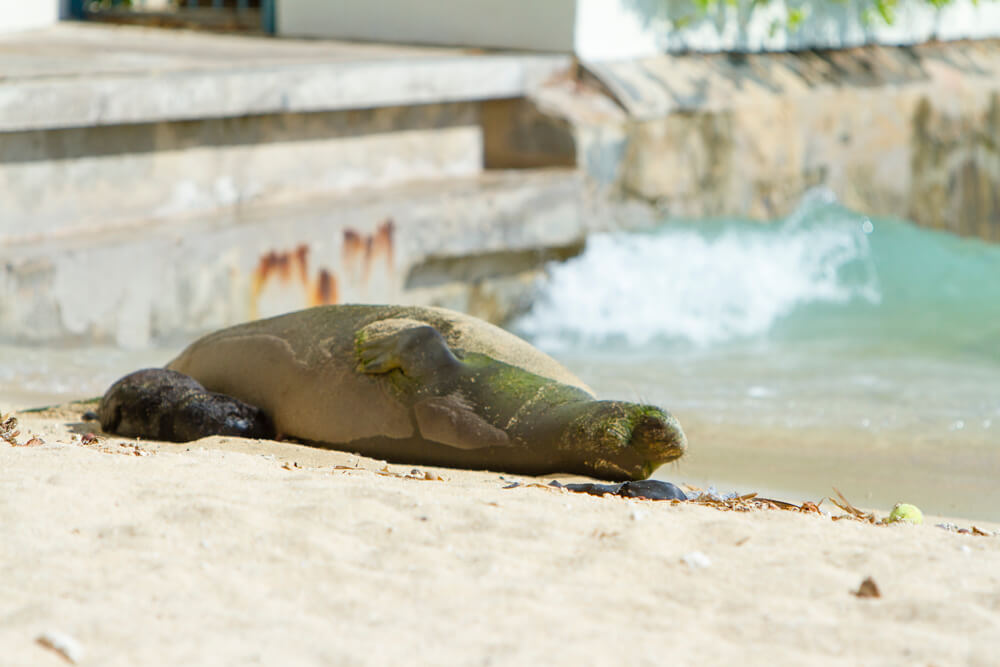 Viewing the Monk Seals
To be more specific, Rocky gave birth to her pup on a portion of the famous beach called Kaimana Beach.  And the duo are incredibly easy to find.  They are lounging about in front of the New Otani Kaimana Beach Hotel, near the Waikiki Natatorium.  The area is very easy to access, though public parking along Kapiolani Park is often crowded.  So if you plan on driving there, plan on arriving early.  And yes, all parking stalls are metered, so be sure to bring some quarters.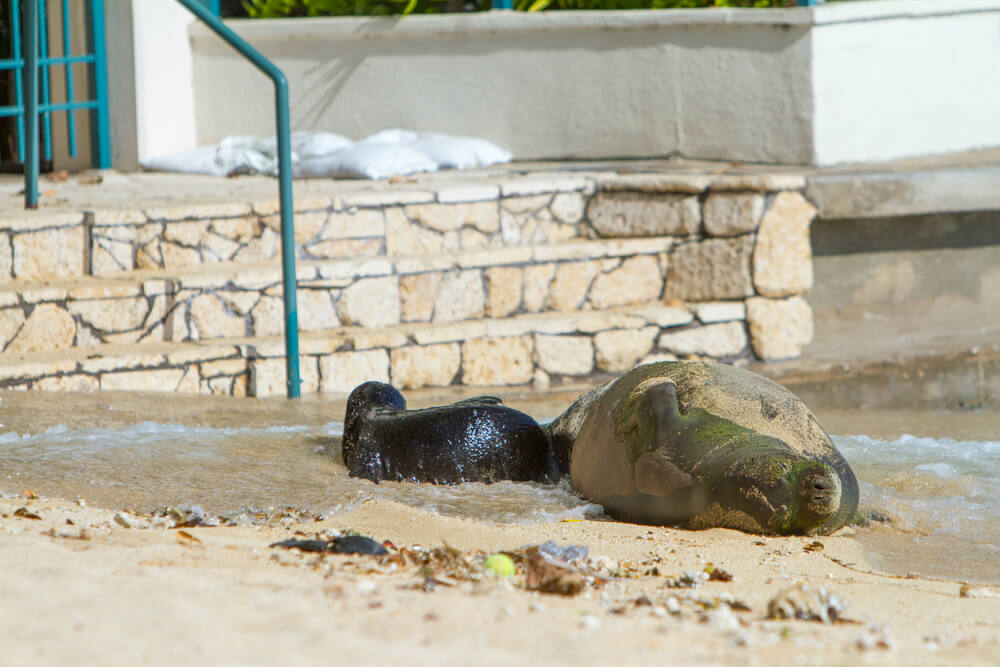 Because the animals are endangered, however, they are protected under Federal and State laws.  And viewing them must be done from a distance.  In fact, to protect the animals, NOAA and volunteers have setup a temporary barrier and are often on-site monitoring them.  Further, seals are wild animals, and mother seals can and will become aggressive should you get between her and her pup.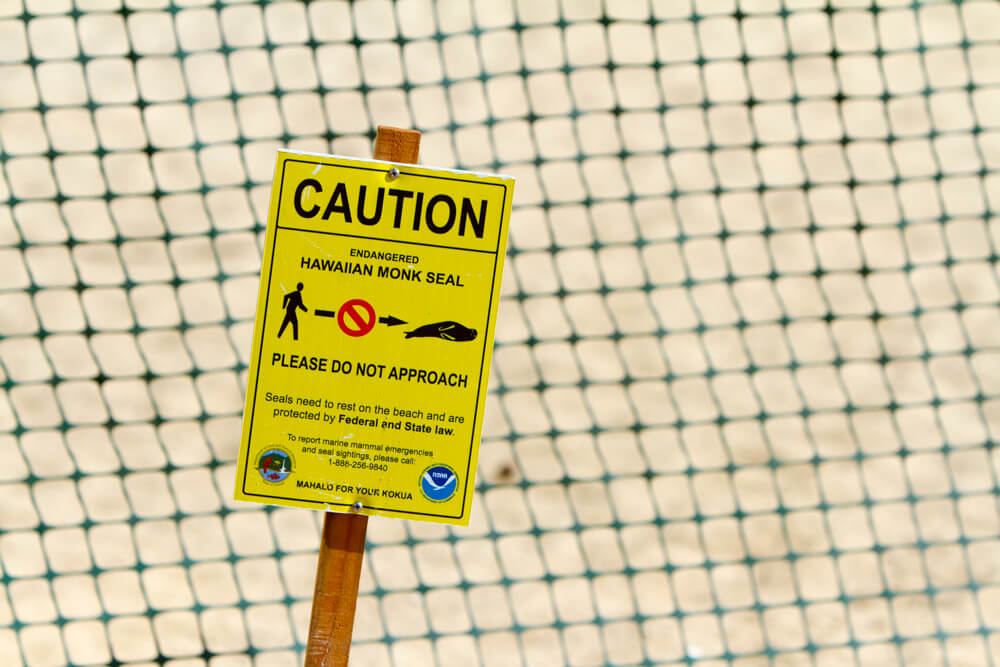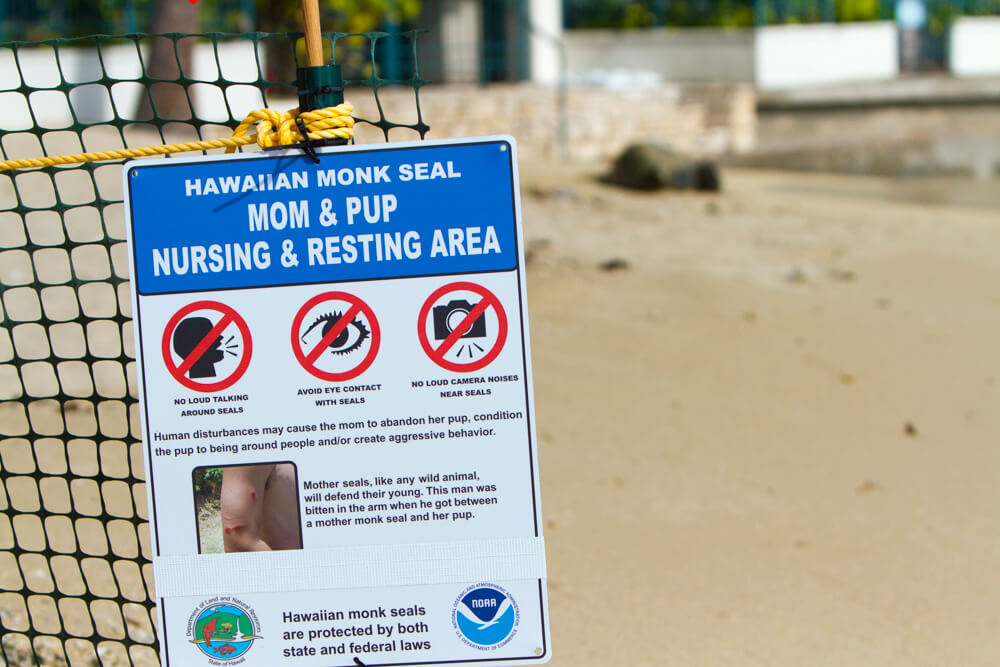 Oh, and if you are traveling to Hawaii soon and are wondering if they'll still be here, the answer is maybe.  Monk seals usually stay put for five to seven weeks after giving birth.  Rocky gave birth during the last week of June, so she'll be on Kaimana Beach at least until August 2nd.  Of course, Rocky may even stay as late as August 16, but really only time will tell.  After that, she'll likely continue to travel around Oahu and the other main Hawaiian Islands.
Hawaiian Monk Seal Born on Waikiki Beach Final Thoughts
Hawaiian Monk seal sightings around the main Hawaiian Islands continue to be quite rare.  There are only 1,400 of these animals left in the wild, most of which reside in the Northwest Hawaiian Islands.  And while their appearance within the main Hawaiian islands have been increasing, many residents have still never seen one.  In fact, when I saw Rocky this past Sunday, it was the first time I've ever seen a Hawaiian Monk Seal in the wild.
So if you're on the island of Oahu during the month of July to early August, this is your chance to see a Hawaiian Monk Seal and her pup.  But if you miss Rocky and her pup on Kaimana Beach, the Waikiki Aquarium is home to two Hawaiian Monk Seals.  In fact, the Waikiki Aquarium is worth a visit regardless for its small, but diverse exhibits.  The aquarium even has a special exhibit dedicated to fishes found only in the isolated Northwest Hawaiian Islands.
Additional Photos of Rocky + Pup