Last updated on March 30th, 2013 at 08:53 pm
Hilton Honors Devaluation Announced
Today Hilton announced a major devaluation to their Hilton Honors program for redeeming points to purchase rooms at high end hotels. I am not very happy with this change. (thanks for the heads up TPG and Lucky)
Traditionally, Hilton honors points have been very easy to earn – the easiest to earn among all hotel programs. As a result of this ease of earning, it costs up to 50,000 Hilton Honors per night to redeem a free night at their nicest hotels.
These nicest hotels will now cost 95,000 Hilton Honors points per night starting March 28, 2013.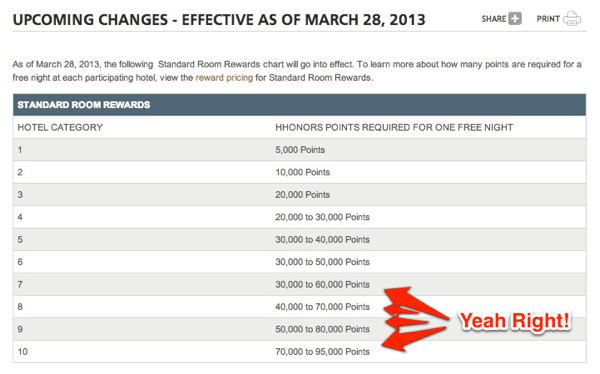 While these rooms were a decent value at 50,000 points per night, they are not worth anywhere near 95k points per night, or a 90% increase in points needed to redeem. That's about 15 years of points inflation rolled into a single change.
What business in the history of business has ever introduced a 90% increase to their prices and not had a backlash from their customers? None that I can recall.
This is almost as bad as when Netflix split their DVD by mail business into Quickster and nearly went out of business as a result.
I have been a gold Hilton member for the past 5 years and have stayed relatively loyal to the hotel, even though it takes a LOT of effort to earn even a free night. Recently, I have been branching out into higher end hotel chains like Hyatt and SPG to take advantage of their aspirational properties. With this change, I can see Hyatt becoming my new hotel chain of choice.
Don't get me wrong – Hilton and I had a good run over the years. The staff at the Hilton Sydney gave me and my fiancee the best room in the house when we got engaged. Other properties were decent as well, especially the international ones. Maybe I will go back to those properties in the future to relive the magic of the moment, but I will not be visiting them out of loyalty to Hilton.
There's no reason for me to stay loyal to Hilton anymore. They took away the one thing that kept me coming back – HOPE. Now there is no hope of these points really being worth anything. Hilton, you are the anti Obama campaign slogan.