Veiled as a response to members' requests, Hilton is changing one of its most important elite member benefits. In that change, Hilton swaps free breakfasts for elite credits instead. Oh, and they say the change is only temporary.
Coming out of the pandemic, hoteliers are still trying to find ways to save on costs. At the same time, properties have differing strategies towards their reopening. But, it seems Hilton's strategy is to dilute its membership value instead.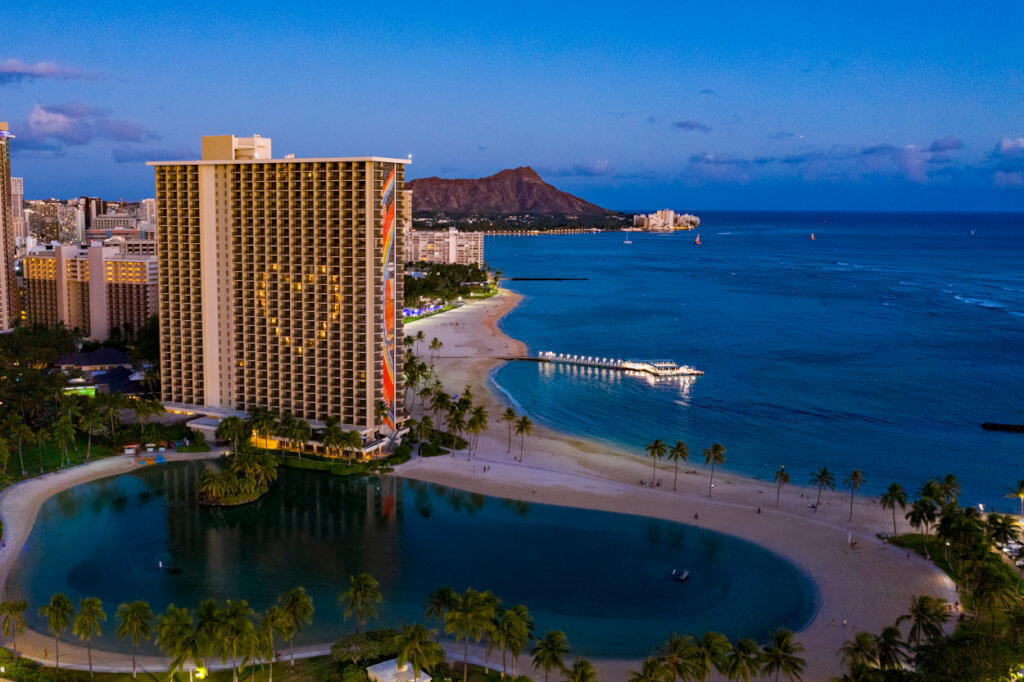 Hilton Swaps Free Breakfasts for Elite Credits
Before the pandemic, Hilton Honors Gold and Diamond members received free continental breakfast at brands that don't already offer it as part of your stay. Traditionally, this benefit was the primary thing frequent travelers enjoyed as part of their status. With COVID-19 causing travel demand to plummet and safety concerns changing the way we do things, most hotels eliminated breakfast service altogether. With life resembling 2019 more and more again, though, you'd think breakfast would return too, right? But that' not really the case with Hilton.
As of July 1, 2021, and effective for the rest of this year, Hilton is "suspending" the Gold & Diamond breakfast benefit in the US. In its place, they're offering these members a general F&B credit. In theory, that sounds great. Who wouldn't want more flexibility, right? But, in practice? I think we're getting the short end of the stick. Let's discuss.
The Hilton Honors Elite F&B Credit
In terms of implementation, the new elite F&B credit seems easy enough. When you want to use it, you simply charge a purchase to your folio. Then, you'll receive a credit to your folio up to the maximum amount, which varies by brand. That said, the credit is available for up to two registered guests per room and cannot be rolled over. However, you can use it at basically any F&B venue, including restaurants, bars, markets, and even room service.
It's worth noting that Gold members get a choice of the F&B credit or points at check-in, while Diamond members automatically get both.
Credit Amounts
So far, nothing about this new scheme seems particularly nefarious. But, when we look at the credit amounts, this is where things fall apart:
$25 per person per day (max $50 per room per day) at Waldorf Astoria, Conrad, and XLR
$12 per person per day (max $24 per room per day)  at Hilton, Signia by Hilton, DoubleTree, Curio Collection, Tapestry Collection, Canopy, and Motto – though this bumped to $15 per person per day (max $30 per room per day) in select markets
$10 per person per day (max $20 per room per day) at Hilton Garden Inn
Select markets that get higher credits include "Boston, Chicago, District of Columbia, Key Largo, Key West, New York City, San Francisco, the County of Los Angeles, and the state of Hawaii."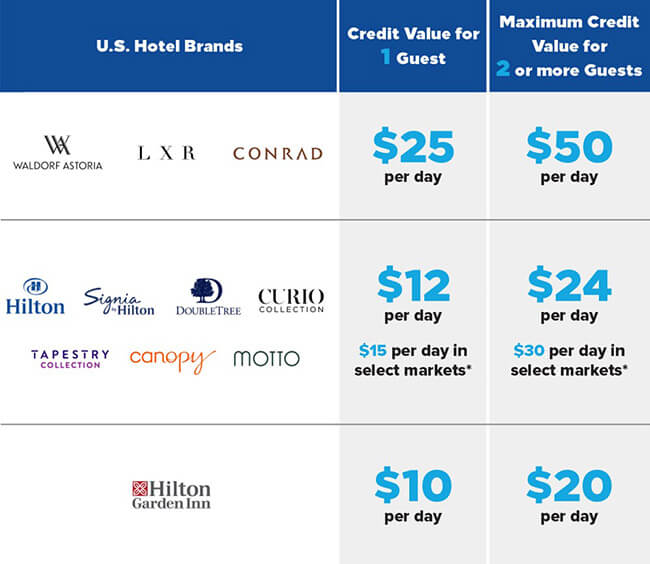 What the Credit Gets You in Hawaii
I have an upcoming trip to the Grand Wailea in Maui and was curious to see how this change would impact me – especially since Maui is a very expensive destination. The good news is, in the resort's main breakfast venue – the Grand Dining Room – the credit will cover virtually everything, inclusive of a non-alcoholic drink. In fact, the most expensive food items on the menu clocks in at $22 each and include the Create Your Own Omelet and the Croque Monsieur Benedict. You can even get a smattering of items from Bistro Molokini at lunch. So, overall, not bad.
Going down a rung to a Hilton property, things begin to look a bit less ideal. At the Hilton Hawaiian Village, you'd get $15 per person per day, right? Well, that won't get you much at Tropics Bar & Grill for breakfast – not even the continental breakfast ($20). Here, all you can get for free is an Acai Bowl – even the oatmeal comes in at $16. Egg dishes? Forget about it! Those are $25 and up!!
You do, however, get a little more leeway over at the Hilton Waikiki Beach. At that property's only restaurant – Mac 24/7 – there are a handful of items that fall under the $15 limit. Those items include avocado toast ($12), mochi pancakes ($15), Fresh Fruit Boat ($11), and French Toast ($11), among others. No savory egg dishes qualify, though.
Over on Kauai, the Hilton Garden Inn's credit is hilariously inadequate. The only item you can get at the Hilton Garden Inn Kapaa is the oatmeal for $10. Actual breakfast items cost $16 and up at this property. Ouch.
Final Thoughts
I primarily travel for leisure. As such, the breakfast benefit isn't the most important thing in the world to me. After all, hotel breakfasts are seldom worthwhile, and I usually don't schedule in time (or wake up early enough) to justify dining on property in the morning. So, this isn't a huge loss to me. But, for those that travel often, especially for business, I can see how this would be a problem. And while I like the flexibility the new credits offer, I simply cannot get behind the fact that the credits don't really cover anything. Hell, they often don't even cover continental breakfasts here in Hawaii. But, I'm not surprised. After all, this is a poorly disguised cost-cutting measure.
By the way, don't forget that the prices I listed above DO NOT include tax and tip. So, if you're looking to not pay anything at all, you're going to have to order something even cheaper, which further dilutes the value of the credits. But, hey, don't short-change your F&B staff – this isn't their fault.