Heading to the Big Island soon?  The Hokulea is heading to Hawaii Island as she wraps up her Mahalo, Hawaii Sail.
Last year, the Polynesian Voyaging Society's Hokulea wrapped up her historic Malama Honua Worldwide Voyage.  This three-year voyage saw many firsts for the double-hull voyaging canoe.  And the voyage was made possible by the generous donations of Hawaii's residents and businesses.  So, as a way to say thanks, Hokulea has been visiting each of the islands, offering free tours and educational events.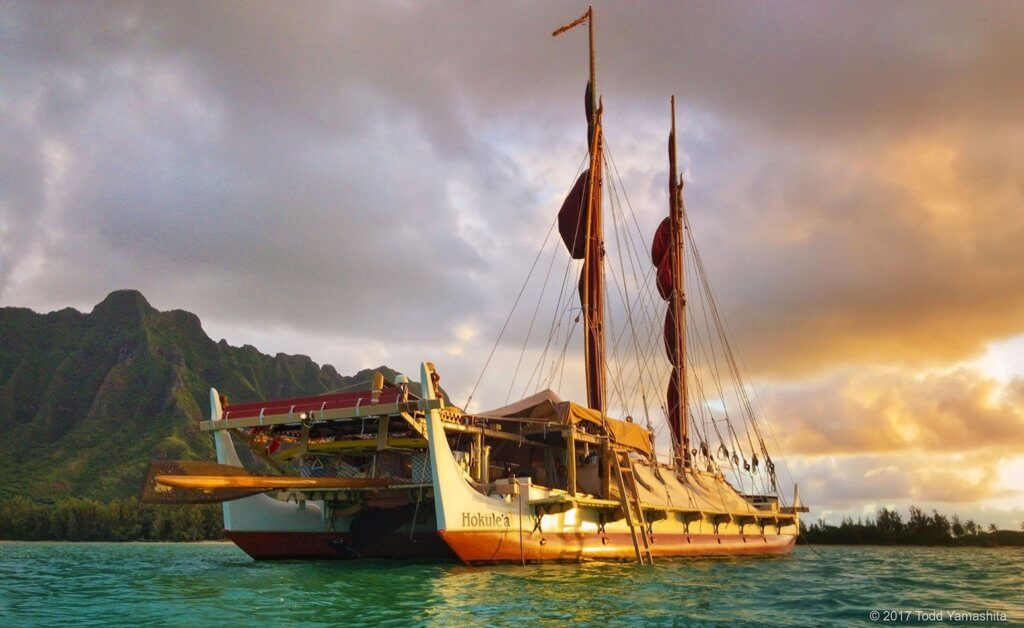 Hawaii Island
Hokulea has visited every island already except for Hawaii Island.  This visit will be the canoe's first visit since departing on her worldwide voyage from Hilo in May 2014.
Hokulea departed Oahu on Saturday, March 24, and will arrive in Kailua-Kona on March 26. Initially, Hokulea was to arrive on Sunday, March 25, but foul weather caused a delay.  When she arrives, Hokulea will spend about two months in various ports around the Big Island.
At the moment, there are three events on the schedule:
Kailua-Kona – Friday, March 30 and Saturday, March 31, 9 a.m. to 3 p.m.
Wailoa Harbor – Saturday, April 21, 9 a.m. to 5 p.m.
Kawaihae Harbor – Saturday, May 5, 9 a.m. to 2 p.m.
Additional events will take place during the two-month stay in Hawaii Island.  These other dates will be made known via the Polynesian Voyaging Society's website and social media accounts.
Hokulea is Heading to Hawaii Island, Final Thoughts
Hokulea isn't an exact replica of ancient Hawaiian canoes, she operates in the same way.  And that means Hokulea's navigation relies on wayfinding.  This art, which nearly went extinct, was the focal point of Disney's Moana.  So if you or your children found Moana interesting, this is your chance to talk to the modern experts on wayfinding.  It was Hokulea and the Polynesian Voyaging Society, after all, that began the renaissance in Hawaiian culture and wayfinding back in the 1970's.