Last updated on January 31st, 2016 at 06:16 am
I am currently in the midst of planning a Christmas/New Years trip to sail the British Virgin Islands on a catamaran. It's a rough life, I know.
While the boat is already booked for a weeklong voyage, my wife and I wanted to head to the islands for a few days before our boat departure in order to have a quiet Christmas together in a climate warmer than Minnesota.
In searching for hotel availability for the US and British Virgin Islands over Christmas I learned that I am not the only person who had this idea. It seems nearly everyone visits the islands over this week, because hotel availability at major chains was pretty much nonexistent.
With no loyalty programs showing availability, I turned to my next most trusted source for hotel bookings and visited hotels.com. While most hotels were sold out, I came across a decently rated hotel for only $120/night. This was much better than the $500+ most hotels were charging. Since we only needed accommodation for 3 nights before to staying on a luxurious boat, I decided to book the inexpensive hotel and hope for the best.
Using hotels.com to book the room I actually had several options for hotel discounts:
Pay full price for the room, earning 3 nights in welcome rewards credits
Use my Hotels.com Welcome Rewards bonus of $306.01 to redeem a free night
Use a 10% off discount code provided to me from hotels.com for future bookings
With the above options, you would think that option #1 above is a no-brainer, right? Well, not exactly in my case. The rest of this post walks through my decision process in choosing the best option for choosing hotel discounts through Hotels.com.
Pricing the Hotel Without Discounts
Let's start by pricing out the cost of this hotel room with no discount applied. With 3 nights at ~$120/night plus taxes and fees, we were looking at ~$430 for these 3 nights. Not unreasonable, but surely the most expensive of my options.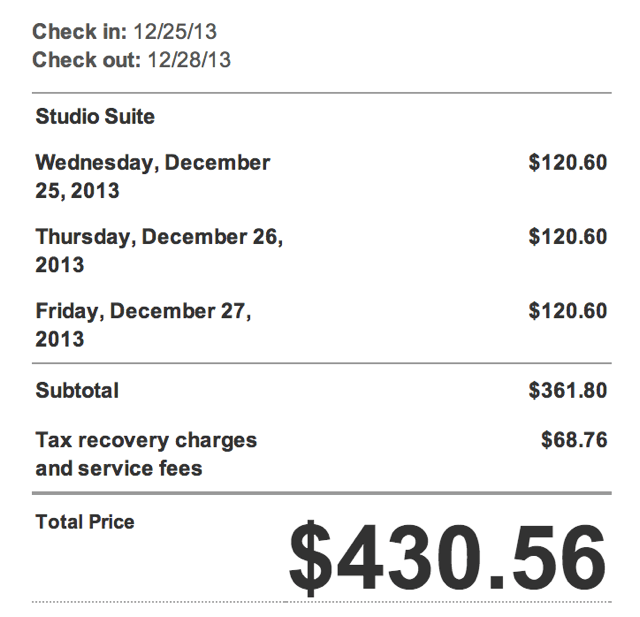 I would also collect 3 nights toward a free night for this stay, which I value at roughly $36 in hotel stay credit (credit does not appear to be earned on taxes and fees).

If you subtract that $36 in future credit to the cost of the stay, the total cost of this stay would be ~$394 for 3 nights.
I knew I could do better than that, so my thought was that I would be able to apply $306 hotels.com credit to the stay and pay around $125 for my entire stay. Unfortunately, I got some bad news as I began the checkout process.
Hotels.com Welcome Rewards Only Applies to Nights, not Entire Stays!
With a free night in my welcome rewards account, I decided to apply this to the cost of the hotel and see what happened. Remember that at this point I was assuming that the amount would apply to the entire stay.

As I applied my welcome rewards to my cart during the checkout process, I noticed that the discount only applied to one night of the stay, not all three! What a disappointment – and what a ripoff if I were to waste a $306 credit to save $120.

Using my free night from hotels.com welcome rewards would have been a grave mistake here, because I would not only be leaving $186 in credit on the table, but I would also miss out on a reward night for the stay. It would cost me over $200 in opportunity cost to use this coupon for a one night redemption. Not gonna happen!
Hotels.com Coupon For Booking 10% Off
The last thing that I wanted to try was a 10% off booking coupon I had received from Hotels.com for leaving a review of a previous hotel I booked through their service.  During the checkout process, I entered the discount code to see what type of discount I would expect.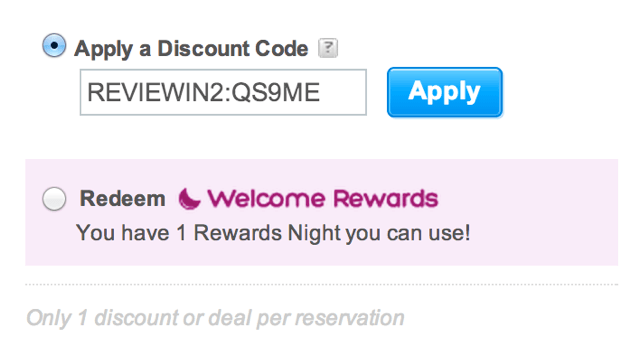 The 10% coupon applied to the entire balance of the hotel rooms, but was not applied to the taxes and service fees (I am not sure why this happens, but I do find it annoying that this was necessary).
However, by applying the 10% off discount, I would not earn any nights toward my Hotels.com Welcome Rewards account. No double dipping for me.

You'll notice that the 10% off coupon, when applied to the room ended up reducing the cost to be nearly identical to the value of not using a discount at all. In either scenario, my assumed cost is $387 and some change. The biggest difference is that in one scenario I am paying more up front for savings in the long term. With the 10% discount code I am receiving the entire benefit up front.
Which Hotel Discount Did I Choose?
In the end, the obvious choice for me was to use the 10% off coupon. While it meant spending more cash up front and prevented me from receiving free night credits, I viewed it as the clear best option for several reasons:
I still have my $306 credit to use at a more expensive/swanky hotel in the future
For my next free night from Welcome Rewards, I can aim to keep the average value of my stays at a more expensive level, which makes the future credit more worthwhile. In other words, I would rather have a $300 credit with hotels.com than one for $150. Why is that? Because I tend to use hotels.com on independent hotels that are often more expensive than chain hotels. The higher the credit, the closer I am to a free night
Redeeming hotels.com discounts on hotels eliminates your ability to earn a free night for the discounted room. That would lower the value of my redemption even further
When all other things are equal, I would rather preserve my cash over having it sit in a hotel loyalty program
Hotels.com Welcome Rewards: Good, Not Great
That leads me to the Hotels.com Welcome Rewards program. Even though they make it appear as if it is a 10% discount on your stays, their terms and conditions really make it less valuable than that. Before investing heavily into the Hotels.com program, you should beware of the following caveats to the program that make the free nights program significantly less valuable:
You don't earn 10% on taxes and fees
You can only redeem for a night and not a stay
Free nights are not really free, but rather a discount of "up to X dollars"
You don't earn credits for your free nights, even if there you use a $50 credit on a $700 room
Credits will expire if you don't have activity in your account for 12 months
I will continue to use hotels.com for bookings at obscure independent hotels where there are limited options for booking, and I will look at their loyalty program in an opportunistic way: use their rebate when you can, but do not go out of your way to book through hotels.com. The 10% redemption for free nights is misleading in several ways, but is better than nothing – even if it's worth only 5-8% of your stay.
Is it Time to Switch to RocketMiles or PointsHound?
At times I can be a creature of habit and turn to my "go-to" booking services for finding hotel rooms. My main reason for booking hotels through loyalty program websites and/or hotels.com is that I like knowing I am earning rewards for staying at hotels as opposed to airline miles. For me, earning airline miles has never been difficult. I have over 500,000 of them at any time. Hotel points are another story, because my points are scattered throughout 5-10 different programs. It's usually more difficult to piece together free hotel nights for a trip than it is to use miles for the flight.
Perhaps I should start looking into using sites like RocketMiles and PointsHound to get a rebate on my stays? I know other travel bloggers love these services, but the value proposition hasn't jumped out to me quite yet.