Yesterday, the Kilauea East Rift Zone eruption 2018 began on the Big Island of Hawaii.  And if you're planning on visiting the island, there are some things you need to know.
Kilauea is one of the most active volcanoes in the world.  In fact, if you visit Hawaii Volcanoes National Park, you'll almost always see something.  Back in 2015, Mrs. Island Miler and I went to the Big Island and got to see the glow of the volcano at its summit caldera, Halemaumau Crater.  It's an easy site to see, as it's adjacent to the Volcano National Park's Jagger Observatory along the Chain of Craters Road.  However, more recent activity (which has since ended) was more difficult to view, as lava entered the sea along Kilauea's East Rift Zone.  But, now, Madam Pele is back with yet another eruption, though one that may prove to be more troubling than most recent ones.
May 3 Eruption
The latest eruption at Kilauea began on Thursday, May 3, 2018, shortly after 4:00 p.m. HST.  It is centered in a RESIDENTIAL community called Leilani Estates, which itself is located in Kilauea's East Rift Zone.  And, according to Hawaii News Now, about 1,700 people call the subdivision home.  The fissure itself is quite long, stretching somewhere around 500 feet.  Lava is said to be erupting from the fissure is said to be reaching heights of about 150 feet.  And the fissure is just 200 yards from a home.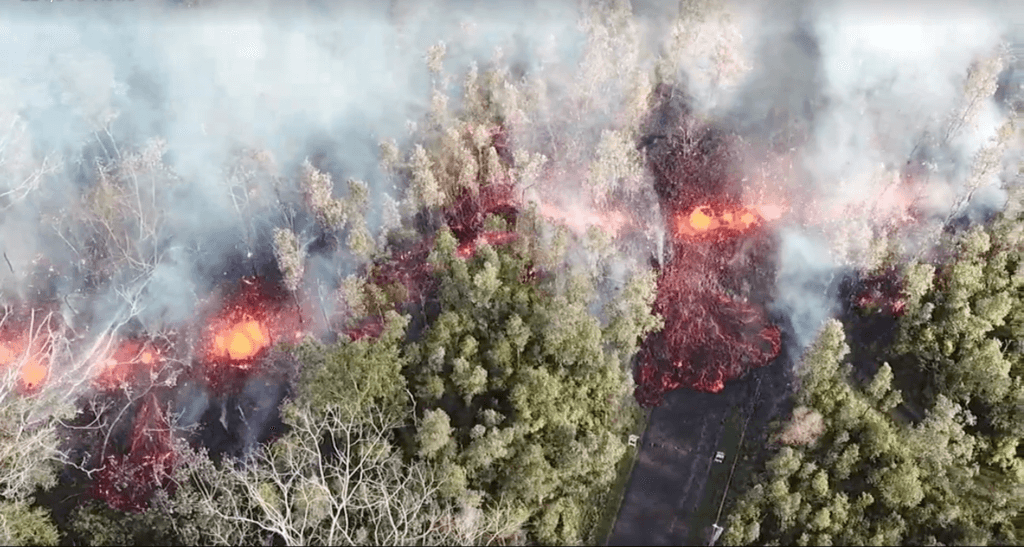 The situation in Leilani Estates is bad for residence.  A mandatory evacuation order has been given for the area, so don't expect to be able to see the eruption yourself.  In fact, Volcanoes National Park has closed the entire area from Pu'u O'o Vent to the ocean.  And the County of Hawaii has closed its Kalapana Viewing Area.  To be clear, Volcanoes National Park is still open to visitors, but only in the upper elevations.  You'll still be able to do what we did and view activity at Halemaumau Crater.  But, again, don't expect to see the new eruption.
Kilauea East Rift Zone Eruption 2018, Final Thoughts
I can't imagine what the residents of Leilani Estates are going through.  I know myself and the entire State of Hawaii are hoping for the best for these people.  How long the eruption will last, though, is anyone's best guess.
If you plan on visiting Volcanoes National Park, do be sure to check with the National Park Services ahead of time.  The Park's website is a great resource, as are their Social Media channels.  And for the latest stories, videos, and pictures, check out Hawaii News Now and the Honolulu Star-Advertiser.