As I've said in my last post, I scheduled us a 21 hour Seattle Layover on our way home.  I like these kinds of layovers if time permits; lets you squeeze in another city.  But its always a goal for me here because I love Seattle!
The first thing we did after getting off our flight from EWR and checking into our hotel was to head off to a nice dinner.  We specifically didn't eat on the airplane because of our dinner in Seattle.
Goldfinch Tavern
Goldfinch Tavern is probably one of my favorite restaurants in Seattle.  I've reviewed it before so I won't go into too much detail, but suffice to say it was another great experience.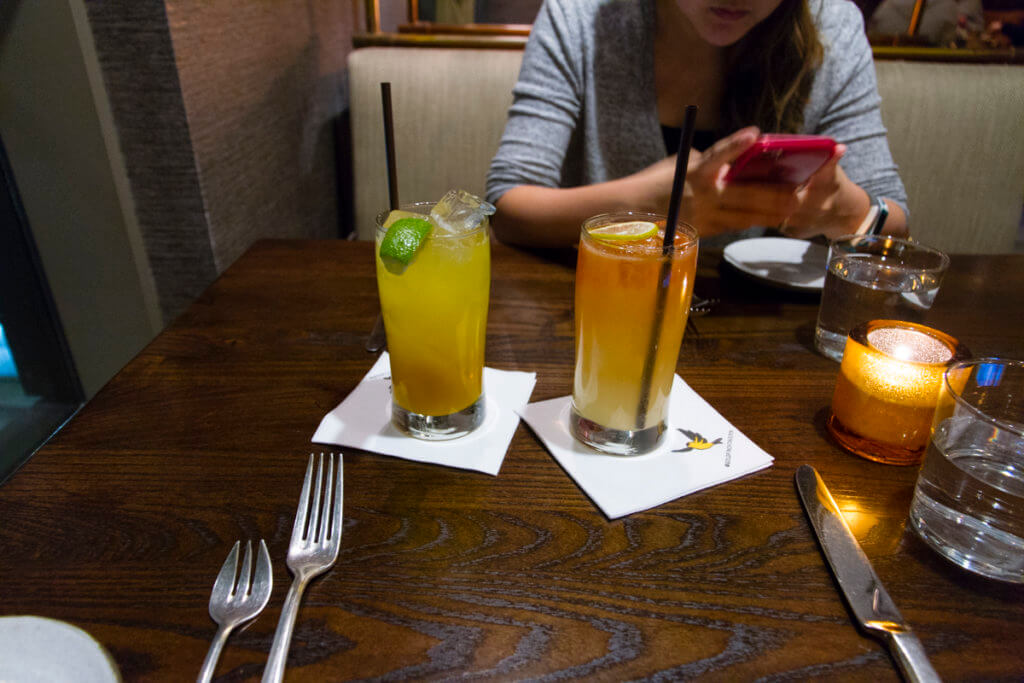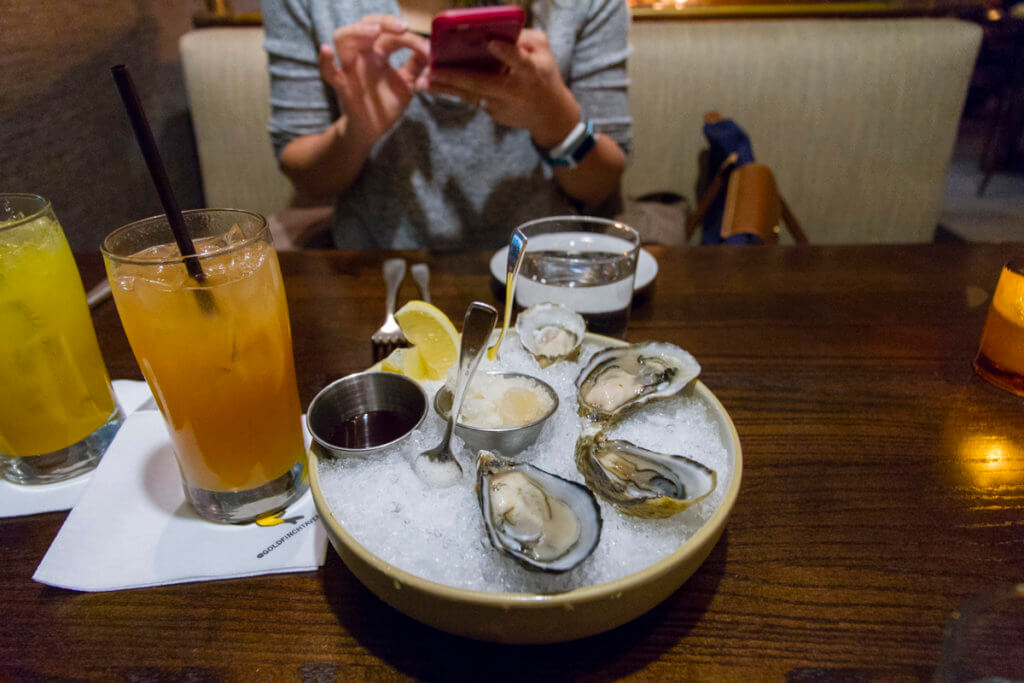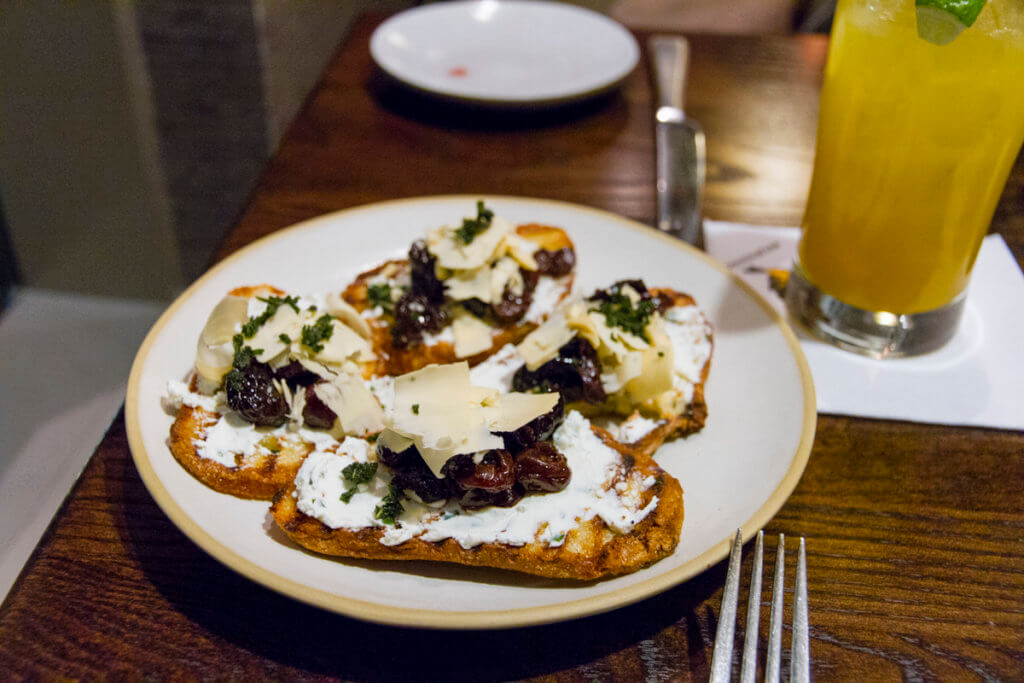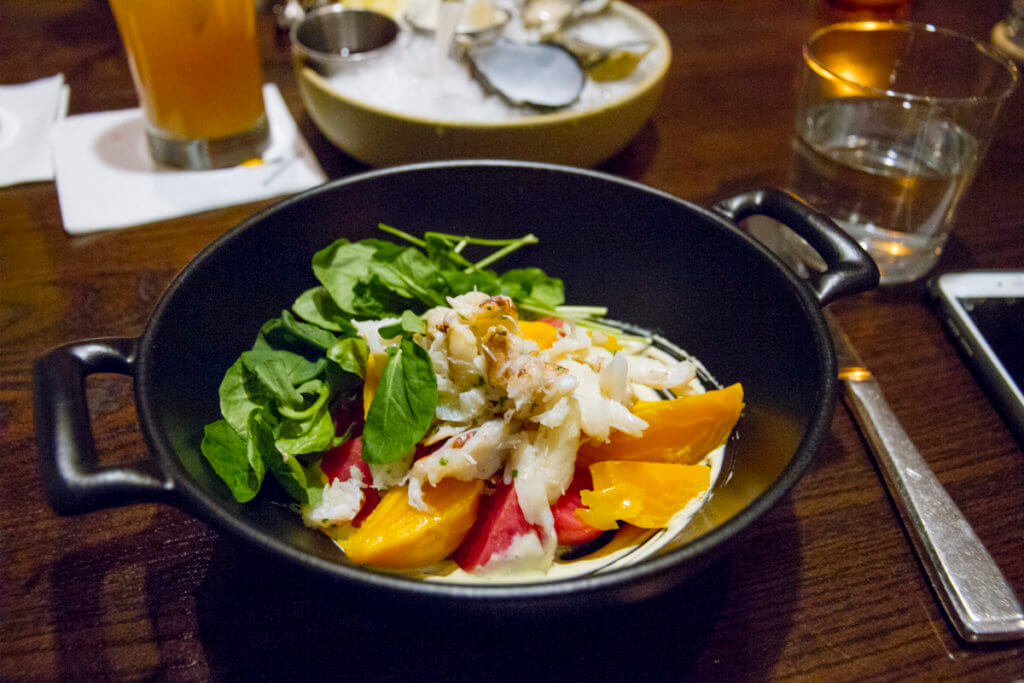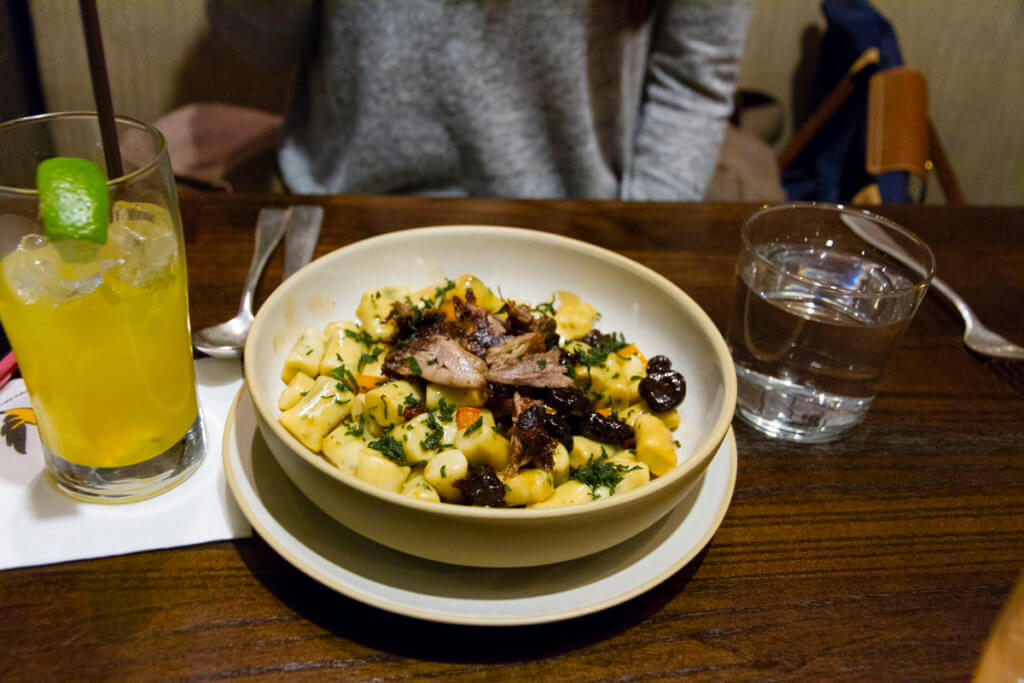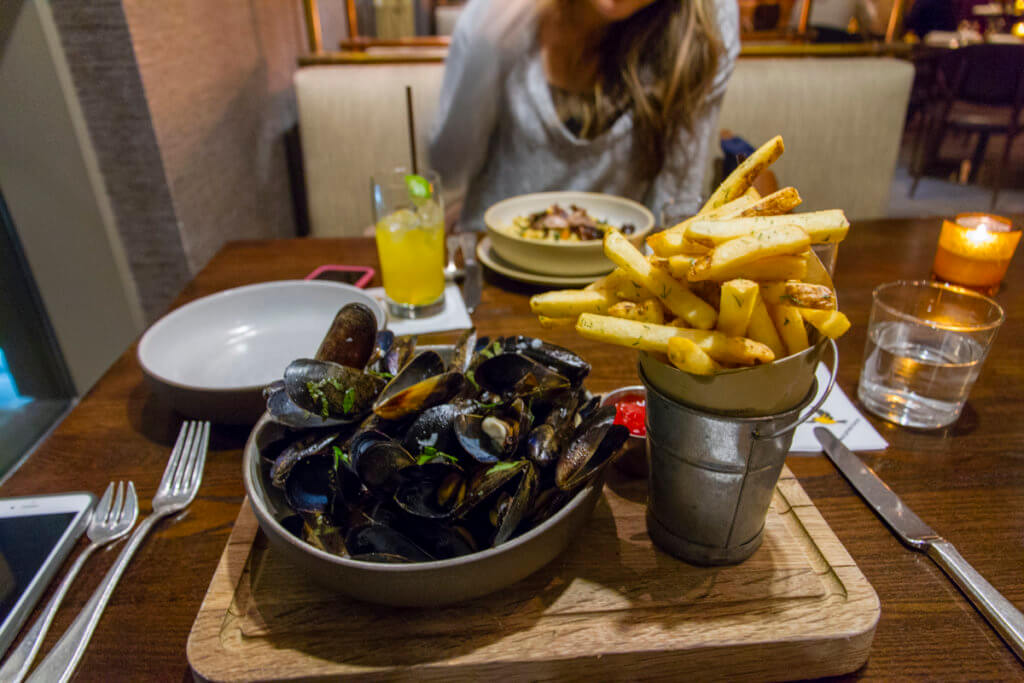 Everything was delicious, though the Beet + Dungeness Crab salad had a little less crab and was a bit more vinegary than last time.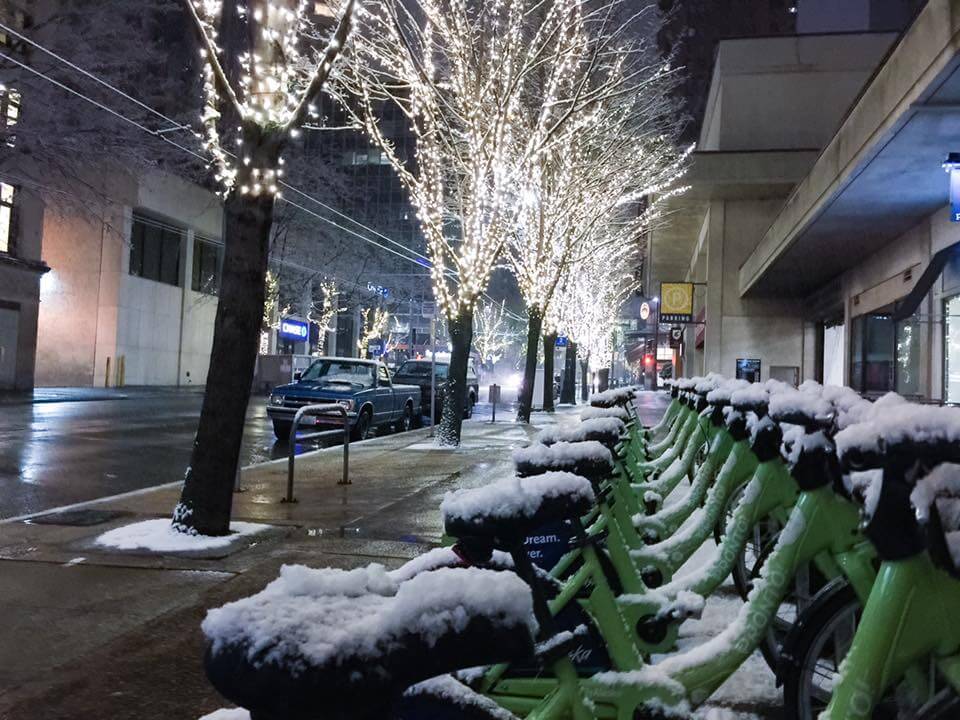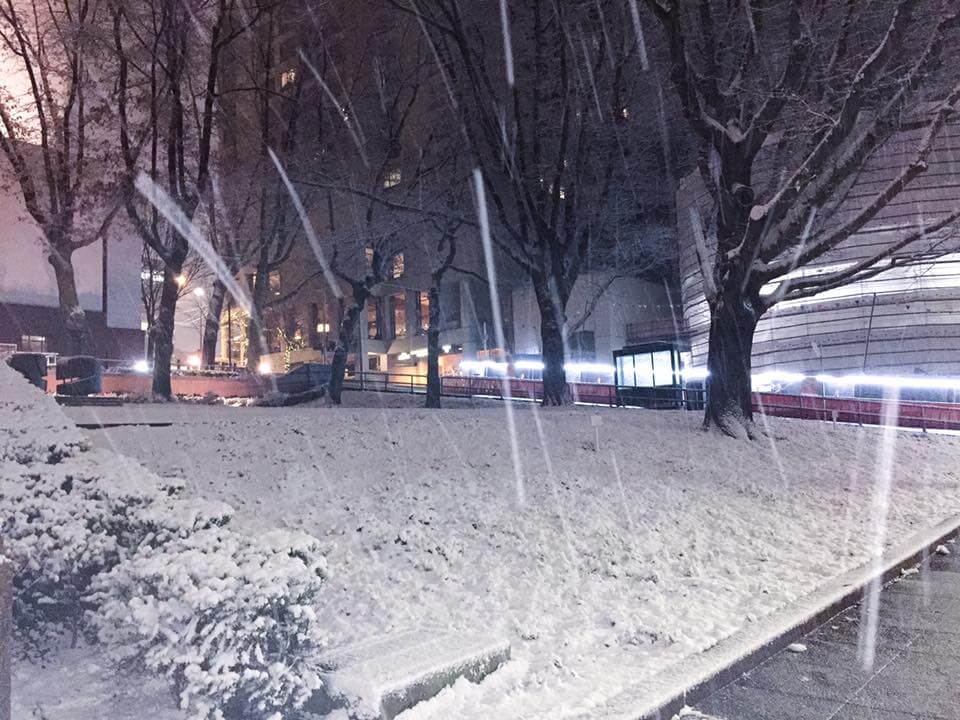 After dinner we headed back to the hotel.  But instead of calling an Uber like I normally would, we decided to walk.  It was snowing out, which is pretty rare for Seattle, so why not?  It was, after all, the first time we've ever been in or seen falling snow in real life!
Starbucks Reserve Roastery + Tasting Room
Live I said last time, many visiting Seattle will head on over to the original Starbucks location.  Me?  Nope.  Did that once and never again.  Heck, we went when there was no crowds, but I thought it wasn't anything special.  But the Starbucks Reserve Roastery + Tasting Room?  Now that's worth a visit.  While the location has unique coffees and teas, they also have unique food items by Seattle's own Tom Douglas.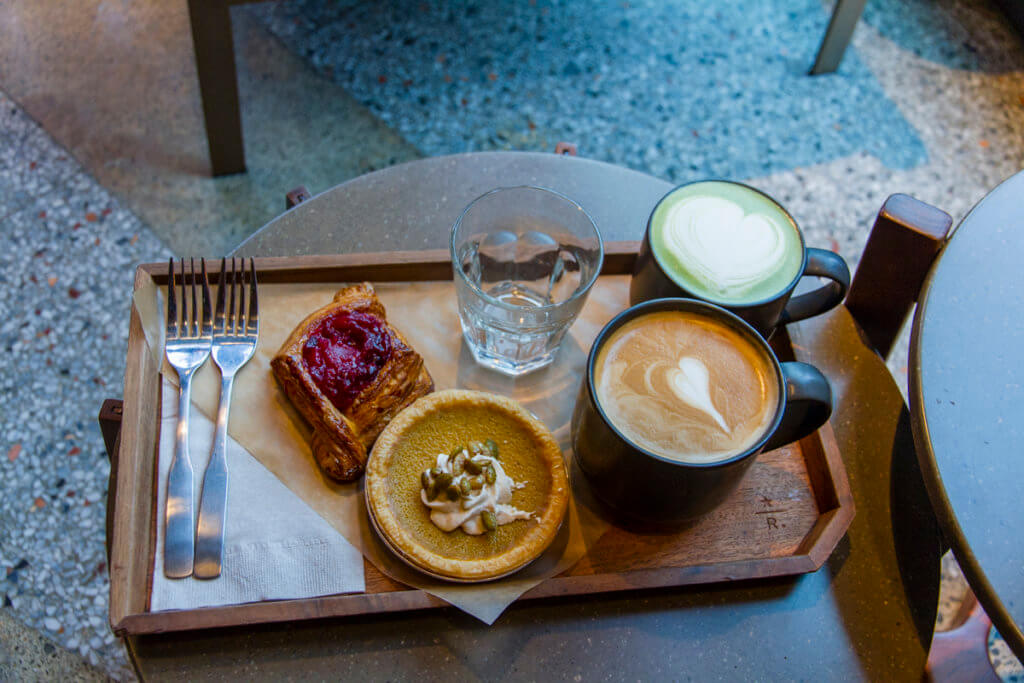 So of course, after a good nights sleep at the Renaissance Seattle, we headed out the Starbucks Reserve Roastery for some breakfast.  After ordering we settled into a nice little nook to enjoy and watch the world go by.  That morning we had a nice latte, a green tea latte, a danish, and the best damn pumpkin i.e. I've ever had.  Period!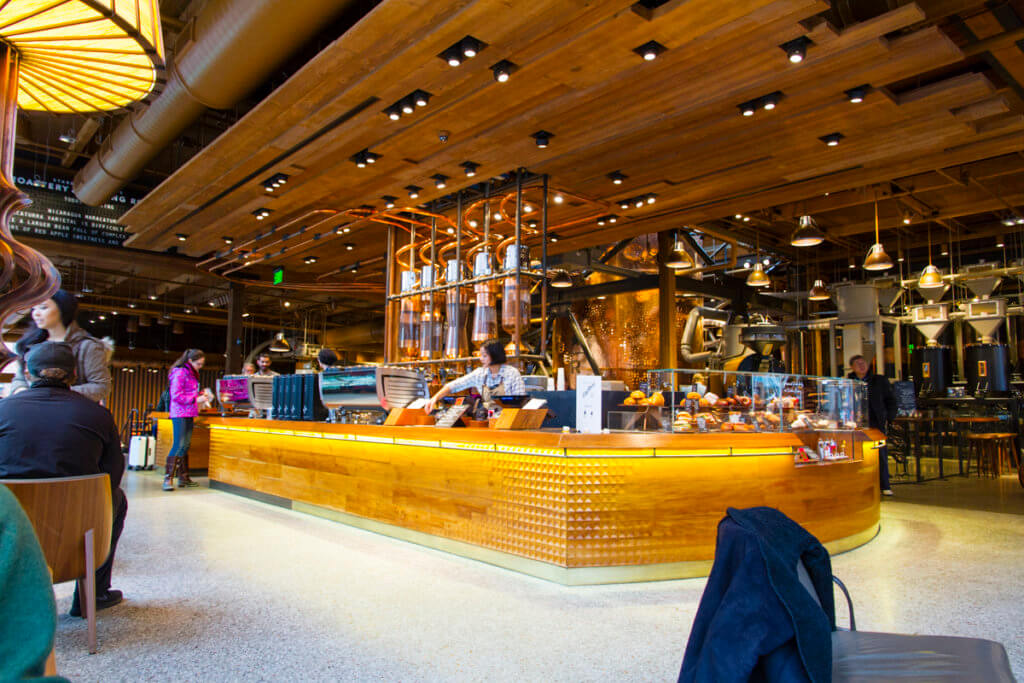 After our breakfast, we decided to walk around a bit.  Both of our families like coffee and we know some Starbucks fanatics, so it's a good a place as any for us to shop for gifts.
Serious Pie
The other reason to visit the Starbucks Reserve Roastery?  Tom Douglas's Serious Pie.  Like everything else so far, this is a repeat, so I won't go into detail again.  But I couldn't pass up a chance to get one of my favorite pizzas anywhere for lunch.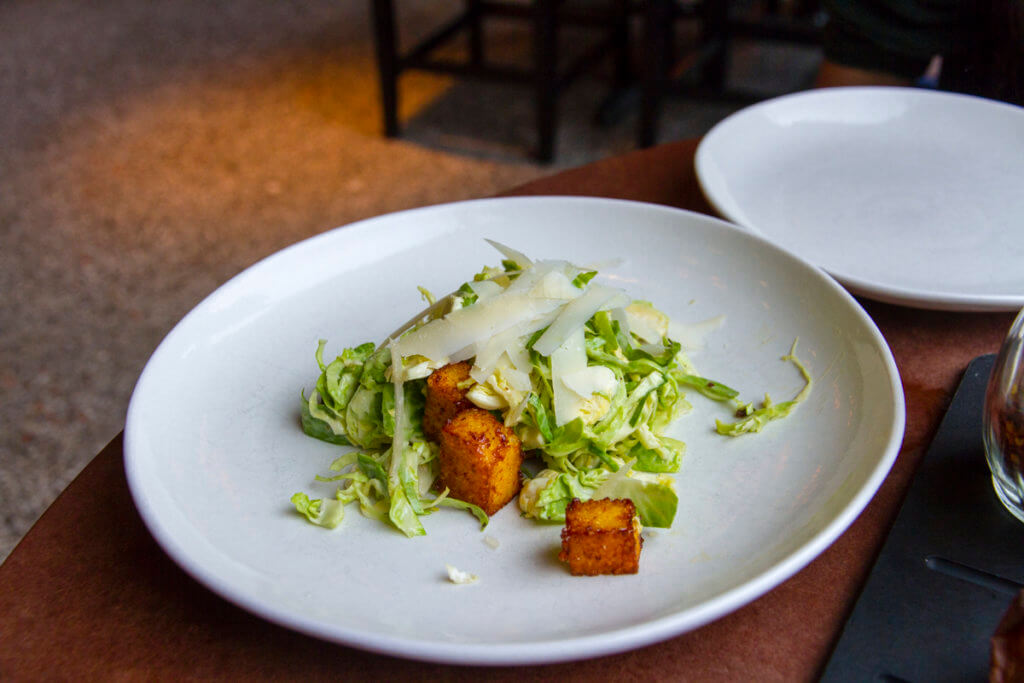 Before we got to the pizza, though, we ordered a shaved brussels sprouts caesar.  It was REALLY heavy on the on the sardines, which is to say, not for me.  Not really a fan of raw brussels sprouts either, but Mrs. Island Miler wanted to try.  She liked it more than I did.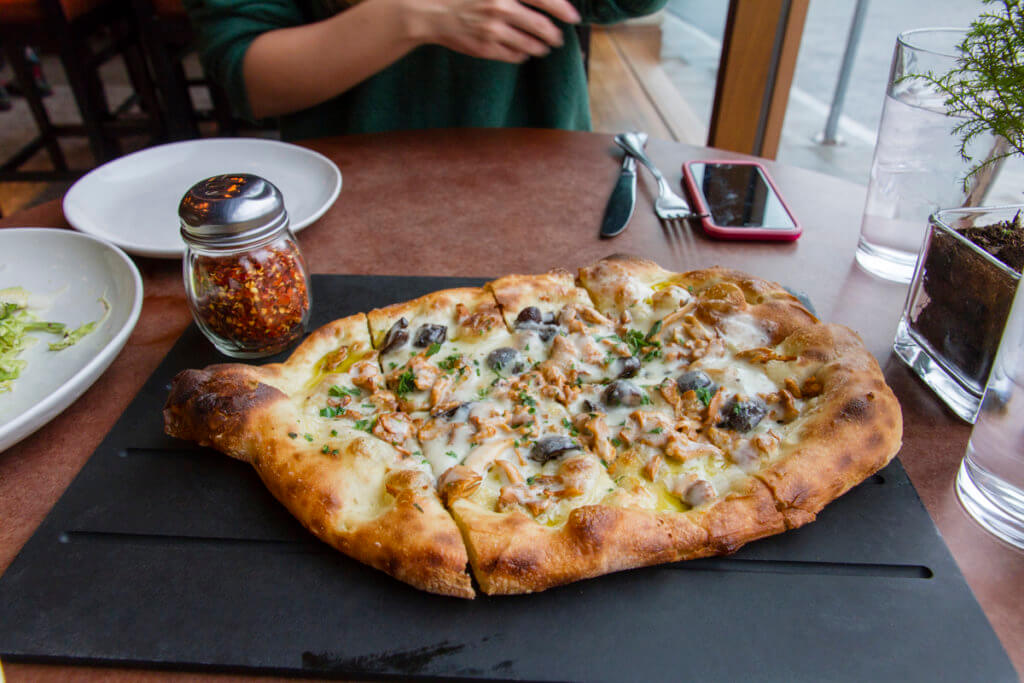 The highlight of our Serious Pie visit was this magnificent Mushroom Pie!  Topped simple with Truffle Cheese and mushrooms, it was FANTASTIC!  We really lucked out on this one, as the wild mushrooms were chanterelles.  And who doesn't like chanterelles?!  Salty, meaty, cheese; perfect with a bit of red pepper sprinkled on top.
Pike Place Market
After lunch, we decided to try to burn some calories and walked down to Pike Place Market.  Yes, its touristy, but there's a lot of great places to visit too.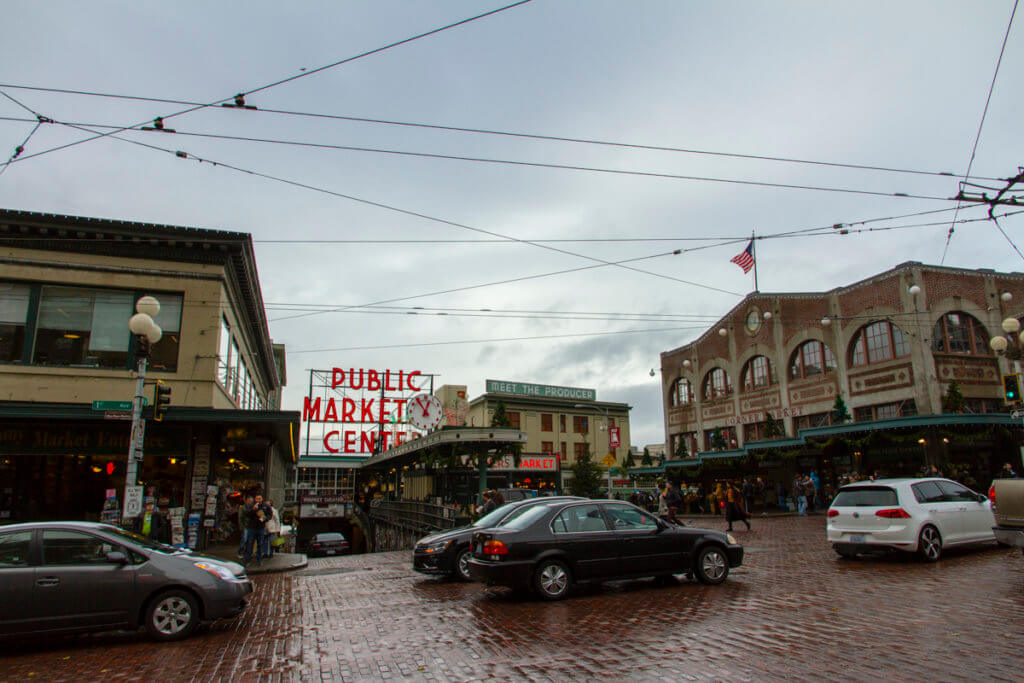 I seriously can't visit Seattle without visiting Pike Place.  It's a great place to pick up some knick knacks, and if you know where to look, get some great food to eat there or take with you.
Rachel's Ginger Beer
And of all the places we visit in Seattle, Rachel's Ginger Beer is the one I absolutely cannot miss.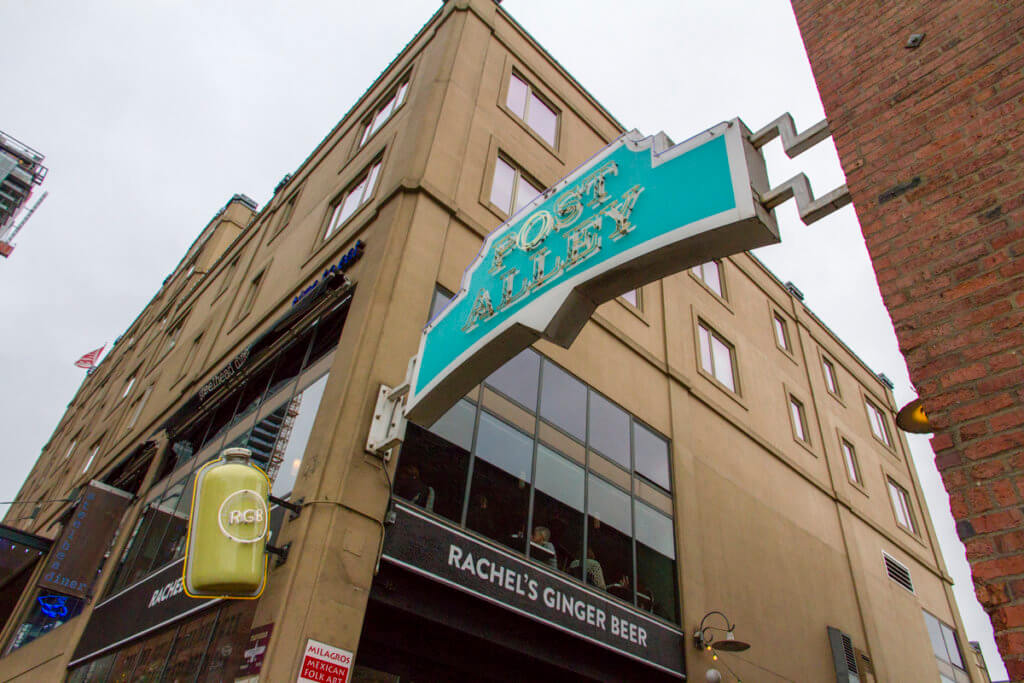 I LOVE this place, and this time they had a fantastic Passion Fruit + Vanilla flavor, which was tart, gingery, fruity, and a little sweet.  Mrs. Island Miler went with the Mango Matte, which is a regular menu item.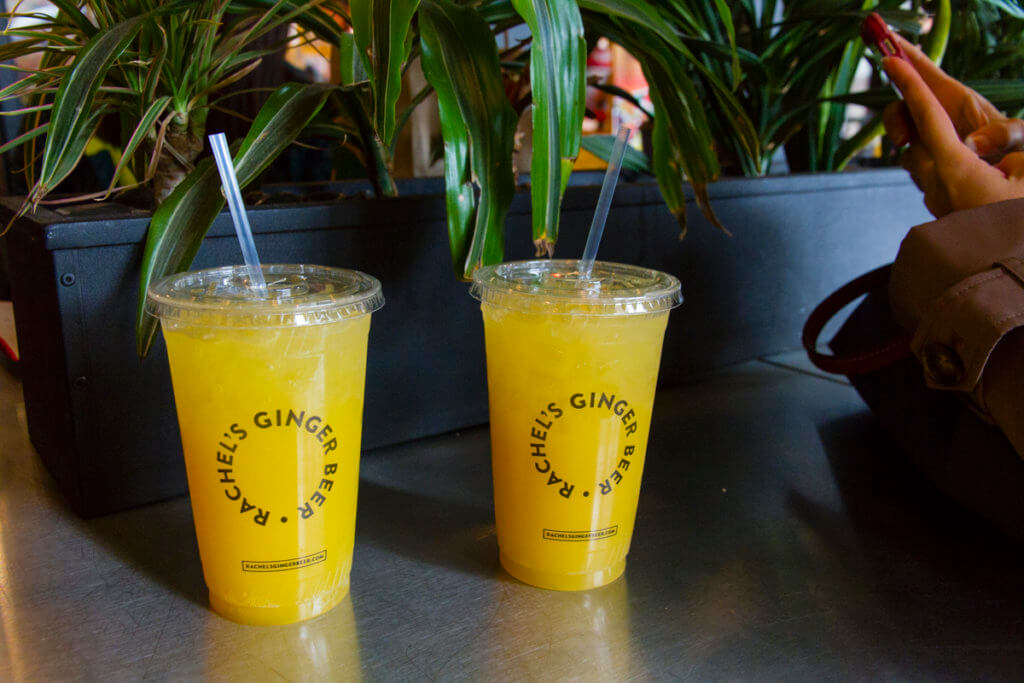 After enjoying our beverages, we headed back out.  The day was drawing to a close, which meant it was time to head back to the hotel, check out, and head to the airport.
Alaska Air SEA-HNL
We ran into a little snag checking out of our hotel, but the staff was fantastic.  Then on our Uber ride to the airport, we ran into site a bit of traffic.  But, we ended up arrive at SEA about 2 hours prior to our flight.  The lines were long for checked bag, but moved pretty quickly.  Our bags were a few pounds overweight, but the agents didn't say anything to us and sent us on our way.
After quickly passing through security (thanks TSA Pre-Check) we ran into a friend returning to SEA.  We caught up for a bit, then headed over to the N Concourse.  There we hung out in the lounge once again until right before boarding.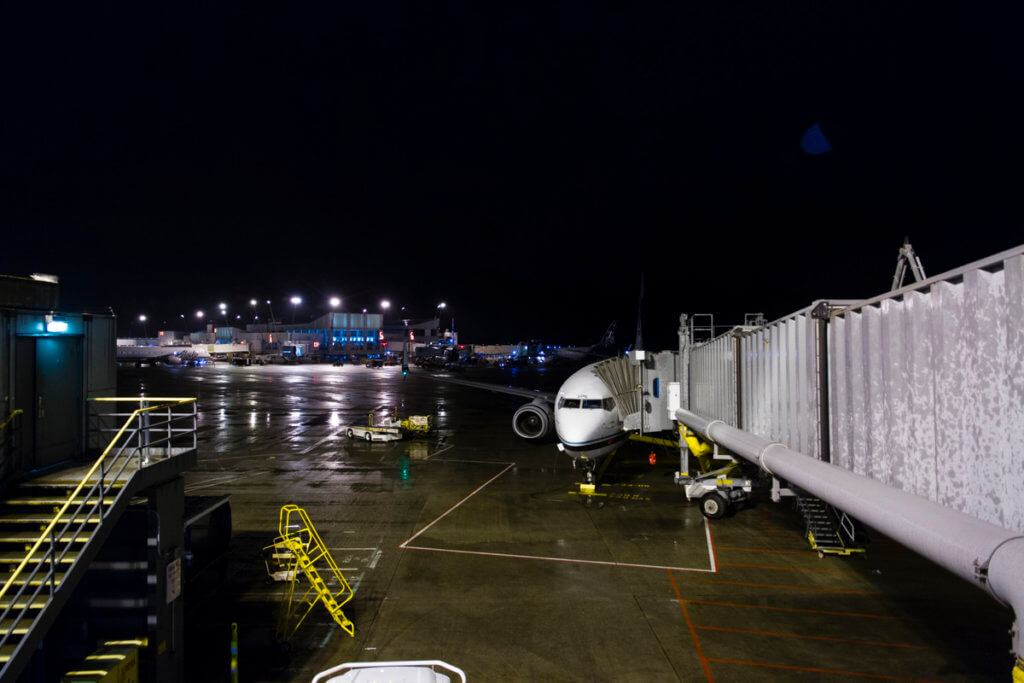 Our flight was, again, completely full and filled with MVPs, so we had to gate check our carry on again, and boarded dead last again.  Heck, we didn't even try to get on quickly.
By the time we got to the airport, all the snow that fell the day before had melted and a light rain was falling.  Despite this, our departure time of 6:45 pm came and went.  Our flight was actually re-scheduled for a 7pm departure right before boarding, which isn't a big deal, and we did end p pushing back right at 7pm.  And after a 9 minute taxi to the runway, we were airborne.
Despite being incredibly full, the flight was nice enough.  It was a little choppy, but that's to be expected this time of year.  What wasn't so great were the STRONG headwinds.  Our flight was unusually long… We didn't touchdown in HNL till 11:53pm HST.  That's a 6 hours and 53 minute flight to Honolulu from Seattle, nearly 1 hour longer than normal.  Needless to say we were late, but no big.  We live close to the airport, so we headed straight home and just crashed.
Seattle Layover Final Thoughts
Ok, I literally did nothing different from the last time I was in Seattle.  But with just 21 hours in the Emerald City, we really had to be selective with what we did.  And for me, I really wanted to hit the places we did, especially for our meals.  And coming at the end of our amazing Big Apple adventure, this (too) short stay in Seattle was a great way to close out our trip.
A BIG APPLE HOLIDAY ADVENTURE
Long Seattle Layover + Alaska Air SEA-HNL