As we continue to struggle through the Marriott+Starwood+Ritz-Carlton program integration, we're finally starting to see pieces fall into place.  Case in point, the new Marriott Choice Benefit is now live!
While not new for Starwood members, the Marriott Choice Benefit program is a new thing for Marriott loyalists such as myself.  And it's the one part of the new program that I've been genuinely excited for.  So when I found out Choice Benefits finally became available, I jumped on it.  Only, I wasn't seeing the option in my account.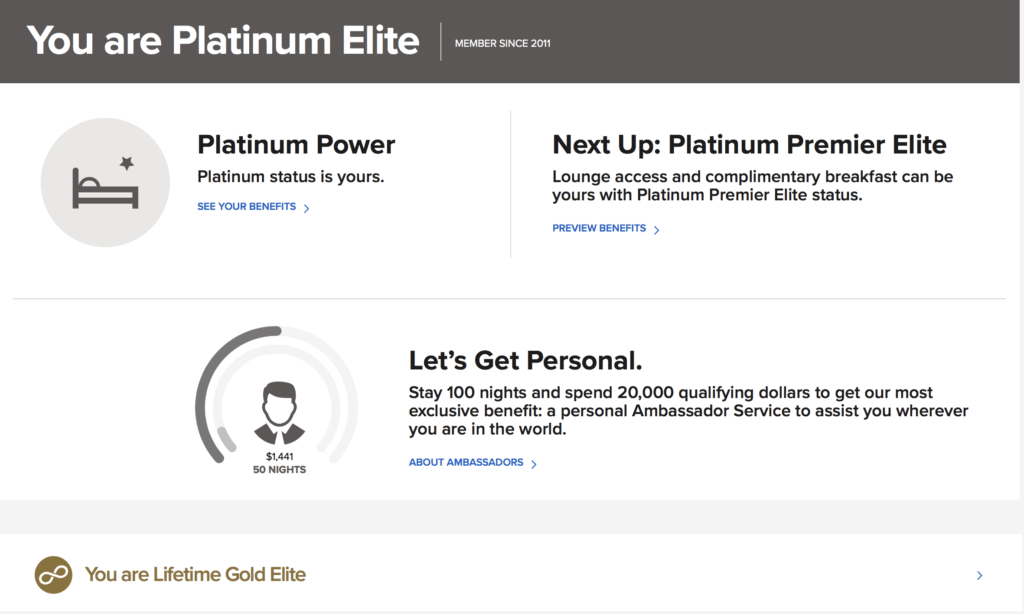 No doubt this is yet another integration glitch.  In fact, others on Marriott Rewards Insiders are reporting the inability to access the benefit in any way.  And that's despite having many more nights than myself.  But, thankfully, I was able to make my selection by visiting choice-benefit.marriott.com directly.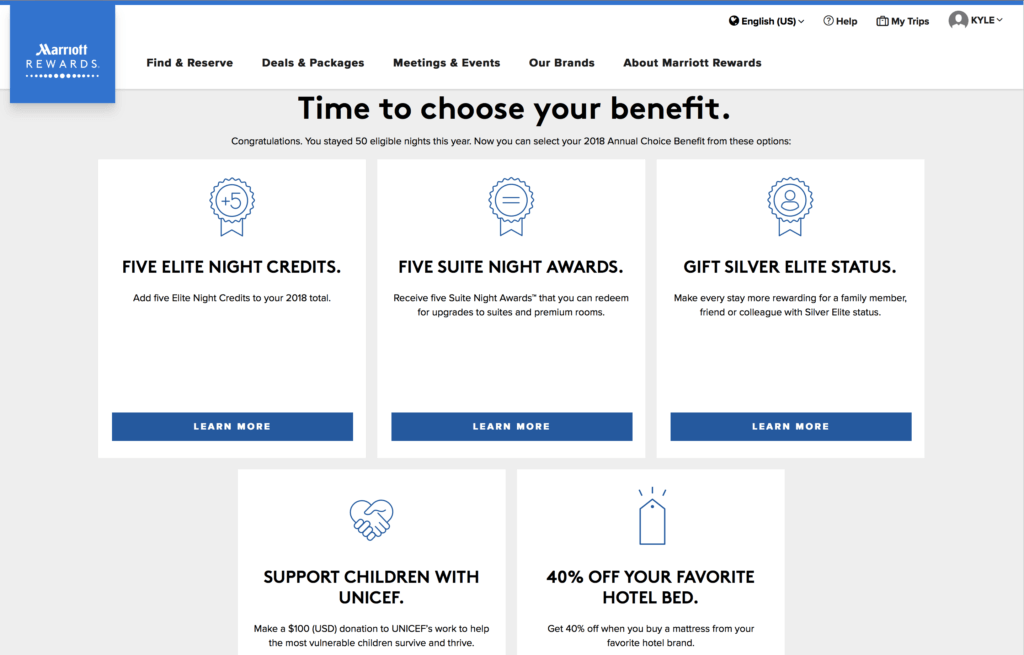 Making My Selection
Once in, I decided to give the Five Suite Night Awards a try.  So after clicking "Learn More" you're taken to a description page.  And there you'll find step one of a two-step confirmation process.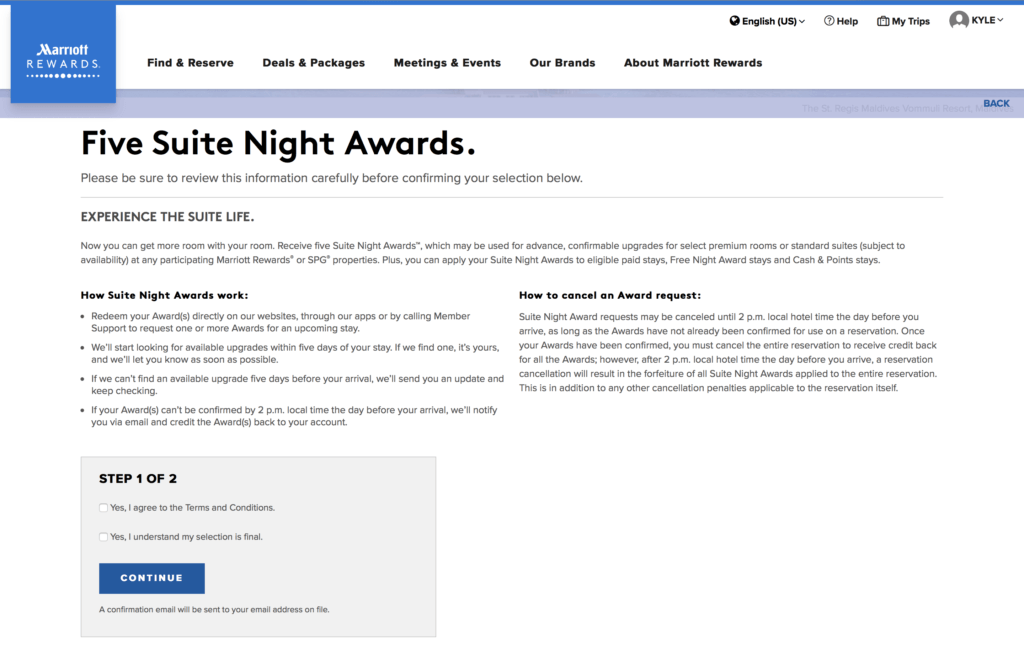 As you can see, step one requires you to check two agreements.  Then, on the next page, you'll have to make a final confirmation.  Guessing this is to make sure you really want to do this and can't accidentally make a selection.
Then, shortly after clicking "confirm," I received an e-mail confirming my selection and inviting me to begin using my benefit.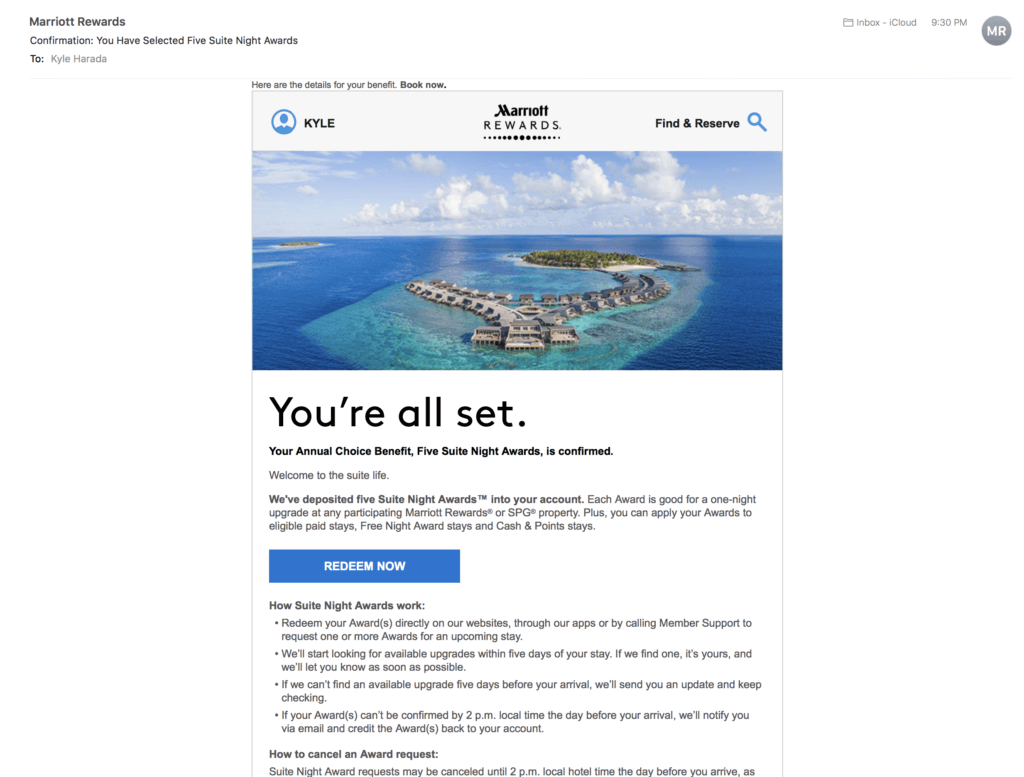 And, of course, I couldn't redeem the benefit.  More system glitches?  Or will it appear in my account within 48 hours?  I know others got messages that it'll take up to 48 hours for the benefit to appear in their account, so we'll see.
A Word on Reservations
I'm guessing I'll probably have to call into Marriott to apply the Suite Night to an existing reservation.  Only, for Starwood reservations, you still have to call the dedicated Starwood reservation line.  Marriott reservation associates aren't yet able to see pre-merger Starwood properties.  But, boy, let me tell you… Calling into the reservation lines have become unpleasant.
The first two times I called in after combining my accounts, I got really friendly, U.S.-based associates that were very patient in trying to assist me with issues.  But yesterday I called in to try to correct in issue in which the system wouldn't allow associates to book an upcoming award stay under a single confirmation number.  However, both times I called, I got an outsourced call center instead.  Don't get me wrong, nothing against those associates as they're friendly and patient too, but the language barrier is frustrating.  I had much difficulties understanding them, and they seemed to have a hard time understanding me, even when I was giving them a confirmation number.  So be aware next time you call in.  Things are different and a bit more difficult now.
Marriott Choice Benefits Are Now Live, Final Thoughts
Once things finally get squared away, I'm excited to finally give this benefit a try.  I'm not, however, holding my breath.  I know the terms and conditions are written in a way that allows properties to give us "premium rooms" rather than suites.  Further, I've heard from SPG members that even back then actually receiving the benefit was very hit or miss.  So we'll see!  And you bet I'll have updates for you all when I do.
Oh, and remember my other post about the Ambassador status qualification counting Elite Nights differently?  Turns out that was a glitch.  According to the first image in this post, I have half the required nights.  Of course, I won't hit 100 night and there's no way in hell I'm reaching $20,000 in spend.  But still.