Last updated on November 20th, 2017 at 01:25 am
Note from Jeff – we arrived in Maui last night and I'm looking forward to trying many of Kyle's suggestions while we are on this gorgeous island. Maybe Kyle will even join us along the way! 
Aloha, Kyle here again.  If you've been keeping up with my guest posts, last week I went over what to do on Maui, and today I'll be going over Maui's dining scene.
Like I said in my last post, Things to do in Maui, Maui is a nice balance between urbanized Oahu and the very country feel of the Big Island and Kauai, and the same holds true for the island's food scene.  Maui's food scene has been heating up in recent years and some of my favorite restaurants are actually on Maui!
Maui Dining Guide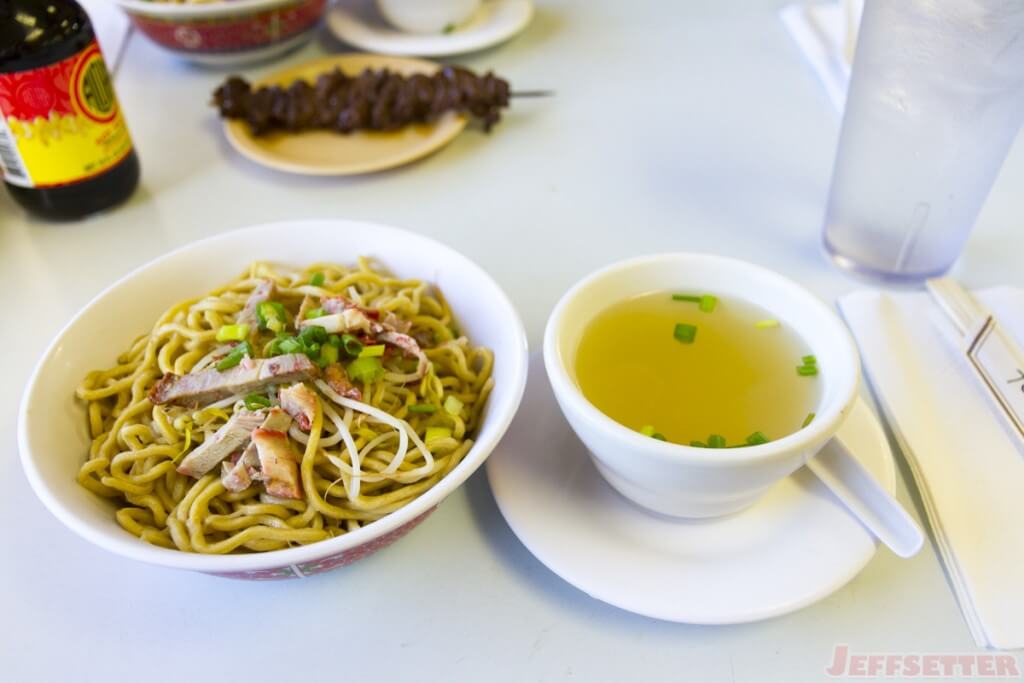 Sam Sato's is a Maui landmark in Wailuku, known for their saimin, which is a local noodle soup dish combining Chinese style noodles, Japanese broth and depending where you go, toppings from the Japanese, Chinese, Koreans, Portuguese and/or Filipinos.  It's a dish unique to Hawaii and came about during the plantation days.  Unfortunately, I'm not really a fan of their saimin or their dry mein (pictured), which is saimin served Japanese tsurumen style with the dry noodles and a concentrated broth on the side.  To me their noodles are too thick and tough compared to other places.  But many people do like it so it's worth a try.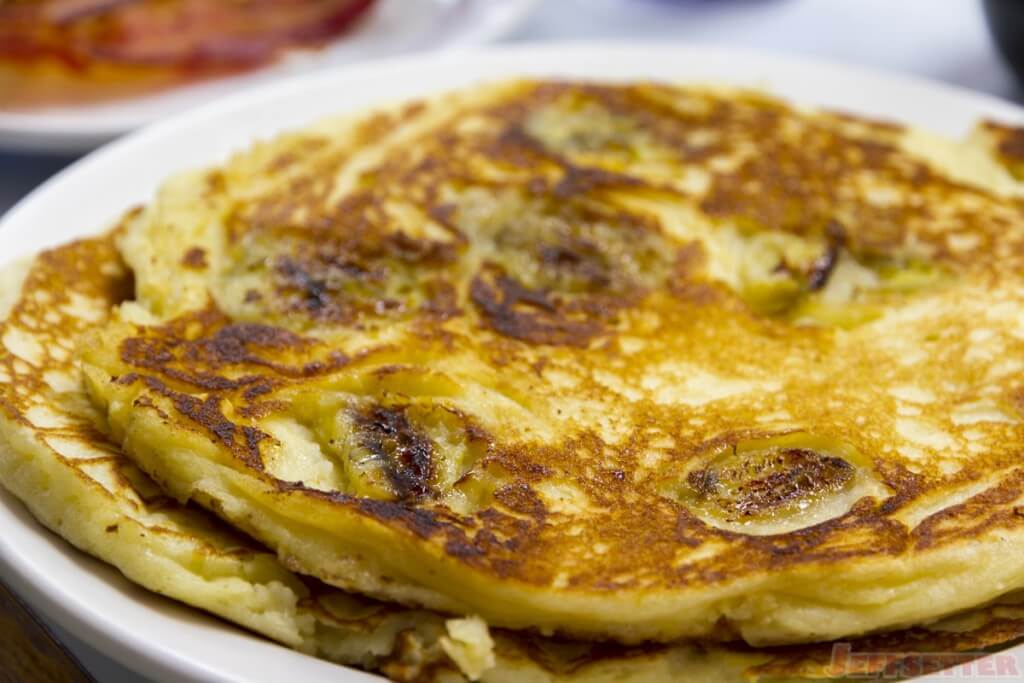 What I do like is their banana pancakes.  While most places do a banana bread like pancake, Sam Sato's does a normal pancake with slices of bananas that caramelize on the griddle.  Sam Sato's is also famous for their crispy manju, a Japanese confection with a pie-like exterior and fillings ranging from azuki beans to apples.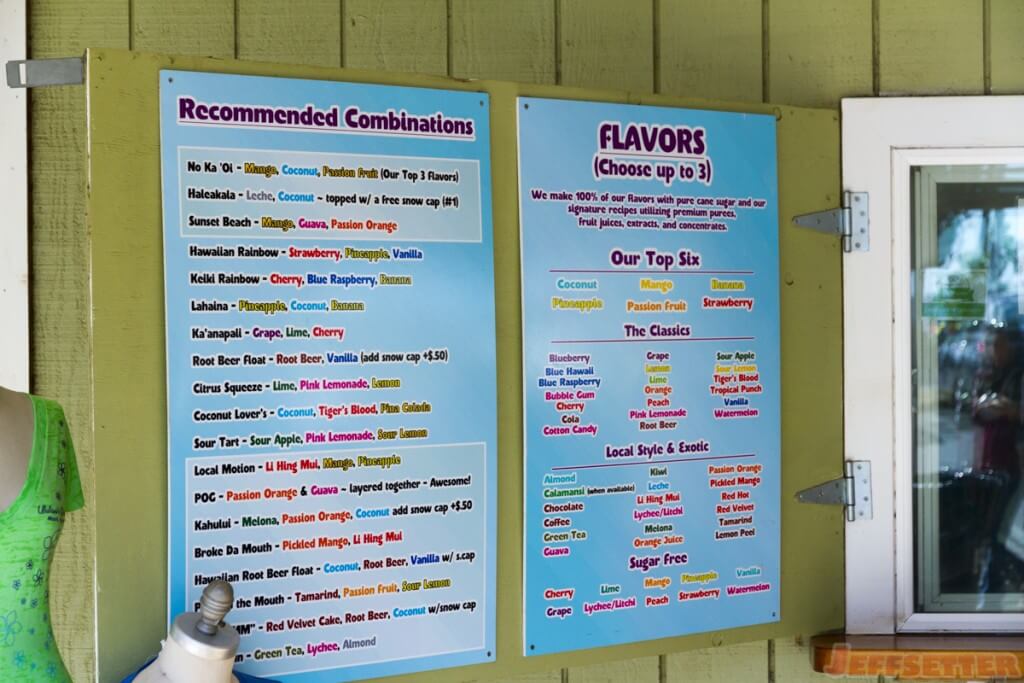 Ululani Shave Ice is THE shave ice on the island of Maui.  It's also my favorite shave ice… period.  A lot of their flavors are made from real fruit and it shows.  Passion fruit really tastes like passion fruit and is actually tart rather than sweet.  Their guava actually tastes strongly of guava, whereas other places barely have any guava flavor.  The Calamansi (Filipino Lime) flavor is another favorite of mine, though it isn't for everyone being a tart, slightly bitter lime flavor.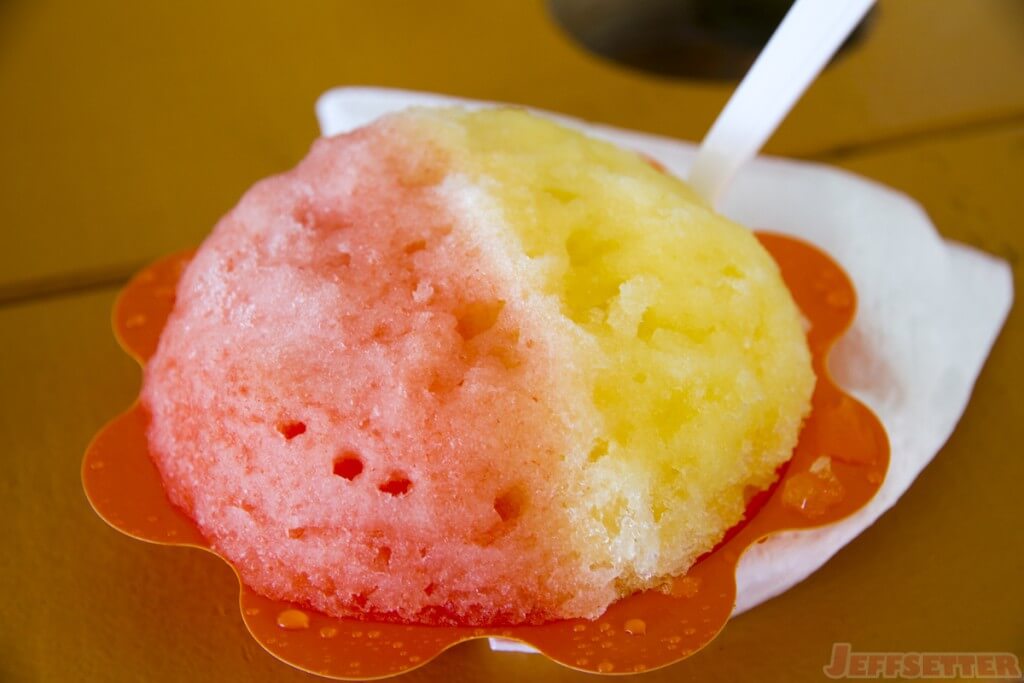 But there are also many other flavors both traditional and non-traditional, as well as specials and seasonal flavors.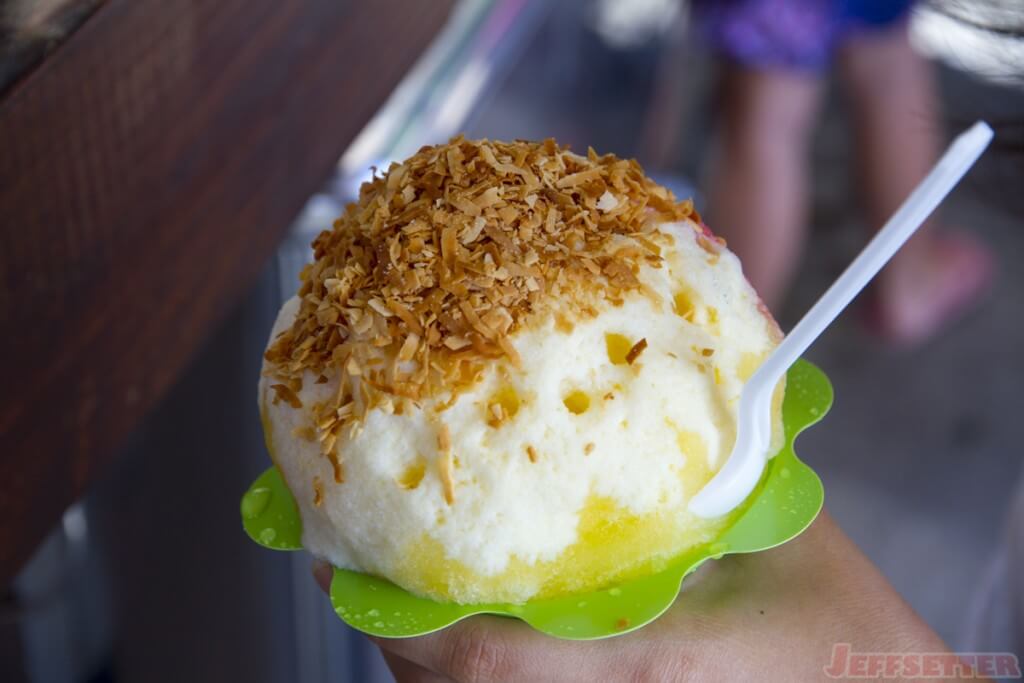 They also have a variety of add-ons like toasted coconut, mochi (Japanese rice cake), snow cap (sweetened condensed milk) and Maui made Roselani Ice Cream.  And be careful when ordering, the large sizes are BIG.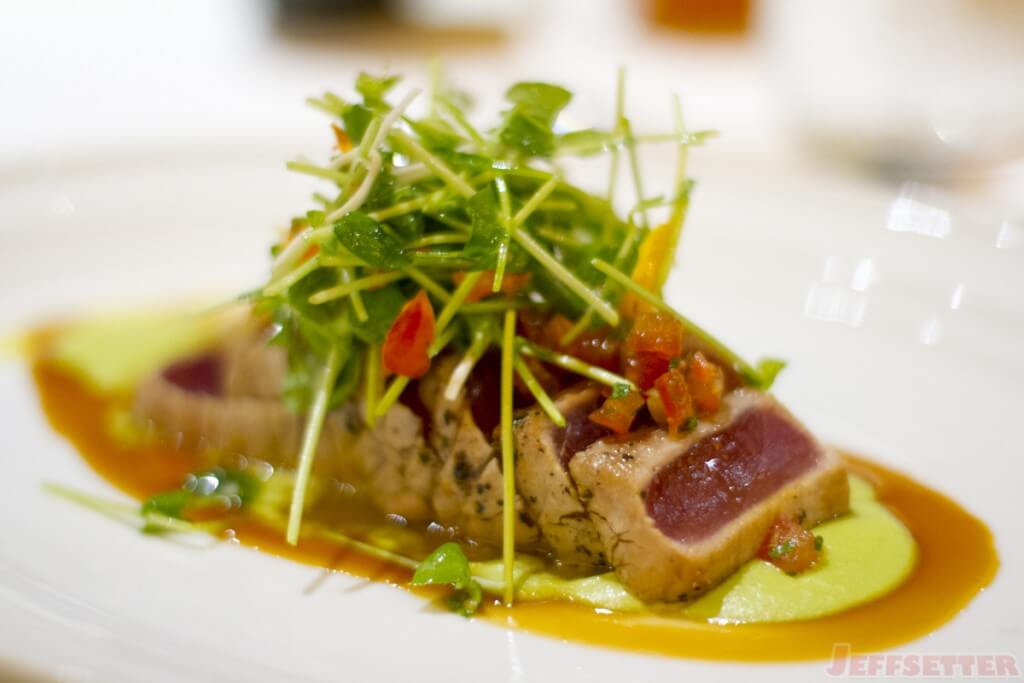 Spago Maui is Wolfgang Puck's only Hawaii location and is the signature restaurant at the Four Seasons Maui in Wailea.  The restaurant is very nice with great views and outstanding service.  The food is of very high quality too and menus change with the seasons.  While it was a good meal, the wife and I weren't all that impressed during our visit as the menu was a little bland and seemed to lack creativity.
Looking at their current menu, it does look a lot more interesting now and would warrant another try.  It's definitely a solid option if you're looking for a fancy night out with high-quality food, superb service, and great views.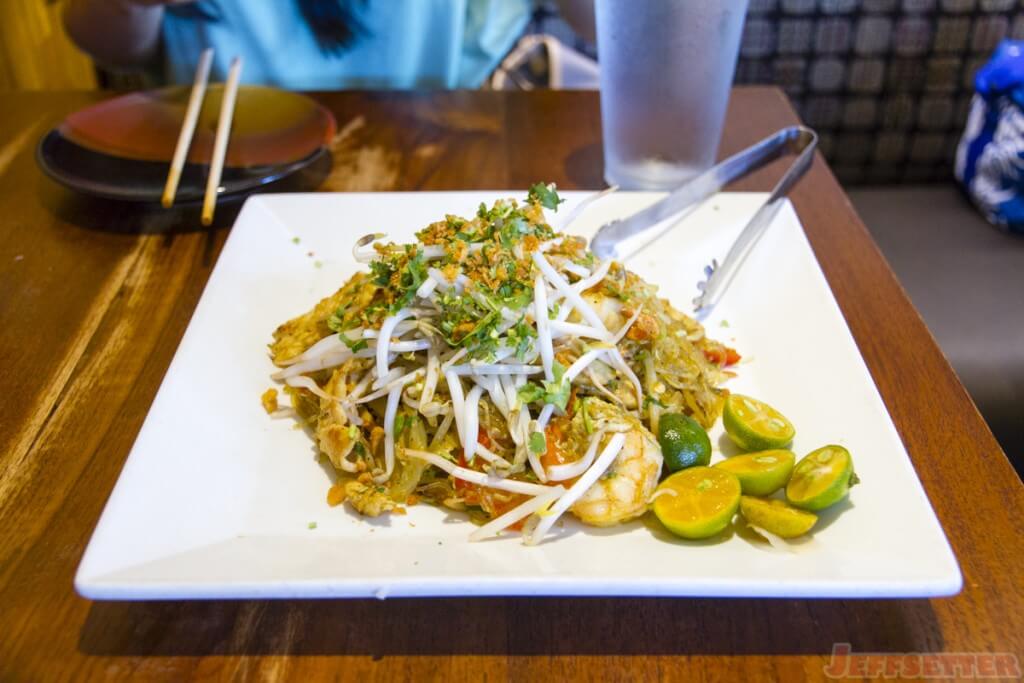 Star Noodle is by far my favorite casual restaurant second only to Pig and the Lady on Oahu.  The food at Star Noodle is noodle centric with influences hailing from all over Asia.  You'll share small bites here ranging from Pohole (Fiddle Head Fern) Salad, to shrimp tempura, to Kim Chee chicken wings, to Vietnamese Crepes.  On the larger bites side, you'll find a variety of noodle dishes including saimin, ramen, Japanese udon, garlic noodles, soba, pad thai, and the above Singapore Noodles among others.
The Singapore Noodles were amazing!  Vermicelli with shrimp, chicken, bean sprouts, bell peppers, a light curry flavor sauce, green onion, cilantro and a little calamansi on the side to squeeze over.  So complex and flavorful, yet simple.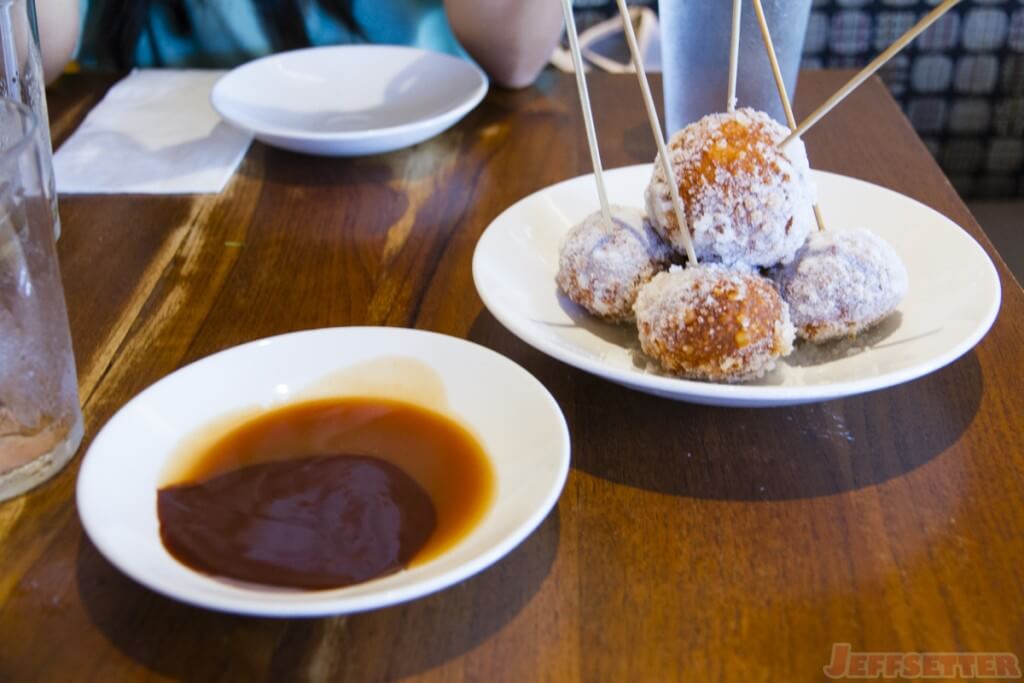 Of course you'll want to save room for dessert here too.  The dessert menu is small consisting of Mango Pudding, ice cream, and the above malasadas, but the dishes are great.  The malasadas are everything you'd want them to be… crispy on the outside, fluffy but dense on the inside served with chocolate & butterscotch caramel sauces and a side of peanuts.
The drinks here, alcoholic or not, are also delightful.  I really enjoyed the CranZu, which was a blend of cranberry and yuzu juice (hey, it was an EARLY dinner, I had a far drive back to the hotel and an EARLY morning the next day for Haleakala sunrise).
Stillwell's is another Wailuku icon and is famous for their cream horns.  These are basically a choux pastry shell filled with a custard cream, a small chocolate coating on one end and a healthy dusting of powdered sugar.  They are as messy as they are delicious.  The shell is perfectly airy and crisp, while the filling isn't too rich, but just enough.  Think of it as a cream puff on steroids.  The bakery is know for their other confections as well, however, and even serves breakfast and lunch.
Leoda's Kitchen & Pie Shop is a small eatery located a little before Lahaina.  As the name suggests, they're famous for their pies, both sweet and savory ones.  They also have a sizable of sandwiches, small bites, larger plates and more.  I haven't been here yet personally, but it is often talked about quite highly and my friends that have been enjoyed it.
The Kula Lodge & Restaurant is located in Up-Country Maui in Kula.  It's a popular destination and one many of my friends and family enjoy, though I have yet to go myself.  The types of dishes served are pretty standard fare, but have a Maui twist to them.  Think Kiawe Wood Roasted Prime Rib, crab cakes, pastas, pizzas, quiche and more.  The menus vary by time of day and the pizzas are cooked in authentic pizza ovens outside.  The views from the restaurant are pretty breathtaking as well!
Like its counterpart on Oahu, the Hyatt Regency Maui is home to a Japengo restaurant.  Like the other location, the menu is Japanese fusion, however, the menus are completely different.
If you've been following along my posts, you may remember that Sansei Seafood & Sushi has a location in the Waikiki Beach Marriott.  On Maui, there's two locations, one in Kihei and one in Kapalua.  The menus are very similar, but may have subtle differences.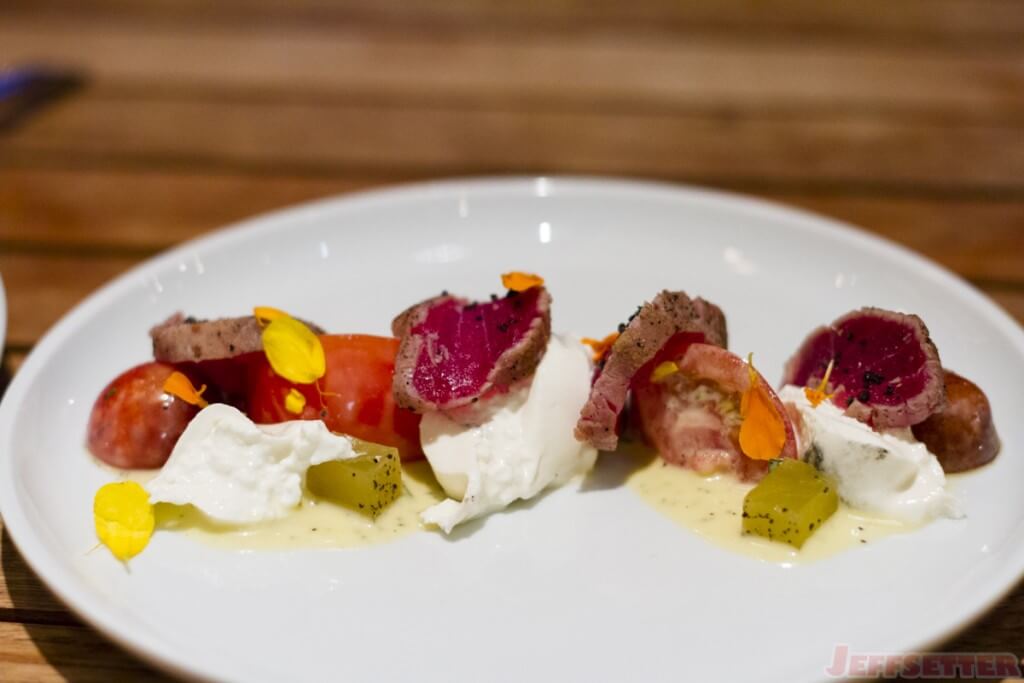 Ka'ana Kitchen at the Andaz Maui is by far one of my favorite spendy/splurgy restaurants in the state, right up there with Chef Mavro on Oahu.  The menu here has is very farm-to-table with a strong emphasis on local products while also being very inventive.  Take the above appetizer for example… It's Ahi Tatakai with house-made Burrata Cheese, Haiku heirloom tomatoes, lilikoi gelee and a lilikoi sauce.  Doesn't sound like it should work, but it tastes amazing.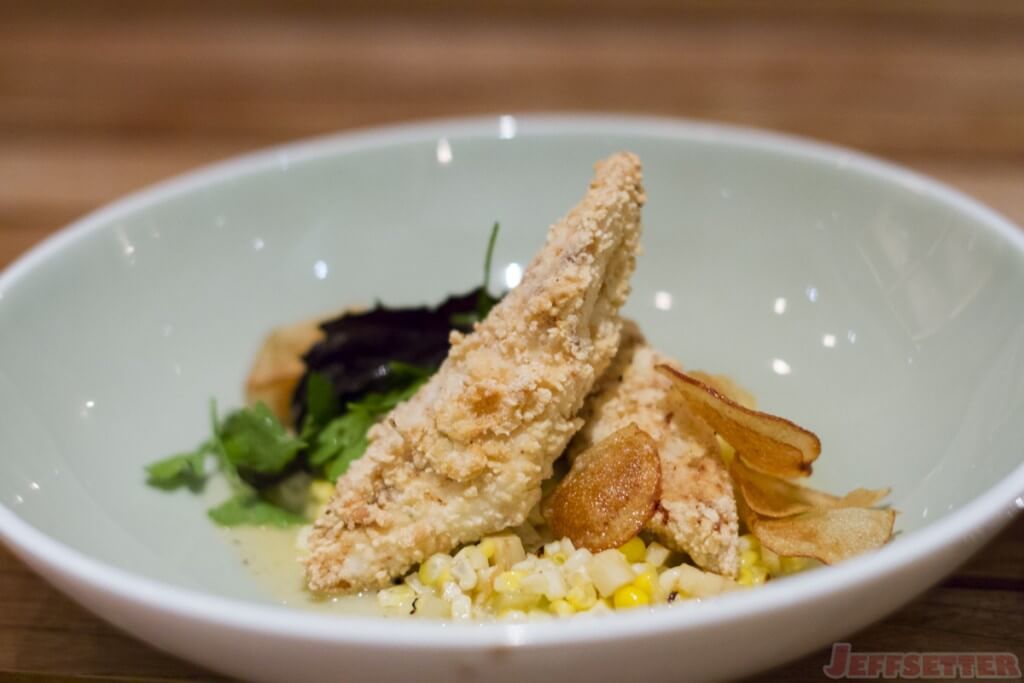 The other eye opening dish for me here was the chicken fried Kona Kanpachi with local sweet corn and an uni butter sauce.  Again, sounds weird, but it was truly amazing.  It's what my wife ordered and I liked it more than my decadent Kona Abalone risotto.  Unfortunately, if you're looking to try anything we had, the menu changes very often and can even change daily based on availability.  A look at their current menu, however, shows that a few dishes we had are still there, likely because they are signature dishes.  These are the Ahi Tatataki, Abalone Risotto and the Grilled Octopus.  The Kanpachi has a different preparation now.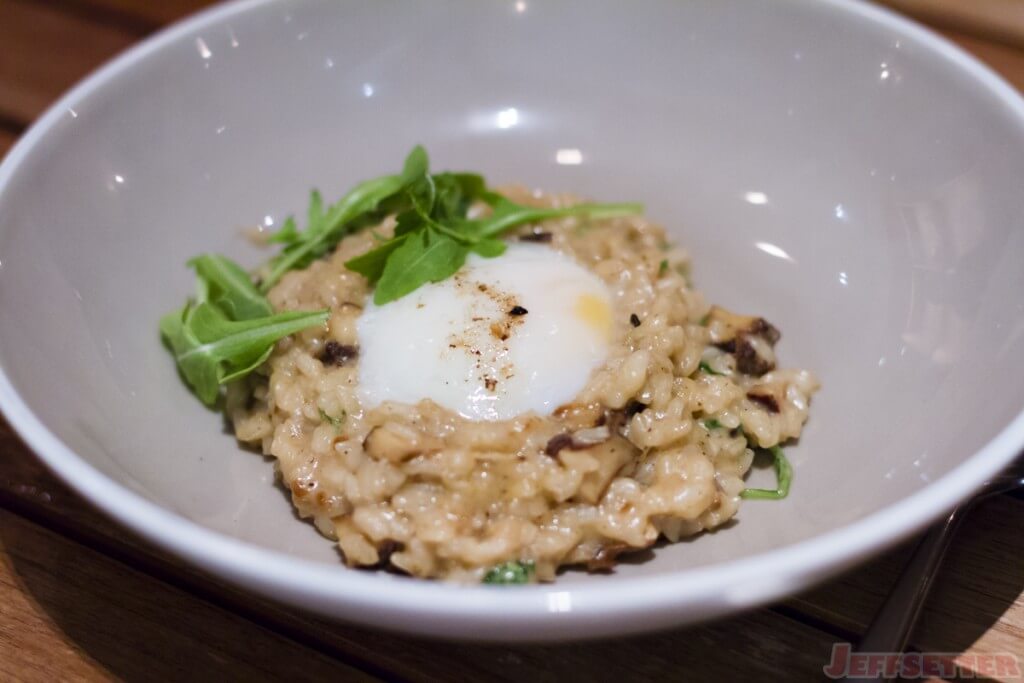 And while the staff here are very friendly and professional, the atmosphere feels more relaxed than the neighboring Spago.  It's not to say one is better than the other, both restaurants had superb service, Ka'ana Kitchen just felt more comfortable.  For lack of a better description, it was less stuffy/uptight. Even the seating was pretty cool.  Our table was a 4 topper with 2 regular seats and a love seat like seat.  We opted for the love seat arrangement and sat side-by-side.  Our table didn't have a view, but that was fine.  The restaurant itself is warm and inviting.
Iron Chef Masaharu Morimoto's 2nd Hawaii location is located at the Andaz Maui.  Open for lunch & dinner, it has an amazing ocean front location with both indoor and outdoor seating.
Mama's Fish House is probably the most famous Maui restaurant located along the Hana Hwy in Paia.  As the name suggests, the restaurant serves fish. What's unique about this fabled restaurant, however, is they put an emphasis on where they source their fish.  In fact, you'll often see names of the fishermen that caught that particular type of fish on the menu.
Monkeypod Kitchen's 2nd location is located in the Wailea Resort.  If you're a fan of the Ko Olina location or a fan of this one and plan on traveling to Oahu, you'll be happy to hear that the menus at both locations are the same.
Merriman's is Peter Merriman's signature restaurant and his original concept (Monkeypod Kitchen is his newest).  The food at Merman's is very farm-t0-table.  You see the menu talking about things like terrior and the specific farms and/or locations the ingredients are sourced from.  Merriman is also one of the founding members of Hawaii Regional Cuisine.
Hali'imaile General Store is the flagship restaurant of yet another founding member of Hawaii Regional Cuisine, Bev Gannon.  Located in Makawao, the restaurant has a decidedly more traditional menu featuring items such as Pan Seared Day Boat Scallops, Paniolo Ribs, and the restaurant's signature Crab Pizza.
If you follow Anthony Bourdain, you know of Tasty Crust.  Bourdain enjoyed some plate lunches when he visited the restaurant, but locals also love the place for the breakfast.  In fact, it is often compared to Sam Sato's, which is just down the road from Tasty Crust, as both are equally famous for their pancakes.  But while Sam Sato's banana pancakes are standard pancakes with bananas in them, Tasty Crust goes the banana bread type route.
Again, like Oahu, there are many, many restaurants on Maui.  To try to cover all the island offers would create one insanely long blog post.  I highly encourage your to take a look at TripAdvisor or Yelp to discover more, or even ask a local.  Just remember to avoid the big chains as much as possible and maybe push your comfort zone a little.  Who knows?  Maybe you'll finish your trip finding out that you like something you'd never think to eat before.  And what better place to experience new cuisine than Hawaii?
Next up look for posts covering Hawaii Island, also known as the Big Island.